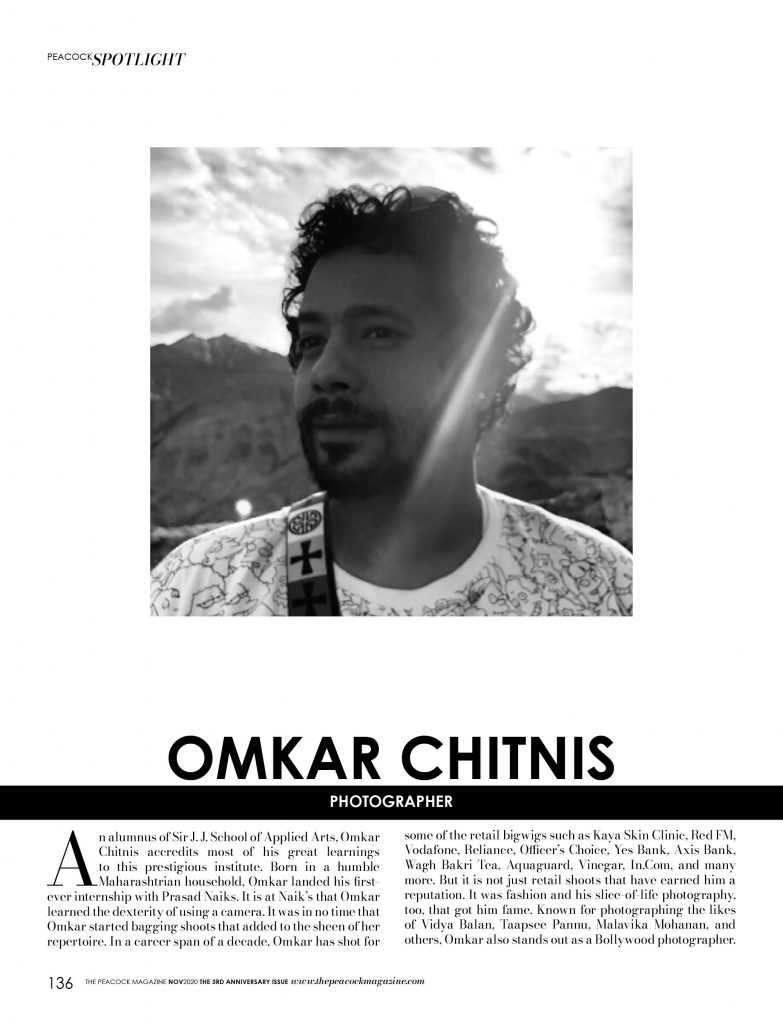 CREDITS-
IMAGES ARTIST'S OWN.

An alumnus of Sir J. J. School of Applied Arts, Omkar Chitnis accredits most of his great learnings to this prestigious institute. Born in a humble Maharashtrian household, Omkar landed his first-ever internship with Prasad Naiks. It is at Naik's that Omkar learned the dexterity of using a camera. It was in no time that Omkar started bagging shoots that added to the sheen of her repertoire. In a career span of a decade, Omkar has shot for some of the retail bigwigs such as Kaya Skin Clinic, Red FM, Vodafone, Reliance, Officer's Choice, Yes Bank, Axis Bank, Wagh Bakri Tea, Aquaguard, Vinegar, In.Com, and many more. But it is not just retail shoots that have earned him a reputation. It was fashion and his slice-of-life photography, too, that got him fame. Known for photographing the likes of Vidya Balan, Taapsee Pannu, Malavika Mohanan, and others, Omkar also stands out as a Bollywood photographer.
In a candid conversation with 'The Peacock Magazine,' Omkar spills the beans on what inspires him, which photographers' work interests him and who's that one Bollywood actress on his wishlist at present.

[Q] What were your growing up years like?
They were fine! Being from a Maharashtrian family, my exposure to fashion was not much, but it always fascinated me. I joined Prasad Naik – one of India's leading fashion photographers after I completed my Applied Arts degree from JJ Institute of Applied Arts.
[Q] When and how did you find yourself taking interest in fashion photography?
When I used to go out for vacations, I would click pictures of nature and places around me. I feel a great picture is the one which has a story, sometimes many stories. I found this medium resonating with me for me to tell my stories.
[Q] How does the location of the shoot inspire the photographer/artist in you?
A lot, in a way! Any place as a location demands certain qualities viz. its texture, color, structure, light, weather, and many things. I guess we have to be open, aware, and ready to get inspired. You will get in abundance around.
[Q] Where/in whom do you find your muse?
Everything! As I said, each and everything has the potential to inspire you. You just have to be open. So, no specific muse as such!
[Q] What sets your mood for photographing?
When it comes to advertising photography, almost everything is finalized in terms of mood before we start shooting. I feel the 'mood' of the picture should be decided by what 'feeling' you are trying to tap into your picture.
[Q] How do you prepare yourself before any shoot?
I don't think I prepare as such. I try to be in and around the concept of the shoot. If there is some special lighting which I haven't done already, then I try and study from available resources.
[Q] Do you always stick to the concept you have had in your mind, or do you tend to improvise?
I am absolutely open to improvising, but yes, for that, the key idea should be used as a thread. Many times, I have decided to change certain things on the set.
[Q] Which of your personal shoots was challenging?
I shot a few images with the technique called 'Light Painting,' where we literally paint the model with the beam of light from a torch. The shutter speed is around 5 seconds, so the model has to be dead-still to be captured without a whale or a blur. The best thing about this was, every image is different and unique because you will get a new and different result every time.
[Q] Which photograph of yours is your personal favorite?
I really can't pick one as I feel every frame has its own stories, and all these stories are close to me in some or the other way.
[Q] Which was your favorite celebrity shoot?
One with Vidya Balan! She was so amazing to work with. She rejected the final pictures four times as she was finding the editing too much. She kept asking me to reduce it. Finally, I sent images without any editing, and she loved it! She said, 'Now this looks like me!' I learned a lot that day.
[Q] One person who is on the top of your bucket list to shoot?
Radhika Apte! I'm putting it out loud in the universe! Waiting to shoot that face!
[Q] Who are your biggest influences/mentors?
I learned a lot from my mentor Prasad Naik as I interned with him. Adding to that, I love Patrick Demarchelier's work. Tarun Khiwal's too! But it is Prabhuddha Das Gupta's work that touched me deeply!
[Q] What is the first thing you notice when you see other photographers' work?
Lighting!
[Q] Who are your favorite photographers? Why?
I love Prasad Naik's work for its simplicity! He creates magic with some of the simplest things, sometimes.
[Q] What makes an image a photograph?
The pure intention of telling a story.
[Q] What is your favorite photographing style?
I don't believe I have any style yet.
[Q] What are some of the things you are obsessed about as a photographer?
Skin tone! Different and amazing skin tones make me happy!
[Q] Which other awards have you been bestowed with in your career until now?
Haha! I've never received an award as a photographer yet!
[Q] What are your future plans?
No plans as such! I just go with the flow and get surprised!
[Q] Would you have plans to move internationally and work?
Not really! Not yet.