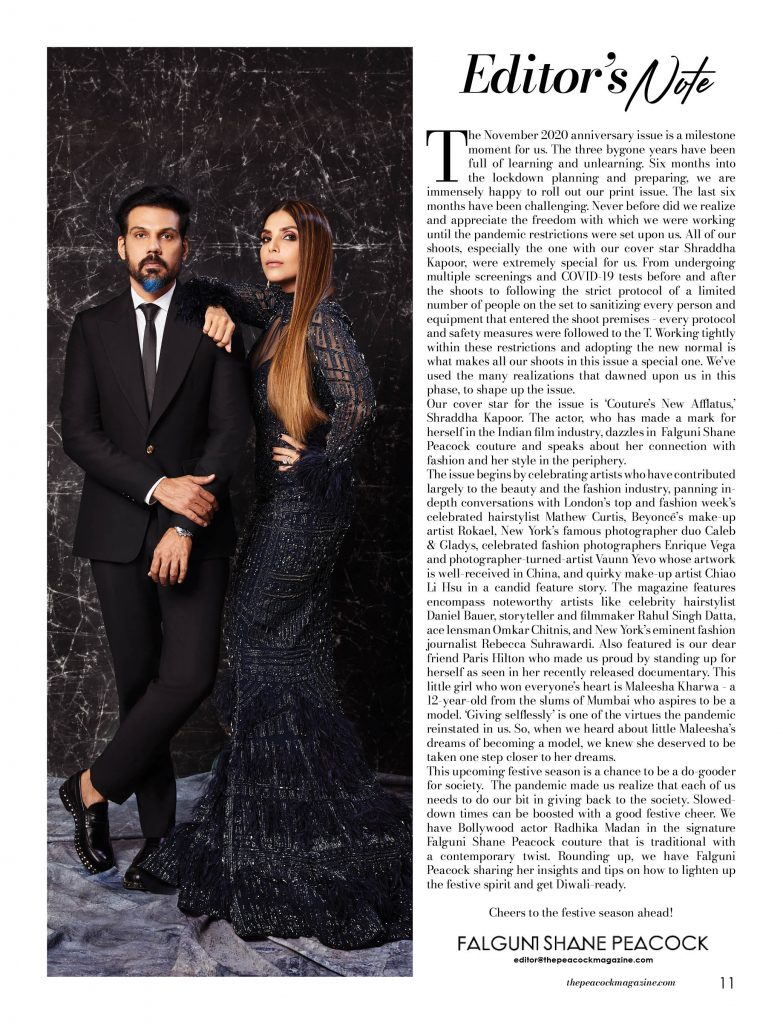 NOV 2020 | EDITORS NOTE- The November 2020 anniversary issue is a milestone moment for us. The three bygone years have been full of learnings and lessons. After spending six months in the lockdown, we are immensely happy to roll out our print issue. The last six months have been challenging. Never before did we realize and appreciate the freedom with which we were working until the pandemic restrictions were set upon us. Some of our shoots, especially the one with our cover star Shraddha Kapoor, were extremely special for us. From undergoing multiple screenings and tests before and after the shoots to following the strict protocol of a limited number of people on the set to sanitizing every person and equipment that entered the shoot premises – every protocol and safety measures were followed to the T. Working tightly within these restrictions and adopting the new normal is what makes all our shoots and this issue a special one. We've used the many realizations that dawned upon us in the slow down phase, to shape up the issue.
Our cover star for the issue is 'Couture's New Afflatus,' Shraddha Kapoor. The actor, who has made a mark for herself in the Indian film industry, dazzles in the Falguni Shane Peacock couture and speaks about her connection with fashion and her style in the periphery.
The issue begins by celebrating artists who have contributed largely to the beauty and fashion industry, and media as well. We bring you New York Fashion Week's celebrated hairstylist Mathew Curtis, Beyonce's make-up artist Rokael, New York's famous photographer duo Caleb & Gladys, celebrated fashion photographers Enrique Vega and Vaunn Yevo, and quirky make-up artist Chiao Li Hsu via a detailed feature story segment. The special features encompass noteworthy artists such as hairstylist Daniel Bauer, filmmaker Rahul Singh Datta, photographer Omkar Chitnis, and New York's eminent fashion journalist Rebecca Suhrawardi. Paris Hilton – a dear friend of ours who made us proud by standing up for herself as seen her recently released documentary. Alongside, we have Maleesha Kharwa – a 12-year old from the slums of Mumbai who aspires to become a model. 'Giving selflessly' is one of the virtues the pandemic reinstated in us. So, when we heard about little Maleesha's dreams of becoming a model, we knew she deserved to be taken one step closer to her dreams.
The pandemic made us realize that each one of us needs to do our bit in giving back to the society. This upcoming festive season is a chance to be a do-gooder for society. The slowed-down times can be boosted with a good festive cheer. We have Bollywood actor Radhika Madan in the signature Falguni Shane Peacock couture that is traditional with a contemporary twist. Rounding up, we have Falguni Peacock setting up the festive spirit in order and helping us to get Diwali-ready along with her!
Cheers to the festive season ahead!