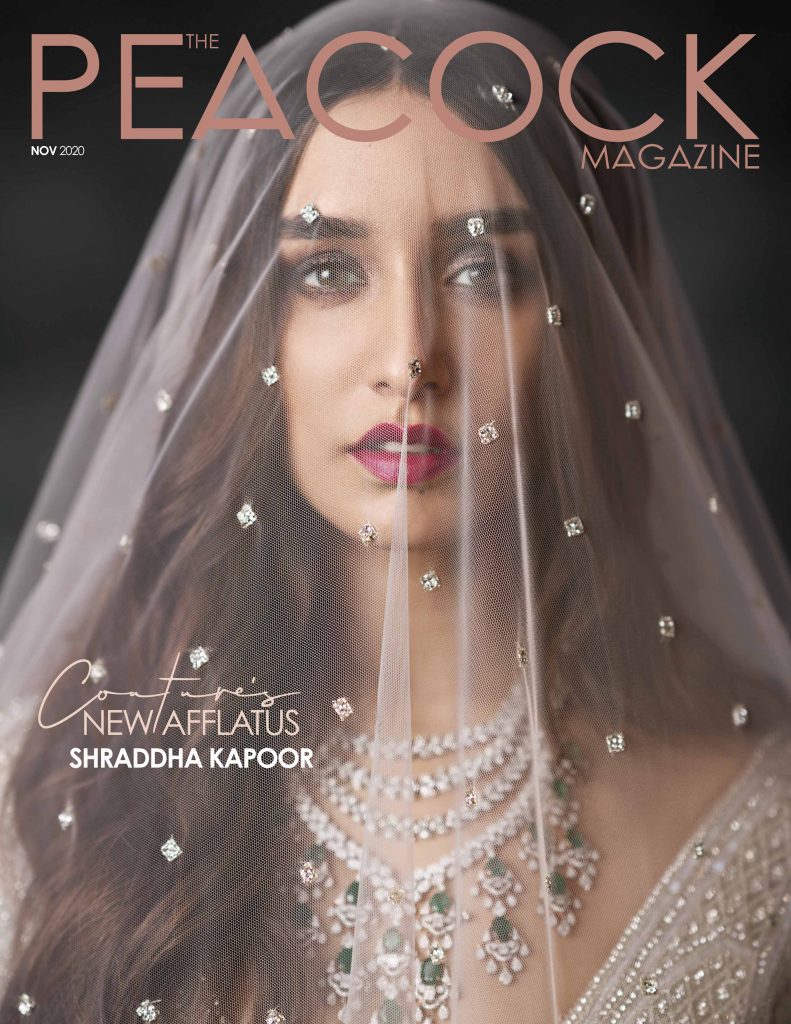 CREDITS-
PHOTOGRAPHER – AVINASH GOVARIKER
MAKE-UP – SHRADDHA NAIK
HAIR – NIKITA MENON
JEWELLERY – ARCHANA AGGARWAL JEWELLERY
CARPET COURTESY – COCOON FINE RUGS
COUTURE – FALGUNI SHANE PEACOCK
A gloomy, late September afternoon was lit up by the widest smile that Shraddha Kapoor flashed as she walked into Avinash Gowariker's studio. That smile and her tote bag was all Shraddha carried with her, conveniently ditching the starry air one might expect from one of the highest-paid actresses of Bollywood. Walking into the studio in black track pants and a grey tank top, Shraddha stops by to respond to Avinash's 'Kashi aahes?' (How are you?) in an equally engaging answer in Marathi 'Mi bari aahe!' (I'm fine!) The camaraderie between the two is not just because of the Maharashtrian connect, but also because of Avinash's fondness for Shraddha. "She's the sweetest, honestly," he tells Shane Peacock in a matter-of-factly way. Avinash is not wrong. Shraddha's image of her being the ever-smiling, chirpy, and no-fuss Bollywood actor can be attested by all those who've worked and interacted with her. She doesn't make anybody on the set wait, and darts off quickly to the green room to get dressed, where her army of girls is waiting to get her dressed into the showstopper avatar.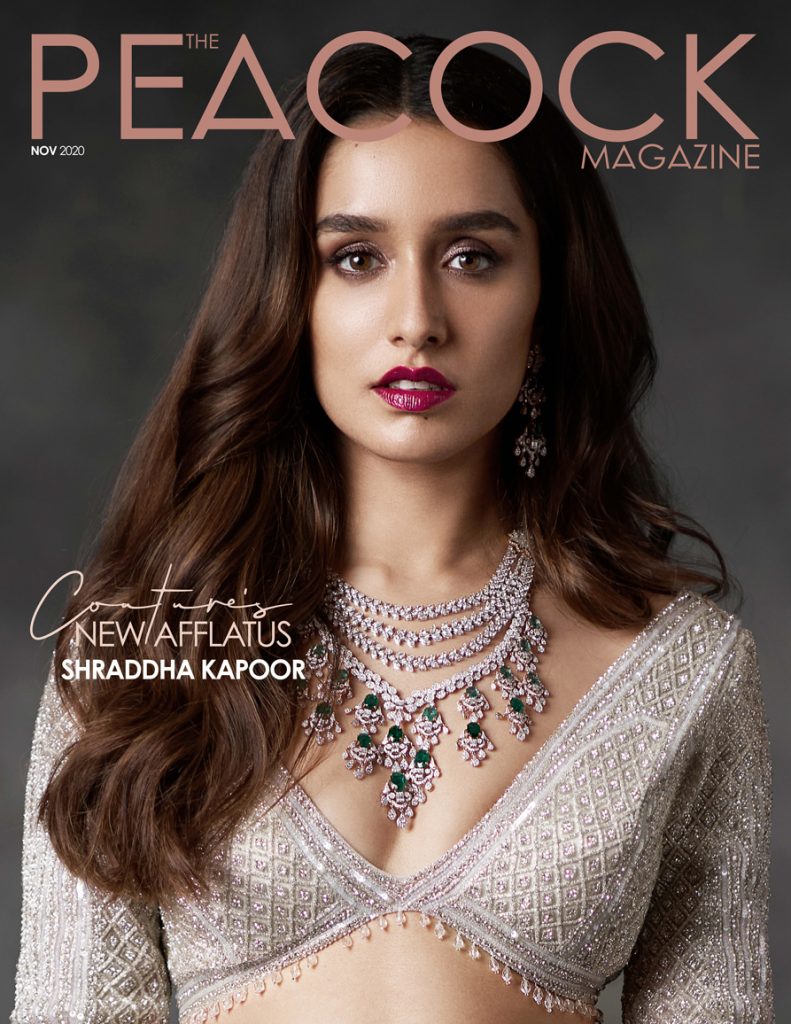 There is a fun riot in there! I can vouch for by the bouts of laughter noises making way outside till the set. I'm certain that the actress makes it a ball of time for those around her wherever she goes. And I'm proven right when I walk into the green room for a moment to discuss certain somethings with her manager. The girls, indeed, were having fun. And Shraddha? She was polishing off her favorite packet of chips unapologetically, claiming those to be her weakness. But despite the little impromptu party, the actor was ready, set, and on the set!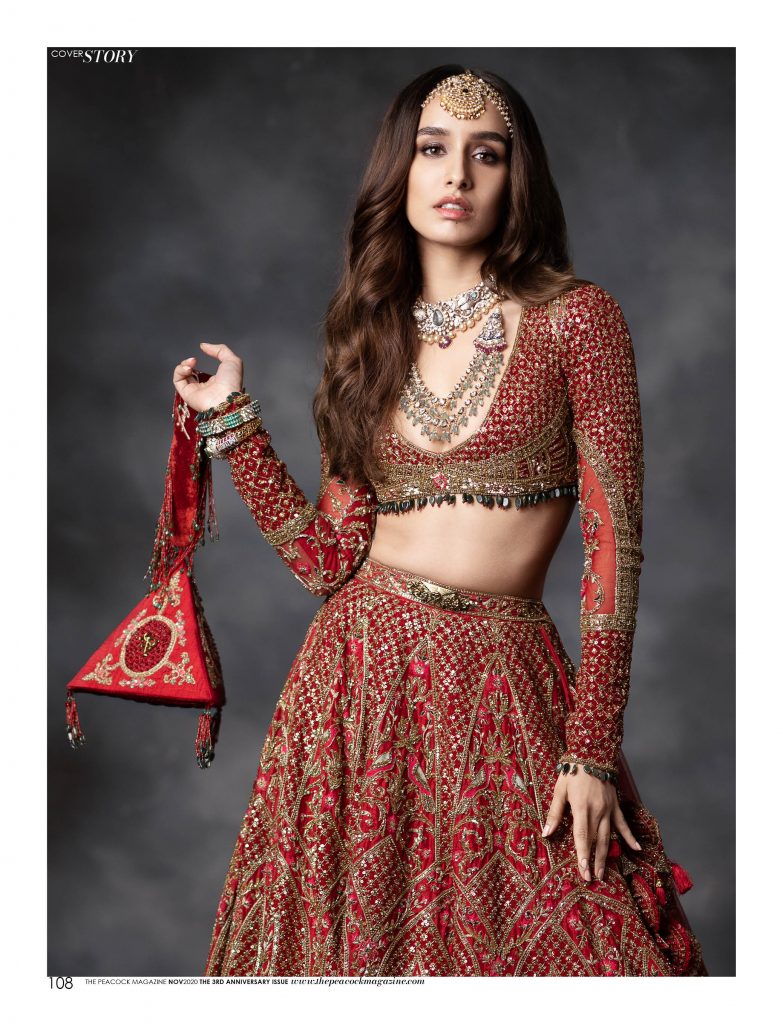 'Divine' – yes, that was the first word that struck me when I saw her in her first outfit – a bridal red Lehenga in raw silk with fuchsia pink, emerald girl, and mint green silk and metal thread work details. The Lehenga was embroidered in gold and adorned with crystals, stones, beads, and sequins on floral motifs, elephant motifs, and baroque detailing. Shraddha's ensemble was styled with a handcrafted blouse with grid work and floral motifs with emerald green stone tassel details, along with a red tulle dupatta with scallop borders and tassels, and a triangular red Potli. She embraced the spirit of the bridal Lehenga and looked quite like a demure bride who holds a glimmer of excitement in her eyes for what's to unfold thereafter. Avinash being the ace lensman that he is, beautifully captured Shraddha in the bridal spirit, which saw the daylight when Falguni Shane Peacock's fashion film was released. It came as no surprise that her fan base of 56 million on Instagram alone, low-key broke the internet by posting-reposting, sharing-resharing, tagging tirelessly, and flooding the social-medial platform with likes and comments. Most of them even personally asked the designers to dress Shraddha on her wedding day – whenever it be. Ask Falguni Peacock and Shane Peacock about their response to Shraddha's fans' request, they said, "Why not! When we saw her in the red Lehenga today, we decided that we will definitely dress her up on her special day!"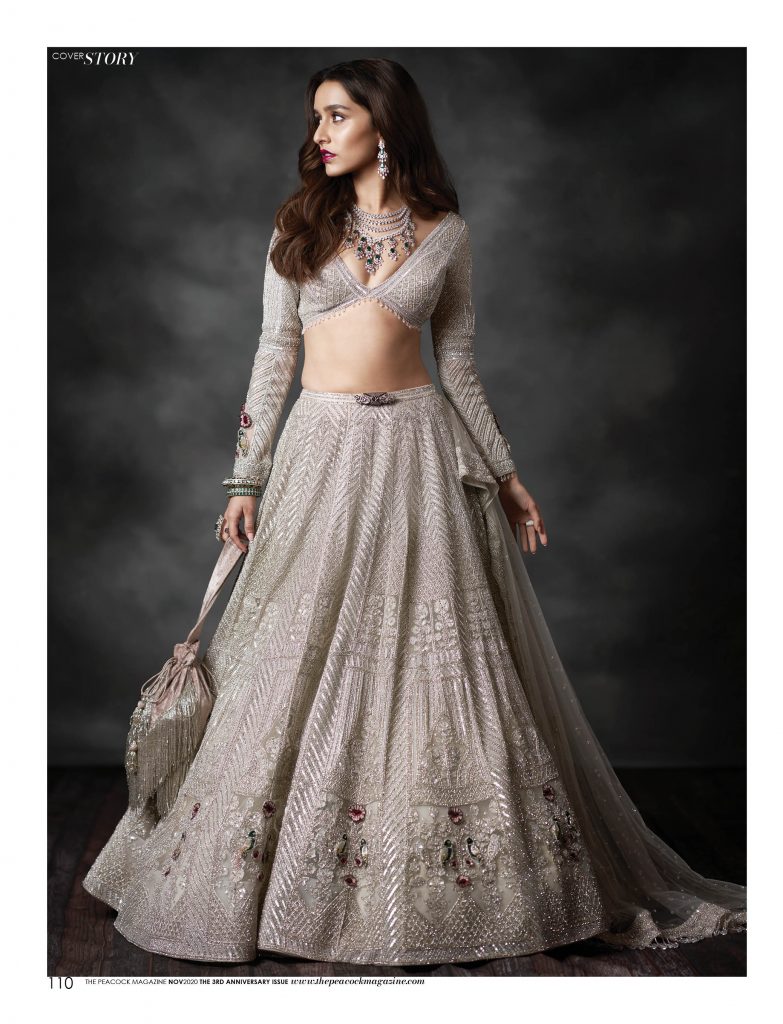 Shraddha became Falguni and Shane's bridal muse for the rest of the day and Shane's directorial muse for the fashion film. Shane dons the director's cape and explains to Shraddha the concept of the fashion film, and gets to directing her showstopper's finale walk. A director's actor that Shraddha is, a fact that is re-instated by most of her films' director, she gets it right in the first go itself. But the actor in her doesn't settle for just right and strives to get it perfect. She walks up and down the ramp, each time with more grace. She was poetry in motion, simply put. She stops midway and asks for a change of music that will make her feel the emotion in a better way. A soothing 'Piya Bawri' track does the trick, and there she is, ready to give her first take. When you practice perfection, you achieve perfection. And that what Shraddha's finale walk was – perfect!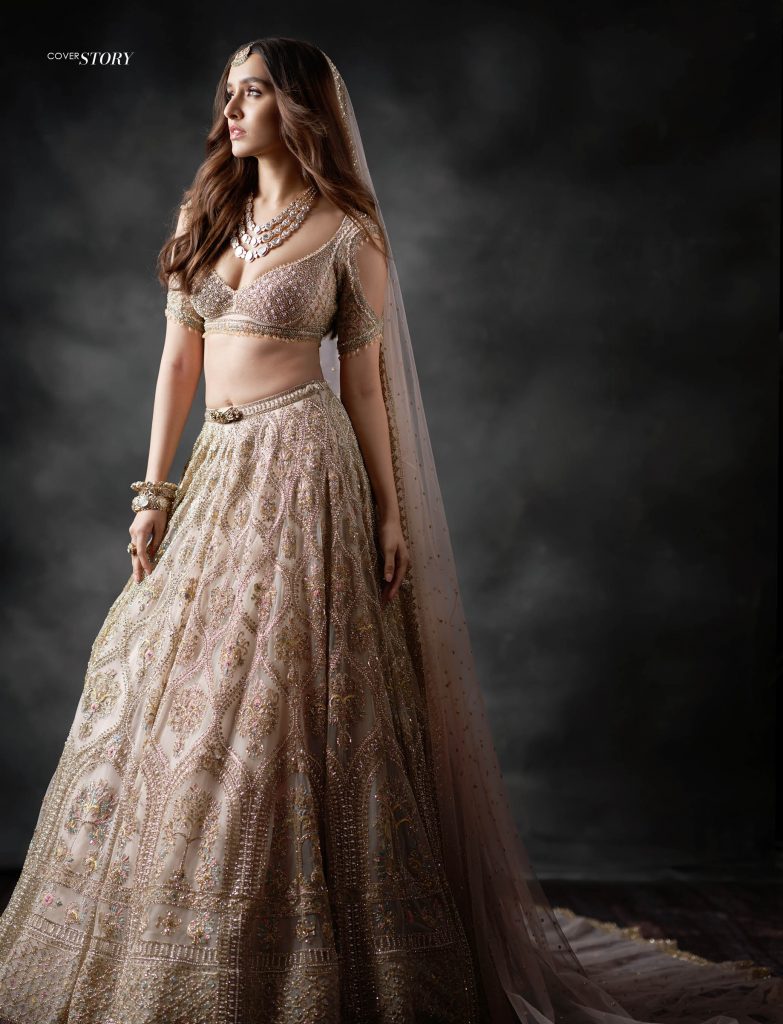 Without taking much time, she donned the second outfit, a bespoke ivory-based, silver embroidered Lehenga with applique work in fuchsia pink, maroon, and emerald green, that made her look ethereal. Onlookers present at the set will validate when I say Falguni Peacock gasped and let out a little squeal when she saw Shraddha's images that Avinash clicked in a matter of a minute. He announces, 'I got my shot' even before the rest of us know it. The ingenious photographer and his muse were definitely up to creating magic and in a finger snap of a timeframe. We decided to have a round of fun challenges with Shraddha, which she takes on like a Bawse. She gets candid and ends up telling us little stories about her mimicry, her love for plants, and other fond anecdotes. Time zips along, and we're wrapped up for the day.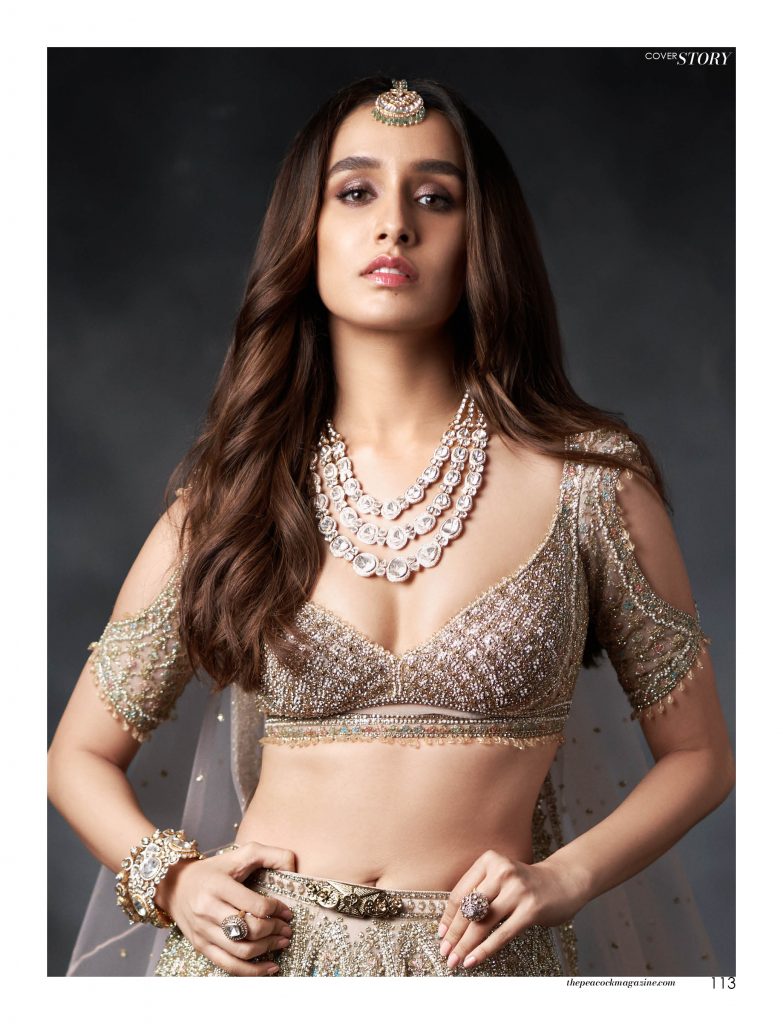 Shraddha transforms into the girl-next-door image and steps out to leave, but not without thanking the entire crew and throwing her arms open to give a big group but from a distance because of the social distancing norm.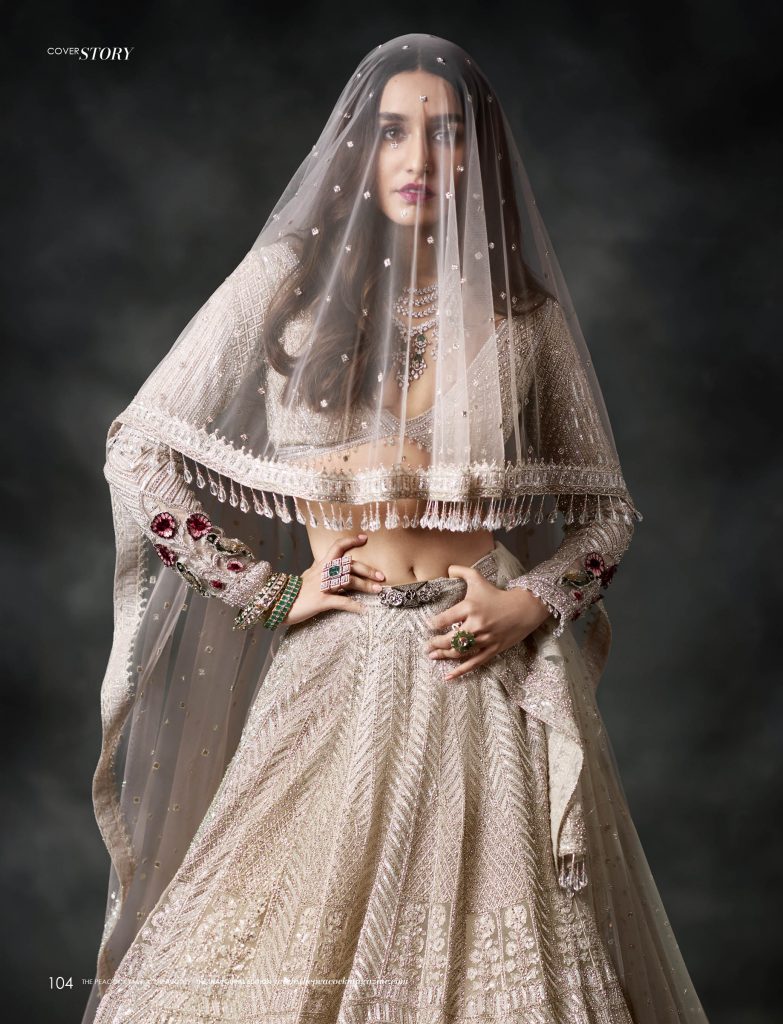 Before going, we do a quick fashion interview with the actor, to which she agrees sportily. Here's an excerpt of Shraddha talking about her personal style, her innate love for Sarees, her current fashion obsession and much more!
INTERVIEW –
[Q] Describe your personal style.
For me, style is something that is comfortable. I mostly like wearing athleisure clothes – a track pant, T-shirt, sneakers, and flip-flops are my go-to clothes. And from Indian attire, I love donning suits and kurtas with a basic pair of jeans paired with Kolhapuris.
[Q] What does fashion mean to you?
Fashion, for me, is about being comfortable and confident in my own skin. I feel every individual adds to their personal style and can make any look fashionable, be it a simple saree or a red carpet gown. I need to feel like it reflects who I am and that I am super comfy in it.
[Q] Your take on maximalism? One occasion where you'd go all-out being maximal?
I am grateful that I get an opportunity to celebrate festivals in full swing. Being a festival person, I go all out during Ganesh Chaturthi, Gudi Padwa, Diwali, and many more. I love traditional attire and festivals give me an opportunity to be at my dressy best. You can define it as 'maximal' or 'minimal' or whatever you want.
[Q] Do you always rely on the stylists' choice or do you go with your instincts as well?
I love to wear clothes that make me feel good and it's a mutual decision where my stylist and I decide on what suits that particular occasion or event more.
[Q] You've always spoken about your love for sarees. What has been your earliest memory of a traditional Indian drape?
One can never go wrong with a traditional saree- it's a versatile piece of clothing as you can wear it in many different ways. As a kid I would always be fascinated seeing my mother, my Aaji and Maasis wear a saree. It's a classic piece of clothing and a must-have in your wardrobe. The time when I wore my mother's saree on Gudi Padwa – the memories associated with it and my mother's essence is what added to its beauty.
[Q] A particular fashion moment when you felt you've arrived?
For me, classic and elegance instantly make one feel as though they have arrived.
[Q] Your current fashion obsessions?
It will always be Kurtis and the basics.
[Q] A fashion trend you'd dare not be seen in?
Being a lover of animals and championing animal welfare, I have and am continuing to reduce the use of leather.
[Q] Favorite perfume?
Armani Code.
[Q] Do you wear your favorite piece till its death? If yes, what was the last piece you wore till it ragged?
It'll always be my plain T-shirts or track pants. I always dress them up or down, depending on the event. They never go wrong.
[Q] Your number one fashion inspiration?
I love the simplicity with which my mother has always carried herself. She effortlessly dresses herself and it is a complete reflection of who she is.
[Q] What would you wear on your first date?
Given an option, my track and tees! *laughs* But on a serious note, I'd like to keep it simple – maybe a solid color dress with nice footwear and open hair or maybe wavy, depending on my mood.
[Q] Who, according to you, are the best-dressed people in the showbiz?
I adore everyone – they all have their own unique style of dressing. I love outfits which are minimal but speaks for itself and occasionally I like bold outfits, it just depends on what I'm vibing with on that day.
[Q] One celebrity whose wardrobe you would like to buy out.
I adore Olivia Palermo's closet and given a chance; I'd definitely buy out stuff from her wardrobe. We share a similar style of fashion – casual and simple, I absolutely love that.
[Q] Can you describe the look you're wearing?
I'm wearing a deep red bridal raw silk Lehenga with emerald droplets, intricate golden work all over. The ensemble is paired with a handcrafted deep-neck blouse with grid work and a beautiful triangular Potli.
[Q] What do you think of Falguni Shane Peacock couture?
I love how their design speaks for themselves and stands out. They are quirky, unique, and extremely beautiful. I have a huge inclination towards intricate details, strong colors and their designs have it all. Their collection can cater to everyone's style and fashion.