PEACOCK FOUNDATION INITIATIVE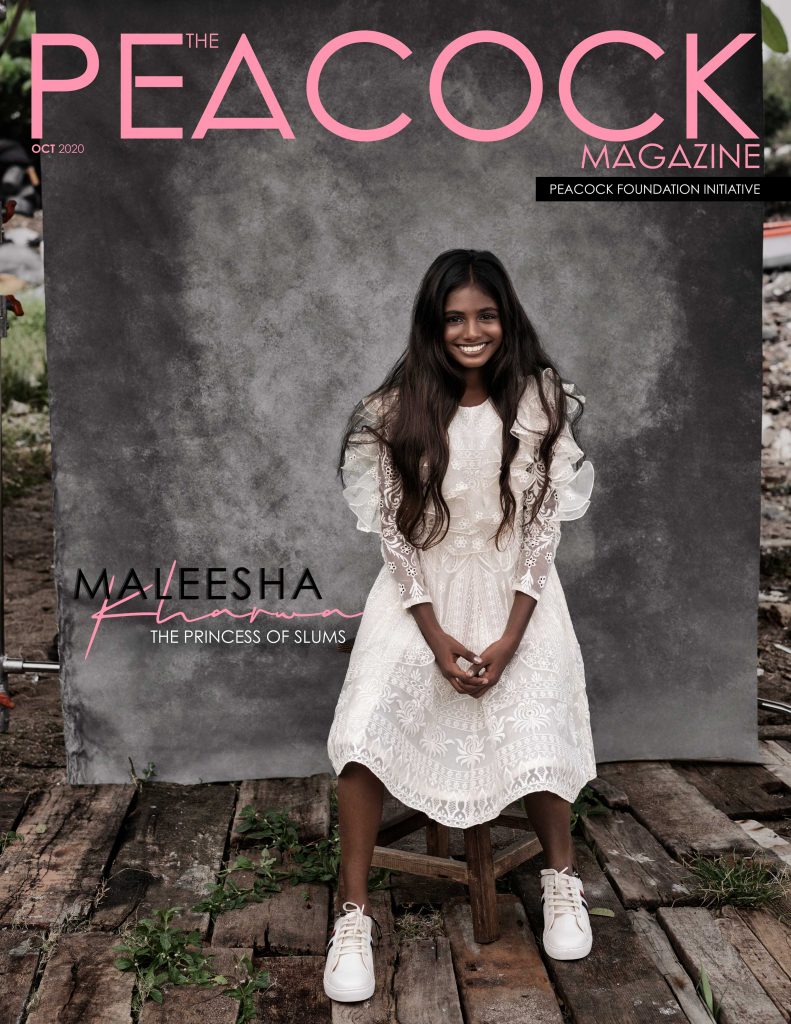 CREDITS-
PHOTOGRAPHER – HAIDER KHAN
STYLIST – TEAM ESHAA AMIIN
HAIR & MAKE-UP – TEAM DANIEL BAUER
CLOTHING – FALGUNI SHANE PEACOCK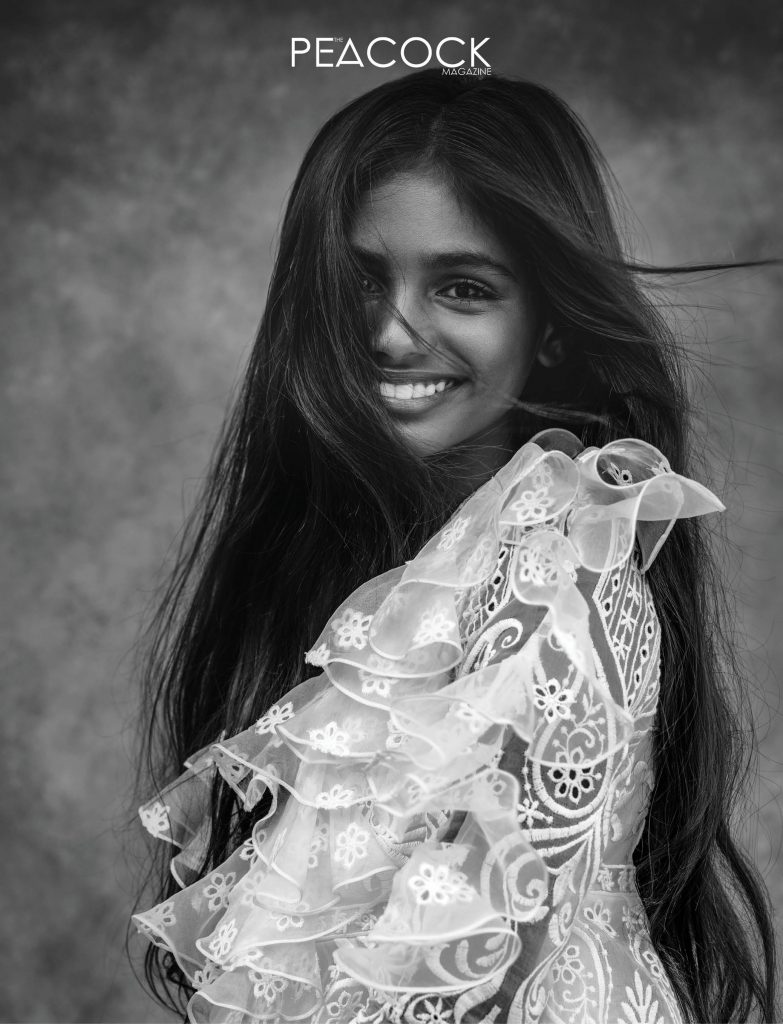 It was the crack of the dawn when I first saw Maleesha with her guardian (her uncle) and her manager Alisha (Robert Hoffman's Indian aide) stand by the sea for the cover shoot. Her excitement for a 'photoshoot' added to the shine in her eyes. It was her enthusiasm that woke us up and got us joining in her excitement as we set the ball rolling.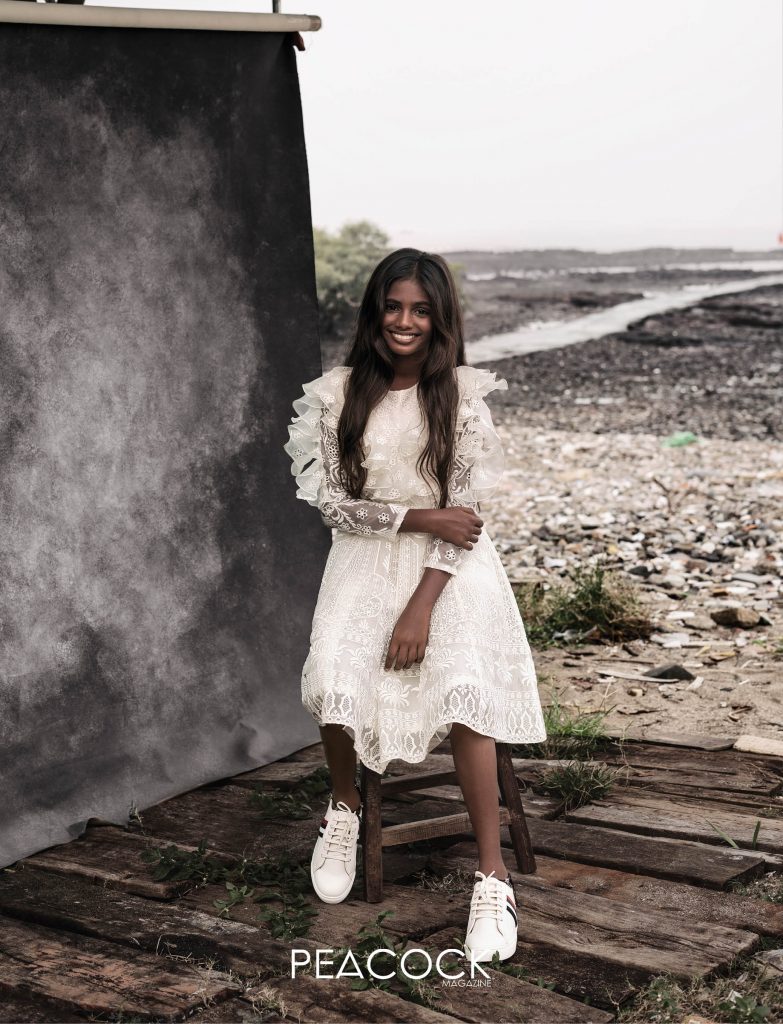 Dwelling in the slums of Bandra, 12-year old Maleesha Kharwa, and her family, which includes her father, her uncle, and her younger brother, depicts the picture the same as many who belong to the marginalized groups in the Indian society. What makes her stand apart is the big, starry-eyed dreams which are now being given a fair chance, thanks to 'Step Up 2: The Streets' fame Hollywood actor Robert Hoffman. Robert, after a chance encounter with Maleesha, decided to be the wind beneath her wings and give her dreams a flight. Hoffman, who was stranded in India just when the pandemic took a hit in the country, met Maleesha, and there has been no looking back ever since. He may have cast her cousin sister for the music video that brought him to India in the first place, but he did not overlook Maleesha when it came to realizing the potential she had to become a model and dancer. With the consent of Maleesha's family, Robert decided to manage her just before he left India. But before he left, he roped in Alisha as his aide in India, who now, according to Maleesha is her biggest inspiration. 'I want to be like my Alisha didi,' she says proudly.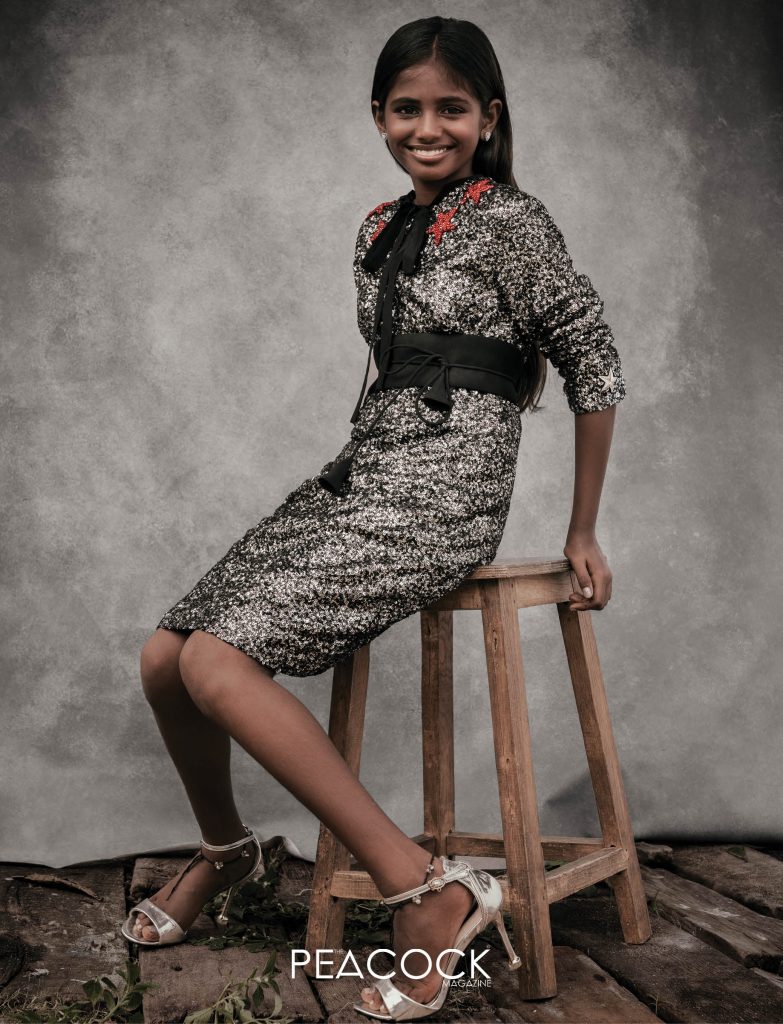 For Maleesha, the shoot day was a day of learning. Her inquisitiveness spanned from asking me how are we scheduled for the day, to asking the hairstylist about what she was doing to her hair, to understanding how a day in a model's life looks like and learning words like 'inspiration', 'fearless', 'strong', 'positive' – all of which she now rightly symbolizes. She is in awe of everything that's happening around her while still enjoying the 'pose-hold-click' process. But posing is not the only thing that gets her excited. Mention dancing, her favorite hobby, and her eyes light up. She is already humming her favorite dance number and telling us she like Bollywood actors Disha Patani and Tiger Shroff for their acting chops. The little girl is equally enthusiastic about studying at the Pali Chimbai Municipality School and humblebrags about getting full marks.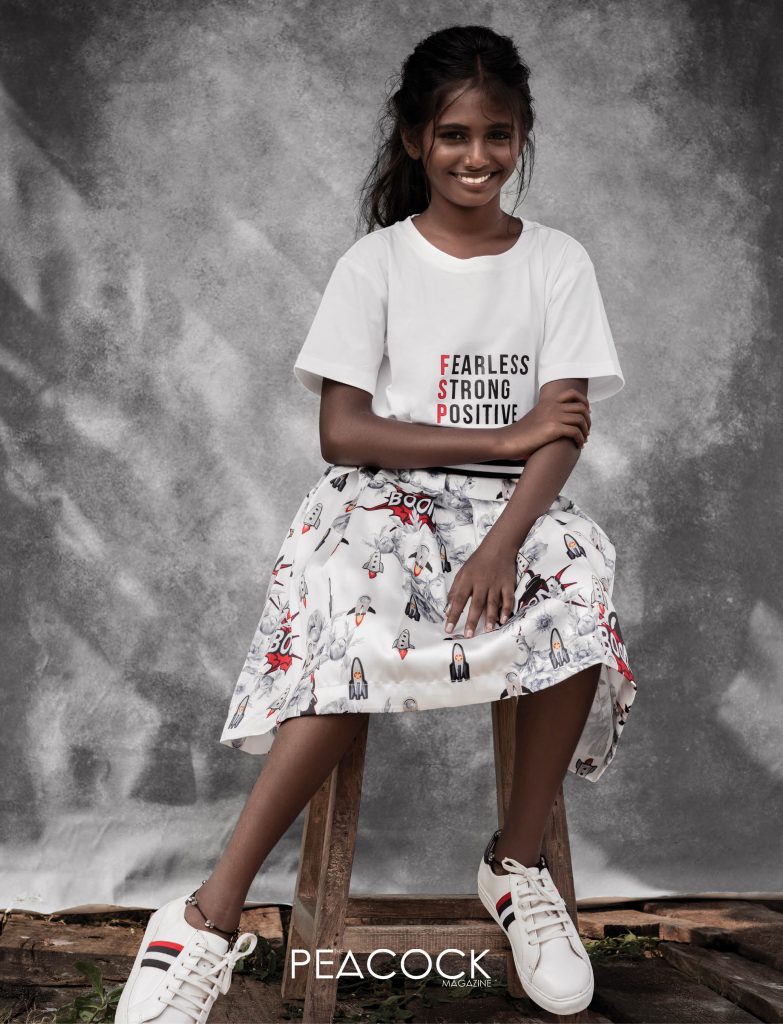 Ask Falguni Peacock and Shane Peacock about her they discovered this little gem, and we see their eyes light up in excitement. "A few weeks ago, I saw noted photographer Haider Khan post Maleesha's picture on his Instagram story asking if anybody knew her because he was interested in shooting her. I looked her up, read about her big dreams and aspirations. I then told Haider that if he was shooting her, we'd feature her on the cover of our magazine. We got in touch with Maleesha's manager Robert and much to our delight, he agreed. Robert scheduled a shoot date with the help of Alisha, and on an early October morning, we shot Maleesha by the sea," says Shane Peacock. "We'd seen many pictures of Maleesha before. But when we saw her on the shoot day, we were in awe of her chirpy, cheerful spirit and her eagerness to know how a professional photoshoot was conducted. We had a great time chatting up with her in between shots," adds Falguni Peacock.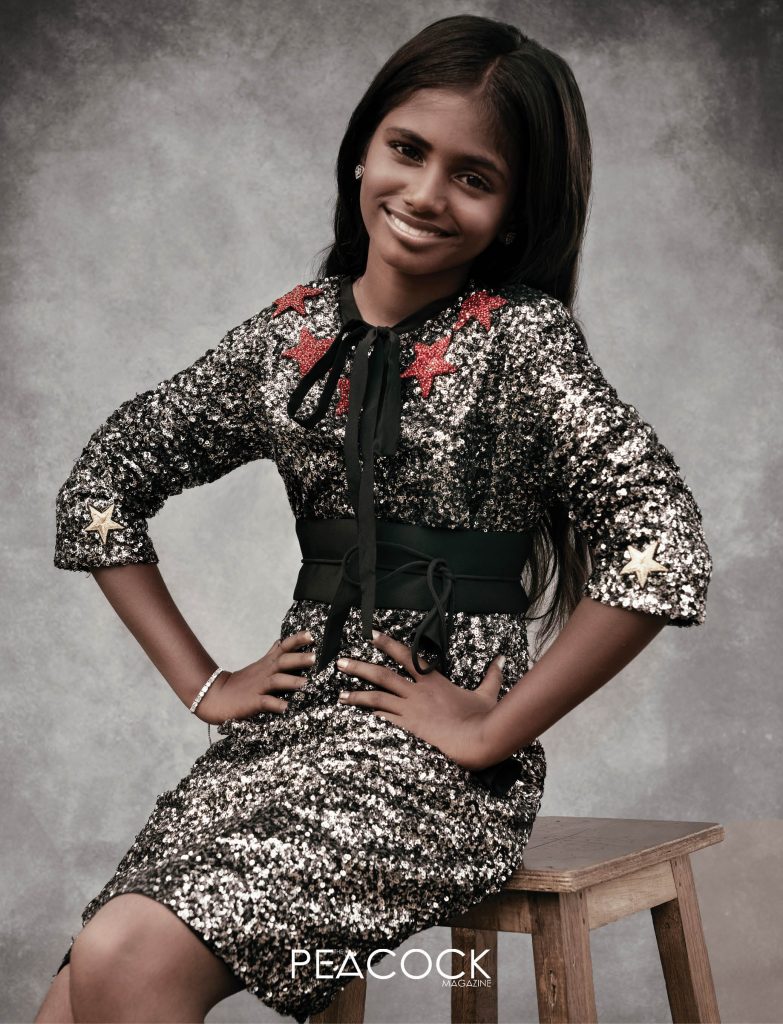 It is not every day that we meet a 12-year old who braves her conditions with seamless ease and unflinchingly dares to dream big beating all the odds. Maleesha's dream of becoming a model is not just for her sake but even for the betterment of her family. On becoming an adult, she aims to earn a livelihood out of her modeling career and provide her family with resources for a better living. Robert, Maleesha's manager, is assertive of raising funds for her until she's is an adult and ready and willing to undertake modeling assignments. Robert states that the funds that will come Maleesha's way will be allocated in four broad categories viz. 1. Immediate basic necessities; 2. Savings for proper housing; 3. A locked bank account for Maleesha's future education; 4. Career / social media tools and promotion. Ask Robert as to what made his champion a noble cause of bringing true little Maleesha's dreams, and he says, "I have been involved in charitable causes for children globally and always believe in doing what I can with the means I have. The "WHY" regarding trying to help others is a question that can only be explained by each individual's soulful journey and a voice that comes from within. I am sure we all have experienced the bliss of giving without reason or expectations, just to better the others' life." Robert's contentment in playing a catalyst in realizing Maleesha's dream is something that can only be felt as he speaks and not written about.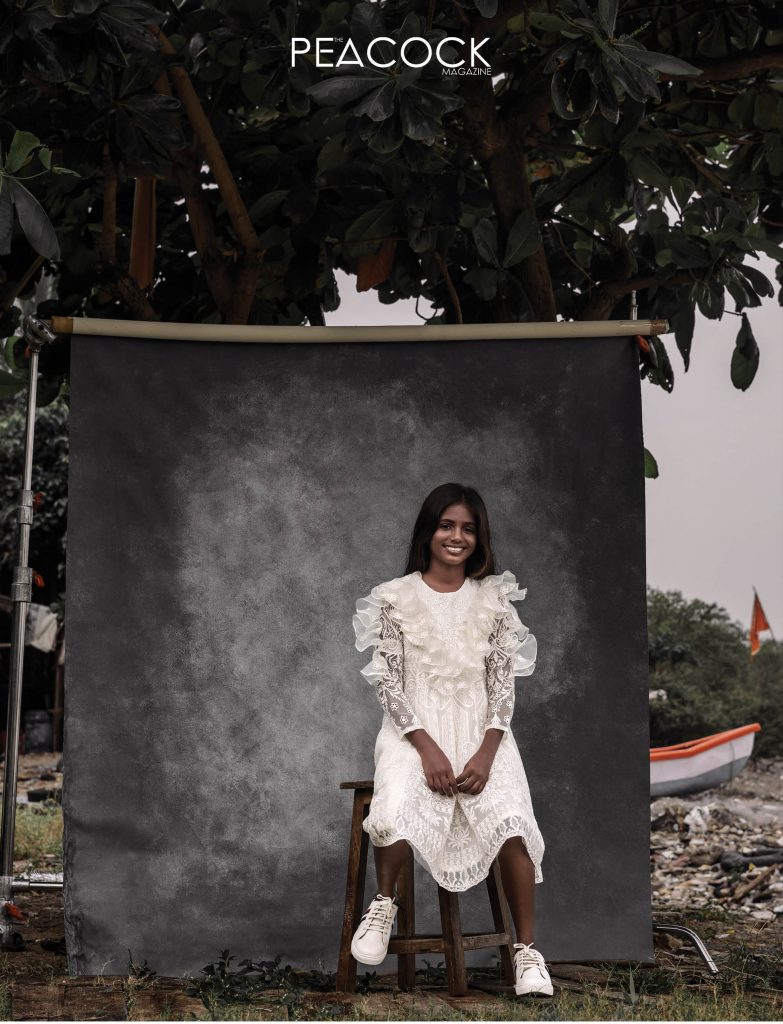 Maleesha, today, reinstates that if you dream big, the universe will, indeed, find the best way to make it happen. The road to success may be a difficult one, but there is still a road that takes you there!


[Q] When did you first realise that you wanted to be a model?
I decided to be a model and a dancer when I was 5 years old
[Q] How do you manage your Instagram?
No, I don't manage. My father and my manager Robert (Hoffman) manage it.
[Q] How did you meet Robert (Hoffman)?
It is a long story. One day, my sister, her mother and I were going outside for bathing. Whenever we see foreigners around us, we say a 'Hi'. There was a lady who said that she has a friend who needs a girl for acting and dancing. So, I said yes and went home and told my father. My cousin also went and told her parents. My father said we will decide when the person comes over. Then one day Robert came and saw everyone's acting. He chose my cousin sister. I was standing there smiling. Robert asked me what do I want to be. I said I want to be a model and dancer. He said he could make me a model and then I said 'Thank you'.
[Q] Your first reaction when you got to know you'd be on the cover of The Peacock Magazine.
I was a little scared but then I was very happy.
[Q] What is your daily routine like?
I wake up, brush my teeth, go outside for breakfast and get it home to eat. Then I wash the utensils. After that I study online from 10am to 3pm. Then my father makes food and we eat.
[Q] Who are your favourite stars in Bollywood? Why?
I like Disha Patani. She's a very nice dancer. And Tiger Shroff, too!
[Q] What do you like to wear the most?
Sarees! *laughs*
[Q] Have you heard of Falguni Shane Peacock?
Yes!
[Q] How do feel today shooting for the magazine cover?
I'm very happy!
[Q] Who is your biggest inspiration?
My inspiration is to be like Alisha didi.
[Q] What are your biggest fears?
I'm scared of ghosts.
[Q] What your strengths?
I'm good at studies. I get full marks!
[Q] Why do want to be a model?
It's my choice.
[Q] Who will you owe your success to?
You all, my manager Robert (Hoffman) and Alisha didi.