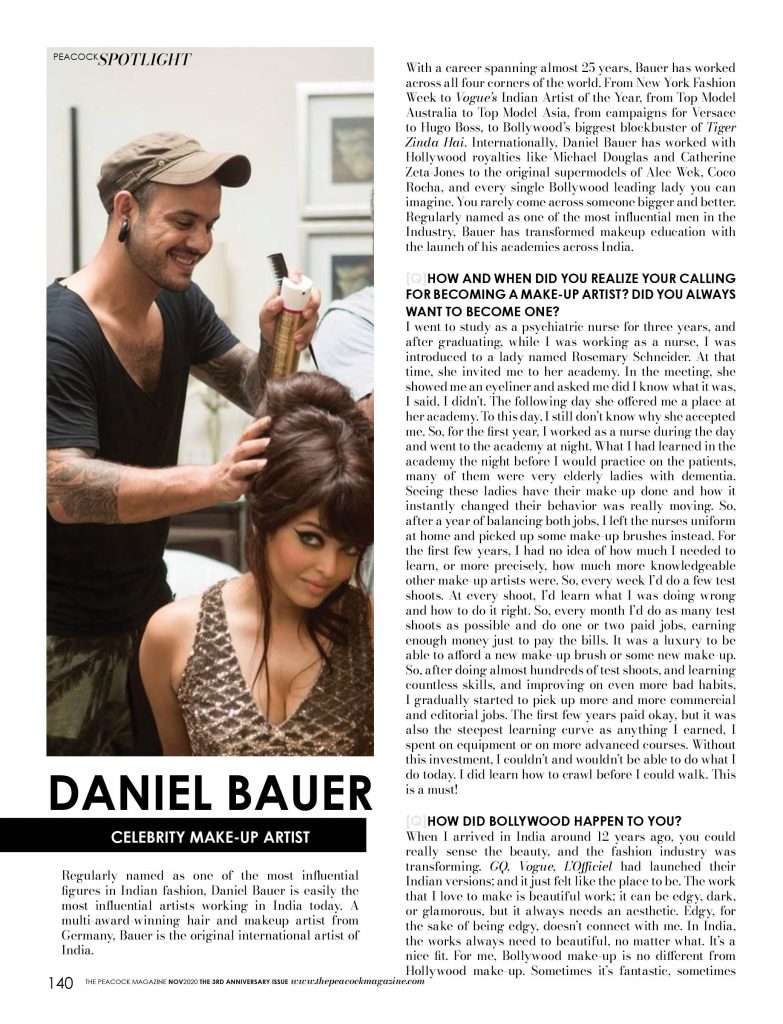 DANIEL BAUER – CELEBRITY HAIR AND MAKE-UP ARTIST
CREDITS-
IMAGES ARTIST'S OWN.

Regularly named as one of the most influential figures in Indian fashion, Daniel Bauer is the most influential artists working in India today. A multi-award-winning hair and makeup artist from Germany, Daniel is the original international artist of India.
With a career spanning almost 25 years, Daniel has worked across all four corners of the world. From New York Fashion Week to Vogue's Indian Artist of the Year, from Top Model Australia to Top Model Asia, from campaigns for Versace to Hugo Boss, to Bollywood's biggest blockbuster of 'Tiger Zinda Hai'. Internationally, Daniel Bauer has worked from Hollywood Royalties like Michael Douglas and Catherine Zeta-Jones to the original supermodels of Alec Wek, Coco Rocha, and every single Bollywood leading lady you can imagine. You rarely come across someone bigger and better. Regularly named as one of the most influential men in the Industry, Daniel has transformed makeup education with the launch of his academies across India.

[Q] How and when did you realize your calling for becoming a make-up artist? Did you always want to become one?
My family is as mixed as it can get. My dad is German, my mom is Thai, my grandfather is Indian, my grandmother is Chinese, and my great grandfather is Malaysian. I myself was born in Australia but grew up in Germany. As a kid I was always fascinated at how different all my aunties looked, all of them living across the four corners of the world. This fascination never left me, but I never did anything about it. After leaving college, I went to study as a psychiatric nurse for three years, and after graduating, while I was working as a nurse, I was introduced to a lady named Rosemary Schneider. At that time, I didn't know, but she ran and still does run a very famous make-up and hair academy. She selects eight students a year. She invited me to a meeting at her academy. In the meeting, she showed me an eyeliner and asked me did I know what it was, I said, I didn't. The following day she offered me a place at her academy. To this day, I still don't know why she accepted me. So, for the first year, I worked as a nurse during the day and went to the academy at night. What I had learned in the academy the night before I would practice on the patients, many of them were very elderly ladies with dementia. Seeing these little ladies have their make-up done and how it instantly changed their behavior was really moving. So, after a year of balancing both jobs, I left the nurses uniform at home and picked up some make-up brushes instead. For the first few years, I had no idea of how much I needed to learn, or more precisely, how much more knowledgeable other make-up artists were. So, every week I'd do a few test shoots. At every shoot, I'd learn what I was doing wrong and how to do it right. So, every month I'd do as many test shoots as possible and do one or two paid jobs, earning enough money just to pay the bills. It was a luxury to be able to afford a new make-up brush or some new make-up. So, after doing almost hundreds of test shoots, and learning countless skills, and improving on even more bad habits, I gradually started to pick up more and more commercial and editorial jobs. The first few years paid okay, but it was also the steepest learning curve as anything I earned, I spent on equipment or on more advanced courses. Without this investment, I couldn't and wouldn't be able to do what I do today. I did learn how to crawl before I could walk. This is a must!
[Q] How did Bollywood happen to you?
When I arrived in India around 12 years ago, you could really sense the beauty, and the fashion industry was transforming. GQ, Vogue, L'Officiel had launched their Indian versions; and it just felt like the place to be. The work that I love to make is beautiful work; it can be edgy, dark, or glamorous, but it always needs an aesthetic. Edgy, for the sake of being edgy, doesn't connect with me. In India, the works always need to beautiful, no matter what. It's a nice fit. For me, Bollywood make-up is no different from Hollywood make-up. Sometimes it's fantastic, sometimes too heavy, sometimes it's natural, sometimes it's outstanding.
[Q] When did you get your first big break?
It was way back in the early 1990s for a major fashion show called 'Life Ball'. At the time, it was the biggest fashion show in the world. As I was setting up, Alec Wek sat on my chair for make-up. I think this was the moment I felt I was a professional in the industry.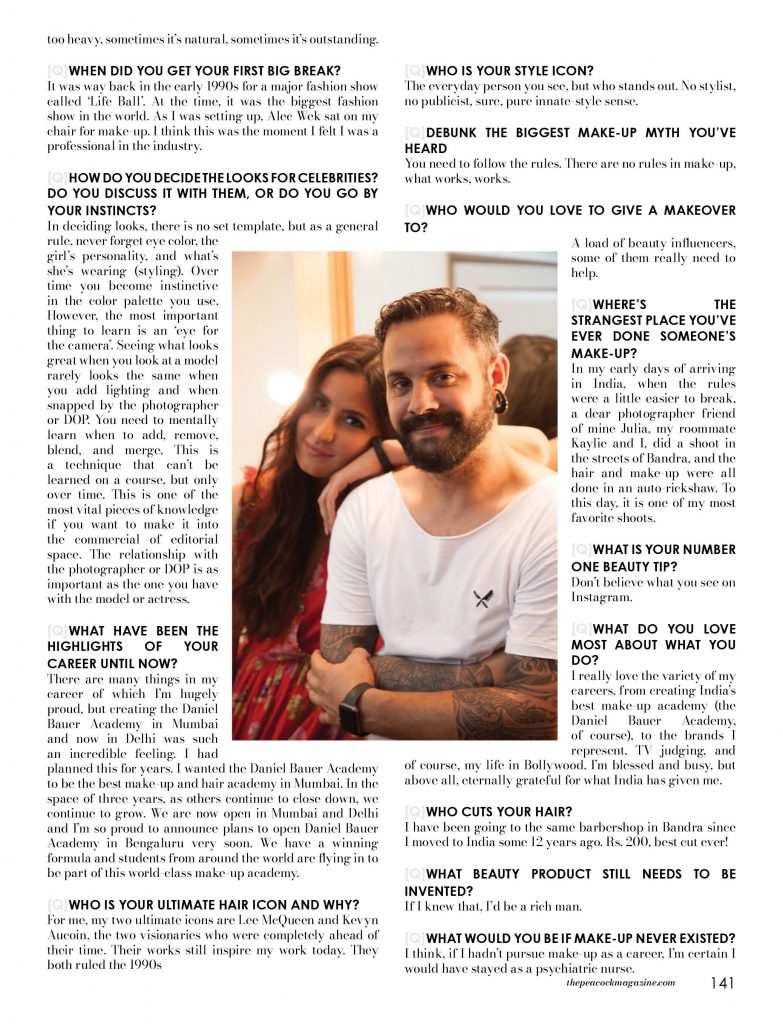 [Q] How do you decide the looks for celebrities? Do you discuss it with them, or do you go by your instincts?
In deciding looks, there is no set template, but as a general rule, never forget eye color, the girl's personality, and what's she's wearing (styling). Over time you become instinctive in the color palette you use. However, the most important thing to learn is an 'eye for the camera'. Seeing what looks great when you look at a model rarely looks the same when you add lighting and when snapped by the photographer or DOP. You need to mentally learn when to add, remove, blend, and merge. This is a technique that can't be learned on a course, but only over time. This is one of the most vital pieces of knowledge if you want to make it into the commercial of editorial space. The relationship with the photographer or DOP is as important as the one you have with the model or actress.
[Q] What have been the highlights of your career until now?
There are many things in my career of which I'm hugely proud, but creating the Daniel Bauer Academy in Mumbai and now in Delhi was such an incredible feeling. I had planned this for years. I wanted the Daniel Bauer Academy to be the best make-up and hair academy in Mumbai. In the space of three years, as others continue to close down, we continue to grow. We are now open in Mumbai and Delhi and I'm so proud to announce plans to open Daniel Bauer Academy in Bangalore very soon. We have a winning formula and students from around the world are flying in to be part of this world-class make-up academy.
[Q] Who is your ultimate hair icon and why?
For me, my two ultimate icons are Lee McQueen and Kevyn Aucoin, the two visionaries who were completely ahead of their time. Their works still inspire my work today. They both ruled the 1990s.
[Q] Who is your style icon?
The everyday person you see, but who stands out. No stylist, no publicist, sure, pure innate-style sense.
[Q] Debunk the biggest make-up myth you've heard.
You need to follow the rules. There are no rules in make-up, what works, works.
[Q] Who would you love to give a makeover to?
A load of beauty influencers, some of them really need to help.
[Q] Where's the strangest place you've ever done someone's make-up?
In my early days of arriving in India, when the rules were a little easier to break, a dear photographer friend of mine Julia, my roommate Kaylie and I, did a shoot in the streets of Bandra, and the hair and make-up were all done in an Auto-rickshaw. To this day, it is one of my most favorite shoots.
[Q] What is your number one beauty tip?
Don't believe what you see on Instagram.
[Q] What's one celebrity beauty secret we might not know about, but should?
Many celebs actually go several shades darker with their make-up. The likes of Aishwarya and Kareena are naturally fair and usually go a shade darker with their make-up.
[Q] What do you love most about what you do?
I really love the variety of my careers, from creating India's Best make-up academy (the Daniel Bauer Academy, of course), to the brands I represent, TV judging, and of course, my life in Bollywood. I'm blessed and busy, but above all, eternally grateful for what India has given me.
[Q] Who cuts your hair?
I have been going to the same barbershop in Bandra since I moved to India some 12 years ago. 200 Rupees, best cut ever!
[Q] What beauty product still needs to be invented?
If I knew that, I'd be a rich man.
[Q] What would you be if make-up never existed?
I think, if had hadn't pursue make-up as a career, I'm certain I would have stayed as a Psychiatric Nurse.