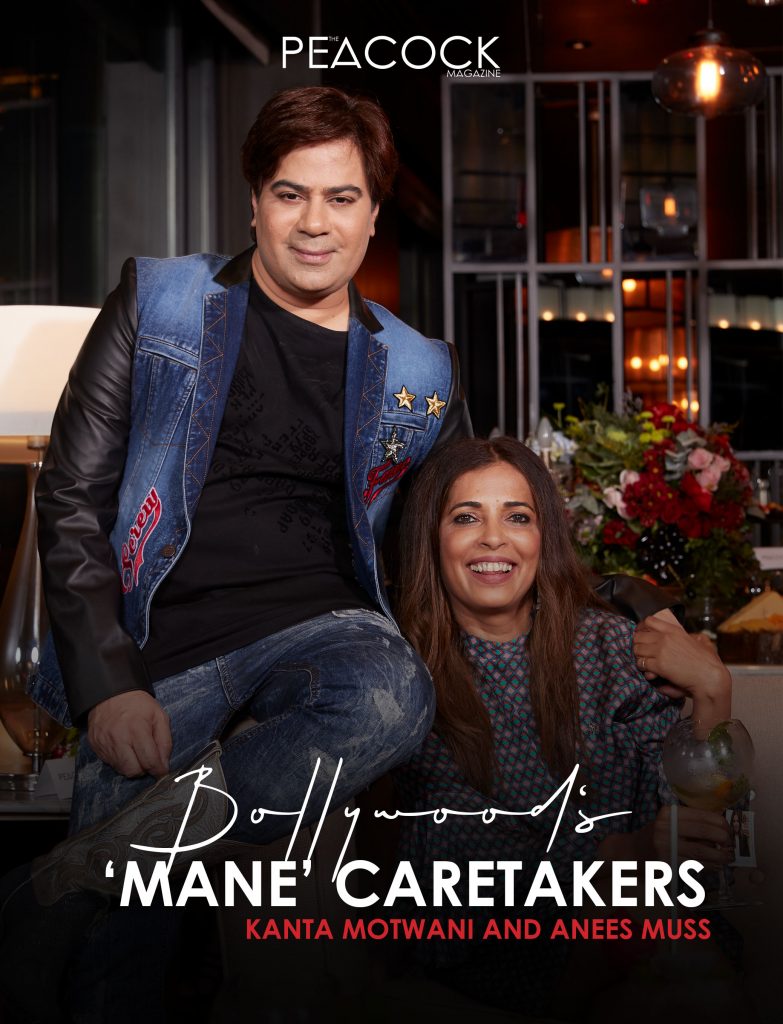 CREDITS-
PHOTOGRAPHY – ABHEET GIDWANI
CLOTHING – FALGUNI SHANE PEACOCK

Hairstyling expert, Kanta Motwani's name is not an unknown one in the Indian beauty industry and even in Bollywood. From Aishwarya Rai Bachchan to Sara Ali Khan to many other Bollywood biggies have been a part of Kanta's snip stories. Curator of the Kromakay Salons & Academy, Motwani's stint with hair care dates back to three decades. Today, she is the go-to person for many Bollywood personalities and others from the film and fashion industry. Known to give home-like TLC with the latest salon techniques and expertise, Kanta's haircare routine is all about striking a balance between the usage of effective products and having a healthy lifestyle. In a quick, fun chat with The Peacock Magazine, Kanta debunks some hair myths, gives a glimpse into what's going to trend, and alas, tells us who cuts her hair! Read on –
[Q] What's the craziest request you've ever had from a celebrity?
Not a very bizarre one, but when a makeover has to be done, working hours are pushed to midnight sessions that go on till dawn, and time flies when you start the hair color process.
[Q] Who is your ultimate hair icon? Why?
My favorite one is Helen Ji. She is always willing to try something new with her hair whether it's with her haircut or color. With age, she is one such icon who always wants to experiment and surprises us every time. From the current talent pool, it's Priyanka Chopra, who never fails to amaze us with her bold choices, and also Sara Ali Khan as she is forever willing to reinvent her hair design with a new project.
[Q] Is there someone you haven't worked with yet that you're looking forward to?
It would be Deepika Padukone. We would love to work with her.
[Q] Whose hair would you love to give a makeover to?
My list is a long one! Anyone who is up for a makeover, for me it is a challenge that I look forward to and they are always welcome on the hair dresser's chair!
[Q] Where's the strangest place you've ever done someone's hair?
It was in New York where Abhishek Bachchan needed a haircut. There was no salon space, so we set up a shop in the hotel room. Since he is very tall, he settled himself on the bathroom floor and I found myself sitting on the commode while cutting his hair! *laughs* Apart from that, there are a lot of fun times at fashion weeks, where I've stood on the chair to cut hair and get that perfect symmetrical fringe look for those tall models!!
[Q] Debunk the biggest hair myth that prevails.
Frequent trims make your hair grow faster. Cutting the ends of your hair doesn't affect the follicles in your scalp, which determine how fast and how much your hair grows.
[Q] Which hair products/tools that will always be found in your bag?
Hair serum, a hair tie, and a battery-operated hair iron.
[Q] One hair product you can't live without?
Hair serum and dry Shampoo. It changes the texture of my hair for the better.
[Q] What is your number one hair care tip?
TLC! Look after your hair like you would take care of a silk garment. A good rule of thumb is to swap products as the seasons change.
[Q] What aspect of your hair care routine tends to be neglected?
Make it a routine to indulge in a relaxing hair treatment once or twice a month. A head massage combined with a treatment that soothes your scalp and tresses.
[Q] Which hair care item would you never skip?
Conditioner.
[Q] What hair care product still needs to be invented?
A smart tool that will give you the texture you want with just a simple push of a few buttons.
[Q] What is the biggest tip you can give that will change people's lives?
Visit your hairdresser!
[Q] What do you foresee as the top beauty trends for the remainder of 2020? And please explain?
A low maintenance hair color design. Go for a customized hair design that plays with your natural base shade and add warm undertones where the color reflects pretty hints of gold. To create this look, placement is the key, a freehand painting of balayage pieces with face-framing foiled 'baby lights'. This is a style that can be carried from season to season and it adds dimension to your hair. In haircuts, it's all about enjoying a confident and stylish new image by going short. Get rid of those long locks and add new energy with a tasteful style that can be messy, sleek, or sophisticated and of course, futuristic.
[Q] Lastly, who cuts your hair?
I indulge myself with a new hair artist every time. My team cuts my hair.