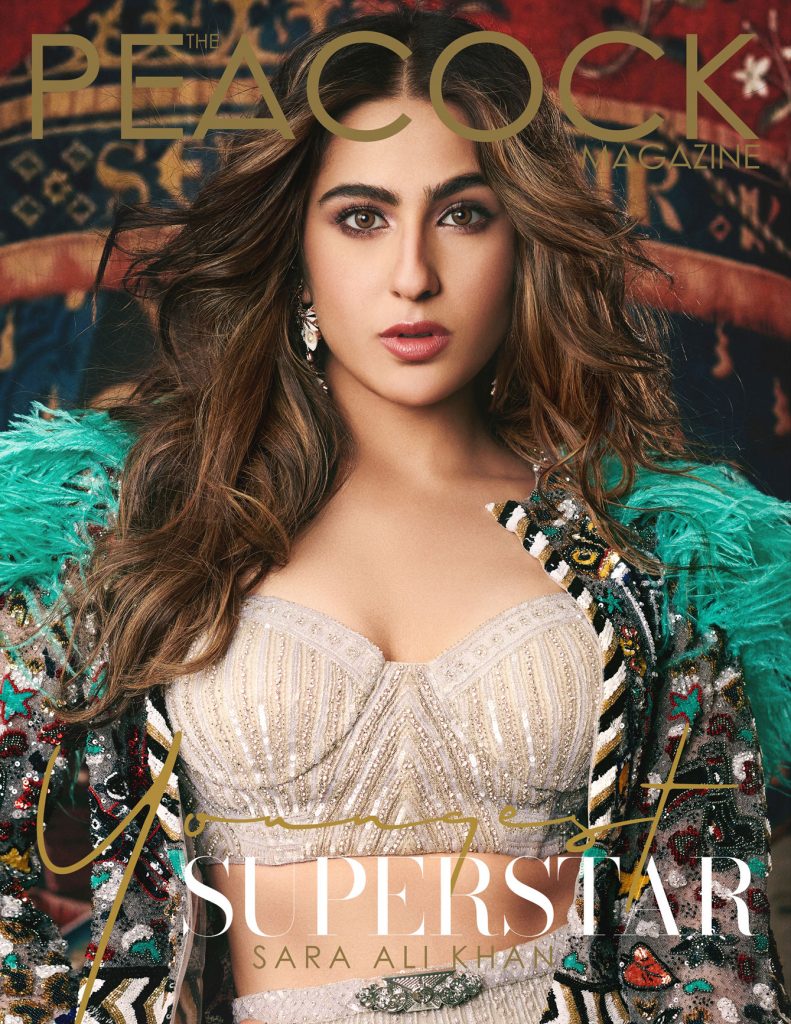 We first saw her hovering around her father – the forever young Saif Ali Khan – on his film sets and ever since then the world gave their hearts to baby Sara Ali Khan who looked every bit of cute wearing her innocent smile and little ponytails. Born in the royal Pataudi family, Sara was already a known name, owing to the famous lineage she belongs to. With grandparents, Mansoor Ali Khan Pataudi and Sharmila Tagore – two celebrated names that go down in the history of India; and parents Saif Ali Khan and Amrita Singh – gifted actors of the Indian film industry, Sara's entry into the film arena was a highly anticipated one. She was first seen on television as a guest in director-producer Karan Johar's popular chat show alongside father Saif. Despite being a newbie, she was confident while conversing with her actor-father and the celebrity host; and looked every bit ready to take on Bollywood and the world. The chat show, which was ahead of Sara's debut film, left us with the impression that the young actress will keep up the streak of legendary that runs in her family.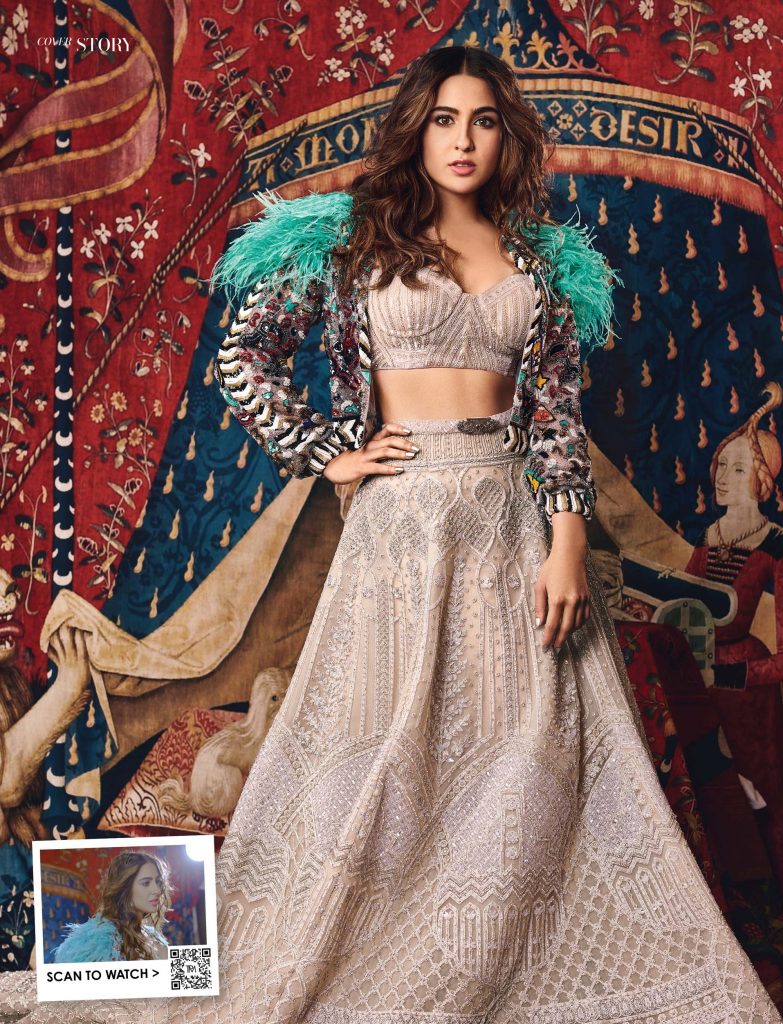 When her first film hit the theatres, Sara's impeccable acting and her fresh face won rave reviews, and before she could sink into the success of her debut outing, she was seen in her second flick, directed by Bollywood's ace action director Rohit Shetty. 2018 was the year for Sara with immense success in her kitty, and there was no looking back since then! Everyone wanted a bit of this young gun of an actress! Brands pictured her as the face of their entity, magazines desired her as their cover star, interviewers craved to know the never-known side of her and the audience wanted to know everything about her – right from what's in her bag to whom does she tag (in memes). Sara's candid demeanor, her honest-to-goodness opinions and her take on life were a whiff of fresh air as opposed to the jaded, patented answers celebrities were expected to give. Be it the grey areas of her familial life or her rumored relationships, Sara has spoken about it all matter-of-factly and unflinchingly, thus making us believe that superstars are not always about unspoken veil they cover up with. Her mannerisms, her conduct, her academic mien, and everything in between have all pointed towards the fine young lady that she is and a powerful one in the making. Sara regards all her virtues to her holistic upbringing and the ethos she was imbibed upon by her parents and their respective families. She chirps off how her mum is her best friend, and we are not unfamiliar with the headstrong, no-nonsense woman that her mother, Amrita Singh is. That, perhaps, accredits Sara's women-for-women attitude and doesn't get perturbed when quizzed about the other young actresses of her league.

On the fashion front, Sara has been on the radar of paparazzi even before her Bollywood debut. One could attribute her to be a catalyst in making effortless and comfortable fashion come back in trend like never before. Apart from her gym gear, Sara mostly is seen in crisp chikankari kurta sets that she compliments with a fresh, dewy look. Keeping her love affair for au naturel and hassle-free fashion in mind, label Falguni Shane Peacock, dressed her in their signature ensemble as she walked their show as showstopper for the Indian Couture Week, 2019; marking the actress' ramp debut. Sara was a sight of worth a million dollars as she sashayed the ramp in an ivory white, crystal cascading lehenga adorned with dewy makeup and beachwave curls. Her runway debut was met with cheers, not just from the audience present but everyone who witnessed the beauty from every corner of the world.

In a conversation with The Peacock Magazine, Sara gets candid about her early memories of acting, her debut experience, the projects in pipeline and her love for chikankari kurta sets.
[Q] HOW DO YOU FEEL ABOUT BEING BOLLYWOOD'S YOUNGEST SUPERSTAR?
"I'm being very honest with you, but in today's day and age, with social media being as rampant as it is, we (actors) are so much more approachable, relatable and closer to our audience that I certainly think everybody has kind of lost the chance to be a superstar. I really believe that Sridevi is the last superstar our country ever saw. I don't personally associate or relate to that word at all."
[Q] WHAT IS YOUR EARLIEST MEMORY OF ACTING?
"It is actually a funny story. I remember that my father and my mother were very keen on me getting admission into Besant Montessori School. So, when they had the headmaster on the phone, my mom told me to say 'Adaab' really nicely, and my father said to say something intelligent. I took the phone and started singing 'Dama dum mast kalandar, Ali da pehla number.' I thought I was doing a full acting number without realizing the seriousness of the situation. I believe that is my first memory of acting. To complete the story, I have to tell you that I did get admission, and the headmaster thought that I was a fairly confident girl. I got my first admission based on my acting."
[Q] YOU MADE TIKTOK VIDEOS EVEN BEFORE IT WAS A THING. (CUE: YOUR 'TU TU HAI WAHI' VIDEO FEATURED ON KARAN JOHAR'S CHAT SHOW) CAN YOU SHED MORE LIGHT ON THE CLOSETED ARTIST THAT YOU WERE BACK THEN?
"For me, acting, dancing, performing has very little to do with how I look or how I looked. It was and is all about having fun. So, when I made these home videos on my Mac Book Pro on the Photobooth app, I was just having fun and wasting time in New York while studying at the Columbia University. Even to date, I believe that the most important part of our job is to have fun because it is impossible to make other people have fun if you're not enjoying yourself first."
[Q] WAS 'KEDARNATH' JUST THE MOVIE YOU HAD ALWAYS THOUGHT YOU'D MAKE YOUR DEBUT WITH?
"I never really had a specific type of film that I wanted to make my debut with. The only thing I knew was that I needed to play/portray a character that I believed in because I had no background in acting, and the only thing that I had to bet on was my conviction and gut for the script or my character. But when Kanika Dhillon read the film to me, I knew there was no other film I could imagine debuting over Kedarnath, and I thank my lucky stars to date that I got an opportunity to do a film like that."
[Q] YOU ARE CONSTANTLY IN THE LIMELIGHT WITH YOUR BRAND ENDORSEMENTS, MAGAZINE FEATURES, AND MORE. DO YOU THINK TODAY AN ACTOR TODAY CAN BE RELEVANT AND TRENDING WITH THIS KIND OF FAME OR IS IT ONLY THE NUMBER OF FILMS AND ITS BO EARNINGS THAT SPEAKS FOR THE ACTOR?
"I think I am very new in the industry to be able to tell what makes you relevant or trending. I know what makes you relatable is being honest and real. In today's day and age, there are brand endorsements, social media, and all of that, but I've grown up with mom always saying your films will speak for themselves, and your work will speak for itself. I definitely agree that it has to, does and should come first."
[Q] THERE'S 'COOLIE NO. 1' AND IMTIAZ ALI'S NEXT OUTING LINED UP FOR YOU IN 2020. HOW EXCITED ARE YOU FOR THIS? WHAT MORE SHOULD WE BE LOOKING OUT FOR FROM YOU IN 2020?
"I'm beyond excited! I have gotten the opportunity to be part of two such different and diverse yet equally enthralling worlds. Imtiaz sir creates this extremely realistic, relatable, young, urbane kind of world that he fully involves you in, and then there is David sir who has this larger-than-life, colorful, vibrant, energetic world that he enthralls you in. That's quite a lot to be looking forward to in the first half of the year, and I'm more than excited about it. There are other things in the pipeline as well, and you shall hear about them very soon."
[Q] IT IS A DREAM-COME-TRUE FOR EVERY ACTOR TO MASTER HIS/HER EMOTIONS. HOW DOES IT ALTER YOU AS AN ACTOR?
"I don't think it's about mastering your emotions. For me, at least, it is more about being more observant and being more real. As an actor, it is extremely important to observe things around you and within you. Being an actor has made me spend a lot of time with myself, be it at home, on sets, or in the van. One ends up spending a lot of time alone even though we work in a people's business. If used productively, that time can allow you to kind of self-reflect and understand things about yourself that you didn't really know. That is something that has altered me. I now have the time and patience to self-introspect more, and I think I know myself and understand myself a little better than I think I did before I was an actor."
[Q] ARE YOU ABOUT INTERESTING ROLES IRRESPECTIVE OF ITS LENGTH, OR SHOULD THE MOVIE BE A COMPLETE PACKAGE RIGHT FROM THE MAKERS TO THE CAST TO THE LENGTH OF THE ROLE AND EVERYTHING ASSOCIATED WITH IT?
"I believe you do different films for different reasons. At the end of the day, something in that film just needs to feel right. I am, and I have been told so that I'm an overthinker and an over- intellectualizer. But I've come to a point where I don't do it with my job. When it comes to my profession, the only thing I fully trust is my gut. I think that there is something in you that excites you as an actor. There's just something that will tell you from within that you want to be a part of this project. It could be because you are dying to work with Imtiaz Ali, or it could be because the script of Kedarnath was killer, or it could be because you are a die-hard Rohit Shetty fan, or it could be because you really want to work with Varun Dhawan. I don't know what the reason is, but it is always different. As long as there is a conviction, there is a gut, and there is a drive – that's all you need."
[Q] YOU ARE CONSTANTLY COMPARED TO THE ACTRESSES OF YOUR LEAGUE. ARE YOU THE KIND TO THRIVE ON HEALTHY COMPETITION, OR DO YOU SIMPLY IGNORE IT AND FOCUS ON YOURSELF?
"I've come to realize that competition is inevitable in our profession, and it is not something that we can really ignore, but it is something that we can make the most out of. I don't think competition should pull you down because the only thing that works in this industry is honesty, being yourself and that there is only one of you. I mean, unless you have a clone, which you shouldn't! Haha! Jokes apart, the only thing that works is being authentic to who you are. As far as competition is concerned, it only makes the game more fun, exciting and real because anyway there is no way you can escape that. But I don't think you should let it get to you and that it should be treated in a healthy way. If I see a picture of Jahnvi or Shraddha or Alia going to the gym, I'm motivated not to eat a brownie that is in front of me, and I think that's healthy and a part of our profession."
[Q] YOU WERE BORN TO FILMSTAR PARENTS. HOW INVOLVED ARE THEY IN YOUR PROFESSIONAL LIFE? DO YOU SEEK THEIR ADVICE OR SUGGESTIONS OR DISCUSS YOUR SCRIPTS WITH THEM?
"I do turn to my parents for advice on most things in my life. Because I live with my mother, I kind of nitpick and talk to her almost about everything, from what I have to wear to what I should eat or anything for irrelevant things to the biggest of things in my life. They have advised me, and I couldn't agree more, that as an actor who has to spend anywhere between 60 to 120 days on the film set, you need to be thoroughly convinced about the film that you are doing and the script that you are doing. Advice, opinions, and all of that is necessary, but nothing can replace the conviction and gut that you have as an actor, and that's the most important thing before going on a film set."
[Q] WHAT IS THAT ONE QUALITY YOU TAKE FROM EACH OF YOUR PARENTS TO BRING ALONG WITH YOU ON THE FILM SETS?
"It's a lot more than one. I think I'm an interesting mix of both my parents and I carry that everywhere I go, whether it is to the gym or to the film set. They have both inculcated honesty in me as a human being and hence, as an actor. They are spontaneous, energetic, and fun people, and I have really tried to imbibe these qualities. I hope that I can further it in my profession and my life, in general."
[Q] YOU MARKED YOUR RUNWAY DEBUT WITH LABEL FALGUNI SHANE PEACOCK THIS YEAR. CAN YOU TELL US ABOUT YOUR FIRST RAMP EXPERIENCE?
"Falguni and Shane have been absolutely lovely and wonderful people to work with. They gave just the very beautiful lehenga in white, which is my favorite color, and the work on it was really intricate and really beautiful. I was very excited because it was my first ever ramp walk, and I had an extremely lovely, almost Cinderella-esque first ramp experience. So, I would really like to thank Falguni and Shane for that."
[Q] TELL US ABOUT YOUR FIRST FASHION MEMORY.
"For me, fashion has always been about comfort from ever since I can remember. If anything, making a slightly extra effort because you're going out and you just want to have fun, make that effort for yourself. I think my first fashion memory would probably be watching mom putting on some lipstick or wearing a churidar-kurta on her way out somewhere."
[Q] WHAT IS YOUR FAVORITE HACK FOR THE RED CARPET?
"At the risk of sounding repetitive, my favorite hack for the red carpet is to wear your confidence and speak your mind!"
[Q] HOW DO YOU DECIDE WHAT KIND OF LOOK WORKS FOR YOU? OR DO YOU RELIGIOUSLY SWEAR BY YOUR STYLIST'S CHOICE?
"I really don't know what kind of look works for me, but I know what look doesn't work for me and its 'discomfort.' You can really wear anything that you feel comfortable in and of course, by keeping in mind what the occasion demands. As long as you understand where you're going, I think that you should just be able to have fun and really be yourself. I think that's more important than anybody else influencing you."
[Q] DO YOU THINK THERE ARE CERTAIN TYPES OF LOOKS THAT YOU CAN BE PHOTOGRAPHED THE BEST? IF YES, WHICH ONES?
"As an actor, it is important to embrace versatility always and that includes the way that you dress up. But my personal favorite will always be traditional Indian wear!"
[Q] WHAT'S YOUR FAVORITE FASHION TREND?
"I don't really follow fashion trends very much, so I really don't know. I like matching my bangles and my juttis to my dupattas and wearing them with white chikankari clothes. But I don't know if that's a trend or if it's a thing that I do."
[Q] WHAT'S THAT ONE FASHION TREND YOU'D DARE NOT BE SEEN IN?
"I'm quite a daring person like that. There's nothing that I would dare not be seen in. It's just that anything that I wouldn't wear anything that I am uncomfortable wearing because I wouldn't enjoy it. It is about comfort and enjoyment in that order and not about anything else."
[Q] WHAT IS YOUR FAVORITE PERFUME?
"My all-time-favorite is Chanel N°5 because it reminds me of my mother. But I'm currently enjoying Roberto Cavalli perfume as that's the one that I'm using right now."
[Q] WHAT ARE YOUR WARDROBE STAPLES?
"My wardrobe staples are white chikankari clothes and Puma track pants."
[Q] WHAT ARE SOME ITEMS THAT ARE TOTALLY WORTH THE SPLURGE?
"I'm not a very brand conscious and I don't personally believe in splurging on clothes at all. My taste is most reflected in basic Indian traditional clothes that I can get in markets of Jaipur, Delhi and Bombay very easily. I don't really know any item that is really necessary worth a splurge at all."
[Q] DO YOU WEAR YOUR FAVORITE PIECE TILL ITS DEATH? IF YES, WHAT WAS THE LAST PIECE YOU WORE TILL IT RAGGED?
"The last piece that I wore was this long, comfortable maxi dress because it has buttons, so it is very easy to do hair and makeup in it. It did tear on me on the set, which was not fun, but yeah, that was the last one."
[Q] WHO, ACCORDING TO YOU, ARE THE BEST-DRESSED PEOPLE IN THE SHOWBIZ?
"I really can't decide, but I'll give you my one personal favorite – Ranveer Singh. He dresses exactly the way he wants to dress, and he doesn't care about the trends, he creates them, and I really enjoy that."
Credits-
Photography – Amit Sharma
Make Up – Arti Nayar
Hair Stylist – Ayesha Devitre
Jewellery – Outhouse
Clothing – Falguni Shane Peacock