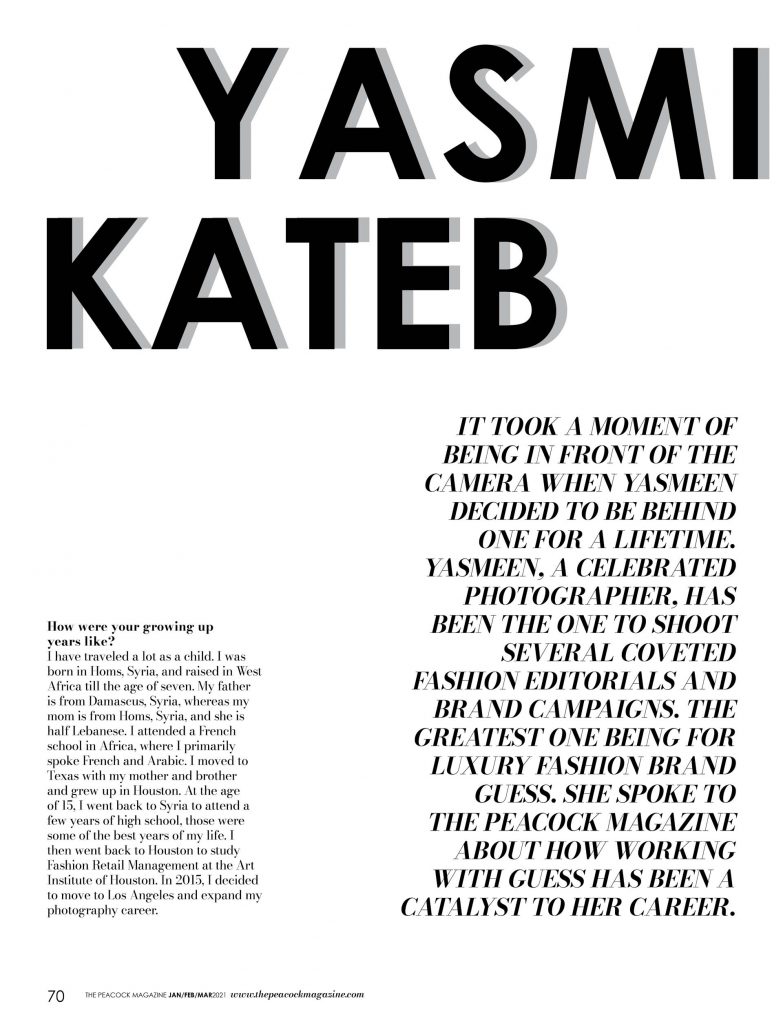 IT TOOK A MOMENT OF BEING IN FRONT OF THE CAMERA WHEN YASMEEN KATEB DECIDED TO BE BEHIND ONE FOR A LIFETIME. YASMEEN, A CELEBRATED PHOTOGRAPHER, HAS BEEN THE ONE TO SHOOT THE MANY COVETED FASHION EDITORIALS AND BRAND CAMPAIGNS, THE GREATEST ONE BEING FOR LUXURY FASHION BRAND 'GUESS'. SHE SPOKE TO THE PEACOCK MAGAZINE ABOUT HOW WORKING WITH 'GUESS' HAS BEEN A CATALYST TO HER CAREER.

CREDITS-
Images artist's own.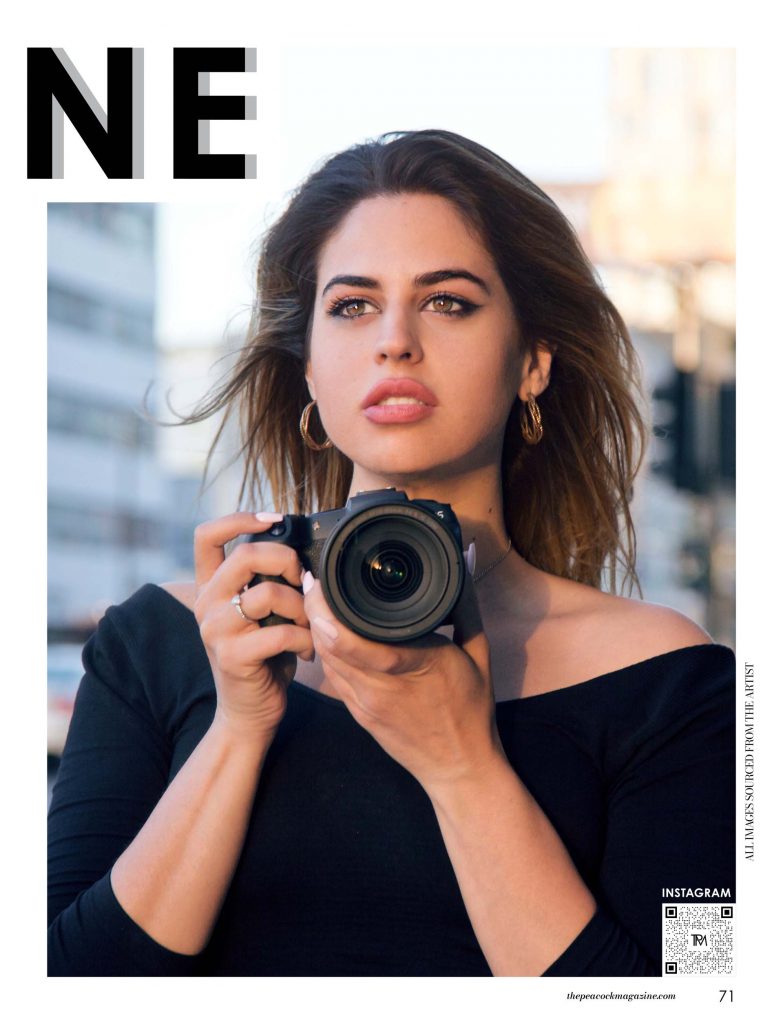 [Q] How were your growing up years like?
I have traveled a lot as a child. I was born in Homs, Syria, and raised in West Africa till the age of seven. My father is from Damascus, Syria, whereas my mom is from Homs, Syria, and she is half Lebanese. I attended a French school in Africa, where I primarily spoke French and Arabic. I moved to Texas with my mother and brother and grew up in Houston. At the age of fifteen, I went back to Syria to attend a few years of high school, those were some of the best years of my life. I then went back to Houston to study Fashion Retail Management at the Art Institute of Houston. In 2015, I decided to move to Los Angeles and expand my photography career.
[Q] When and how did you find yourself interested in photography?
I had picked up photography in the year 2011 when I was in front of the camera. The moment I picked up a camera, I knew this is what I wanted to do for the rest of my life. Every time I held a camera, it was like Deja vu. My first breakthrough fashion photoshoot was with Vogue Italia. It was a huge turning point in my career. I noticed the stigma that comes with beauty standards in this industry and the damage that it can cause to models. It motivated me, and that became a goal of mine to bring out the best in whoever I photograph and make sure they feel comfortable.
[Q] How does the location of the shoot inspire the photographer/artist in you?
Surprisingly, the location is the last thing on my mind when it comes to my shoots. I have always been very spontaneous for my photoshoots. I follow my intuitions and let the light lead me to my location. This spontaneity makes it all the more fun for me. Unplanned is always surprising and can lead to photographs that will surprise you in the best way. Some of my favorite shots were taken right next to a dumpster out of focus. What inspires me more than the location is having a good connection with the model I'm photographing.
[Q] You're a photographer and a creative visualizer. Where does your love for multimedia stem from?
My creativity as a photographer stems from my childhood years. I've always had a love for painting. I visualize my camera as my paintbrush and the light as a stroke of paint on my canvas.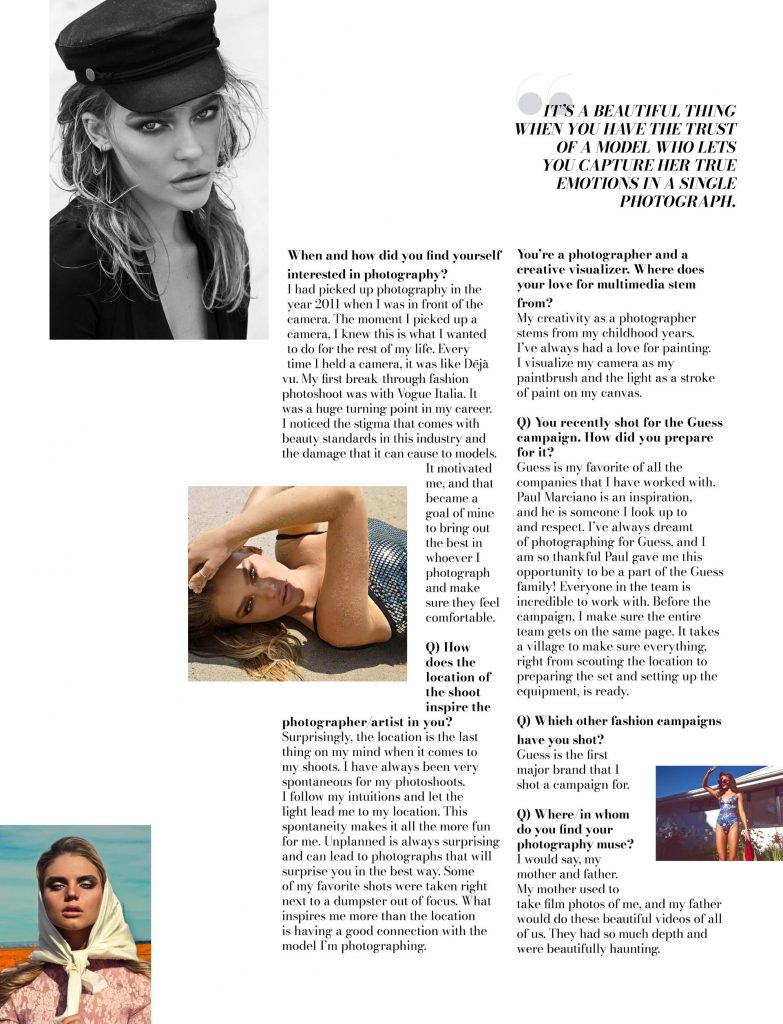 [Q] You recently shot for the 'Guess' campaign. How did you prepare for it?
Guess is my favorite of all the companies that I have worked with. Paul Marciano is an inspiration, and he is someone I look up to and respect. I've always dreamt of photographing for Guess, and I am so thankful Paul gave me this opportunity to be a part of the Guess family! Everyone on the team is incredible to work with. Before the campaign, I make sure the entire team gets on the same page. It takes a village to make sure everything, right from scouting the location to preparing the set and setting up the equipment, is ready.
[Q] Which other fashion campaigns have you shot?
Guess is the first major brand that I shot a campaign for.
[Q] Where/in whom do you find your photography muse?
I would say, my mother and father. My mother used to take film photos of me, and my father would do these beautiful videos of all of us. They had so much depth and were beautifully haunting.
[Q] What sets your mood for photographing?
Music! My favorite composer is Yann Tiersen. I find inspiration in his music.
[Q] How do you prepare yourself before any shoot as a creative director?
It depends on the photoshoot or the client. I typically scout locations, scout models/artists, create a mood board for the wardrobe stylists and the makeup/hair team and hire assistants. During photoshoots, I direct models posing, adjust lighting, and find the next location set up. When I finish with the shoot, I transfer images from my computer to the clients. My creative juices flow at night. Typically I pull all-nighters and edit right away because I like having things done before deadlines.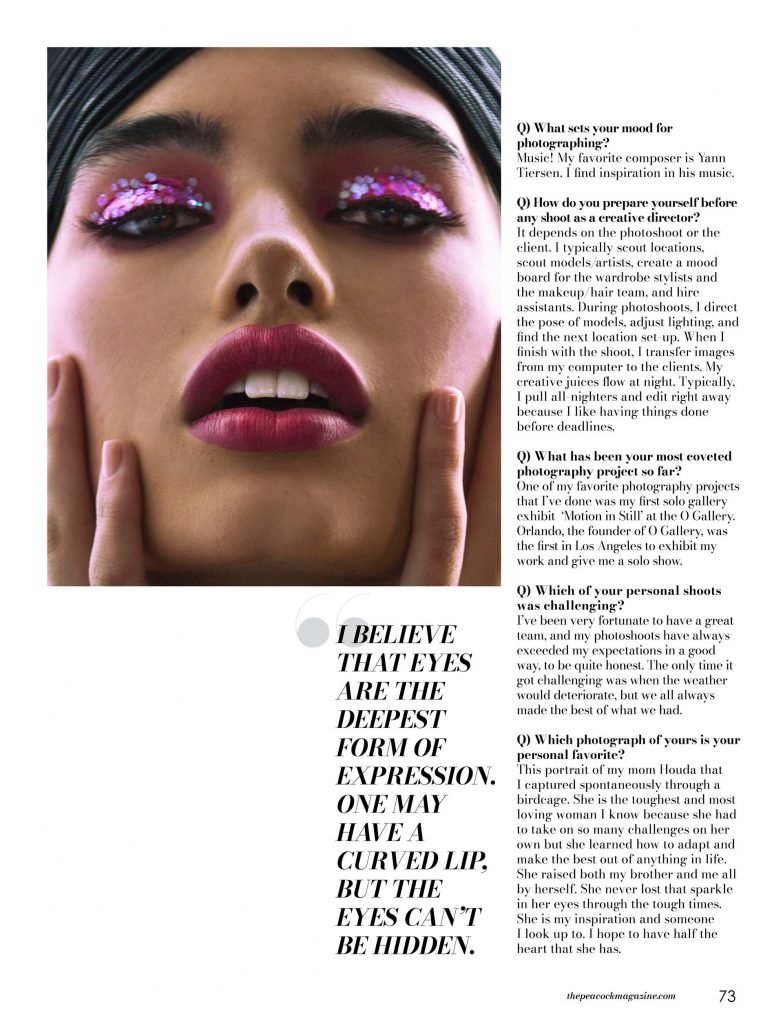 [Q] What has been your most coveted photography project so far?
One of my favorite photography projects that I've done was my first solo gallery exhibit 'Motion in Still' at the O Gallery. Orlando, the founder of O Gallery, was the first in Los Angeles to exhibit my work and give me a solo show.
[Q] Which of your personal shoots was challenging?
I've been very fortunate to have a great team, and my photoshoots have always exceeded my expectations in a good way, to be quite honest. The only time it got challenging was when the weather would deteriorate, but we all always made the best of what we had.
[Q] Which photograph of yours is your personal favorite?
This portrait of my mom Houda that I captured spontaneously through a birdcage. She is the toughest and most loving woman I know because she had to take on so many challenges on her own but she learned how to adapt and make the best out of anything in life. She raised both my brother and me all by herself. She never lost that sparkle in her eyes through the tough times. She is my inspiration and someone I look up to. I hope to have half the heart that she has.
[Q] Which has been your most favorite shoot in your journey till now?
To this day, my favorite shoots have been all the shoots for Guess!
[Q] Who are your biggest mentors?
My family. They are my greatest mentors. They have supported me and believed in me even when I wanted to give up on myself. It's also a plus that my mom is a life coach and has guided me through many obstacles and challenges.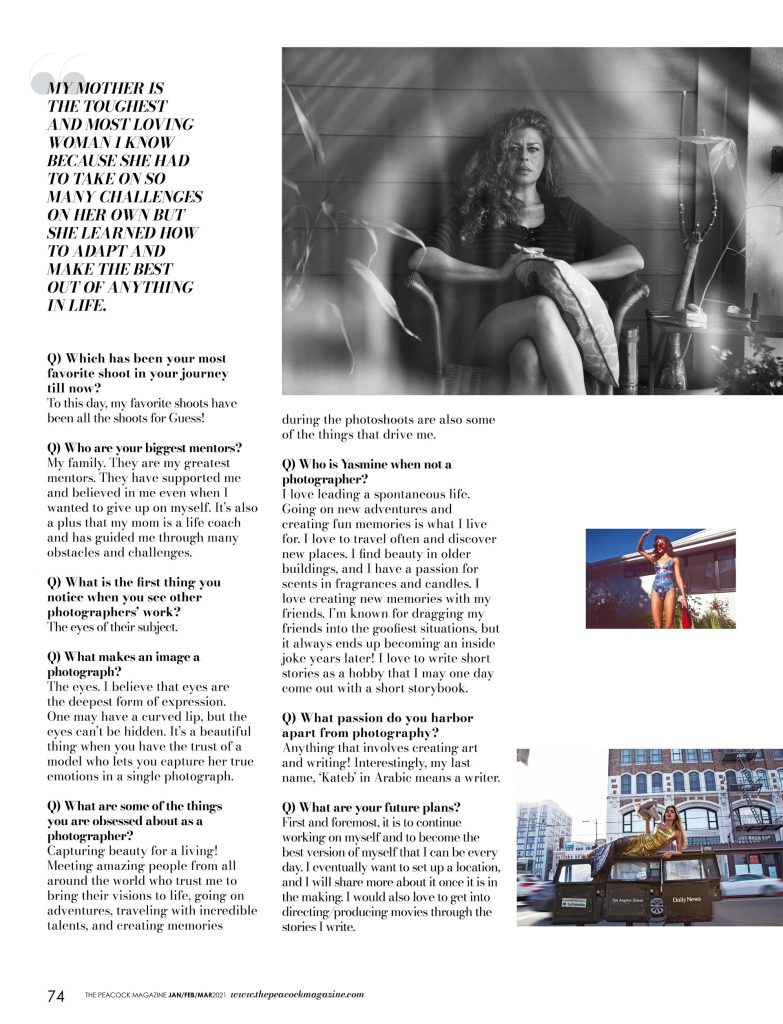 [Q] What is the first thing you notice when you see other photographers' work?
The eyes of their subject.
[Q] What makes an image a photograph?
The eyes. I believe that eyes are the deepest form of expression. One may have a curved lip, but the eyes can't be hidden. It's a beautiful thing when you have the trust of a model who lets you capture her true emotions in a single photograph.
[Q] What are some of the things you are obsessed about as a photographer?
Capturing beauty for a living! Meeting amazing people from all around the world who trust me to bring their visions to life, going on adventures, traveling with incredible talents, and creating memories during the photoshoots are also some of the things that drive me.
[Q] Who is Yasmine when not a photographer?
I love leading a spontaneous life. Going on new adventures and creating fun memories is what I live for. I love to travel often and discover new places. I find beauty in older buildings, and I have a passion for scents in fragrances and candles. I love creating new memories with my friends. I'm known for dragging my friends into the goofiest situations, but it always ends up becoming an inside joke years later! I love to write short stories as a hobby that I may one day come out with a short storybook.
[Q] What passion do you harbor apart from photography?
Anything that involves creating art and writing! Interestingly, my last name, 'Kateb' in Arabic means a writer.
[Q] What are your future plans?
First and foremost, it is to continue working on myself and to become the best version of myself that I can be every day. I eventually want to set up a location, and I will share more about it once it is in the making. I would also love to get into directing/producing movies through the stories I write.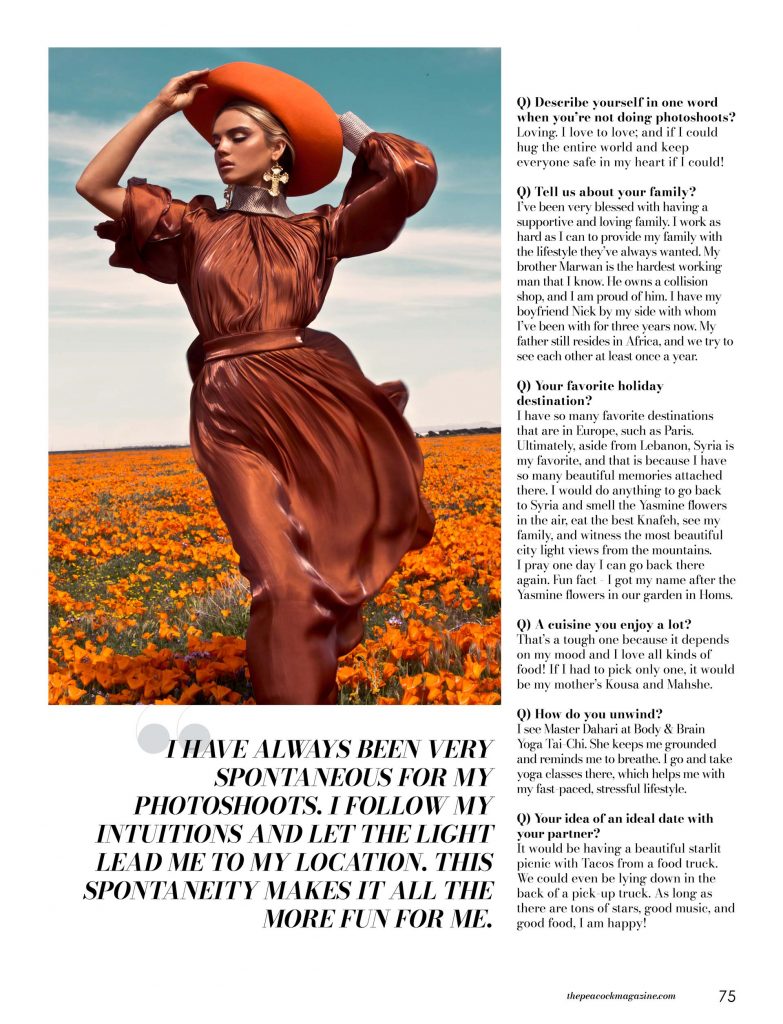 FUN QUESTIONS:
[Q] Describe yourself in one word when you're not doing photoshoots?
Loving. I love to love, and if I could hug the entire world and keep everyone safe in my heart if I could!
[Q] Tell us about your family?
I've been very blessed with having a supportive and loving family. I work as hard as I can to provide my family with the lifestyle they've always wanted. My brother Marwan is the hardest working man that I know. He owns a collision shop, and I am proud of him. I have my boyfriend Nick by my side with whom I've been with for three years now. My father still resides in Africa, and we try to see each other at least once a year.
[Q] Your favorite holiday destination?
I have so many favorite destinations that are in Europe, such as Paris. Ultimately aside from Lebanon, Syria is my favorite, and that is because I have so many beautiful memories attached there. I would do anything to go back to Syria and smell the Yasmine flowers in the air, eat the best Knafeh, see my family, and witness the most beautiful city light views from the mountains. I pray one day I can go back there again. Fun fact – I got my name after the Yasmine flowers in our garden in Homs.
[Q] A cuisine you enjoy a lot?
That's a tough one because it depends on my mood and I love all kinds of food! If I had to pick only one, it would be my mother's Kousa and Mahshe.
[Q] How do you unwind?
I see Master Dahari at Body & Brain Yoga Tai-Chi. She keeps me grounded and reminds me to breathe. I go and take yoga classes there, which helps me with my fast-paced, stressful lifestyle.
[Q] Your idea of an ideal date with your partner?
It would be having a beautiful starlit picnic with Tacos from a food truck. We could even be lying down in the back of a pick-up truck. As long as there are tons of stars, good music, and good food, I am happy!