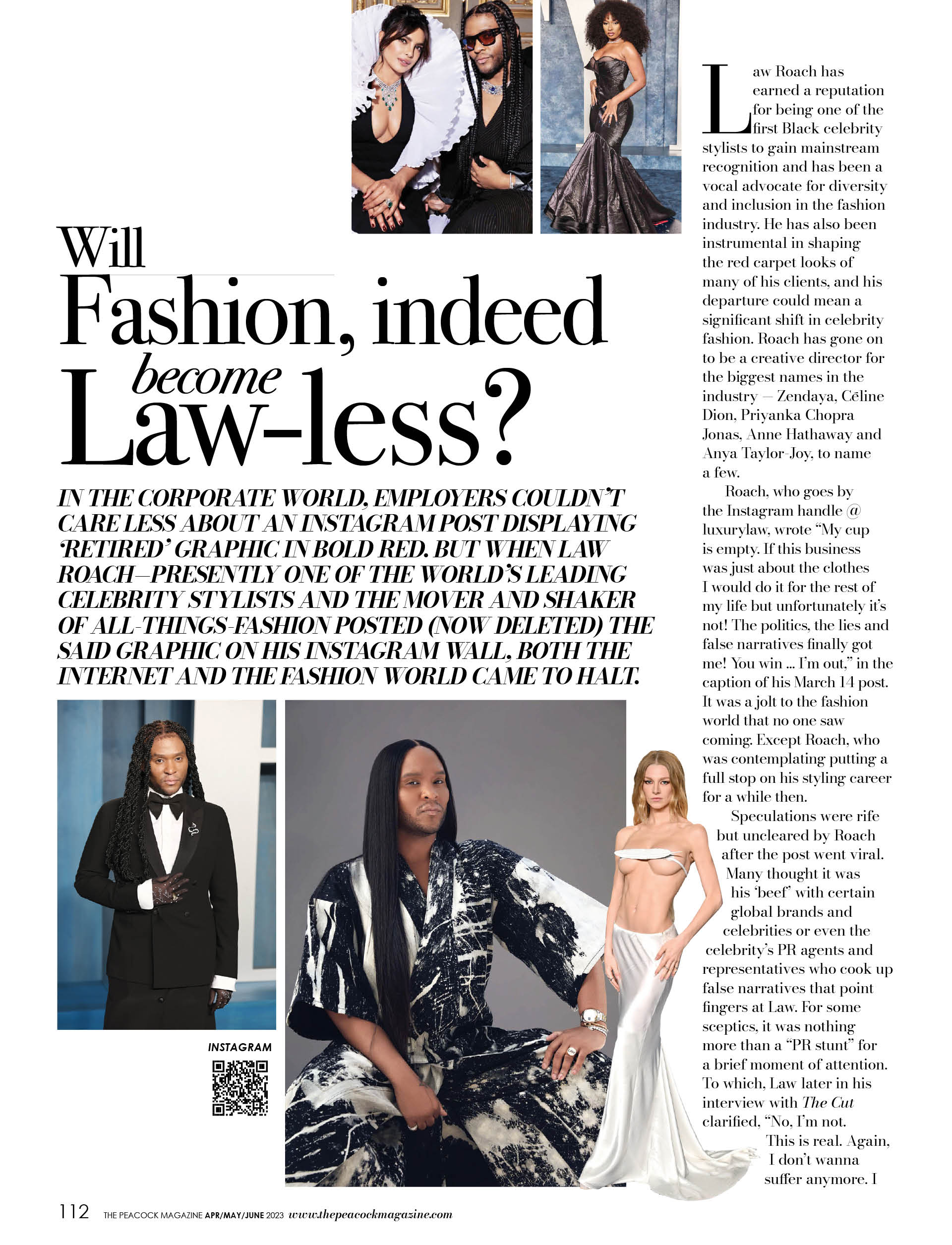 In the corporate world, employers couldn't care less about an Instagram post displaying 'RETIRED' graphic in bold red. But when Law Roach—presently one of the world's leading celebrity stylists and the mover and shaker of all-things-fashion posted (now deleted) the said graphic on his Instagram wall, both the internet and the fashion world came to halt.
Law Roach has earned a reputation for being one of the first Black celebrity stylists to gain mainstream recognition and has been a vocal advocate for diversity and inclusion in the fashion industry. He has also been instrumental in shaping the red carpet looks of many of his clients, and his departure could mean a significant shift in celebrity fashion. Roach has gone on to be a creative director for the biggest names in the industry — Zendaya, Céline Dion, Priyanka Chopra Jonas, Anne Hathaway, Ariana Grande, and Anya Taylor-Joy, to name a few.
Roach, who goes by the Instagram handle @luxurylaw, wrote "My cup is empty. If this business was just about the clothes I would do it for the rest of my life but unfortunately it's not! The politics, the lies and false narratives finally got me! You win … I'm out," in the caption of his March 14 post. It was a jolt to the fashion world that no one saw coming. Except Roach, who was contemplating putting a full stop on his styling career for a while then.
Speculations were rife but uncleared by Roach after the post went viral. Many thought it was his 'beef' with certain global brands (read: the social media dustup in 2021, when Roach blasted Dior on Instagram for not crediting him for some of the looks he created for Anya-Taylor Joy) or celebrities (read: the misconstrued story about Zendaya showing him the second-row seat at Louis Vuitton's Fall/Winter '23 show at Musee d'Orsay) or even the celebrity's PR agents and representatives who cook up false narratives that point fingers at Law (read: Priyanka Chopra Jonas' "sample-size" gate). For some sceptics, it was nothing more than a "PR stunt" or more of a "he is throwing a tantrum" for a brief moment of attention. To which, Law later in his interview with The Cut clarified, "No, I'm not. This is real. Again, I don't wanna suffer anymore. I don't wanna suffer."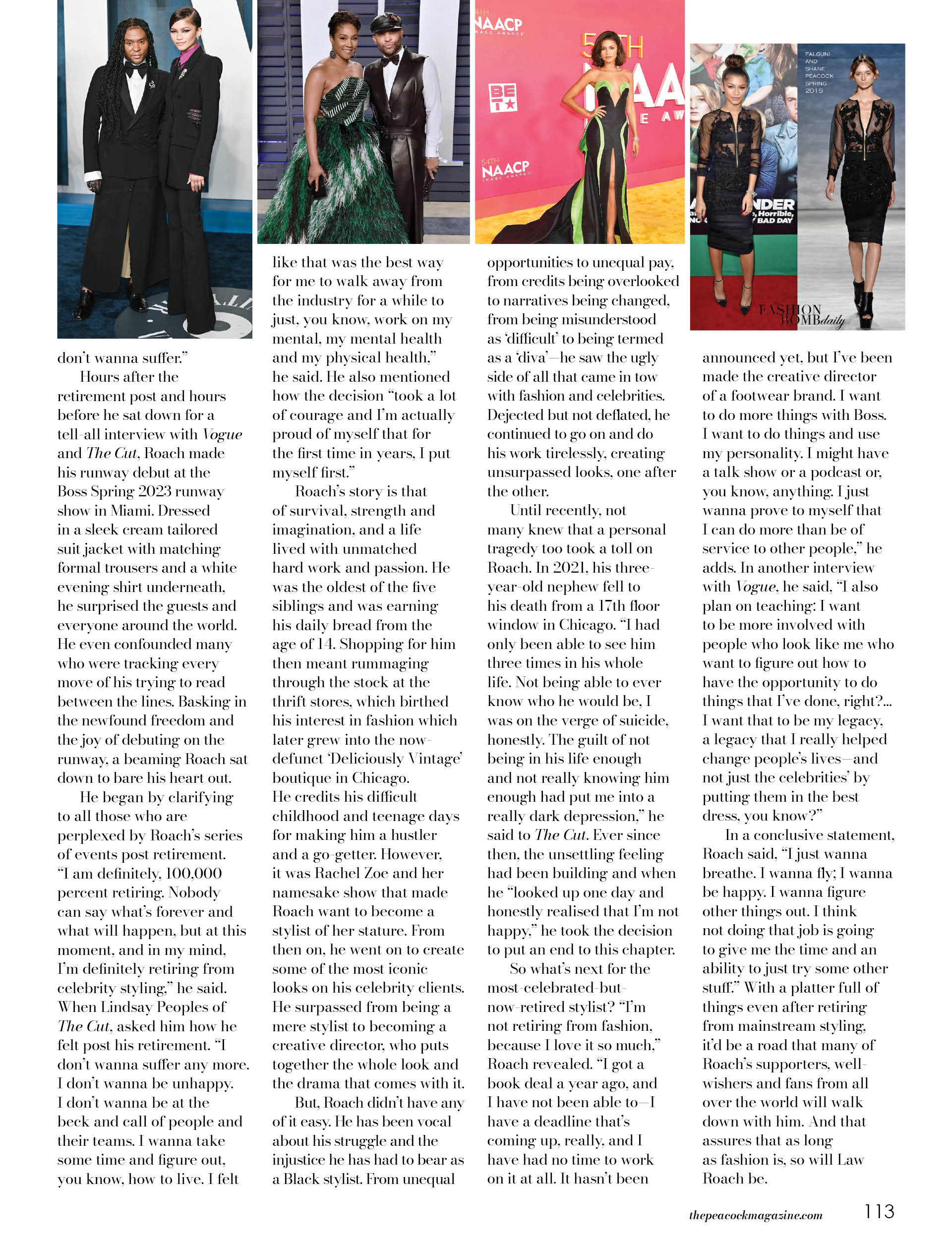 Hours after the retirement post and hours before he sat down for a tell-all interview with Vogue and The Cut, Roach made his runway debut at the Boss Spring 2023 runway show in Miami. Dressed in a sleek cream tailored suit jacket with matching formal trousers and a white evening shirt underneath, he surprised the guests and everyone around the world. He even confounded many who were tracking every move of his trying to read between the lines. Basking in the newfound freedom and the joy of debuting on the runway, a beaming Roach sat down to bare his heart out.
He began by clarifying to all those who are perplexed by Roach's series of events post retirement. "I am definitely, 100,000 percent retiring. Nobody can say what's forever and what will happen, but at this moment, and in my mind, I'm definitely retiring from celebrity styling," he said. Now that the befuddled minds are at rest, Lindsay Peoples of The Cut, asked him how he felt post his retirement. "I don't wanna suffer any more. I don't wanna be unhappy. I don't wanna be at the beck and call of people and their teams. I wanna take some time and figure out, you know, how to live. I felt like that was the best way for me to walk away from the industry for a while to just, you know, work on my mental, my mental health and my physical health," he said. He also mentioned how the decision "took a lot of courage and I'm actually proud of myself that for the first time in years, I put myself first."
Like many Black stylists, Roach's story is that of survival, strength and imagination, and a life lived with unmatched hard work and passion. He was the oldest of the five siblings and was earning his daily bread from the age of 14. Shopping for him then meant rummaging through the stock at the thrift stores, which birthed his interest in fashion which later grew into the now-defunct 'Deliciously Vintage' boutique in Chicago. He credits his difficult childhood and teenage days for making him a hustler and a go-getter. However, it was Rachel Zoe and her namesake show that made Roach want to become a stylist of her stature. From then on, he went on to create some of the most iconic looks on his celebrity clients. He surpassed from being a mere stylist to becoming a creative director, who puts together the whole look and the drama that comes with it.
But, Roach didn't have any of it easy. He has been vocal about his struggle and the injustice he has had to bear as a Black stylist. From unequal opportunities to unequal pay, from credits being overlooked to narratives being changed, from being misunderstood as 'difficult' to being termed as a 'diva'—he saw the ugly side of all that came in tow with fashion and celebrities. Dejected but not deflated, he continued to go on and do his work tirelessly, creating unsurpassed looks—be it putting the Ann Demeulemeester white feather top on Hunter Schaffer for the Vanity Fair afterparty or recreating super model Yasmeen Ghauri's white satin cutout crop top and a matching figure-hugging maxi skirt with cutout details across the midriff look from Prada's Spring/Summer 1993 for Zendaya.
Until recently, not many knew that a personal tragedy too took a toll on Roach. In 2021, his three-year-old nephew fell to his death from a 17th floor window in Chicago. "I had only been able to see him three times in his whole life. Not being able to ever know who he would be, I was on the verge of suicide, honestly. The guilt of not being in his life enough and not really knowing him enough had put me into a really dark depression," he said to The Cut. Ever since then, the unsettling feeling had been building and when he "looked up one day and honestly realised that I'm not happy," he took the decision to put an end to this chapter.
So what's next for the most-celebrated-but-now-retired stylist? "I'm not retiring from fashion, because I love it so much," Roach revealed. "I got a book deal a year ago, and I have not been able to—I have a deadline that's coming up, really, and I have had no time to work on it at all. It hasn't been announced yet, but I've been made the creative director of a footwear brand. I want to do more things with Boss. I want to do things and use my personality. I might have a talk show or a podcast or, you know, anything. I just wanna prove to myself that I can do more than be of service to other people," he adds. In another interview with Vogue, he said, "I also plan on teaching: I want to be more involved with people who look like me who want to figure out how to have the opportunity to do things that I've done, right?… I want that to be my legacy, a legacy that I really helped change people's lives—and not just the celebrities' by putting them in the best dress, you know?"
In a conclusive statement, Roach said, "I just wanna breathe. I wanna fly; I wanna be happy. I wanna figure other things out. I think not doing that job is going to give me the time and an ability to just try some other stuff." With a platter full of things even after retiring from mainstream styling, it'd be a road that many of Roach's supporters, well-wishers and fans from all over the world will walk down with him. And that assures that as long as fashion is, so will Law Roach be.