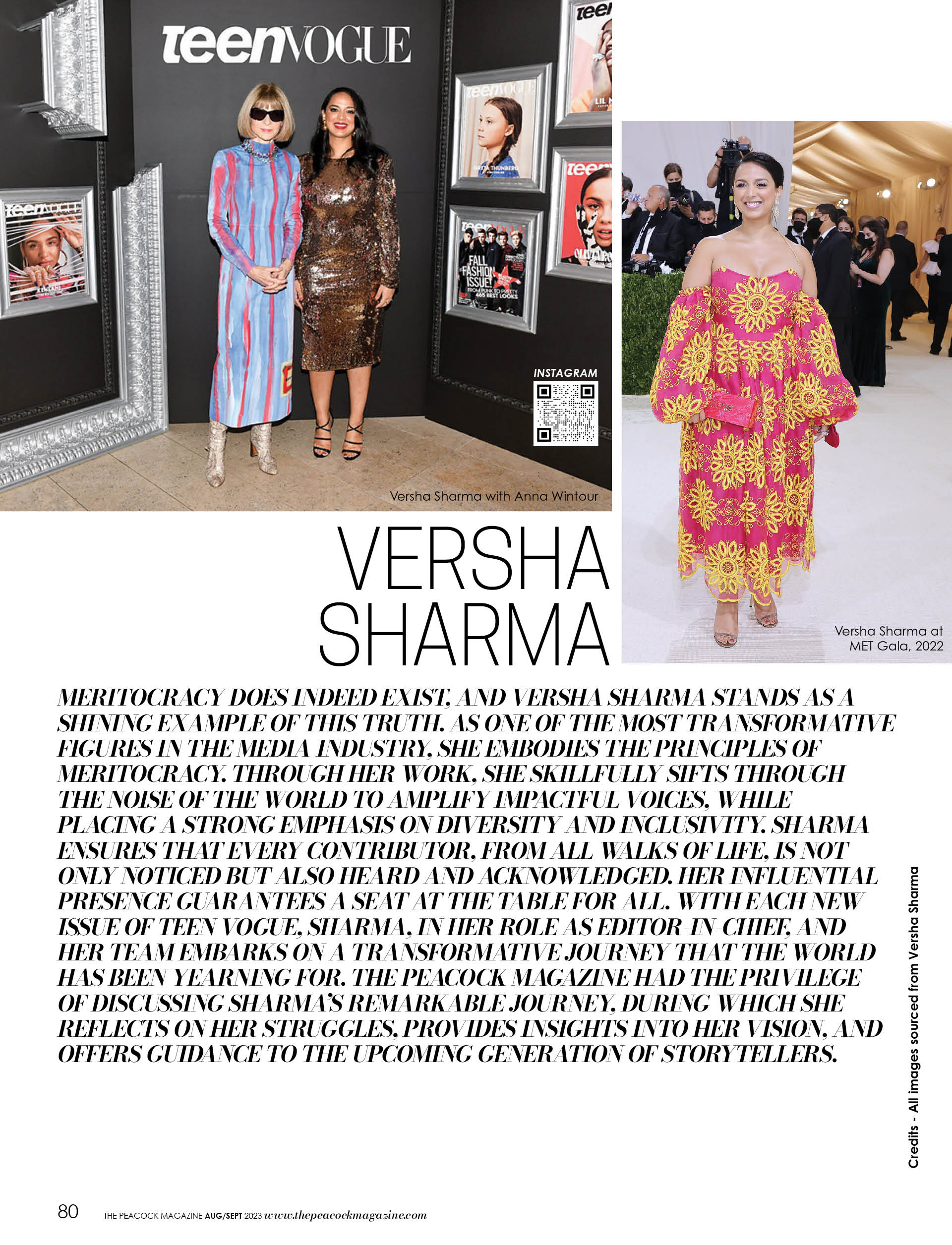 CREDITS – All images sourced from Team Versha Sharma
Meritocracy does indeed exist, and Versha Sharma stands as a shining example of this truth. As one of the most transformative figures in the media industry, she embodies the principles of meritocracy. Through her work, she skilfully sifts through the noise of the world to amplify impactful voices, while placing a strong emphasis on diversity and inclusivity. Sharma ensures that every contributor, from all walks of life, is not only noticed but also heard and acknowledged. Her influential presence guarantees a seat at the table for all.
With each new issue of Teen Vogue, Sharma, in her role as editor-in-chief, and her team embarks on a transformative journey that the world has been yearning for. The Peacock Magazine had the privilege of discussing Sharma's remarkable journey, during which she reflects on her struggles, provides insights into her vision, and offers guidance to the upcoming generation of storytellers.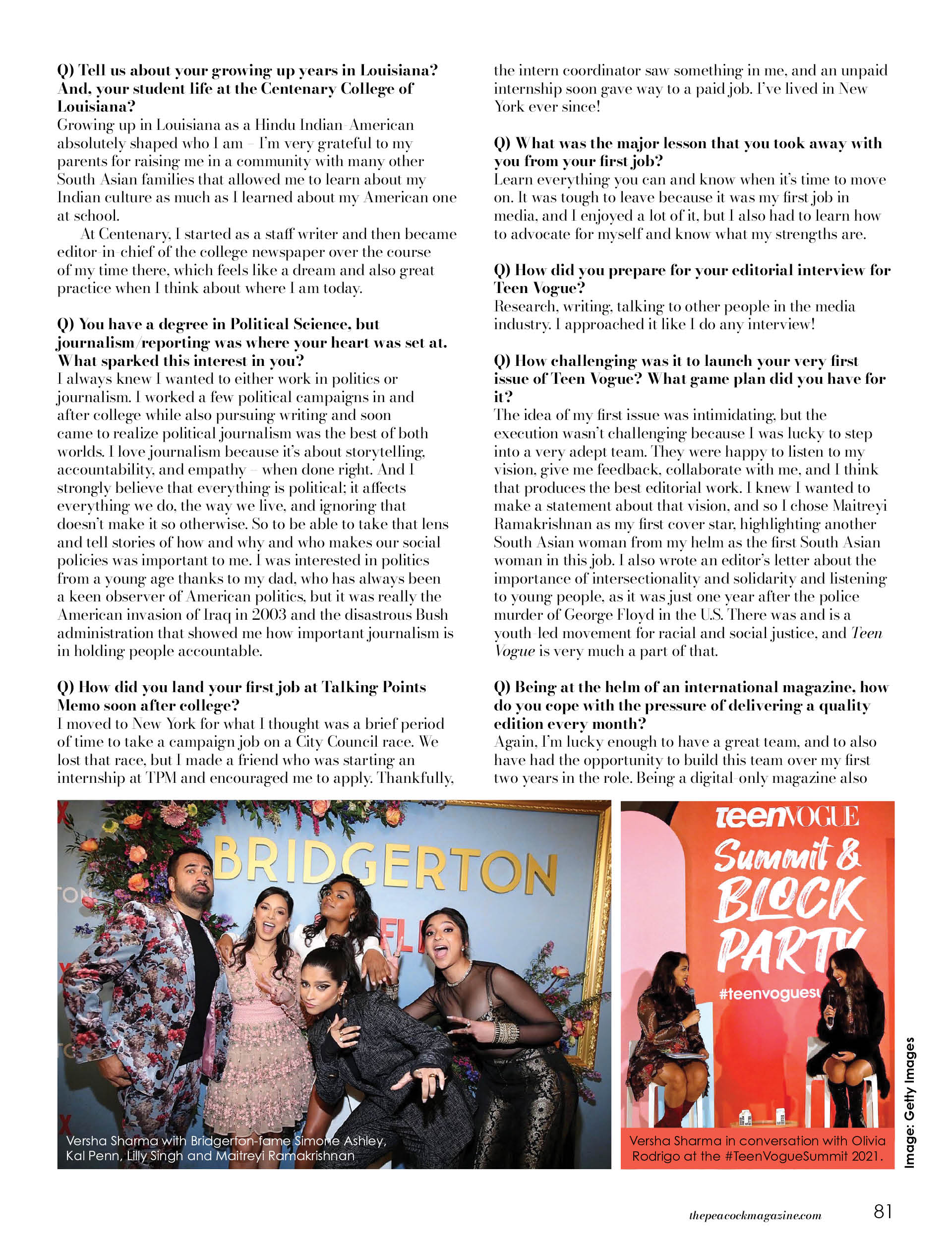 Q) Tell us about your growing up years in Louisiana, and your student life at the Centenary College of Louisiana.
Growing up in Louisiana as a Hindu Indian-American absolutely shaped who I am — I'm very grateful to my parents for raising me in a community with many other South Asian families that allowed me to learn about my Indian culture as much as I learned about my American one at school.
At Centenary, I started as a staff writer and then became editor-in-chief of the college newspaper over the course of my time there, which feels like a dream and also great practice when I think about where I am today.
Q) You have a degree in Political Science, but journalism/reporting was where your heart was set at. What sparked this interest in you?
I always knew I wanted to either work in politics or journalism. I worked for a few political campaigns in and after college while also pursuing writing and soon came to realise political journalism was the best of both worlds. I love journalism because it's about storytelling, accountability, and empathy — when done right. And I strongly believe that everything is political; it affects everything we do—the way we live—and ignoring that doesn't make it so otherwise. So to be able to take that lens and tell stories of how and why and who makes our social policies was important to me. I was interested in politics from a young age thanks to my dad, who has always been a keen observer of American politics, but it was really the American invasion of Iraq in 2003 and the disastrous Bush administration that showed me how important journalism is in holding people accountable.
Q) How did you land your first job at Talking Points Memo (TPM) soon after college?
I moved to New York for what I thought was a brief period of time to take a campaign job on a City Council race. We lost that race, but I made a friend who was starting an internship at TPM and encouraged me to apply. Thankfully, the intern coordinator saw something in me, and an unpaid internship soon gave way to a paid job. I've lived in New York ever since!
Q) What was the major lesson that you took away with you from your first job?
Learn everything you can and know when it's time to move on. It was tough to leave because it was my first job in media, and I enjoyed a lot of it, but I also had to learn how to advocate for myself and know what my strengths are.
Q) How did you prepare for your editorial interview for Teen Vogue?
Research, writing, talking to other people in the media industry. I approached it like I do any interview!
Q) How challenging was it to launch your very first issue of Teen Vogue? What game plan did you have for it?
The idea of my first issue was intimidating, but the execution wasn't challenging because I was lucky to step into a very adept team. They were happy to listen to my vision, give me feedback, collaborate with me, and I think that produces the best editorial work. I knew I wanted to make a statement about that vision, and so I chose Maitreyi Ramakrishnan as my first cover star, highlighting another South Asian woman from my helm as the first South Asian woman in this job. I also wrote an editor's letter about the importance of intersectionality and solidarity and listening to young people, as it was just one year after the police murder of George Floyd in the US. There was and is a youth-led movement for racial and social justice, and Teen Vogue is very much a part of that.
Q) Being at the helm of an international magazine, how do you cope with the pressure of delivering a quality edition every month?
Again, I'm lucky enough to have a great team, and to also have had the opportunity to build this team over my first two years in the role. Being a digital-only magazine also helps because our deadlines are a little more flexible, but the pressure is still intense and I do my best to keep work-life boundaries set.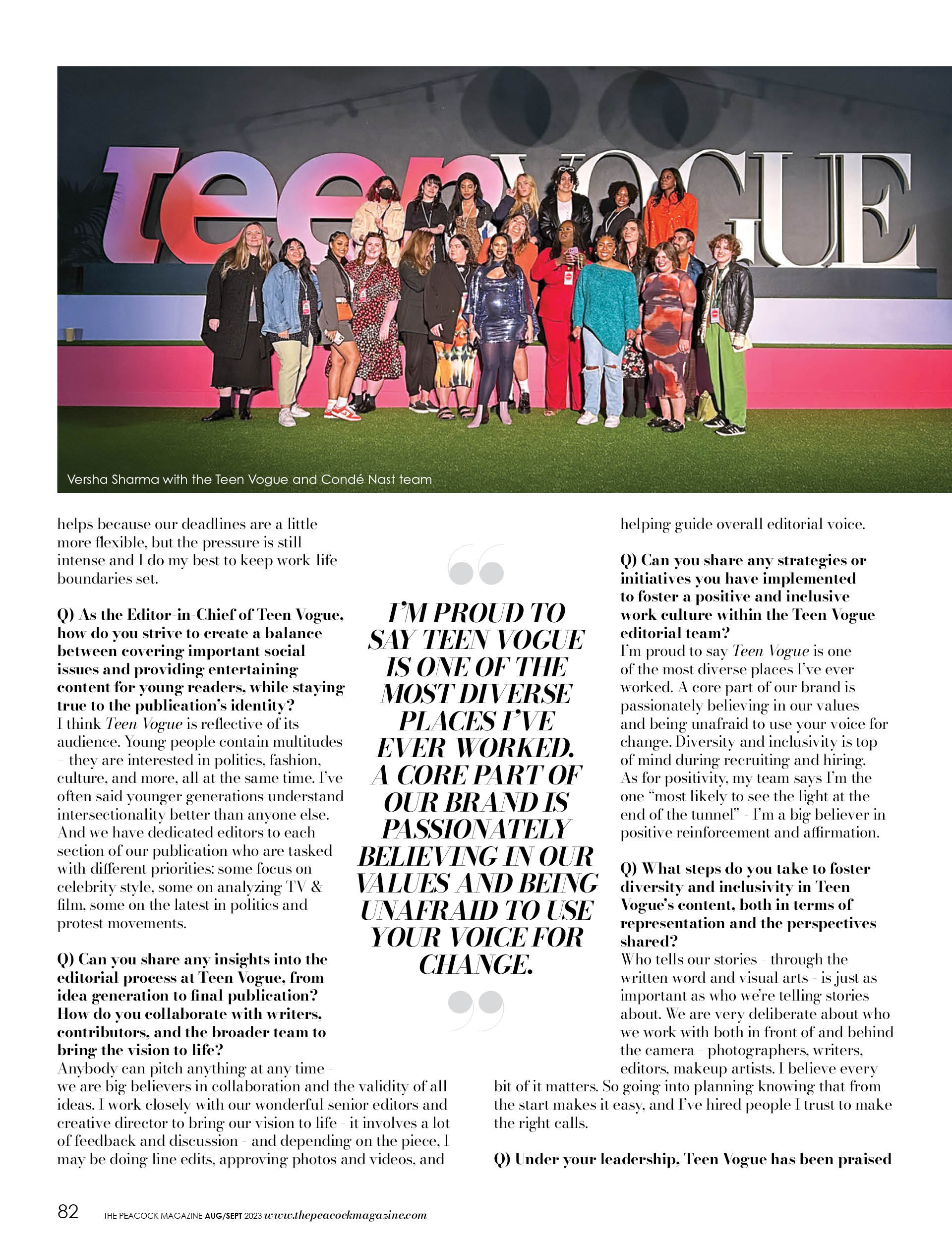 Q) As the editor-in-chief of Teen Vogue, how do you strive to create a balance between covering important social issues and providing entertaining content for young readers, while staying true to the publication's identity?
I think Teen Vogue is reflective of its audience. Young people are multidimensional—they are interested in politics, fashion, culture, and more, all at the same time. I've often said younger generations understand intersectionality better than anyone else. And we have dedicated editors to each section of our publication who are tasked with different priorities: some focus on celebrity style, some on analysing TV & film, some on the latest in politics and protest movements.
Q) Can you share any insights into the editorial process at Teen Vogue, from idea generation to final publication? How do you collaborate with writers, contributors, and the broader team to bring the vision to life?
Anybody can pitch anything at any time—we are big believers in collaboration and the validity of all ideas. I work closely with our wonderful senior editors and creative director to bring our vision to life—it involves a lot of feedback and discussion—and depending on the piece, I may be doing line edits, approving photos and videos, and helping guide the overall editorial voice.
Q) Can you share any strategies or initiatives you have implemented to foster a positive and inclusive work culture within the Teen Vogue editorial team?
I'm proud to say Teen Vogue is one of the most diverse places I've ever worked in. A core part of our brand is passionately believing in our values and being unafraid to use our voice for change. Diversity and inclusivity is top of mind during recruiting and hiring. As for positivity, my team says I'm the one "most likely to see the light at the end of the tunnel" —I'm a big believer in positive reinforcement and affirmation.
Q) What steps do you take to foster diversity and inclusivity in Teen Vogue's content, both in terms of representation and the perspectives shared?
Who tells our stories—through the written word and visual arts—is just as important as who we're telling stories about. We are very deliberate about who we work with both in front of and behind the camera—photographers, writers, editors, makeup artists. I believe every bit of it matters. So going into planning, knowing that from the start, makes it easy, and I've hired people I trust to make the right calls.
Q) Under your leadership, Teen Vogue has been praised for its coverage of social justice issues and amplifying marginalised voices. How do you approach addressing these topics sensitively and ensuring they resonate with young readers?
Thank you—though I do want to point out Teen Vogue has been doing that work for a while and it's one of the things that attracted me to the job in the first place! I think my background in political journalism definitely helps, and we have a thoughtful team dedicated to amplifying the voices of young people. We know it resonates because we regularly commission columns from young people as well as interview them.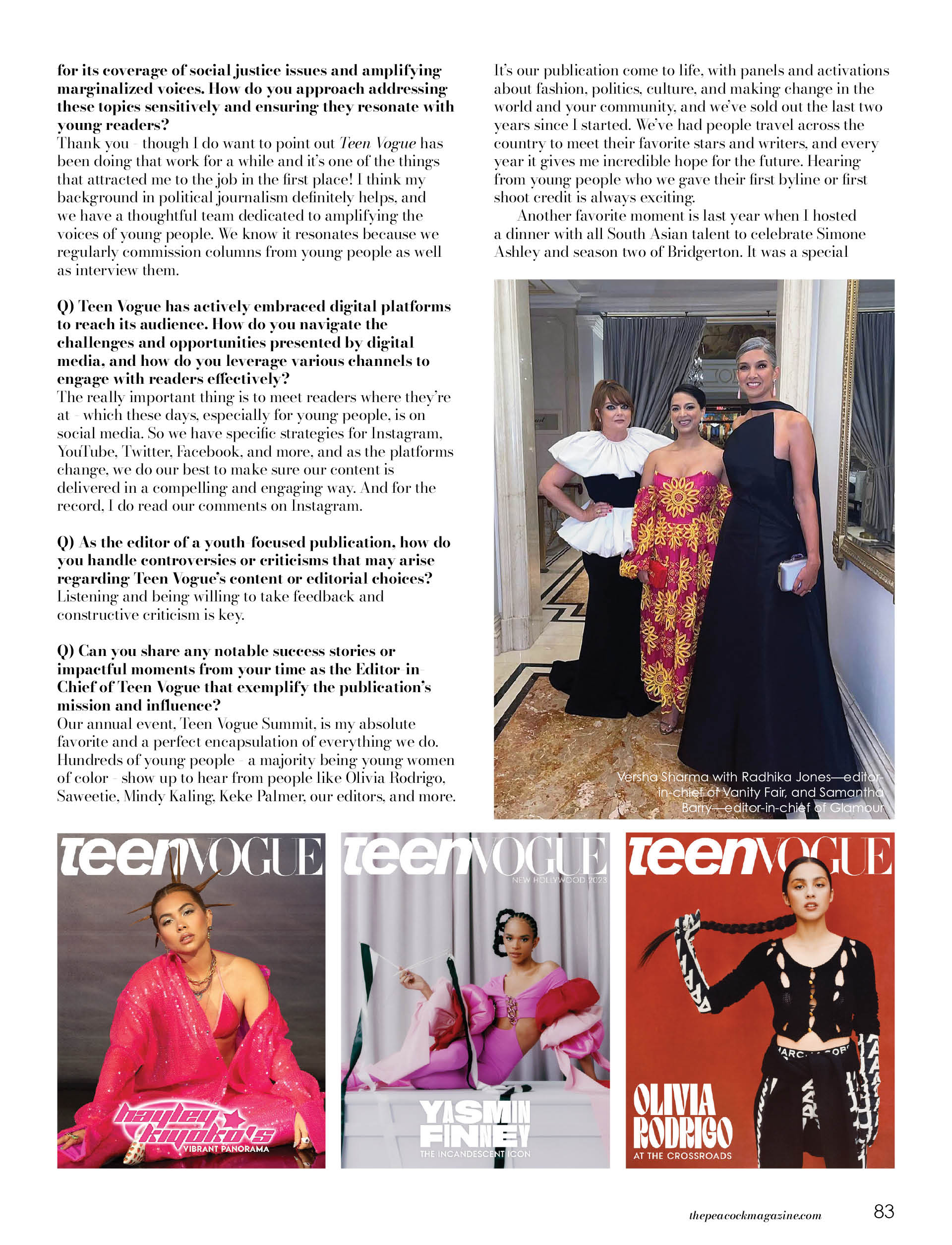 Q) Teen Vogue has actively embraced digital platforms to reach its audience. How do you navigate the challenges and opportunities presented by digital media, and how do you leverage various channels to engage with readers effectively?
The really important thing is to meet readers where they're at—which these days, especially for young people, is on social media. So we have specific strategies for Instagram, YouTube, Twitter, Facebook, and more, and as the platforms change, we do our best to make sure our content is delivered in a compelling and engaging way. And for the record, I do read our comments on Instagram.
Q) As the editor of a youth-focused publication, how do you handle controversies or criticisms that may arise regarding Teen Vogue's content or editorial choices?
Listening and being willing to take feedback and constructive criticism is key.
Q) Can you share any notable success stories or impactful moments from your time as the editor-in-chief of Teen Vogue that exemplify the publication's mission and influence?
Our annual event, Teen Vogue Summit, is my absolute favourite and a perfect encapsulation of everything we do. Hundreds of young people—a majority being young women of colour—show up to hear from people like Olivia Rodrigo, Saweetie, Mindy Kaling, Keke Palmer, our editors, and more. It's our publication that comes to life, with panel talks and activations about fashion, politics, culture, and making change in the world and your community, and we've sold out the last two years since I started. We've had people travel across the country to meet their favourite stars and writers, and every year it gives me incredible hope for the future. Hearing from young people who we gave their first byline or first shoot credit, is always exciting.
Another favourite moment is last year when I hosted a dinner with all South Asian talent to celebrate Simone Ashley and season two of Bridgerton. It was a special night celebrating the ascendance of our community in an industry that has ignored us for a long time. Those nights of coming together are lightning in a bottle.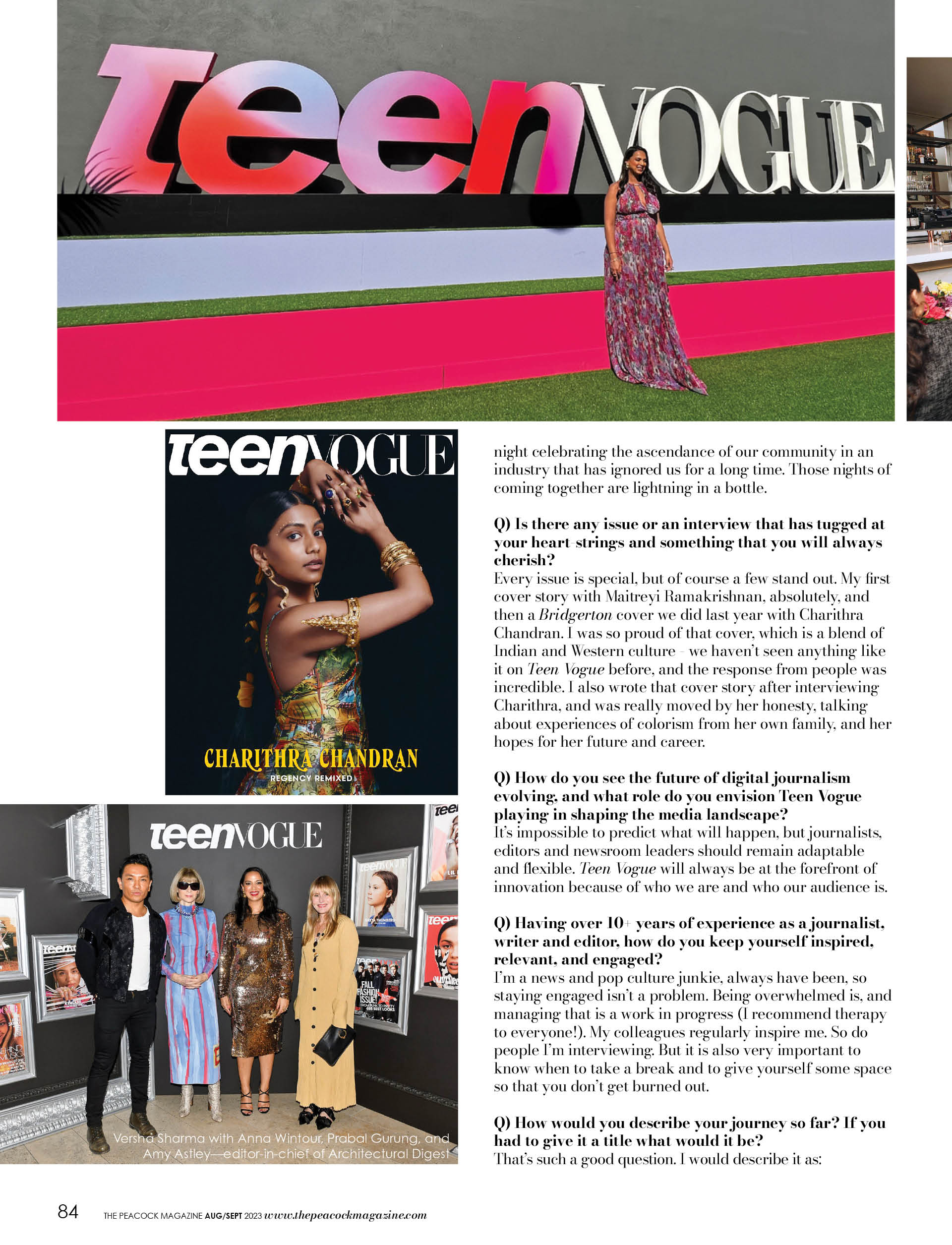 Q) Is there any issue or an interview that has tugged at your heart-strings and something that you will always cherish?
Every issue is special, but of course, a few stand out. My first cover story with Maitreyi Ramakrishnan, absolutely, and then a Bridgerton cover we did last year with Charithra Chandran. I was so proud of that cover, which is a blend of Indian and Western culture—we haven't seen anything like it on Teen Vogue before, and the response from people was incredible. I also wrote that cover story after interviewing Charithra, and was really moved by her honesty, talking about experiences of colourism from her own family, and her hopes for her future and career.
Q) How do you see the future of digital journalism evolving, and what role do you envision Teen Vogue playing in shaping the media landscape?
It's impossible to predict what will happen, but journalists, editors and newsroom leaders should remain adaptable and flexible. Teen Vogue will always be at the forefront of innovation because of who we are and who our audience is.
Q) Having over 10+ years of experience as a journalist, writer and editor, how do you keep yourself inspired, relevant, and engaged?
I'm a news and pop culture junkie, always have been, so staying engaged isn't a problem. Being overwhelmed is, and managing that is a work in progress (I recommend therapy to everyone!). My colleagues regularly inspire me. So do people I'm interviewing. But it is also very important to know when to take a break and to give yourself some space so that you don't get burnt out.
Q) How would you describe your journey so far? If you had to give it a title what would it be?
That's such a good question. I would describe it as: "meritocracy does exist, sometimes!" I'm very proud of being able to make it in the media industry despite having no family or industry connections, or an Ivy League education. I come from a small town in Louisiana most people have never heard of and went to a tiny college where I struggled during my senior year. I recovered, worked hard, and now here I am. I moved to New York without a job or apartment but with a lot of enthusiasm, a strong work ethic, and friends willing to let me crash on their couch. My journey: the joy of perseverance.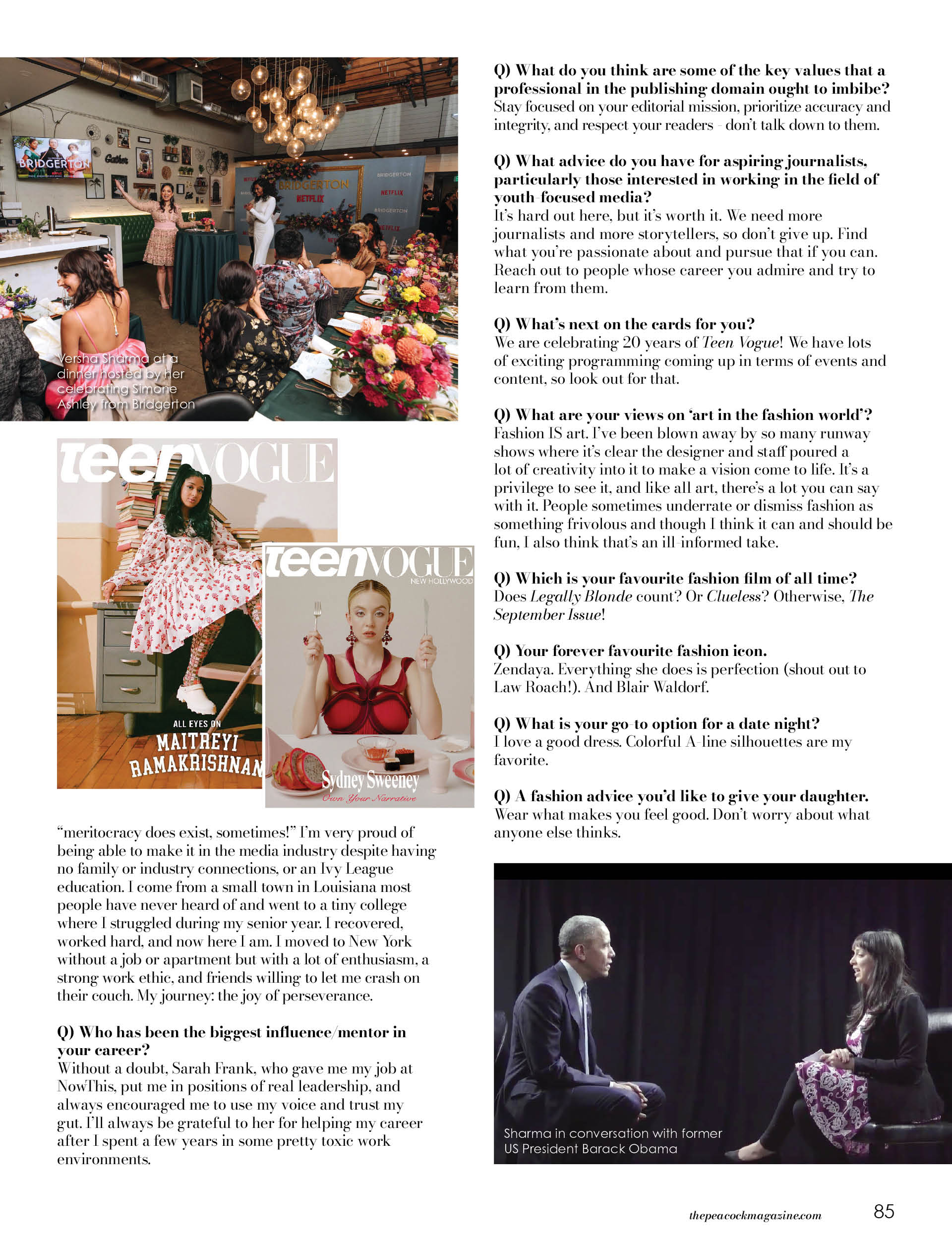 Q) Who has been the biggest influence/mentor in your career?
Without a doubt, Sarah Frank, who gave me my job at NowThis, put me in positions of real leadership, and always encouraged me to use my voice and trust my gut. I'll always be grateful to her for helping me in my career after I spent a few years in some pretty toxic work environments.
Q) What do you think are some of the key values that a professional in the publishing domain ought to imbibe?
Stay focused on your editorial mission, prioritise accuracy and integrity, and respect your readers—don't talk down to them.
Q) What advice do you have for aspiring journalists, particularly those interested in working in the field of youth-focused media?
It's hard out here, but it's worth it. We need more journalists and more storytellers, so don't give up. Find what you're passionate about and pursue that if you can. Reach out to people whose career you admire and try to learn from them.
Q) What's next on the cards for you?
We are celebrating 20 years of Teen Vogue! We have lots of exciting programming coming up in terms of events and content, so look out for that.
Q) What are your views on 'art in the fashion world'?
Fashion IS art. I've been blown away by so many runway shows where it's clear the designer and staff poured a lot of creativity into it to make a vision come to life. It's a privilege to see that, and like all art, there's a lot you can say with it. People sometimes underrate or dismiss fashion as something frivolous and though I think it can and should be fun, I also think that's an ill-informed take.
Q) Which is your favourite fashion film of all time?
Does Legally Blonde count? Or Clueless? Otherwise, The September Issue!
Q) Your forever favourite fashion icon.
Zendaya. Everything she does is perfection (shout out to Law Roach!). And Blair Waldorf.
Q) What is your go-to option for a date night?
I love a good dress. Colourful A-line silhouettes are my favourite.
Q) A fashion advice you'd like to give your daughter.
Wear what makes you feel good. Don't worry about what anyone else thinks.