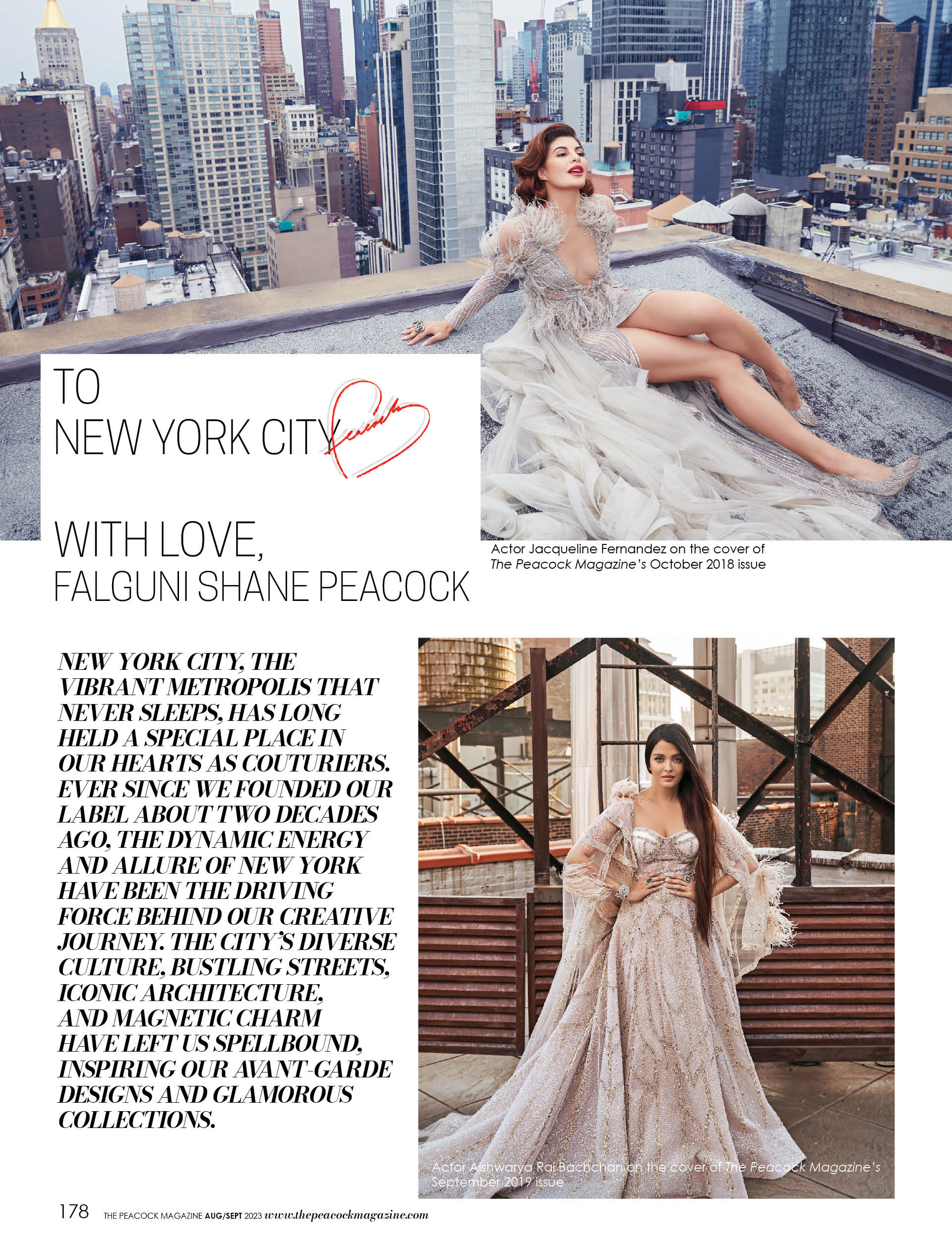 New York City, the vibrant metropolis that never sleeps, has long held a special place in our hearts as couturiers. Ever since we founded our label about two decades ago, the dynamic energy and allure of New York have been the driving force behind our creative journey. The city's diverse culture, bustling streets, iconic architecture, and magnetic charm have left us spellbound, inspiring our avant-garde designs and glamorous collections.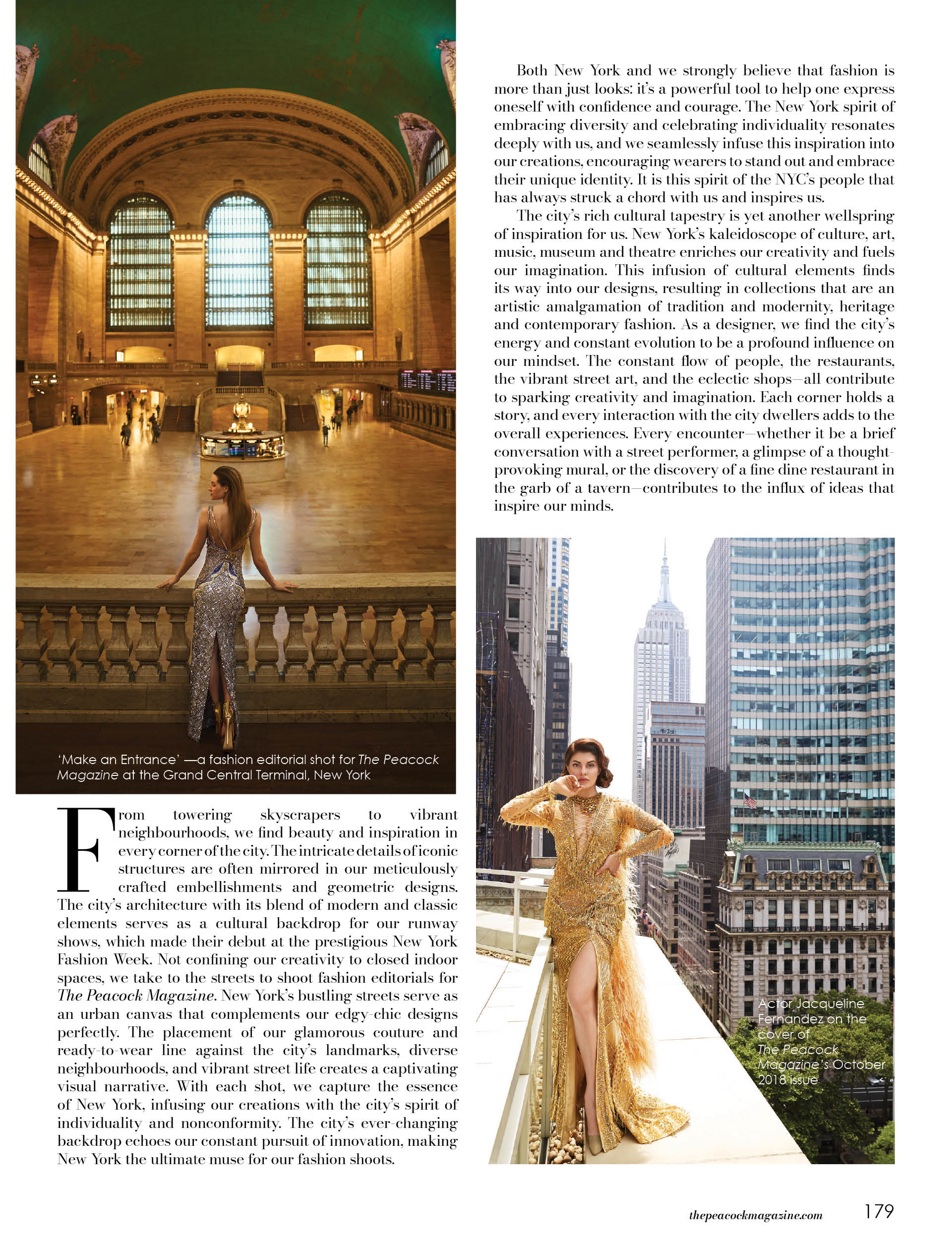 From towering skyscrapers to vibrant neighbourhoods, we find beauty and inspiration in every corner of the city. The intricate details of iconic structures are often mirrored in our meticulously crafted embellishments and geometric designs. The city's architecture with its blend of modern and classic elements serves as a cultural backdrop for our runway shows, which made their debut at the prestigious New York Fashion Week. Not confining our creativity to closed indoor spaces, we take to the streets to shoot fashion editorials for The Peacock Magazine. New York's bustling streets serve as an urban canvas that complements our edgy-chic designs perfectly. The placement of our glamorous couture and ready-to-wear line against the city's landmarks, diverse neighbourhoods, and vibrant street life creates a captivating visual narrative. With each shot, we capture the essence of New York, infusing our creations with the city's spirit of individuality and nonconformity. The city's ever-changing backdrop echoes our constant pursuit of innovation, making New York the ultimate muse for our fashion shoots.
Both New York and we strongly believe that fashion is more than just looks: it's a powerful tool to help one express oneself with confidence and courage. The New York spirit of embracing diversity and celebrating individuality resonates deeply with us, and we seamlessly infuse this inspiration into our creations, encouraging wearers to stand out and embrace their unique identity. It is this spirit of the NYC's people that has always struck a chord with us and inspires us.
The city's rich cultural tapestry is yet another wellspring of inspiration for us. New York's kaleidoscope of culture, art, music, museum and theatre enriches our creativity and fuels our imagination. This infusion of cultural elements finds its way into our designs, resulting in collections that are an artistic amalgamation of tradition and modernity, heritage and contemporary fashion. As a designer, we find the city's energy and constant evolution to be a profound influence on our mindset. The constant flow of people, the restaurants, the vibrant street art, and the eclectic shops—all contribute to sparking creativity and imagination. Each corner holds a story, and every interaction with the city dwellers adds to the overall experiences. Every encounter—whether it be a brief conversation with a street performer, a glimpse of a thought-provoking mural, or the discovery of a fine dine restaurant in the garb of a tavern—contributes to the influx of ideas that inspire our minds.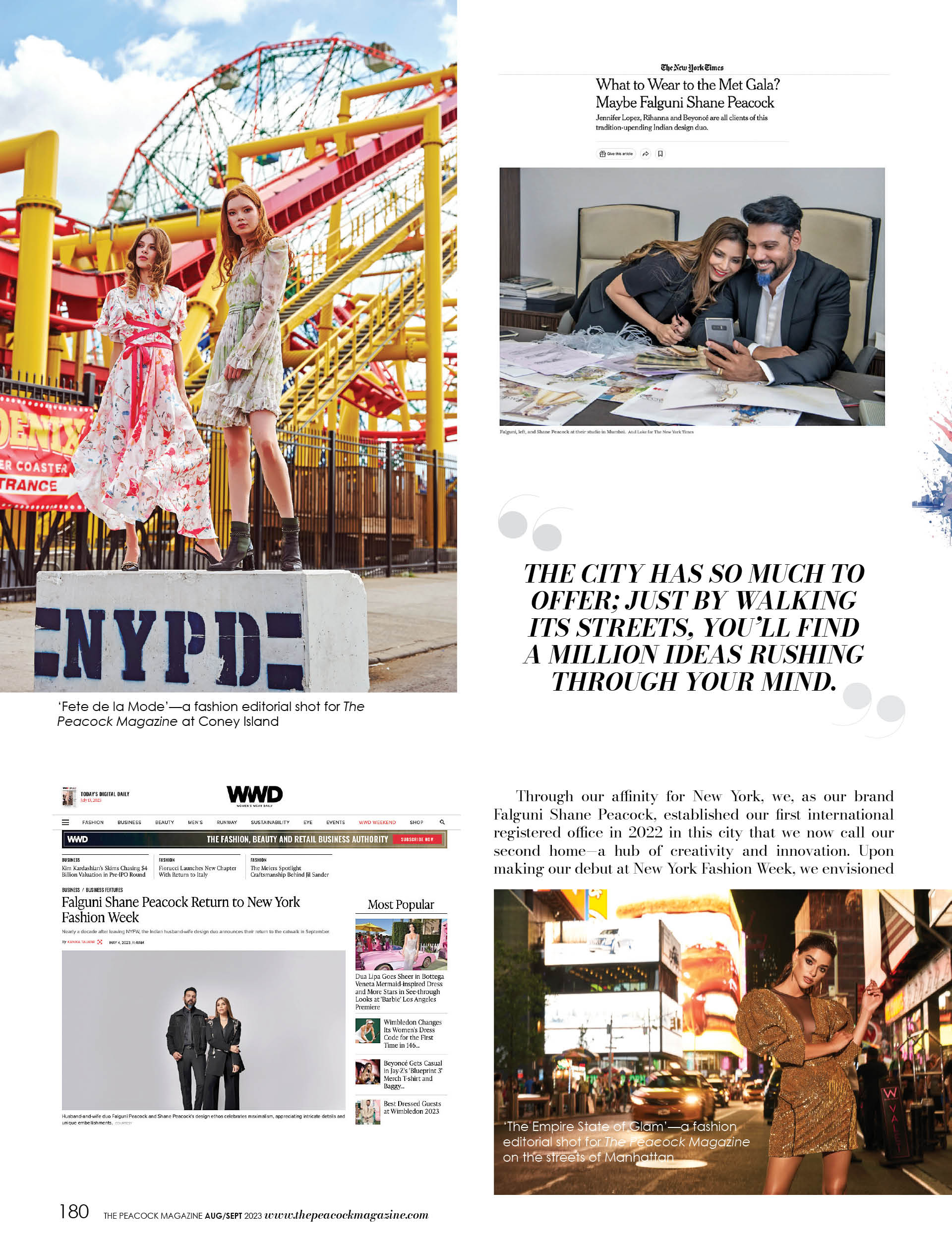 Through our affinity for New York, we, as our brand Falguni Shane Peacock, established our first international registered office in 2022 in this city that we now call our second home—a hub of creativity and innovation. Upon making our debut at New York Fashion Week, we envisioned having our office established here one day. Today, after numerous years of working in and out of the city, that vision has become a reality, marking a significant milestone in our brand's journey!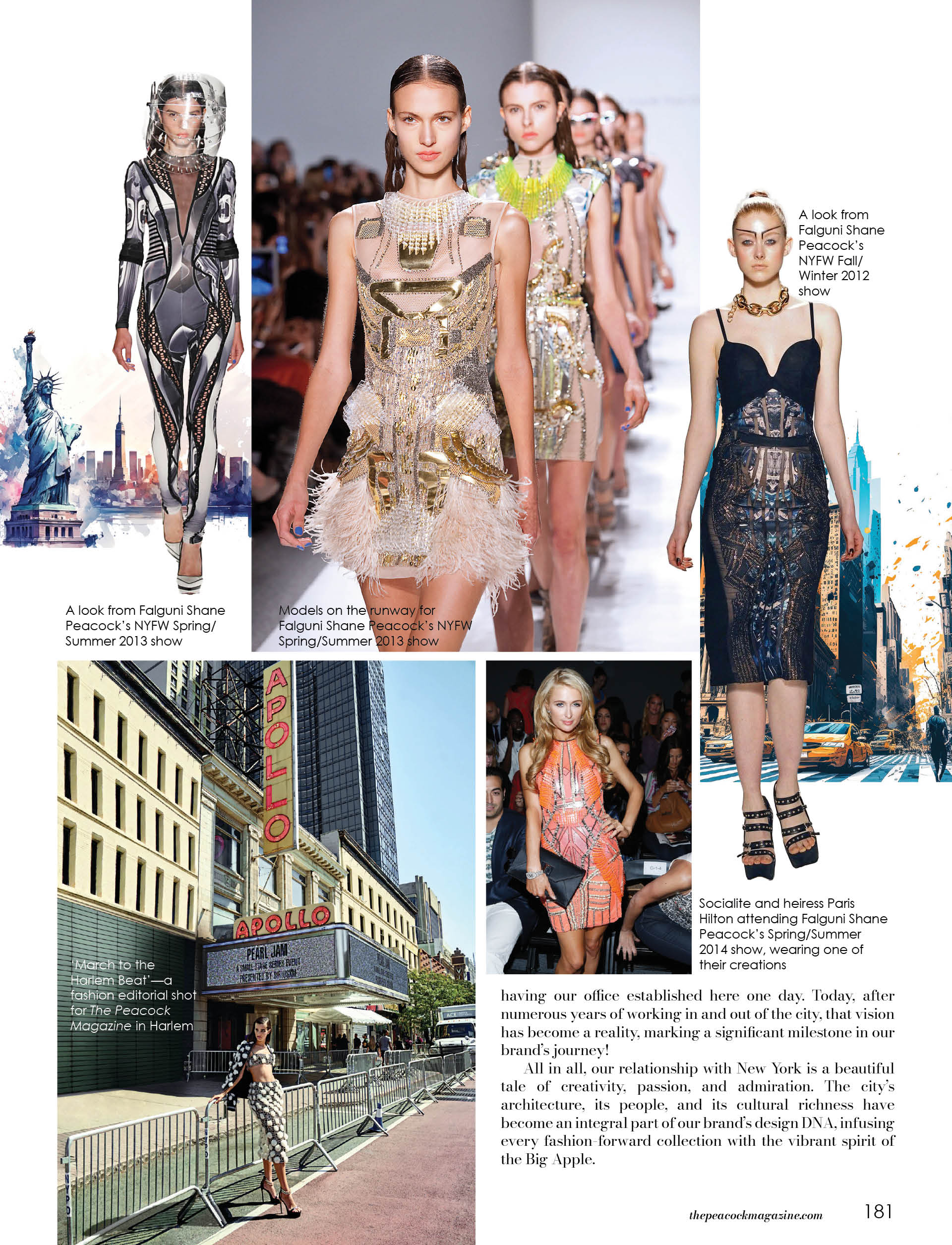 All in all, our relationship with New York is a beautiful tale of creativity, passion, and admiration. The city's architecture, its people, and its cultural richness have become an integral part of our brand's design DNA, infusing every fashion-forward collection with the vibrant spirit of the Big Apple.