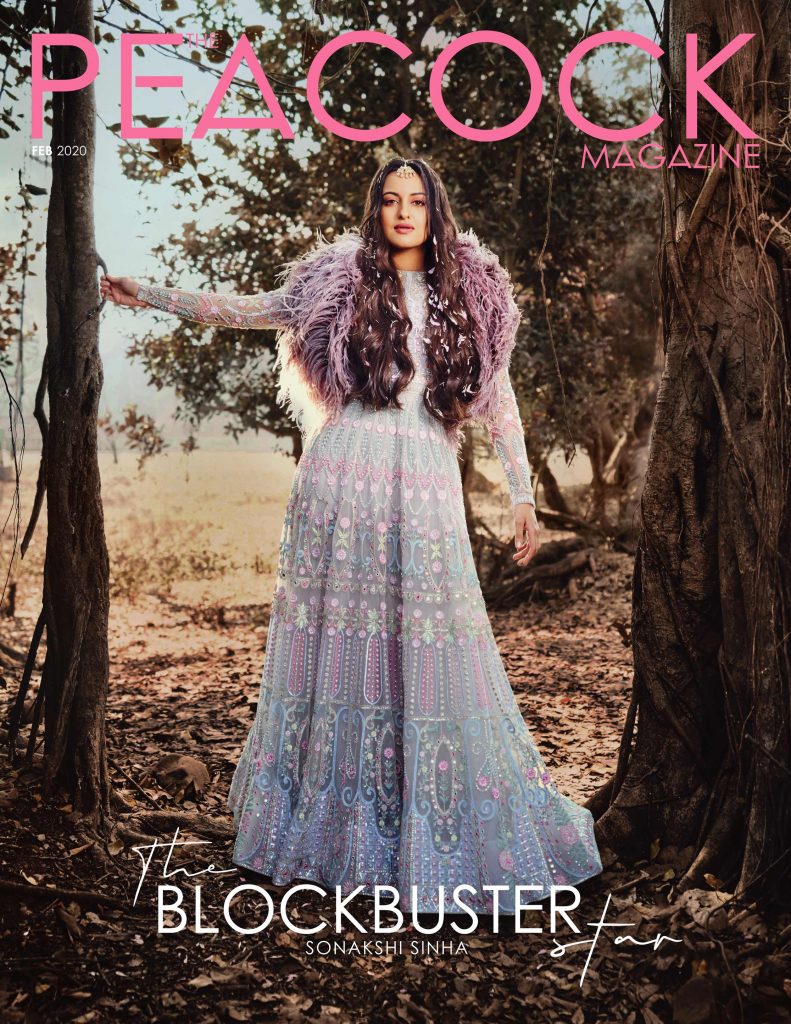 CREDITS-
PHOTOGRAPHY – AVINASH GOWARIKER
STYLING – MOHIT RAI
PRODUCTION – NIHARIKA SINGH ART DIRECTION
MAKE-UP – HEEMA DATTANI
HAIR – MADHURI NAKHALE
JEWELLERY – KOHAR JEWELLERY
COUTURE – FALGUNI SHANE PEACOCK

When Sonakshi Sinha shot for the cover of 'The Peacock Magazine' for the February 2020 digital issue, she couldn't help but say, "People say its 'Third time lucky' but in my case, it has been lucky for us (TPM and her) all the three times." We couldn't agree with Sonakshi more! The actor, who officially completed a decade in Bollywood this year, graced the cover of the magazine for the third time. Interestingly, the 'Bollywood's Blockbuster Star' was also the one to grace the magazine's first-ever cover!
Her star-studded Bollywood debut can be best described as 'she came, she saw, and she conquered' right from her first film 'Dabangg'. The audience couldn't stop raving about her performance as 'Rajjo,' and ended up calling her the 'Dabangg Girl'. Since then, Sonakshi is known for churning out blockbuster after blockbuster hits that got her to become one of the three actresses who've amassed more than Rs. 1,500 crores at the box office. Her achievement is accredited to four of her films that have crossed the Rs. 100 crore mark. In her almost decade long stint in Bollywood too, she has essayed memorable roles one after the other. 'Dabangg', 'Lootera', 'Once Upon A Time in Mumbai Dobaara', 'Holiday: A Soldier Is Never Off Duty', 'Akira' and 'Mission Mangal' are a handful of her performances that wouldn't have been what they are if it weren't for Sonakshi. She owns the character and thus ends up owning the moment.
Sonakshi has never shied away from exploring other aspects of the performer that she is. By now, it is a well-known fact that Sonakshi can sing proficiently and has belted out numerous songs for her movies and music videos as well. The actor has also been a part of television music talent shows as she dons the hat of a judge. Talk about judging, and you wouldn't miss out on her recent run with India's first digital reality show to identify and reward India's next big fashion influencer. But compliment her on her fashion-on-fleek Instagram feed, she humbly credits it to Mohit Rai, without whom she'd confessedly rather dart off to any place in her jeans and tee. Sonakshi's style over the years has grown to become as versatile as her performances. Just like the way she owns the roles she essays; she also ends up owning her fashion moments. Be it the red carpet or a fashion shoot or even an impromptu shoot, Sonakshi brings her A-game and her boss-lady avatar on. And that's what leaves us in awe of her every single time!