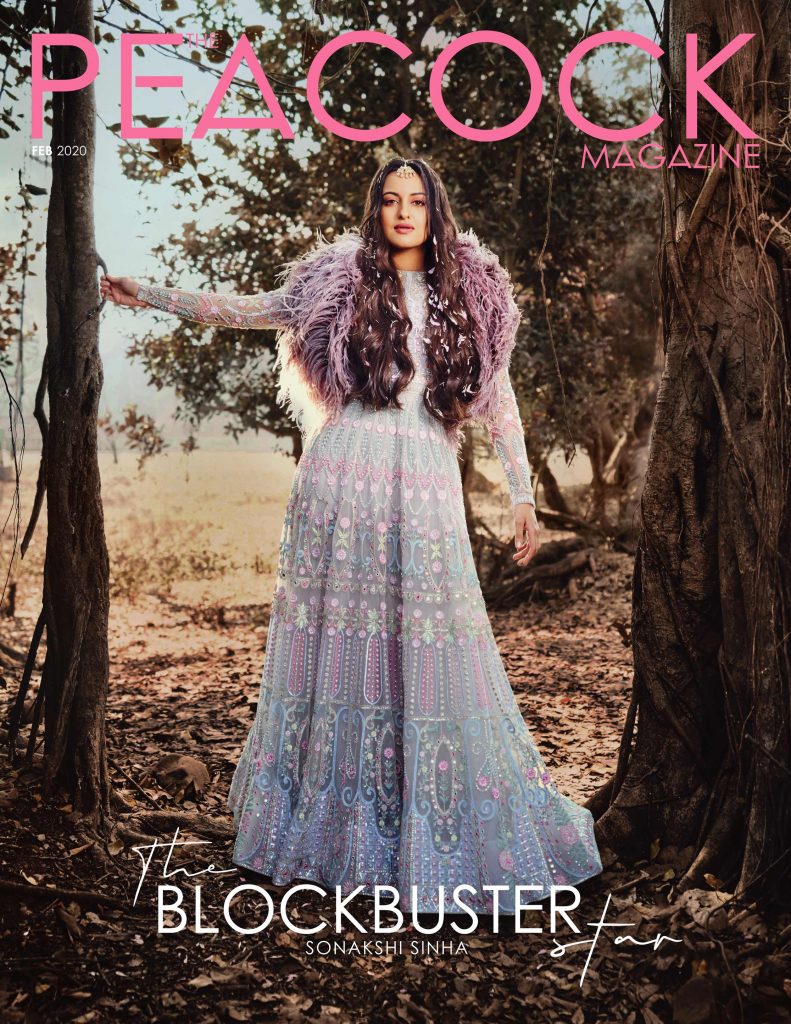 CREDITS-
PHOTOGRAPHY – AVINASH GOWARIKER
STYLING – MOHIT RAI
PRODUCTION – NIHARIKA SINGH ART DIRECTION
MAKE-UP – HEEMA DATTANI
HAIR – MADHURI NAKHALE
JEWELLERY – KOHAR JEWELLERY
COUTURE – FALGUNI SHANE PEACOCK

It was a regular Tuesday morning when the city's national park was buzzing with huffs and puffs of the morning walkers, the chatter of school children on their picnic, and chirps of birds – for whom, well, it's a lifetime of a picnic. But the mundane, everyday noise died down the moment Sonakshi Sinha stepped out of her vanity van, for it was her aura and her cheerful spirit that took over.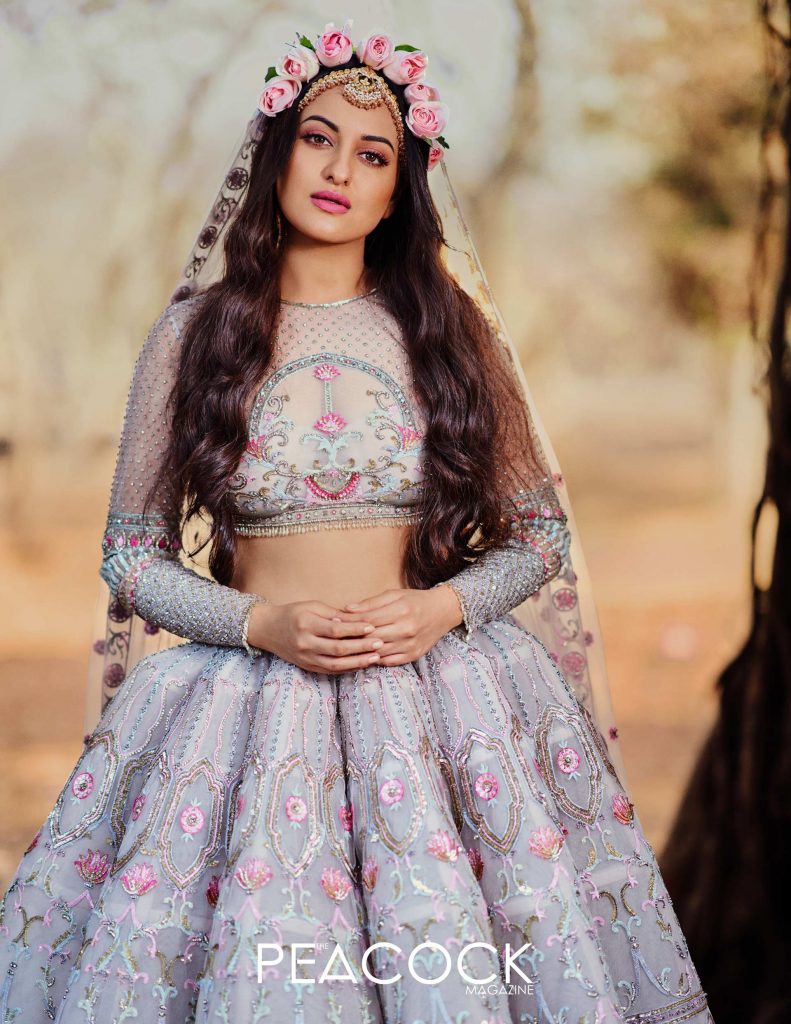 Sonakshi, leisurely strolls on the bylanes of the national park as she gets ready to shoot for the February cover of The Peacock Magazine, her 3rd time being the cover star for the magazine. She looked exquisite and ethereal at the same time, sporting the floral composition on her hair with her athleisure set before she got into the couture lehengas. Observing Sinha's shoot from a couple of steps away, I could draw parallels between the shoot day and her Bollywood career till date. The quintessential Bollywood actor, much like her career, stepped out for the shoot, confident and comfortable to brave what was coming ahead in her career, and in today's situation, the scorching February 10 am sun.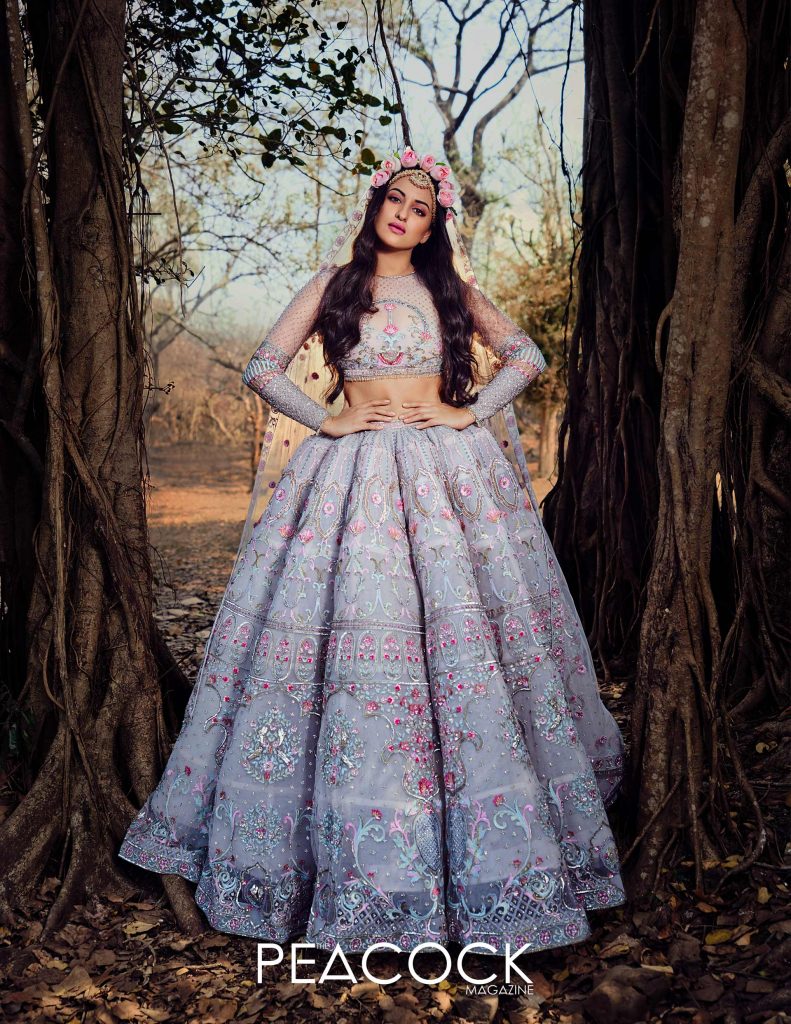 Sonakshi took a moment to check out her surroundings, warm up to the crew of the day and then breathed in deep to give her best shots right from the word 'go'. I'm not surprised, to be honest. Her star-studded Bollywood debut, too, can be best described as 'she came, she saw and she conquered' right from her first film 'Dabangg'. Just like the audience of her first film who couldn't stop raving about her character 'Rajjo', our lensman for the day, ace photographer Avinash Gowariker, couldn't stop praising about how ethereal she looked in the resplendent lehenga. Sonakshi had no frown lines on her forehead even though the rest of the crew played hide-and-seek with the scathing sun and the trees' shade. The actor glided among the huge banyan trees with ease and her Yeezys on. Her look for the shoot in the wilderness was that of a flower child, which complemented her persona and her demeanour, which is that of easy-going and peace-loving. Sonakshi isn't the one to get distressed about anything too easily, I realized. She takes the challenges thrown at her in a stride and makes the hassled situation seem like a cakewalk by keeping it simple, basic and 'sorted'. She proves this with the way she tackles controversies and trolls. Never the one to indulge in controversies, Sonakshi has always been the kind to have a dignified comeback and the last word. The troll-storm and controversies go 'Khamosh' after that, indeed. In fact, the fun-loving,bindass and hippie-at-heart actor has indulged the trolls on Twitter by asking them to make more memes as she enjoys a good laugh even if it is at her expense.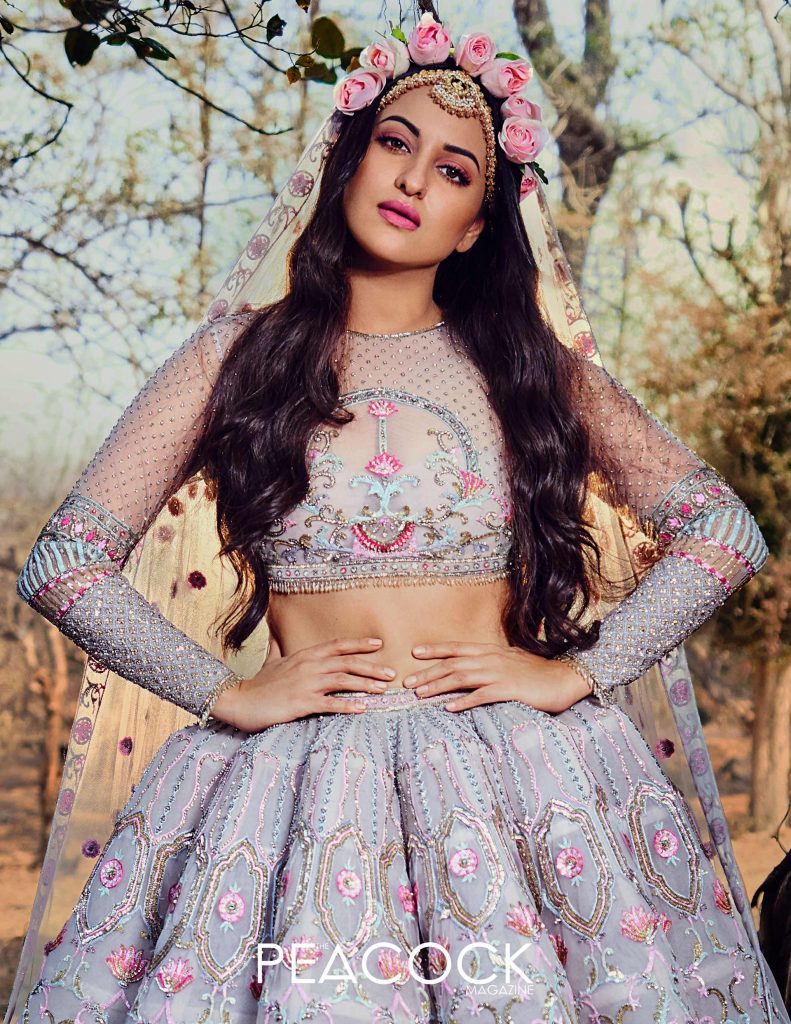 After a couple of 'superb' clicks, as Gowariker puts it, Sonakshi scuttles to her vanity van for her next outfit change. I couldn't help but notice the amazed faces of the crew who couldn't believe this exception of an actress who did not take hours at stretch to get dressed and was in and out in a jiffy to get the next set of clicks. 'Fuss-free' and 'no-nonsense' were the word that immediately popped in my mind, which by the way, was also the order of the day. In her almost decade long stint in Bollywood too, she did not take much time before essaying memorable roles after roles. 'Dabangg', 'Lootera', 'Once Upon A Time in Mumbai Dobaara', 'Holiday: A Soldier Is Never Off Duty', 'Akira' and 'Mission Mangal' are a handful of her performances that wouldn't have been what they are if it weren't for Sonakshi. She owns the character or the look as we shoot her and thus ends up owning the moment.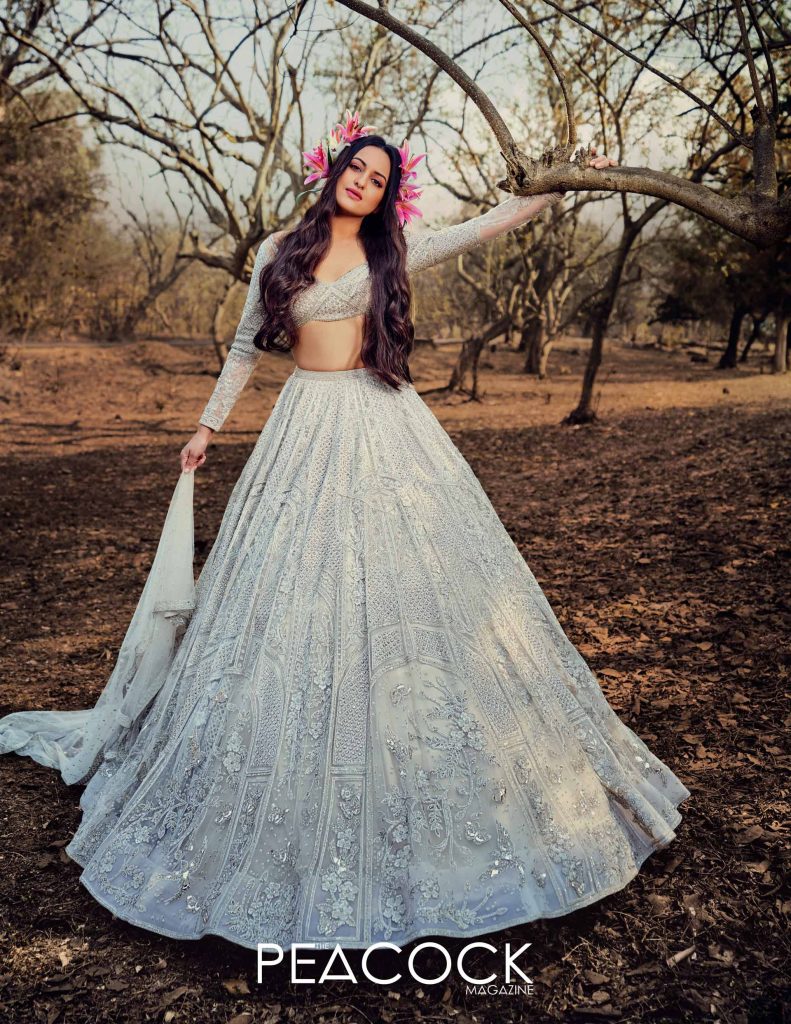 Sonakshi is a director's muse and, on that day, Falguni Shane Peacock's. She engages deeply in understanding what they want to create and then moulds herself into their vision and gives them just what they want to bring out of her look for The Peacock Magazine. "Her zeal for her work can also be seen in the way she puts out suggestions for the shoot," says Mohit Rai, Sonakshi's stylist, and a dear friend. No wonder, 'A delight to work with' – is the sentiment that is time-stamped for the longest time while shooting with her.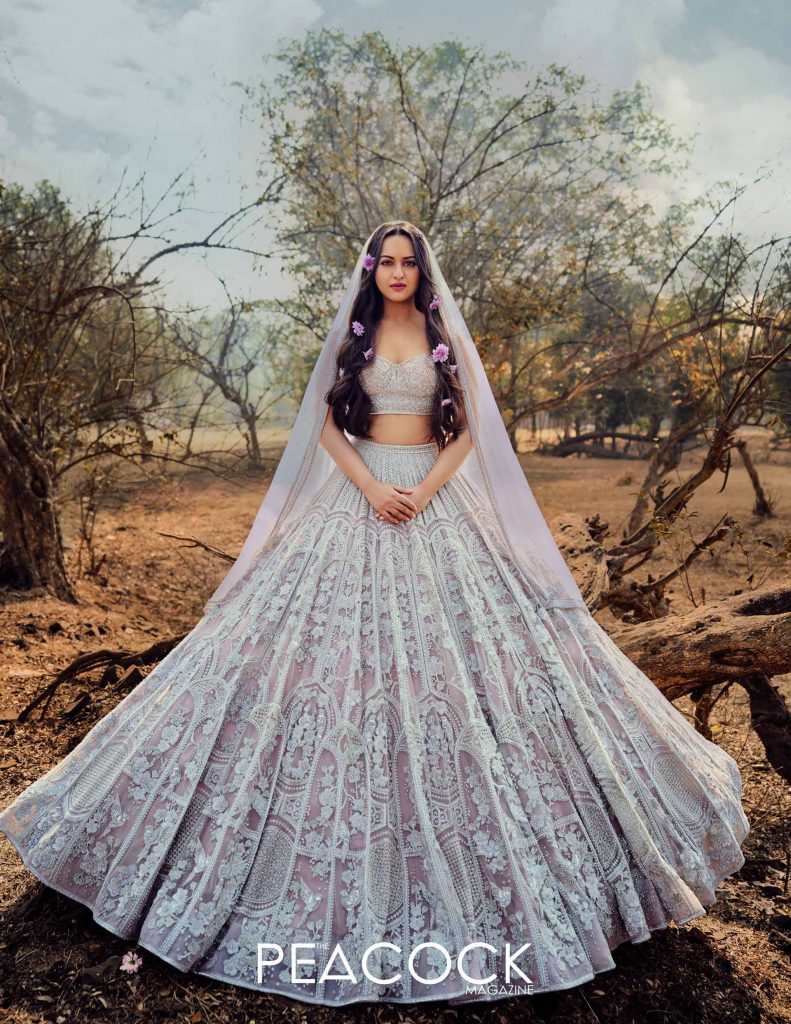 In her Bollywood career, Sonakshi keeps a tunnel vision and has been known to put her foot down whenever distraction looms upon her in terms of criticism, controversy and uncultured trolls. The actor is known to take all of it in stride but also put them in their place with her striking performances and her wit, much like striding on the stony jungle terrains for her next shot. Despite the long bumpy walk, Sonakshi casually joked about climbing atop a nearby tree in her lehenga to get some more interesting shots.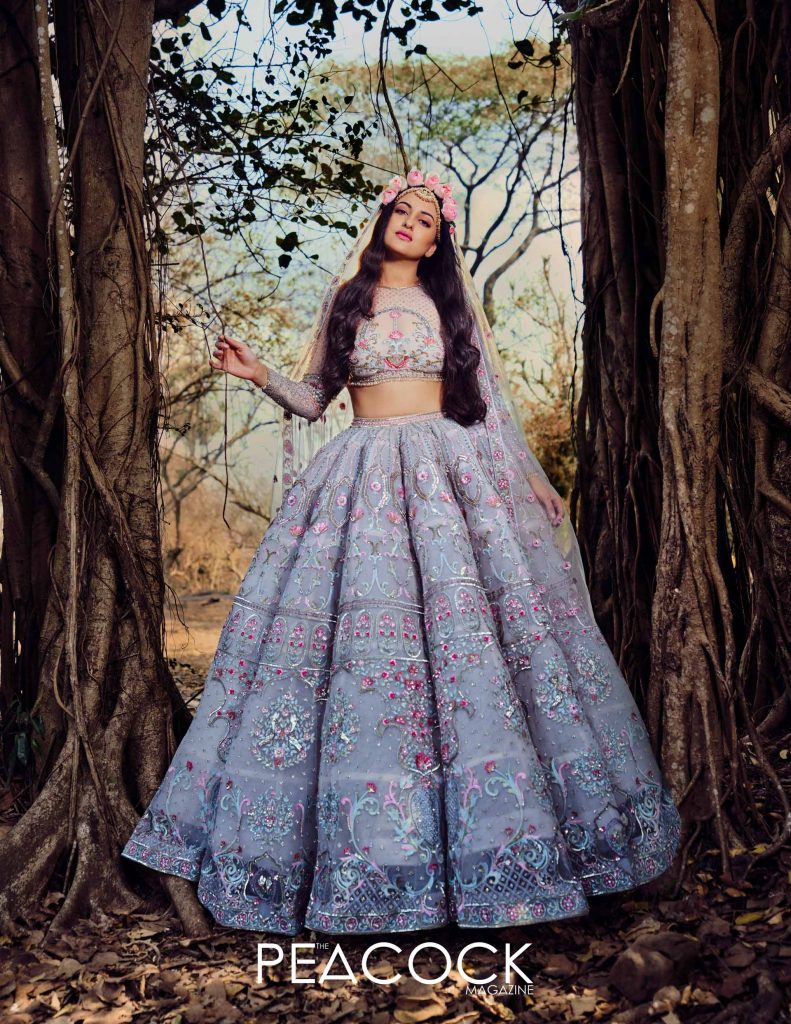 Sonakshi has never shied away from exploring other aspects of the performer that she is. By now, it is a well-known fact that she can sing proficiently and has belted out numerous songs for her movies and music videos as well. The actor has also been a part of television music talent shows as she dons the hat of a judge. Talk about judging and you wouldn't miss out on her recent run with India's first digital reality show to identify and reward India's next big fashion influencer. But compliment her on her fashion-on-fleek Instagram feed, she humbly credits it to Mohit Rai, without whom she'd confessedly rather dart off to any place in her jeans and tee. As she banters with us about this, she also takes vested interest to give us our digital cover shot that turned out to be the bang we all were waiting to conclude with. In the end, she packs up the shoot with a power-packed shot which she takes to Instagram to post with a caption 'Khaleesi but make it desi' and that's when she proves it yet again that she is 'asli sona' of an actor and performer. 24 carats, indeed!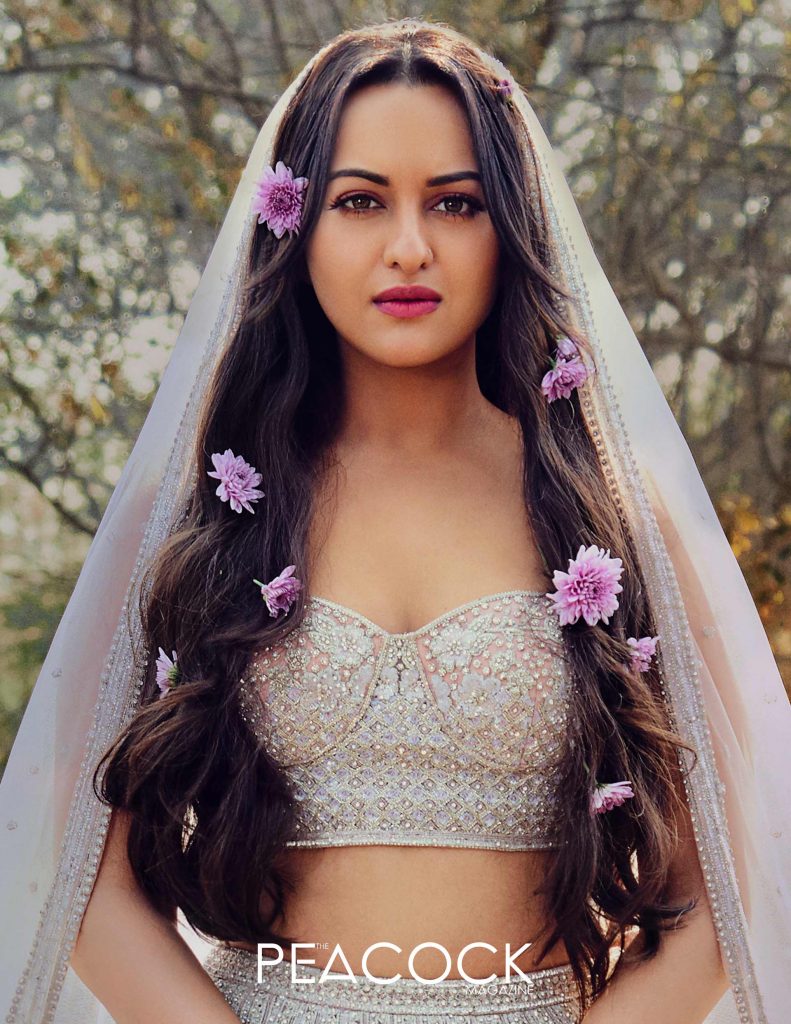 [Q] THE LAST SONG YOU WERE LISTENING TO?
'Jaane kyun log pyaar karte hai' from 'Dil Chahta hai'.
[Q] SAY 'I LOVE YOU' IN ALL POSSIBLE LANGUAGES THAT YOU KNOW.
'I love you', 'Me tame prem karu chhu', 'Je t'aime', 'Main aapse pyaar karti hu'.
[Q] A DOG BREED YOU THINK YOU COULD BE.
Collie.
[Q] CHICKEN OR EGG – WHAT CAME FIRST?
I think the chicken came first. There had to be an animal that evolved into chicken which then started laying eggs.
[Q] EVER DONE ANYTHING ILLEGAL?
Yeah, I have but I am not going to tell you what!
[Q] ARE YOU SINGLE?
Yes, very much.
[Q] RATE YOUR OWN LOOK FROM 0 – 10.
11. This look is out of this world.
[Q] YOUR MOST USED EMOJI.
That 'laughing-till-you-have-tears' emoji.
[Q] GIVE US 3 SEXY POSES IN THE NEXT 3 SECONDS.
3 poses in 3 seconds are impossible but I'll give you one.
[Q] WHAT IS YOUR PHONE SCREEN WALLPAPER?
It's a picture of mine with wings made on it. A fan had made this really cool looking, Goth picture of me, which I've kept. It's quite artistic so that's why I like it.
[Q] CHEESE OR MAYO?
Cheese, all the way!
[Q] MOM OR DAD?
Mom.
[Q] SHOW US YOUR FAVORITE DANCE MOVE.
If I could move in this (outfit), I'd be doing lots.
[Q] A MOVIE YOU SAW MORE THAN 5 TIMES.
3 Idiots, Constantine and Chandni Chowk to China – believe it or not!
[Q] TEXTING OR TALKING?
Texting. I hate talking on the phone.
[Q] WOULD YOU DATE A FAN?
Yeah, I mean a guy I date has to be my 'fan' anyway! As in he has to really love me, so yeah why not! I hope that he's not crazy, though!
[Q] HOW LONG DOES IT TAKE FOR YOU TO GET READY?
Anything between 45 minutes to an hour. I can't sit at one place for too long.
[Q] DO YOU SWEAR IN HINDI, ENGLISH OR ANY REGIONAL LANGUAGE?
It depends on my mood and the situation I'm in.
[Q] BIGGEST PET PEEVE.
I hate people who do not respect other people's time.
[Q] BEST THING THAT HAPPENED TO YOU IN 2020.
I ventured into something very new, which is a series for Amazon. I am really excited about it!
[Q] FAVORITE PIZZA TOPPINGS.
Nothing. Just cheese. Extra cheese, if anything!
[Q] FAVORITE LYRICS OF ALL TIME.
'Bhooli atthanni si bachpan ke kurte mein se mil tu'. I think that is the most beautiful thing I have ever heard.
[Q] DO YOU DREAM IN HINDI OR ENGLISH?
Both.
[Q] MOST SENSELESS PURCHASE EVER.
I actually spend my money very wisely. I have great value for money and I won't buy anything that is not necessary.
[Q] YOUR BANK ACCOUNT PASSWORD.
You think I would tell you this?! Jaaydaad le loge meri aap toh! (laughs)