Envisaging shooting couture with the backdrop of one of the most visited wonders of the world, the Taj Mahal, has been on the vision board of the designers Falguni Shane Peacock for a long time. Becoming the first designers in India and the world to shoot within and around the precincts of Taj Mahal, the vision came to life when their ICW 2021 collection 'Love is,' was shot at the UNESCO World Heritage Site. The collection, inspired by the magnificent architecture and objective of the mausoleum, celebrates the grandeur, nonpareil, and timeless quality of Indian couture.
Bringing together a couture collection is more than merely sewing fragments of garbs together. The process begins with an idea that is toiled on by a village. 'Love is,' is an attempt of showcasing a distinguished vision and the supreme artisanship of 250 craftsmen. Created entirely by hand, the collection boasts the artistry of craftsmen from the remotest locations of the country.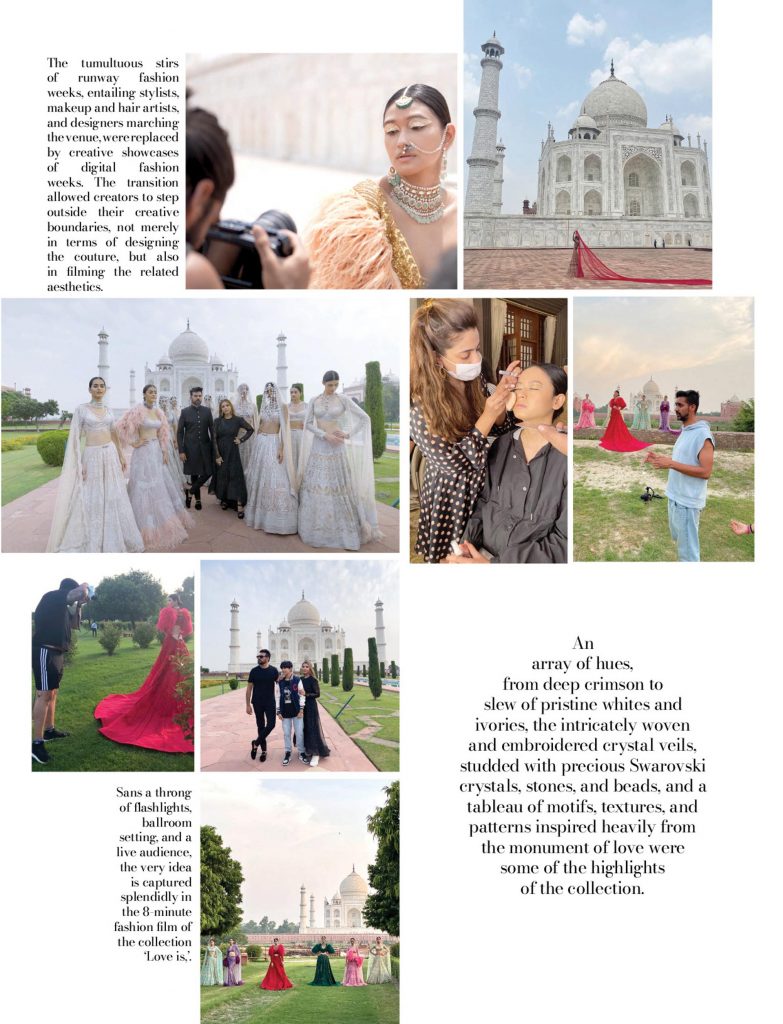 The tumultuous stirs of runway fashion weeks, entailing stylists,makeup and hair artists, and designers marching the venue, were replaced by creative showcases of digital fashion weeks. The transition allowed creators to step outside their creative boundaries, not merely in terms of designing the couture, but also in filming the related aesthetics.
Sans a throng of flashlights, ballroom setting, and a live audience, the very idea is captured splendidly in the 8-minute fashion film of the collection 'Love is,'.
An array of hues, from deep crimson to slew of pristine whites and ivories, the intricately woven and embroidered crystal veils, studded with precious Swarovski crystals, stones, and beads, and a tableau of motifs, textures, and patterns inspired heavily from the monument of love were some of the highlights of the collection.