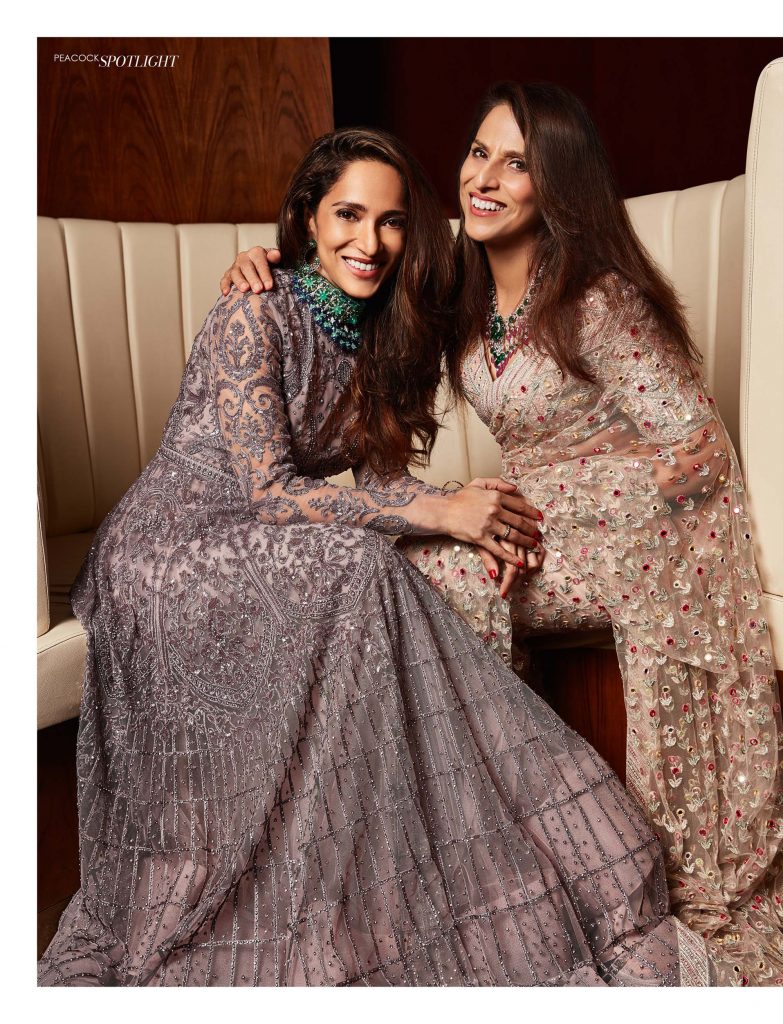 THE WONDER WOMEN
NOVELIST | COLUMNIST : CELEBRITY STYLIST
Credits-
Photography- Kailash Deepak
Make up Artist – Snigdha
Hair – Shalini Sharma
Jewellery – Arundhati De Sheth
Location – The Clearing House
Clothing – Falguni Shane Peacock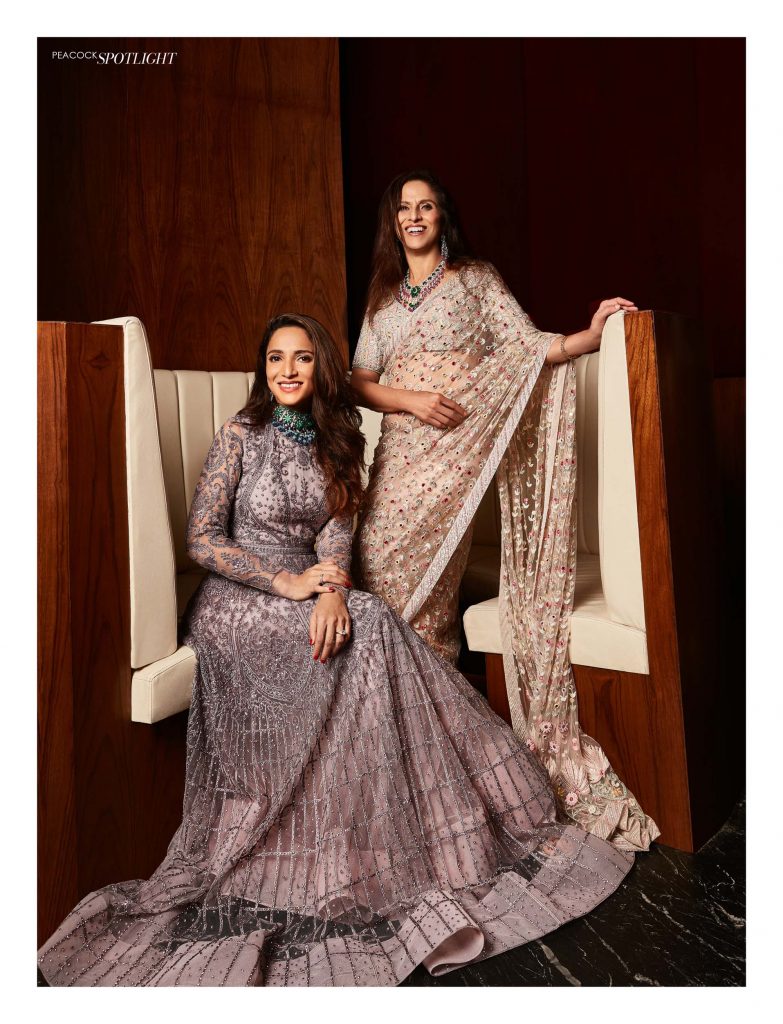 A wordsmith of her own might and right, Shobhaa De has raised many an eyebrow with her collection of novels. The writer has an anthology that spans more than a decade. A woman of many words, Shobhaa has seldom minced her words when it comes to, both, her novels and her opinions. De published her first novel in 1989. Titled 'Socialite Evenings,' the fiction novel explored the high society life of Mumbai's rich and their conflict with a materially rich but spiritually poor lifestyle. The book gained commercial success and its share of controversies but what followed is a string of novels with racier and provocative stories. For a woman who has seen it all and done it all, there isn't a stop to Shobhaa De who published her latest novel 'Seventy..And To Hell With It', in 2017. Following Shobhaa's footsteps is her celebrity stylist daughter, Avantikka Kilachand Raju. Avantikka's love for fashion and a talent for crafting sartorial stories has been at the forefront of creating influential fashion trends and features. From being part of the first-ever edition of Lakme Fashion Week to becoming the fashion director of HELLO! Magazine, Avantikka has a bevy of noteworthy projects to her credit. Avantikka constructs unique styling choices for her models which range from Bollywood's superstars to the opulent royals, and the mother of three cites her ever-changing surroundings as her constant source of inspiration.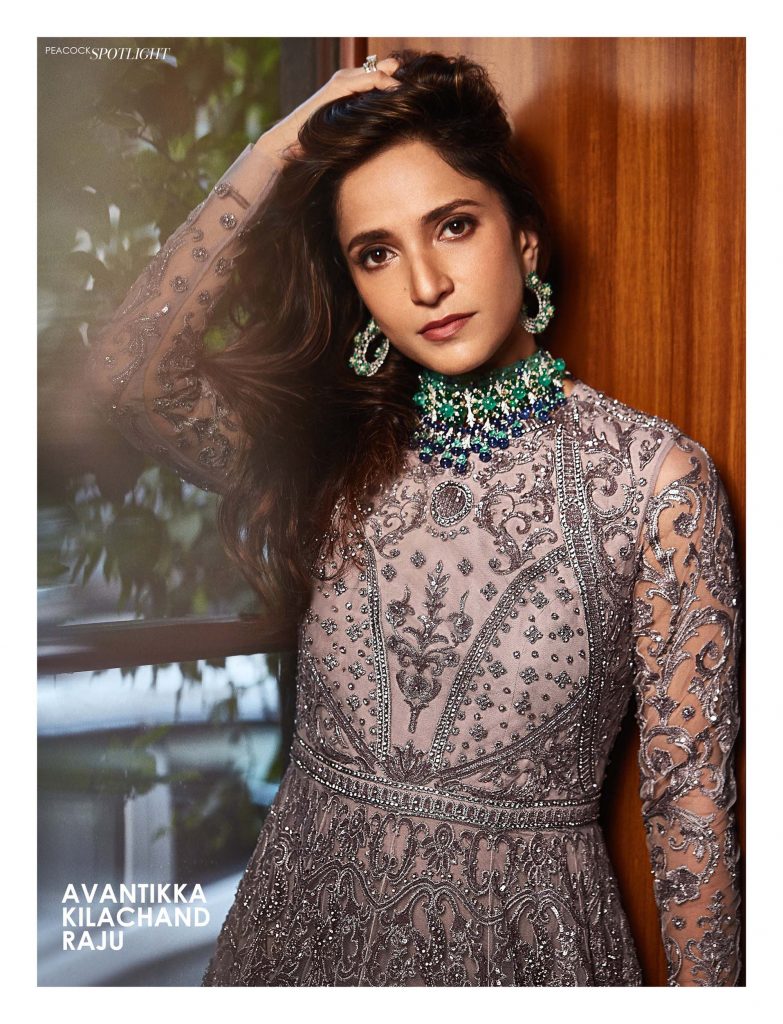 SHOBHAA DE-
[Q] MOST OF YOUR NOVELS ARE BASED IN THE BACKDROP OF 'BOMBAY'. HOW HAS 'BOMBAY' CHANGED FOR YOU FROM THE TIME YOU STARTED WRITING TO THE 'BOMBAY' IT IS AT PRESENT?
"There are a 1000 Bombays. Each day is a discovery. Bombay is a chameleon that changes by the minute. I love the challenge my city throws. Bombay is impossible to decode or capture in words. That's what makes it extraordinary and enigmatic.
[Q] AS A COLUMNIST WHO SPARKS NUMEROUS CONVERSATIONS WITH THE READERS WEEK AFTER WEEK, WHAT ARE SOME TOPICS WE NEED TO BEGIN CONVERSATIONS ABOUT?
"The single most important issue on earth is the health and well-being of women – mental physical, emotional.
[Q] CAN YOU WALK US THROUGH THE BEST YEARS OF YOUR LIFE?
"Those that lie ahead. I don't know the route!
[Q] WHAT WOULD ADVICE TO WOMEN WRITERS WHO ARE STARTING OUT?
"To stop thinking of themselves as "women writers" for starters. Let's keep gender out of writing.
[Q] YOU'RE A MOTHER OF 6 WELL SHAPED-UP INDIVIDUALS – DESCRIBE MOTHERHOOD THAT WAS FOR SHOBHAA DE.
"Motherhood has to be lived, loved and cherished. It cannot be described. There are no words that can wholly embrace all those emotions.
[Q] IF NOT AN AUTHOR – WHAT WOULD YOU BE?
"An architect. I love the world of design.
[Q] HOW WOULD YOU DESCRIBE YOUR PERSONAL STYLE? HOW HAS IT EVOLVED OVER THE YEARS?
"I would describe it as easy and relaxed. Experimental and individualistic. Strictly no rules! I go from extravagance to austerity, depending on my mood. I am an improvisational dresser.
[Q] WHAT IS YOUR FAVORITE HEIRLOOM PIECE FROM THE ONES THAT YOU OWN?
"I have several that I adore. My heirloom pieces are like old friends. There is a familiarity in place along with respect and love. My ancient 9 yards Paithani remains a sentimental favourite. I wore it to Avantikka's wedding. I also love my collection of Abhas, with or without zardozi.
[Q] DO YOU DRESS UP GOING BY YOUR OWN INSTINCTS OR DO YOU RESORT TO YOUR STYLIST DAUGHTERS' SUGGESTIONS?
"I am terrified of my daughters and their opinion. But I generally go by my own instincts. I value their feedback immensely. Each of them has a specific sense of style and innate good taste.
[Q] WHO ARE THE FASHION ICONS YOU LOOK UP TO?
"That list varies. At the moment Lady Gaga rules!
[Q] WHAT DOES YOUR CLOSET MAINLY COMPRISE OF?
"A collection of sarees and lots of gypsy ghagras. I love stoles and dupattas – preferably hand woven. I enjoy mixing and matching accessories. My old silver pieces are a part of my identity.

AVANTIKKA KILACHAND RAJU-
[Q] HOW AND AT WHAT AGE DID YOUR INTEREST IN FASHION SPARK? DID YOU ALWAYS KNOW YOU BE A FASHION STYLIST?
"Fashion styling came to me by chance. I was a trainee under Mr. Anil Chopra at Lakme (Unilver India). We put together the first Lakme India Fashion Week and I think my affinity for fashion and the world that surrounds became apparent. I was picked up by another mentor, Superna Motwane, as a beauty editor for Seventeen India Magazine. When HELLO! was launching, my current editor asked me to be on a team that launched this international brand within a mere five days. I have been here since and it's been quite a journey and a fabulous learning curve.
[Q] YOU WERE BORN TO FAMOUS PARENTS. WHAT QUALITIES AND LESSONS DID YOU GATHER FROM AN EMINENT WRITER MOTHER?
"Honestly, I never thought of my parents as 'famous'. I saw my mother working hard and facing many obstacles along her path. It wasn't easy then and I think it is even more difficult now. But I learnt that nothing comes without hard work and perseverance. Just stick to your guns and not be bullied or swayed by others opinions. I think the reason she is respected is because she voices what is in her gut. You may not agree with her but you cannot ignore her!
[Q] AS A FASHION DIRECTOR, HOW DO YOU FIND INSPIRATION IN THIS EVER CHANGING SCENARIO OF FASHION TRENDS?
"I think we live in a world of digital transformation. Fashion has always been evolving. I think now it is more reachable and accessible. I find inspiration in the simplest things, it could be a children's book that I read to my two-year-old that sets my imagination into overdrive.
[Q] WHAT IS YOUR STYLING AESTHETICS?
"I think I'm quirky and Bohemian. I like to mix it all up. Sometimes it works, sometimes it doesn't. I try not to take my profession too seriously.
[Q] HOW HAS YOUR APPROACH TO FASHION DIRECTION CHANGED WITH A TRANSITION FROM PRINT TO VARIOUS DIGITAL MEDIUMS?
"I don't believe print is dead. I don't believe it ever will die. I think the digital medium is a natural extension of it. We all are now a part of a fashion revolution whether we like it or not. They go hand in hand. Digital has only made it globally accessible to all. My house help now knows about Kim Kardashian!
[Q] WHAT DO YOU THINK IS THE MOST IMPORTANT ELEMENT WHEN IT COMES TO DIRECTING A FASHION SHOOT?
"In this day and age, a lot has to do with sponsor commitments, digital deliverables, and budgets without losing the look and feel of your brand. We try and balance them all, along with keeping the cover star/influencer happy and wanting to be featured again.
[Q] WHO AND WHAT DO YOU THINK ARE THE BIGGEST INFLUENCERS IN FASHION TODAY?
"Actors, actresses, models, designers, sports persons, royals, musicians, brands, bloggers, opinionators – all have been playing a part in the fashion curve forever. Imitation is the highest form of flattery. I think the exposure has just boomed and it's all out there. Even street style is such a good indicator of where fashion is going in that part of the world. Everyone is hungry for newness. Everyone wants to influence.
[Q] WHAT CHALLENGES DO YOU FACE WHILE STYLING THE ROYALS?
"Our Royals are the real heroes. Their impeccable style stays unchanged. From their un-creased chiffons to the drape of their shawls, you just cannot beat them. It's a dignified fashion that stays unique to them – they need no help styling! They can teach us many lessons!
[Q] WHAT IS YOUR PERSONAL FAVORITE FASHION DIRECTING MOMENT?
"I will never forget my first shoot with Aishwarya Rai Bachchan. I was mesmerized, tongue-tied and completely blinded. Thank God for the team that took me through it! It is still one of our best covers!
[Q] WHO IS YOUR STYLE INSPIRATION?
"I love a lot of women for their great style. The one that I admire is my mum, Shobhaa De, for her amazing sarees and silver jewellery collection. I also think Princess Diya Kumari is always so elegant, graceful and feminine. From the Bollywood and Hollywood brigade, think it would be Anushka Sharma and Victoria Beckham.
[Q] THE ONE CHARACTER FROM HOLLYWOOD THAT YOU WOULD LIKE TO STYLE AND SHOOT?
"I would love to shoot Jennifer Lopez. I think she imbibes the best of womanhood and being sensual at any age! I love her energy and her curves!
[Q] WHAT IS THAT ONE THING THAT QUICKLY UPGRADES AN OUTFIT?
"A well-stitched blazer and a great shade of red on the lips.
[Q] WHAT IS YOUR FAVORITE ITEM FROM YOUR CLOSET?
"I love pencil skirts. I feel sexy in them. I love the saree for the Indian women. It always accentuates or hides what she needs to at that moment. Also, my wedding lehenga – for so many reasons. It was by Anand Kabra and I can't wait to wear it again!
[Q] WHAT ARE YOUR WARDROBE STAPLES?
"In the day, I enjoy comfy and breathable fabrics. I love the Kolhapuri chappals and can't have enough! At night, it depends on my mood and the occasion.
[Q] ARE YOU A CLOSET EDITOR OR CLOSET BUILDER?
"Builder for sure! Also, I have 2 daughters who are waiting hungrily to get their hands on it! (laughs)
[Q] WHAT ARE SOME ITEMS ONE HAS GOT TO SPLURGE ON?
"Fine jewellery and artworks! It is something I am planning to save up for in the future!
[Q] ONE CELEBRITY WITH THE MOST ICONIC WARDROBE.
"Kate Middleton. It is classic and forever.