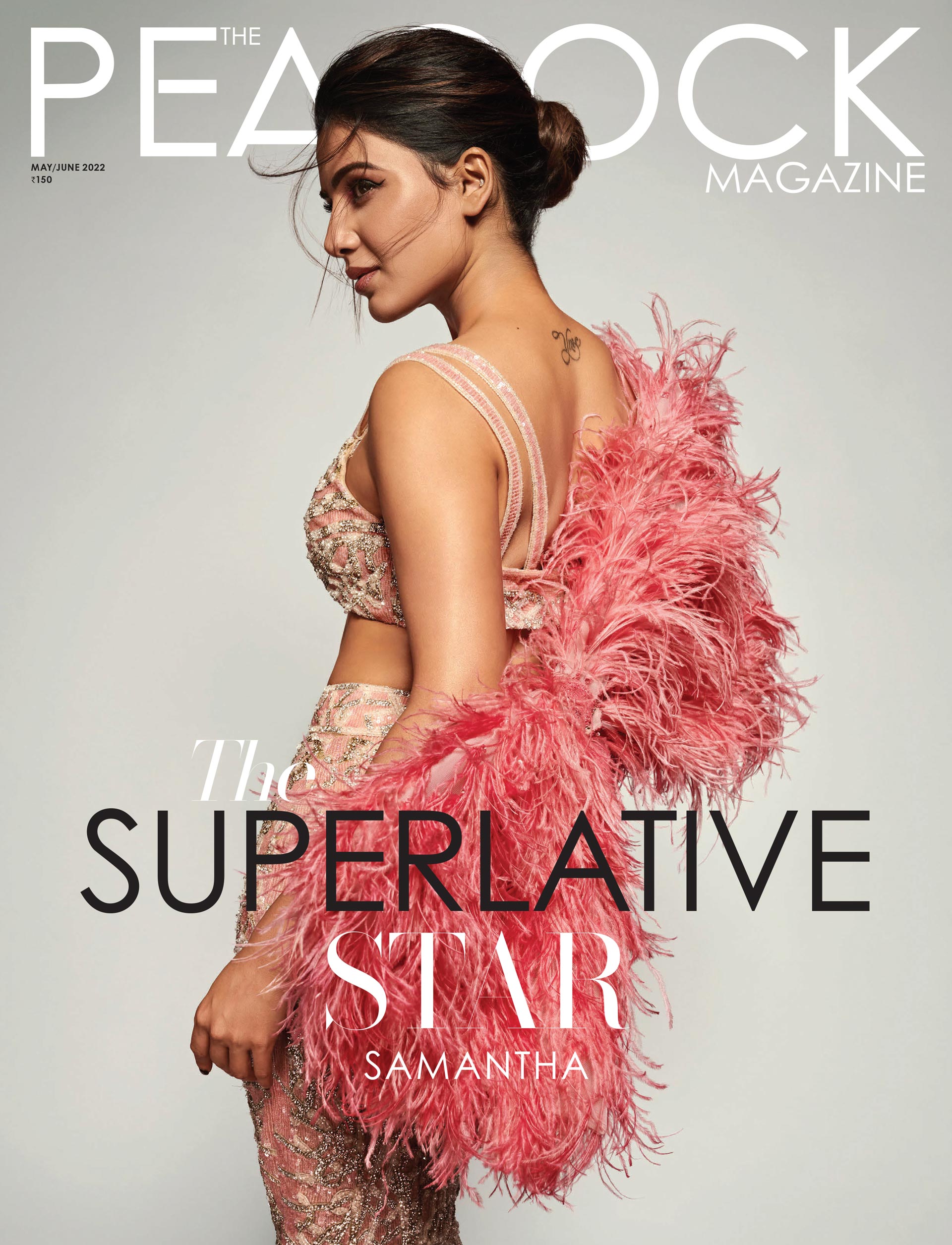 CREDITS –
PHOTOGRAPHER – THE HOUSE OF PIXELS
WARDROBE – FALGUNI SHANE PEACOCK
STYLING – PREETHAM JUKALKER
MAKEUP – AVNI RAMBHIA
HAIRSTYLIST – ROHIT BHATKAR
PRODUCTION – STUDIO LITTLE DUMPLING
ALL JEWELLERY – RENU OBEROI LUXURY JEWELLERY AND KISHANDAS & CO.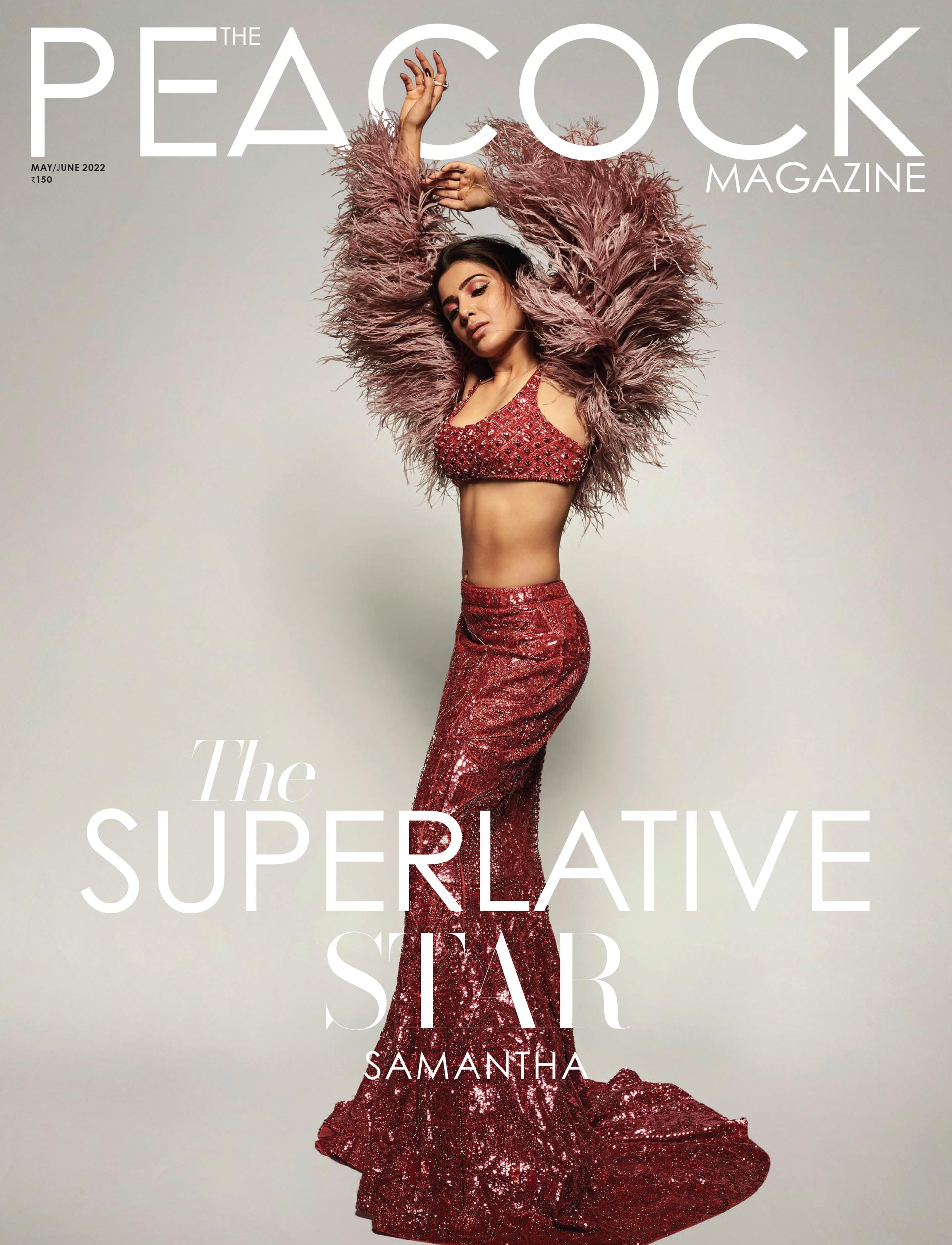 'Wake up, shake off and show up with a hope that tomorrow will be a better day' – is a motto superstar Samantha Ruth Prabhu has lived by. A so-called outsider in the arena of cineblitz, Samantha came, conquered and is here to rule the roost all by abiding to this motto since day one. Samantha's career trajectory is all about being on the rise and taking it a notch higher with every step. We first saw her in Ye Maaya Chesave as the girl-next-door and then went on to see her in a spree of terrific performances — from Bindu in Eega, to Vaembu in Super Deluxe, to her personal favourite Baby in Oh! Baby and Raji in Family Man 2, which also marked her OTT debut and fetched her an award. Samantha is a staunch believer that sky's the limit and the only way to reach there is to make consistency your best friend. She replaced 'slow and steady' with 'consistency and confidence' and marched forward only to leave behind an enviable repertoire of work.
The actor got candid with The Peacock Magazine about how her focus now lies in leaving behind a legacy and how she is forever greedy for roles unimagined for her persona. Samantha even told us a thing or two about her personal and professional beliefs that attest to the strong and independent woman that she is.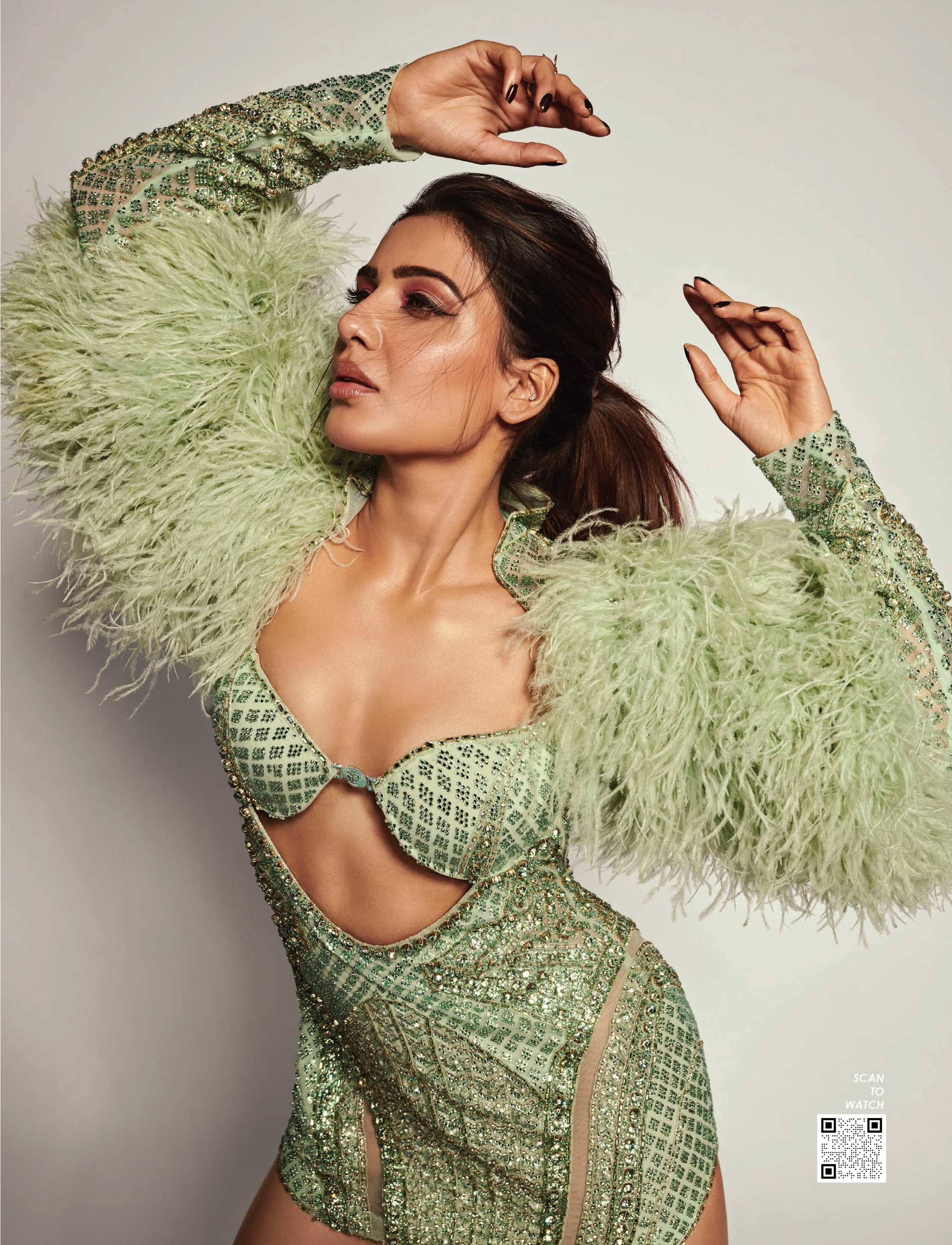 [Q] Could you tell us about your first experience as an actor/performer? How did it leave you feeling?
My first experience was a mixed bag because I was extremely nervous. I didn't expect the appreciation that would follow. It was the kind of experience that made me the person that I am today.
[Q] What kind of movies did you grow up watching?
I have two older brothers so we watched a lot of sports, sports films like boxing films along with my fairytale romantic films. It was a big mix and we would always fight at home as to which film to watch, and as a result, I ended up watching hardcore action films, most of the time, and at other times, my kind of films.
[Q] What is your favourite genre of movies as an audience?
I believe the most difficult thing is to make people laugh. You can make people cry, you can make people sad, but to make people laugh is truly, truly difficult and that is what I love doing — making people laugh. I like people around me to have a good time all the time. I think this comes very close to my real personality. So, I feel comedy is the nicest genre.
[Q] What attracts you to that genre?
My favourite genre is certainly comedy. I love it and I wish to do more comic films.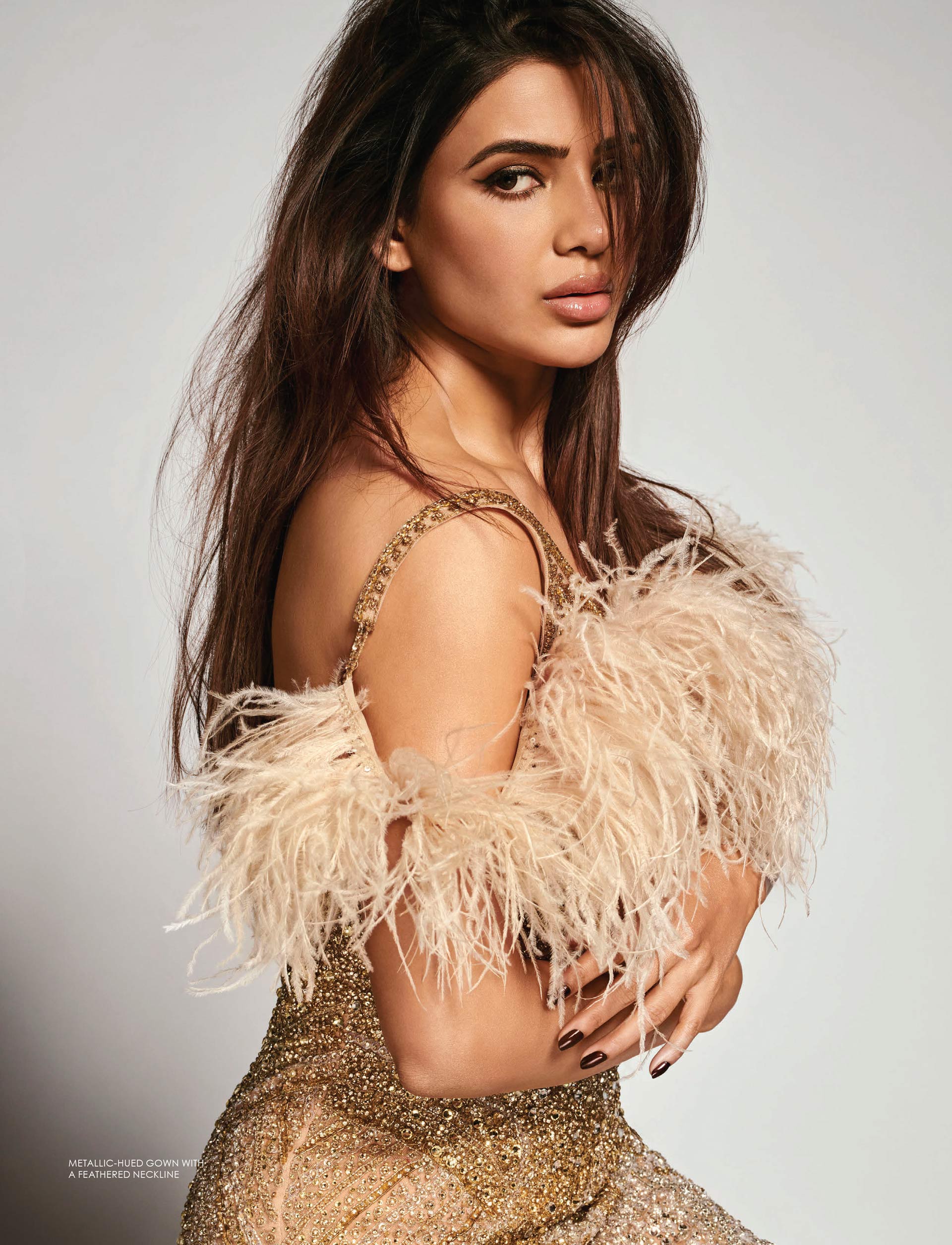 [Q] What characteristics do you think are necessary to be a good actor in today's time?
I think the most important characteristic of a good actor is empathy. You really need to be empathetic to be a good actor. I think the phase of stars reigning supreme is over and it is for good that real actors are now the stars.
[Q] After working across almost four different film industries, how confident have you grown as an actor?
I believe after working on so many projects, I can say that I'm a lot more confident, and it also comes with age and maturity. I was always confident about the way I looked and now I'm much more confident about trying on different roles whether it's a sexy song or action, which I probably would never have had the courage to do in the past.
[Q] From being an outsider in the film industry to now ruling the industry, what has changed for you as an actor and performer?
I don't think there's anything anymore such as ruling the industry. You are only as good as your last film. What has changed for me as an actor and a performer is being offered such great roles and living up to the task. I think you are only as good as the roles you are offered. I am glad that I was able to seize all these opportunities that were offered to me and show up with the results.
[Q] Any particular film or role that helped you discover the in-depth actor in you?
I think for me it was Oh! Baby. It was particularly heartwarming for me because that was the first time I tried comedy and I didn't know if I could do comedy. Just watching and knowing that people enjoyed the film meant so much to me.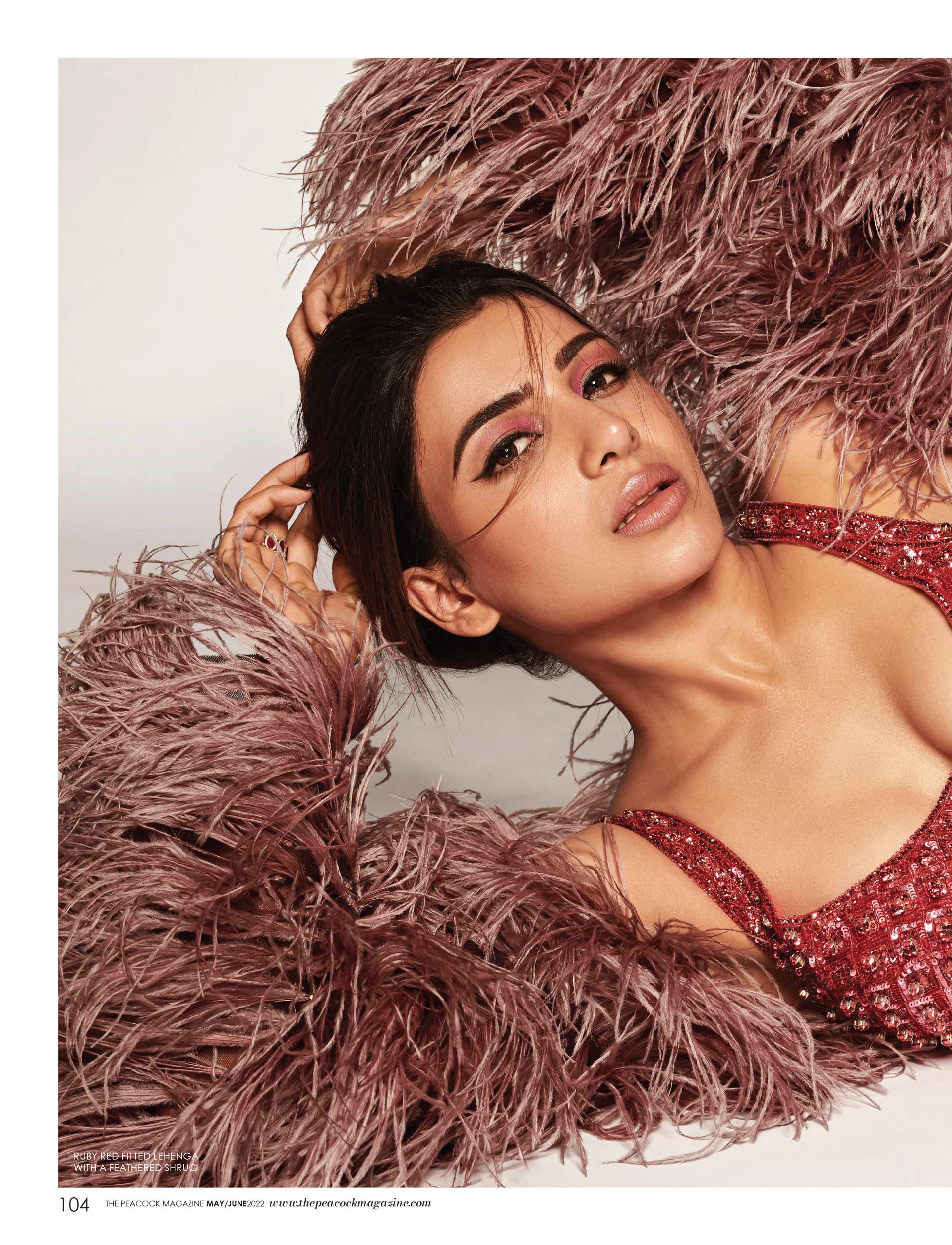 [Q] OTT platform content and web series grew manifold in the last couple of years and you have been one of the actors at the forefront, who acted as a catalyst. How different is it for you as an actor while working on OTT content as opposed to mainstream cinema?
I was not making a conscious effort to make my OTT debut. I have always pursued good content and I don't care whether it is from mainstream cinema or OTT platforms. I was just getting roles that haven't been offered to me before; roles where people weren't looking at me that way. So being offered a role like Raji was something I couldn't say 'no' to.
[Q] What, according to you, is the highest form of recognition or appreciation as an actor?
I think it would be consistency. I think we need to be consistent with our work and the kind of roles and the films that we pick. Consistency is the key.
[Q] How do you think an actor today can be relevant and trending, given the rise of social media and the frills around it?
I think the frills are now falling off. It actually depends if you are an actor who likes to share and keep it real or if you are an actor who doesn't like to share, then people respect that as well. There is no hard and fast rule that the more you are out there and the more active you are on social media, then the bigger the star you are. It just depends on your personality — what you want to share and what you don't want to share. But if you do intend on sharing then people want to see the real you and I feel that people can now sniff fakeness from a mile. (laughs)
[Q] Are you working toward creating or leaving behind a legacy, or are you taking one day/film at a time?
I think after 12 years in the industry you start to think about what you are going to leave behind. I think those days of taking one day and one film at a time are over and after 12 years, I definitely want to be remembered. Because for me, it has always been about that, it has always been about getting better and making a mark. So, yeah, I think it's time I think about what I would be leaving behind.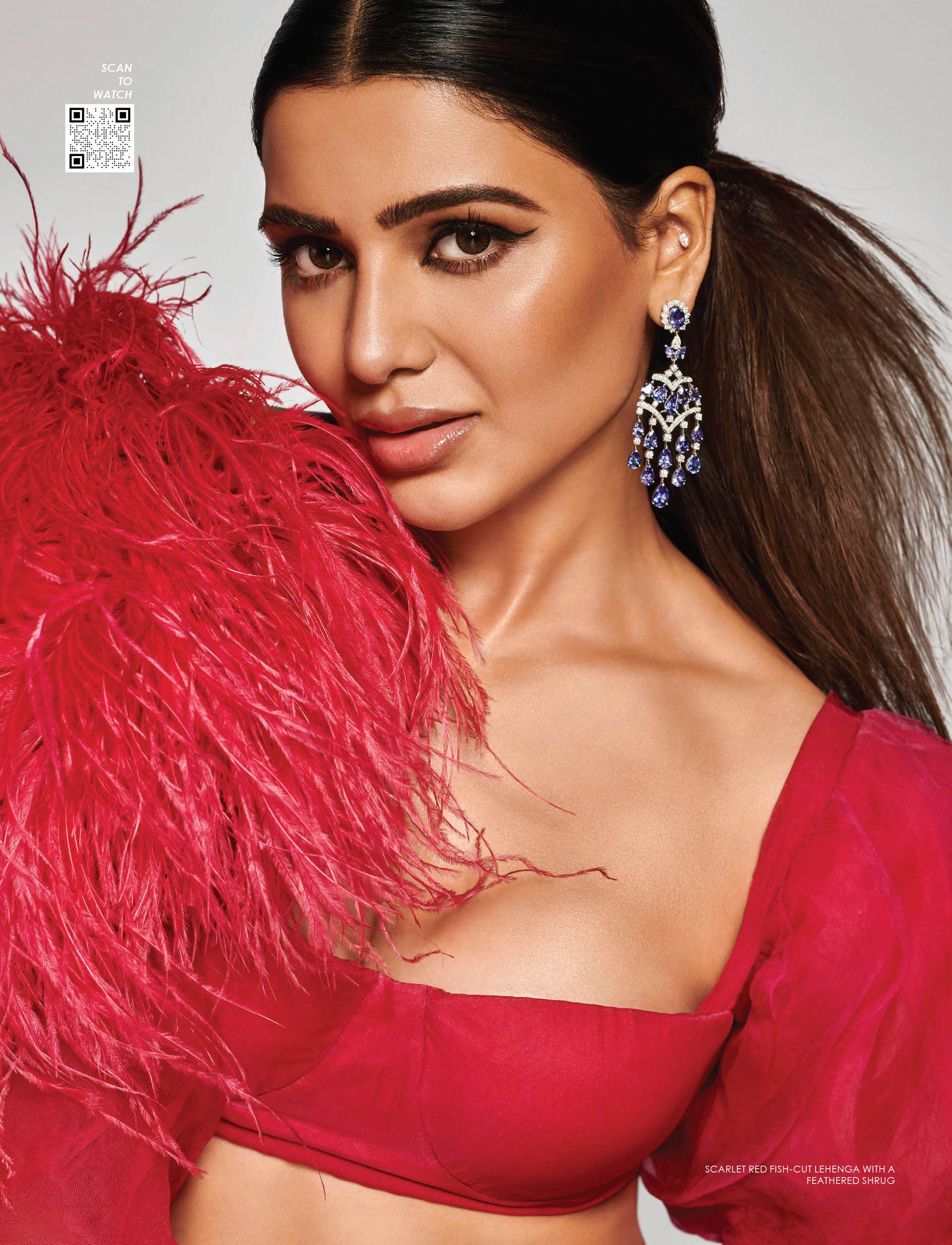 [Q] How do you deal with your moments of doubt and vulnerabilities?
I do have my moments of doubts and vulnerability but what you do is: Wake up, shake it off and hope that tomorrow is a better day.
[Q] Do you feel you're being too hard on yourself some days when you're trying to give your best?
I am always extremely hard on myself because I feel I need to be so. When you're given this opportunity and when you're one in a million, you better be hard on yourself — be it with the decisions you make, the roles you pick and the performances you give. There are no two ways about this, there are no excuses.
[Q] How can a young and successful actor like you make a difference in the film industry?
As I said, by being consistent. I think as a female actor, just one superhit film is not going to suffice. People, producers, and all those who are going to put money on your films, are going to see your consistency, and they need to see that you know what you're doing and if you're keeping at it. Sometimes there are three great films and one flop film that can take you back, so it's important to never lose that focus.
[Q] What are some of the personal beliefs that you firmly stand by professionally?
As an actor 'empathy' is the name of the game. You separate yourself from the person that you are and from the character that you play. I, as Samantha, am very very different from Raji or even Baby. I need to give everything that the role demands; whether it's jumping off a roof even though I'm petrified of heights for the role of Raji or kissing on-screen to make the relationship look real and honest because that's what the movie demands like in Ye Maaya Chesave, and that's what's going to make the audience feel the connection between two people. So, I separate Samantha from a role/persona that I portray, for instance, in the Oo Antava song. I always separate the characters and roles that I pick up because this is my job.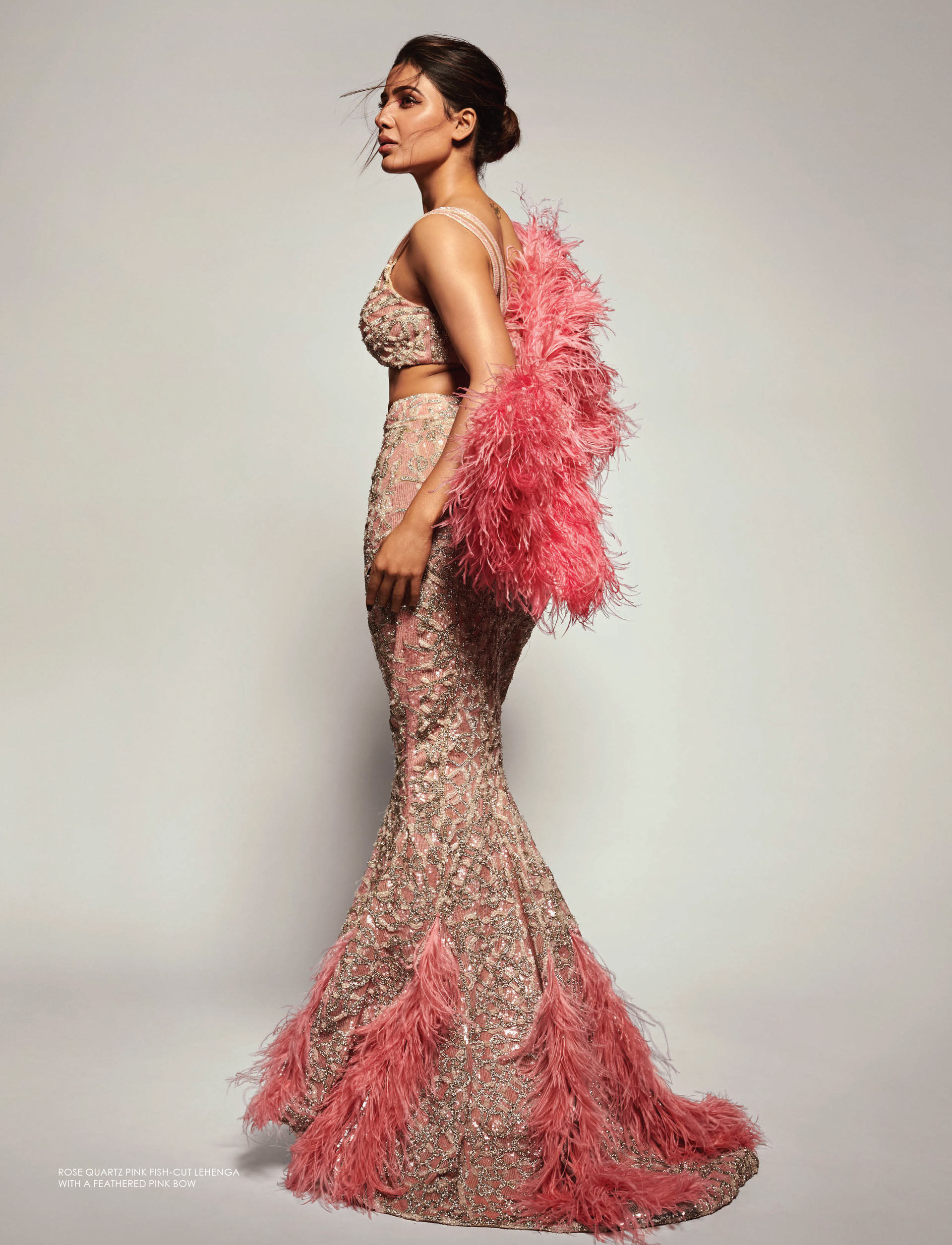 [Q] What is your take on philanthropy? What social causes do you champion?
I think it started very early on in my career, I guess it was 2013 when I started Pratyusha Support the very moment when I was able to stand on my feet. So, I started early on in my career. The moment I was able to look after myself and my family, I knew that charity was something that I was passionate about. I was passionate about the welfare of women and children, and I have been doing that ever since I started. I'm very proud of all the work that Pratyusha Support has been doing, and I believe this is just the beginning.
[Q] Your body of work is prolific. Do you think you're in the best phase in your career right now?
Well, I am greedy and I am the most dissatisfied, so I believe that my best is yet to come.
[Q] What projects are you working on next?
I have a couple of releases this year: Kaathu Vaakula Rendu Kadhal, Shaakuntalam, Yashoda. So, it's going to be a good year. I'm also starting new projects that are extremely exciting and extremely demanding as well. So, it's going to be an exciting year.