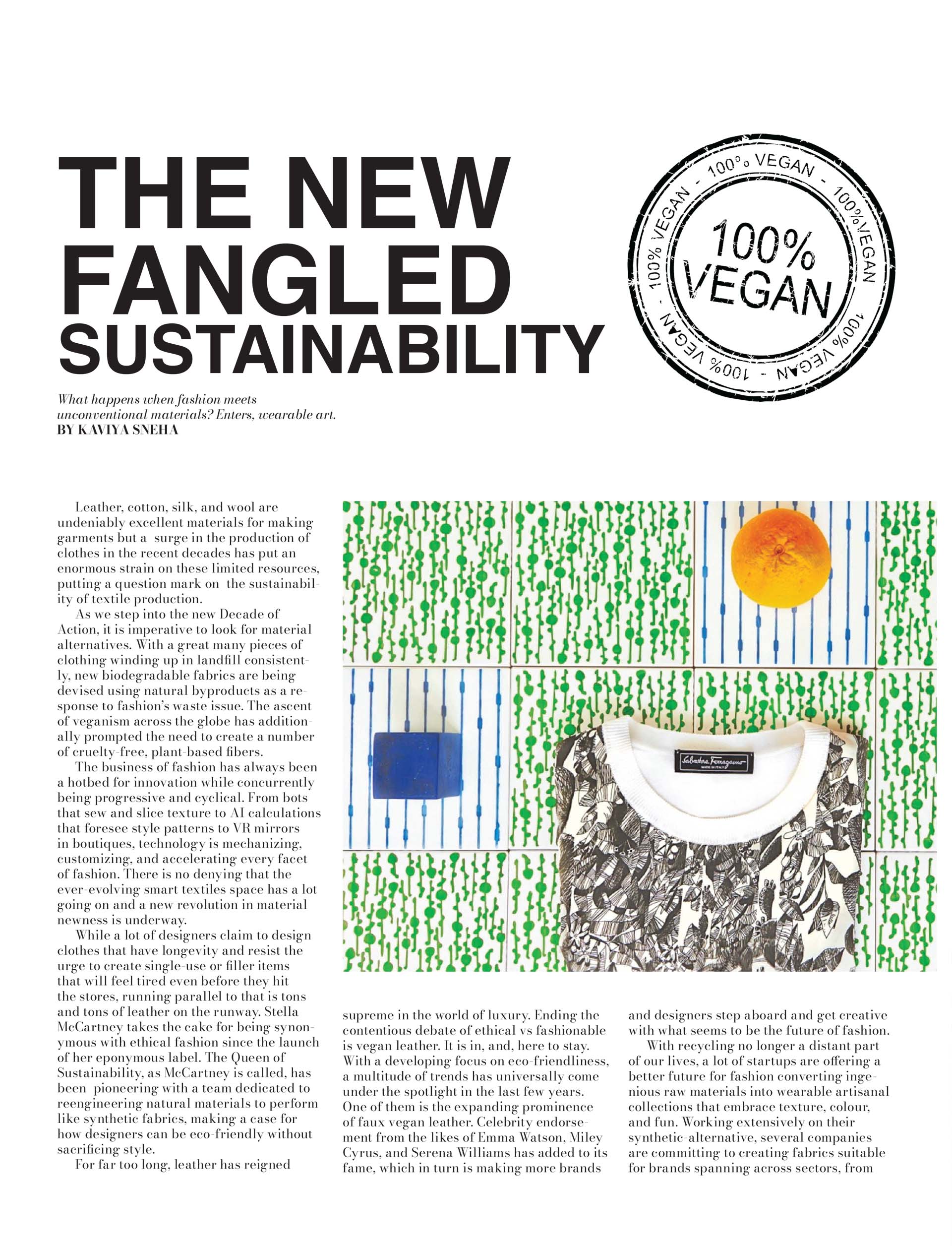 What happens when fashion meets unconventional materials? Enters, wearable art.
BY KAVIYA SNEHA
Leather, cotton, silk, and wool are undeniably excellent materials for making garments but a surge in the production of clothes in the recent decades has put an enormous strain on these limited resources, putting a question mark on the sustainability of textile production.
As we step into the new Decade of Action, it is imperative to look for material alternatives. With a great many pieces of clothing winding up in landfill consistently, new biodegradable fabrics are being devised using natural byproducts as a response to fashion's waste issue. The ascent of veganism across the globe has additionally prompted the need to create a number of cruelty-free, plant-based fibers.
The business of fashion has always been a hotbed for innovation while concurrently being progressive and cyclical. From bots that sew and slice texture to AI calculations that foresee style patterns to VR mirrors in boutiques, technology is mechanizing, customizing, and accelerating every facet of fashion. There is no denying that the ever-evolving smart textiles space has a lot going on and a new revolution in material newness is underway.
While a lot of designers claim to design clothes that have longevity and resist the urge to create single-use or filler items that will feel tired even before they hit the stores, running parallel to that is tons and tons of leather on the runway. Stella McCartney takes the cake for being synonymous with ethical fashion since the launch of her eponymous label. The Queen of Sustainability, as McCartney is called, has been pioneering with a team dedicated to reengineering natural materials to perform like synthetic fabrics, making a case for how designers can be eco-friendly without sacrificing style.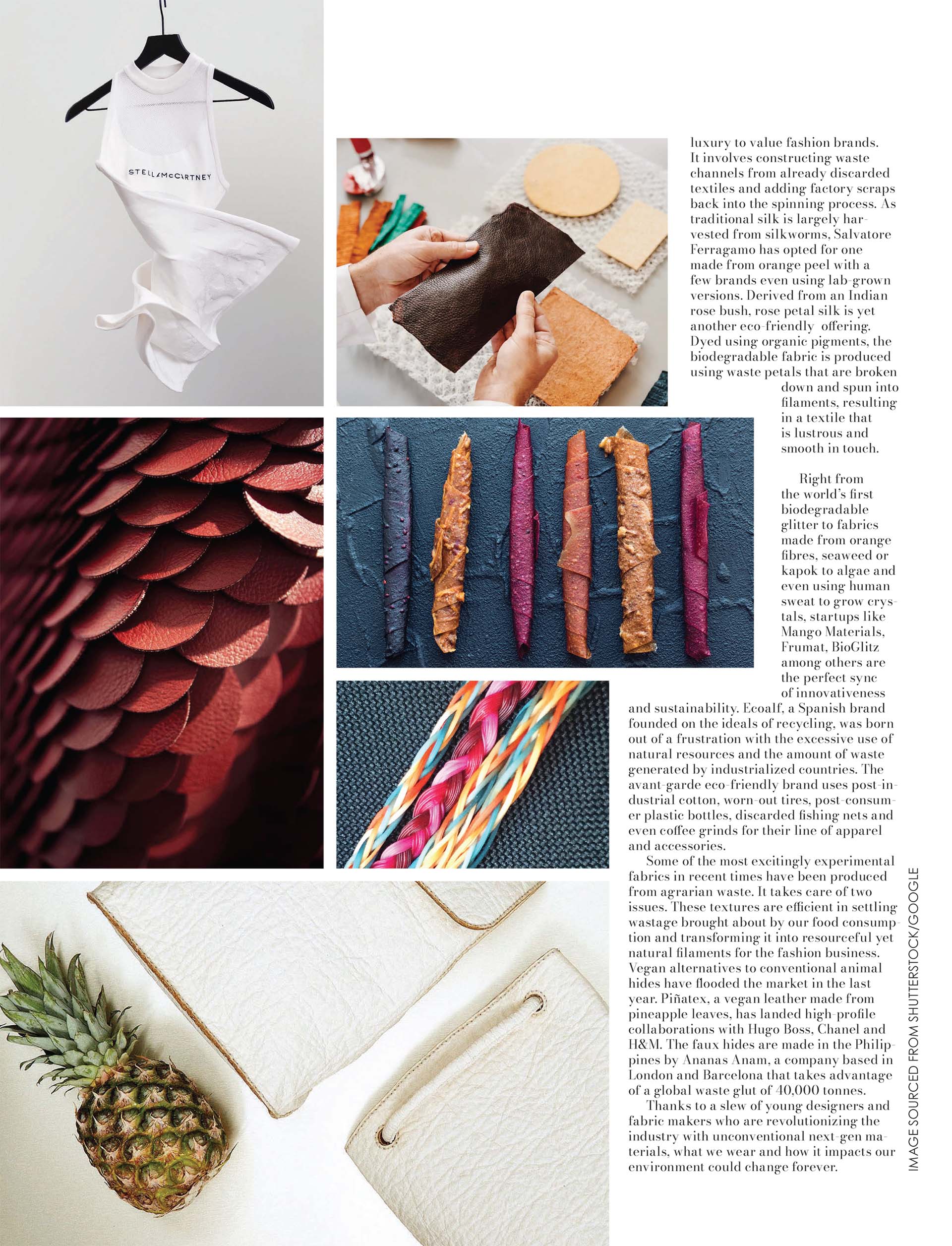 For far too long, leather has reigned supreme in the world of luxury. Ending the contentious debate of ethical vs fashionable is vegan leather. It is in, and, here to stay. With a developing focus on eco-friendliness, a multitude of trends has universally come under the spotlight in the last few years. One of them is the expanding prominence of faux vegan leather. Celebrity endorsement from the likes of Emma Watson, Miley Cyrus, and Serena Williams has added to its fame, which in turn is making more brands and designers step aboard and get creative with what seems to be the future of fashion.
With recycling no longer a distant part of our lives, a lot of startups are offering a better future for fashion converting ingenious raw materials into wearable artisanal collections that embrace texture, colour, and fun. Working extensively on their synthetic-alternative, several companies are committing to creating fabrics suitable for brands spanning across sectors, from luxury to value fashion brands. It involves constructing waste channels from already discarded textiles and adding factory scraps back into the spinning process. As traditional silk is largely harvested from silkworms, Salvatore Ferragamo has opted for one made from orange peel with a few brands even using lab-grown versions. Derived from an Indian rose bush, rose petal silk is yet another eco-friendly offering. Dyed using organic pigments, the biodegradable fabric is produced using waste petals that are broken down and spun into filaments, resulting in a textile that is lustrous and smooth in touch.
Right from the world's first biodegradable glitter to fabrics made from orange fibres, seaweed or kapok to algae and even using human sweat to grow crystals, startups like Mango Materials, Frumat, BioGlitz among others are the perfect sync of innovativeness and sustainability. Ecoalf, a Spanish brand founded on the ideals of recycling, was born out of a frustration with the excessive use of natural resources and the amount of waste generated by industrialized countries. The avant-garde eco-friendly brand uses post-industrial cotton, worn-out tires, post-consumer plastic bottles, discarded fishing nets and even coffee grinds for their line of apparel and accessories.
Some of the most excitingly experimental fabrics in recent times have been produced from agrarian waste. It takes care of two issues. These textures are efficient in settling wastage brought about by our food consumption and transforming it into resourceful yet natural filaments for the fashion business. Vegan alternatives to conventional animal hides have flooded the market in the last year. Piñatex, a vegan leather made from pineapple leaves, has landed high-profile collaborations with Hugo Boss, Chanel and H&M. The faux hides are made in the Philippines by Ananas Anam, a company based in London and Barcelona that takes advantage of a global waste glut of 40,000 tonnes.
Thanks to a slew of young designers and fabric makers who are revolutionizing the industry with unconventional next-gen materials, what we wear and how it impacts our environment could change forever.