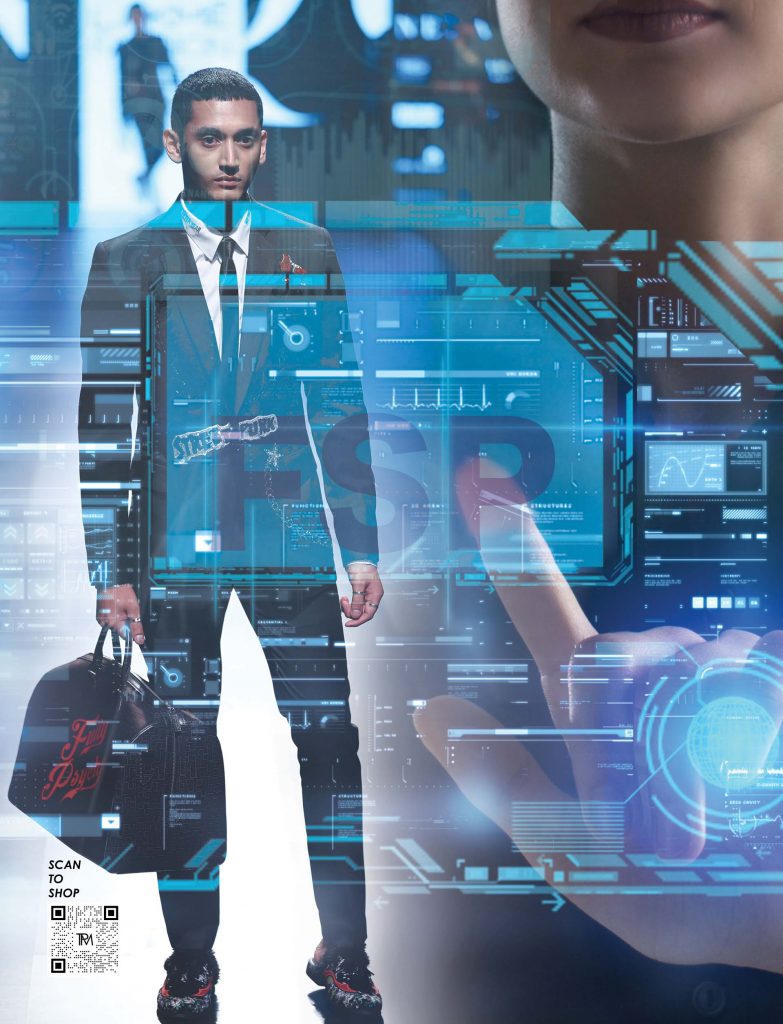 BY KAVIYA SNEHA

What if the material world we live in transmutes into something hyper-realistic? What if we were freed from our physical restraints? What if we could express our identities through endless bits and bytes?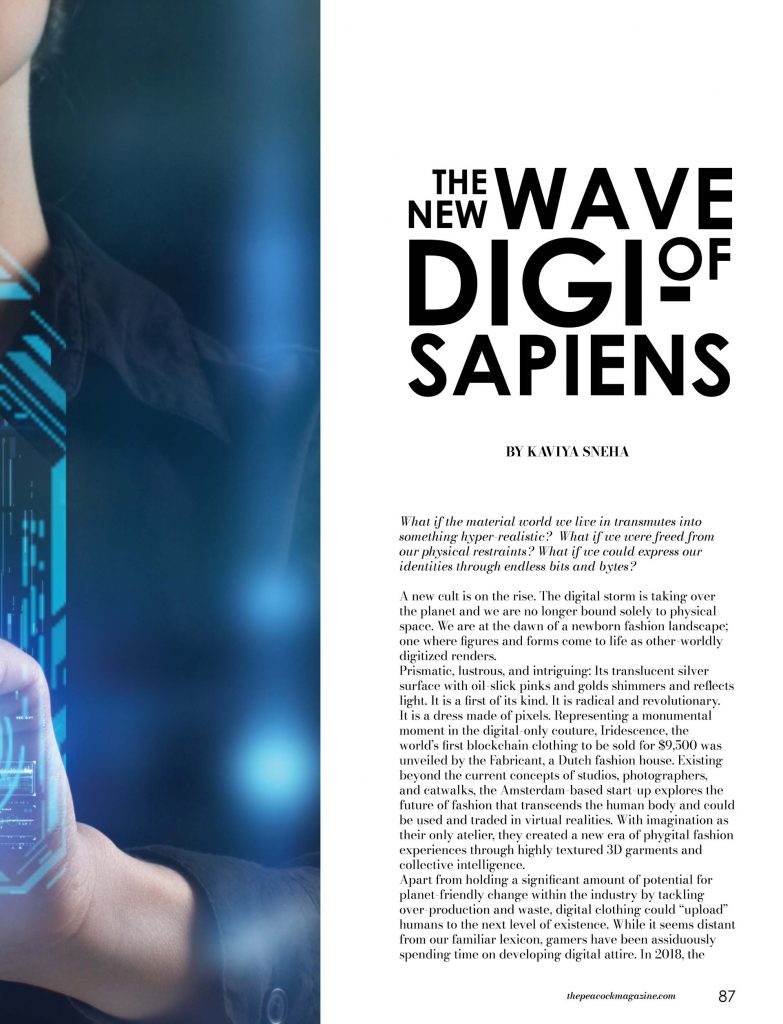 A new cult is on the rise. The digital storm is taking over the planet and we are no longer bound solely to physical space. We are at the dawn of a newborn fashion landscape; one where figures and forms come to life as other-worldly digitized renders.
Prismatic, lustrous, and intriguing. Its translucent silver surface with oil-slick pinks and golds shimmers and reflects light. It is a first of its kind. It is radical and revolutionary. It is a dress made of pixels. Representing a monumental moment in the digital-only couture, Iridescence, the world's first blockchain clothing to be sold for $9,500 was unveiled by the Fabricant, a Dutch fashion house. Existing beyond the current concepts of studios, photographers, and catwalks, the Amsterdam-based startup explores the future of fashion that transcends the human body and could be used and traded in virtual realities. With imagination as their only atelier, they created a new era of phygital fashion experiences through highly textured 3D garments and collective intelligence.
Apart from holding a significant amount of potential for planet-friendly change within the industry by tackling over-production and waste, digital clothing could upload humans to the next level of existence. While it seems distant from our familiar lexicon, gamers have been spending a tremendous entirety on digital attire for quite a long time. In 2018, the 'Covet Fashion' game which allows its users to style avatars using virtually rendered designer outfits, generated $53.4 million. If individuals are willing to spend a king's ransom on fashion games it would not be wrong to assume, they would not for themselves. From a client perspective, people might buy digital fashion to decorate their social media feeds with visuals of them decked out in attires they could not otherwise afford. Despite its dystopian undertones, components of virtual clothing are already making their mark in cyberspace, something even the luxury sphere is progressively paying attention to.
The fashion field is slowly but surely picking up on the profitability of digital assets, which the multi-billion-dollar gaming sector has long proven. That's why liaisons between luxury brands and video games count on exactly that. In 2019, Moschino released a virtual capsule collection for The Sims, which users can adorn their avatars with. The same year, Louis Vuitton became the foremost luxury brand to partner with League of Legends and create an exclusive character skin for the game. Nike is just one of the brands to release an exclusive shoppable virtual kit. It has also been offering digital football boots to FIFA players for years.
Social media has continued to elevate the stature of fashion. It has long gone from being limited to the elite to become an expression for the masses. People have started embracing fashion and luxury more than ever and are not shy of making statements using it either. Although the casting of CGI influencers was not initially greeted with open arms, the present fascination and fixation of Digi-humans prove that the society is ready to embrace unconventional technology.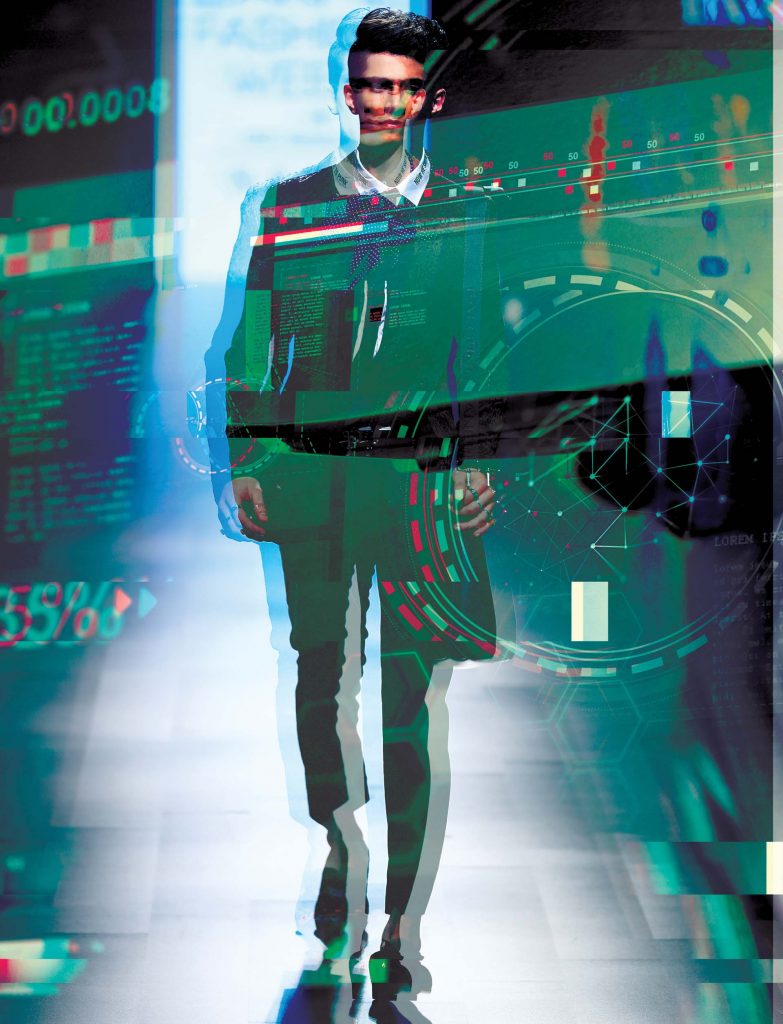 Although digital clothing is not being "worn" on social media by the mainstream just yet, it is slowly gaining traction as our physical lives become extendedly intertwined with our digital selves. As per Facebook Business, 53 per cent of 18 to 34-year olds are interested in trying out fashion products on AR apps before they buy. Keeping up with the pace of au courant trends, brands are looking for radical ways to redefine their culture and operations to a more digital mindset. Gucci introduced an augmented reality app that allows clients to "try on" its Ace shoes. Dior created Facebook and Instagram filters that let users wear virtual forms of the brand's sunglasses. Fabricant has additionally been commissioned by Hong Kong style retailer I.T to digitize creations by Alexander McQueen, among others. With Snapchat and Instagram enabling hands-on experiences for their consumers via their filters for trying on cosmetics and footwear in the most fun and engaging manner, AR filters have become extremely popular. Instagram turned into a one-big-selfie augmented fiesta ever since Facebook introduced the Spark AR Studio software that allows users to create and download filters. It is predicated on that relatively recent idea that all of us have an online and an offline persona. Increasingly, our online persona is becoming a valuable asset.
With the ever-increasing pressure of conspicuous consumption sans the detrimental effect on the environment, and the crypto-collectibles market worth over several billion, virtual fashion can be of a brilliant alternative. As realistic Digi-humans and avatars become more prevalent, the lines between our physical and virtual worlds will continue to increasingly blur, opening boundless creative potential and flexibility for brands to create compelling stories and bring them to life in futuristic ways online. The Gen Zs and young millennials, who have grown up melding reality and fantasy are Digi-savvy, environmentally conscious collaborative beings. They are both trendsetters and trend chasers, and early adopters of any form of technology that upgrades and frees up their existence. These Digi-sapiens form the market for all things avant-garde. Back in 2018, when the Scandinavian retailer Carlings launched its first digital clothing collection, it sold out in a week.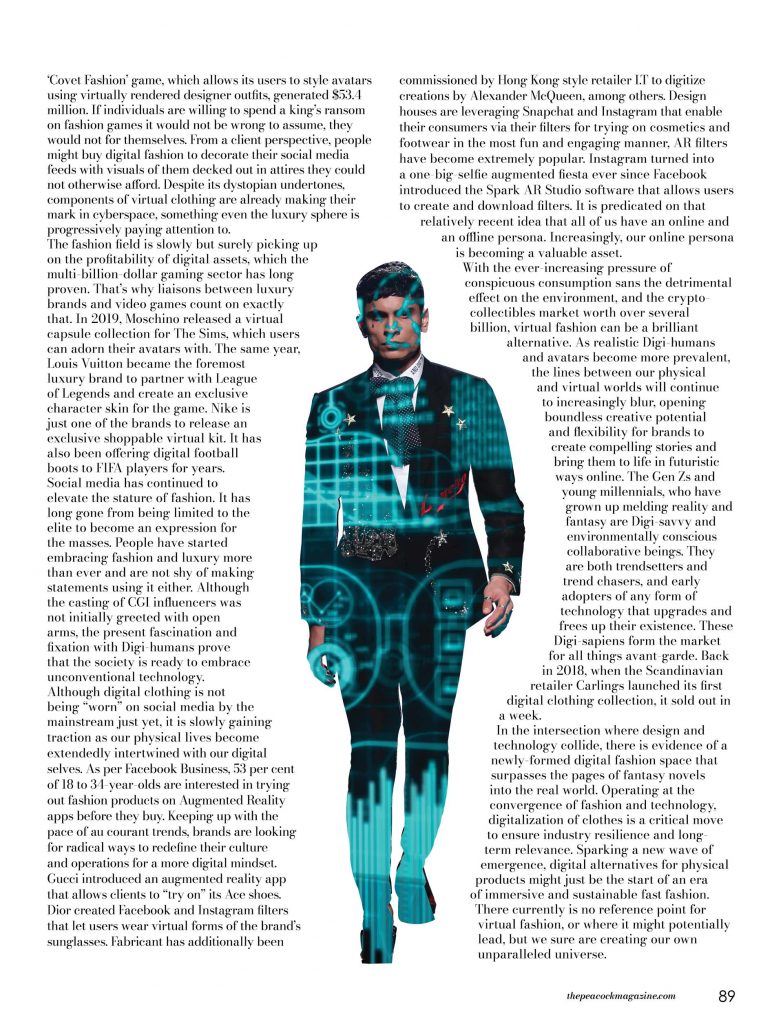 In the intersection where design and technology collide, there is evidence of a newly-formed digital fashion space that surpasses the pages of fantasy novels into the real world. Operating at the convergence of fashion and technology, digitalization of clothes is a critical move to ensure industry resilience and long-term relevance. Sparking a new wave of emergence, digital alternatives for physical products might just be the start of an era of immersive and sustainable fast fashion. There currently is no reference point for virtual fashion, or where it might potentially lead, but we sure are creating our own unparalleled universe.