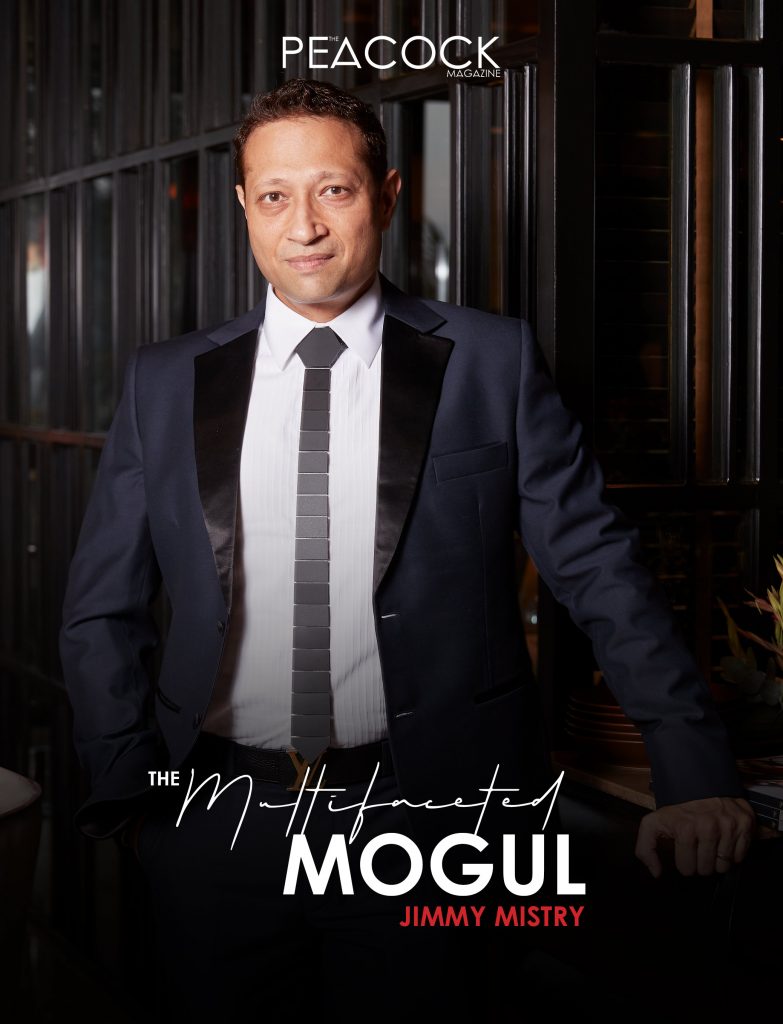 CREDITS-
PHOTOGRAPHY – ABHEET GIDWANI

Jimmy Mistry not only seems to be the jack of all trade but a master of them too. Hailing from humble backgrounds, Jimmy has created a world of international hospitality, design, and adventure which can only be perceived as the result of extensive exposure to ideas and learning from sources all over the globe. Starting with a pest control business 25 years ago, Jimmy's business vertical now includes 'Della by Jimmy Mistry', Della Adventure, Della D.A.T.A and Della Villas. A pioneer in the field of extreme adventure resort, Jimmy swears by good design and strives to bring the best of it to everybody.

[Q] You say you didn't get into the business of design, the business got into you. How did that happen?
I never planned to follow the path of design consciously when I started out. Design is something that I learned in Italy while I working. It was something I learned along the way while I was dealing with various design companies. Those days I had no idea about what a Charles Pollock stood for, but as I started dealing with these design companies and studios I began to understand the products and gradually started selling those products in India.
[Q] Was the seed of 'design' an innate part of you or did you learn it along the way?
Design was very much an innate part of me. I still remember that in school days I would take ordinary stock cycles and convert them into aspirational modified ones. I would do it out of passion with a little bit of money on the side. And the same thing continued while I was in college. I would take bikes like
Yamaha rd100 and convert them into a racing machine and do motocross racing on them. The learning grounds were across my growing up years.
[Q] You have a humble family background. Where did this zeal for dreaming big come from?
Yeah, we grew up in a middle-class Parsi family. My dad worked for Sarabhai Chemicals for 33 years and my mom was engaged in several things at once. She was a teacher who also used to give tuitions, she used to sew and also run a beauty parlour. I have seen her struggle and slog a lot and I guess I got my entrepreneurial instincts and spirit from her. Her spirit made me think big and out of the box.
[Q] You started your entrepreneurial journey at the age of 19. Were you always enterprising in nature or is there anything specific that propelled you in this direction?
It was a lot of compulsion. I was doing my diploma in mechanical engineering and I was sure that even if I would have completed the diploma I wouldn't have gotten a job so for me it was survival mode more than trying to make it big. At 19 I was desperately trying to search for a career for myself where I could begin with very little or no seed capital. And that's how I started off with a pest control business where I got the seed capital from selling my motorcycle.
[Q] Della intends to carve a niche for itself in each of its business verticals. How do you come up with design inspirations for every vertical?
We always believed in standing out of the crowd, believed in doing something different and aspirational. A product or service has to address the missing gap if we wouldn't have identified that experiential hospitality is missing than making Della a respected brand in hospitality would have been impossible.
So we came up with new things and innovations like 24-hour coffee shops where our tandoor never goes off. We have 24-hour dining and spa and a lot more. And unlike a traditional hotel, we have divided 250 rooms into different hotels within the same property. For example, every ride at Della has been innovated, researched and developed by us, going through an intense process of trial and error, instead of just being bought and installed.
While touring around the world, I could never understand as to why you couldn't have those luxuries in life across India. Trying to identify missing gaps and coming up with ways to fill them was always on the back of my mind.
[Q] D.A.T.A is one of the pioneers and one of a kind hospitality retreat in the country. What inspired you to create D.A.T.A?
D.A.T.A is a counter-terrorism training academy and military-themed resort. With D.A.T.A, we are proud to say that today we are one of a kind in the world.
It was all those life experiences and growing up years in different places and countries that kind of lead us to creating D.A.T.A.
[Q] Are you an extreme adventurer yourself?
Yes, I love adventure. I am a hardcore biker. I take a bike trip from Bombay to Goa, once a year. And it is a non-stop ride with the exception of a lunch break. I also love the wild and I truly at peace with myself when I am in the midst of nature.
[Q] Do you try out the rides at Della?
I do try out some of them during the initial development period. In fact, I have had one of the worst accidents in my life when we were developing our dirt biking track. I am the most creative in the middle of the night and on one fine midnight, I took out my bike and went to the track to try out something. I did not realize there was a 12 feet ditch and I took a head dive into, subsequently getting knocked out for 15 minutes. Fortunately, I came out of it with not much damage.
[Q] What do you look for personally when creating an experience for people?
I put myself into the other person's shoes and see what they are looking for. So, if you are attuned to do an empathetic way of design, you will end up satisfying people's needs. You put yourself in their shoes and understand what they can experience via the medium of what you are creating.
[Q] What is the one element you think is absolutely necessary and, yourself incorporate in your creations?
I think empathy is one single element that makes you stand apart from the crowd. Using empathy, you realize how small you are compared to the rest of the people of the world and you start putting yourself in a very humble position and into other people's shoes. One important thing is to get inspired by anybody and everybody. Allow yourself to continuously get inspired as if you are a small kid or a child who gets inspired by anything. There should be no prejudices or preconceived notions of anything. Recently I was talking to Thomas Heatherwick, a great global designer, and I realized he was talking to me passionately about his projects. He is the one who designed the Google headquarters, the buses of London, the 4th terminal of Changi Aiport, Singapore, etc. He is designing something in every part of the world and I was completely in awe of him and was so inspired. Allowing yourself to get inspired by somebody is the best thing you can do to your designing skills.
[Q] What was one your biggest challenges when you started out with Della Group and its very first vertical?
Coming from a middle-class family, finances were one of the biggest stumbling blocks. But one needs to understand how to circumvent around it because a large part of our life and career gets dedicated to that. We are into manufacturing, real estate, hospitality, and yet the challenge remains the same.
[Q] Who has been your design icon?
I was just talking about Thomas Heatherwick. He is one of the most creative minds I have come across to date. Everything he does is different. Every single project of his stands out from the crowd and every single project t have its own unique characteristic. As a designer and architect, he doesn't allow himself to be stamped in a single defining style. The 'Vessel ' in New York is his latest creation and the world is talking about it. That kind of inspires me to think in a certain way, apply design thinking, keep empathy in your designs and create things that are completely outstanding and different.
[Q] What was your breakthrough moment?
In a career that spans 25 years, there are too many of those moments. I can't be partial to one moment but perhaps one of the defining moments was when we decided to get into experiential hospitality. I had to take a call whether I wanted to continue designing or do something using the medium of design and create a hospitality brand.
[Q] How do you stay relevant in a time where the dynamics of design and lifestyle changes so often?
Staying humble and allowing yourself to be inspired. I am a big proponent of self-learning. If you are always learning you will stay relevant at any point in time. Humbleness and a thirst for knowledge bring about the need to work more and learn more which naturally puts a person ahead of the curve.
[Q] Does the pressure ever get to you?
It does, we are all humans and I would be lying if I say it doesn't get to me. Financial pressure, personal pressure, design pressures, projects not turning out the way I want them to turn out and time schedules. A case in point is Della by jimmy Mistry, the brand that we were creating for retail, was supposed to be rolled out two years back. I am behind schedule not by two months but by two years. So, the pressure does get to me.
[Q] How do you deal with crisis management?
The best way to deal with crisis management is if you have a Spiritual Quotient. People focus a lot on IQ than EQ. I personally focus a lot more, within the organization, at SQ. During a crisis, SQ is the only thing that helps. Your SQ helps your north point correctly and create a balance.
[Q] What are some of the personal beliefs that you firmly stand by professionally?
No success in terms of material wealth is worthwhile unless it serves the needs of the country and its people and it is achieved by fair and honest means. I firmly believe in what JRD Tata had said and I have imbibed it within our organization of 2000 employees. Your success is not determined by balance sheets or by your stock value but by the good you do in communities and how you bring about a change in people's life for good. And that is one thing I am working towards. As a part of this belief, we have adopted a 160 children school from a remote place and we give them an all-round education, along with also focusing on providing 360-degree vocational training for youths in the area that Della is located so that they get not just a job but a career.
[Q] In this world of intense competition and stress, what characteristic of a person would you say is of utmost importance?
Spiritual Quotient. If a person's SQ is in place then more or less the person is sorted. Everyone has their negative and positive points, but if your spiritual Quotient is in order then you can't go wrong in your relationships with people whose Spiritual Quotient is high.
[Q] How do you gauge that in a person?
It's your gut feeling. Gut feelings are honed as you grow and learn through life experiences.
[Q] What inspired you to work on Della Talks?
'Della Talks' is something that is in process for the last five years. I realized that when I was learning about design there was very little design content available. There was so much in the world of design that was not available to the masses. Because India is far behind in the world of design, and that's not my personal belief, that's my personal experience. Design knowledge and content are not available to our students the way it's meant to be available. Our faculty members are mostly who have never practiced a day in their lives. I am talking about design predominant in architecture and interiors, but it extends across to sectors like textile design, garment design, graphic design, etc. So the best thing you can do is pick up the best professional brain and get them to generate content. And I want Della talks to predominantly focus on international design content generation and take this to the rest of the country and to the masses
[Q] What are your upcoming projects?
The biggest project of my life has now become Della stores. We are putting up this 50, 000 square feet store in Lonavala, after which we will be doing large format stores in Delhi and Bangalore. We also plan to expand it to 30 cities in India. We will also need to upscale and upgrade until the manufacturing units are alongside the sales outlet. Della by JM can make us the single largest brand in India, within the world of interiors.