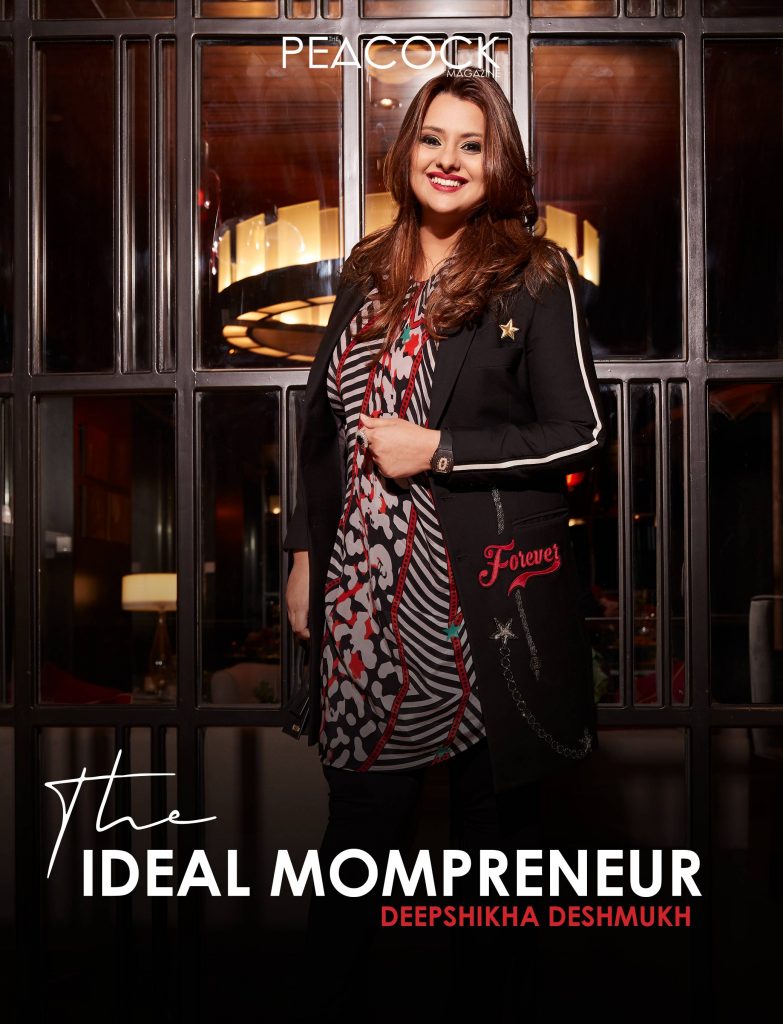 THE IDEAL MOMPRENEUR – DEEPSHIKHA DESHMUKH
CREDITS-
PHOTOGRAPHY – ABHEET GIDWANI
CLOTHING – FALGUNI SHANE PEACOCK

She has proved her worth as a producer and now, she is acing her game at being a mompreneur. Meet Deepshikha Deshmukh (formerly known as Honey Bhagnani), who is the name behind some milestone movies in Indian cinema such as 'Sarbjit,' 'Madaari' etc. and now her skin nutrition brand 'Love Organically'. Spearheading her way in everything she lays her hands on, Deepshikha is a force that leads by example. Nurturing her love for organic beauty formulations, Deepshikha started her 'Love Organically' with a vision of transforming the way mothers in India looked at skincare. Her skincare range not only limits to the mothers but also extends to baby care. Deepshikha gets candid about the balancing act of being a mom, an entrepreneur, and a producer in our latest issue. Here's an excerpt about the multitalented mompreneur.
[Q] You are one of the youngest producers in Bollywood. Does being a woman make it difficult for you in this field which is majorly male-dominated?
This was the case that maybe a decade ago. Not anymore. I think no industry is 'male' dominated today. We all are recognized for the kind of work we do, and there is an equal amount of opportunity for all. I mean look at Ekta Kapoor, Pooja Bhatt, Zoya Akhtar, Rhea Kapoor – the list just goes on. Women producers today are making their presence felt in Bollywood. We see a lot of Bollywood actresses take to production as well – Priyanka Chopra, Dia Mirza, Anushka Sharma, and so on. It's important to have a vision when it comes to production, and most importantly one needs to believe in their instincts. And I think neither quality is gender restricted.
[Q] What inspired you to start 'Love Organically'?
'Love Organically' can be perfectly described as a concoction of a mother's unconditional love and the goodness of nature, all packed into one! It was my son's delicate skin that got me all caught up with skincare products and the lack of natural ones available. That was the start of my journey to create products rooted in Ayurveda, that are made with organic, naturally occurring, and guided by the wisdom of generations. I wanted to create products that were suited for mothers and their kids, without any worry of damage. Our vision is to do something bigger than ourselves and be part of a movement where skincare goes beyond just feeling good, but also does good for us and Mother Earth.
[Q] What is surprisingly the most neglected aspect of skincare?
My experience and research showed that children with their soft and sensitive skin remain the most neglected with extremely limited options for them. Given how parents leave no stone unturned for their children it would make sense for skincare companies to pay more attention to use natural & chemical-free ingredients.
[Q] Personally, how do you take care of your skin?
I swear by one routine and that is skin hydration. I prefer not putting too many chemicals onto my skin and just wash my face as often as I can. My current favorite skincare product is the Love Organically Neem and Calendula body butter – it hydrates and is full of Ayurvedic herbs and helps removes blemishes and is perfect for dry and irritation-prone skin.
[Q] How can one teach kids about making sustainable choices and its importance right from a young age?
I think children learn from what they see in their immediate surroundings. As parents, what you say and more importantly, what you do is the critical part. You have to lead by example and explain why you make the choices you do. In our household, I explain our choices to my children – from the food we eat to the clothes we wear to what we chose not to use, like plastic. They learn a lot in school and we encourage them to 'teach' that to us as well. They must be made to feel that they are stakeholders in the choices being made.
[Q] How do you strike a balance between being an entrepreneur and juggling other roles?
Let me start by simply admitting that trying to strike a balance between all aspects of life is tough. I would be lying if I said it was all easy but I make sure I begin and end my day with my children. That way even if I am in the office during the day, with their school and classes they don't miss their Mumma around as much. I tuck them into bed every night and I am back in their room 15 mins before they wake up every morning, so they never feel Mumma is away. Even their breakfast and morning routine schedule is all with me. When they go to school, I go to work – this routine has helped me balance things between work and my little ones.
[Q] How do you deal with your vulnerabilities? Do you often put up a strong front?
At times I have to put up a strong front especially before the children because they are too small to understand the complexities of adult life. It happens so often that I am trying to put up a strong front and Vansh and Diviyanaa will hug me and say how much they love me. They might not know what is bothering me but they sense it.
[Q] What are some of the personal beliefs that you stand by firmly even in your professional life?
Integrity, professionalism, and fairness – these are a strong part of my belief system and as a result, are fundamental to my professional life.
[Q] What are some important lessons that your entrepreneurial journey taught you?
Being an entrepreneur requires an immense amount of self-discipline and commitment. I believe if you work on it every single day with patience and perseverance, any business will work.
[Q] How does your family extend its support to you as you multitask being an entrepreneur, a producer, a wife, and a mom?
I am blessed to have a husband like Dhiraj who is my pillar of strength and support. This would simply not be possible without him. My Mother-in-law & My Mother is the force behind a lot of my entrepreneurial decisions. My own family is my reservoir of strength. Together all of them, honestly, makes me who I am.
[Q] What would you advise the women who are following your footsteps of being an entrepreneur?
Believe in your idea. Do your research, study your market, and don't give up. I strongly believe that if you set your eyes on something, and work towards that passionately, with immense dedication and not discouraged by failure. The rest just takes care of itself. So, follow your goals and don't give up.
[Q] What's next on cards for 'Love Organically'?
A whole range is in store which we shall talk about real soon. But the idea is to have Indian ingredients in the heart of all our formulations.