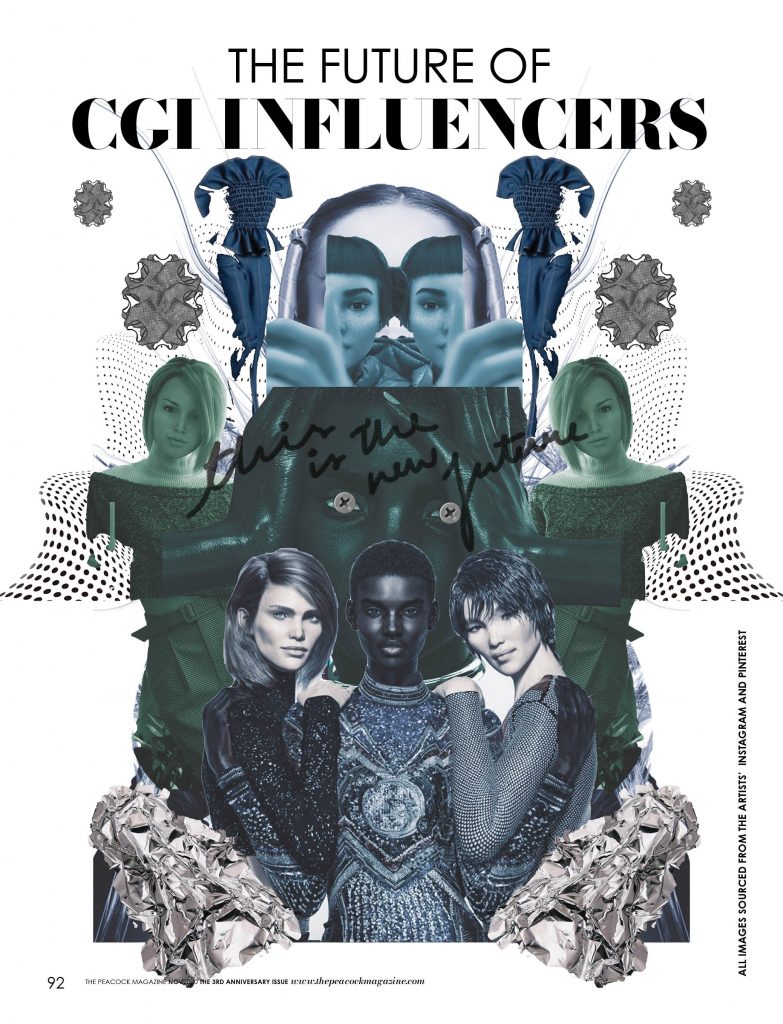 CREDITS-
BY KAVIYA SNEHA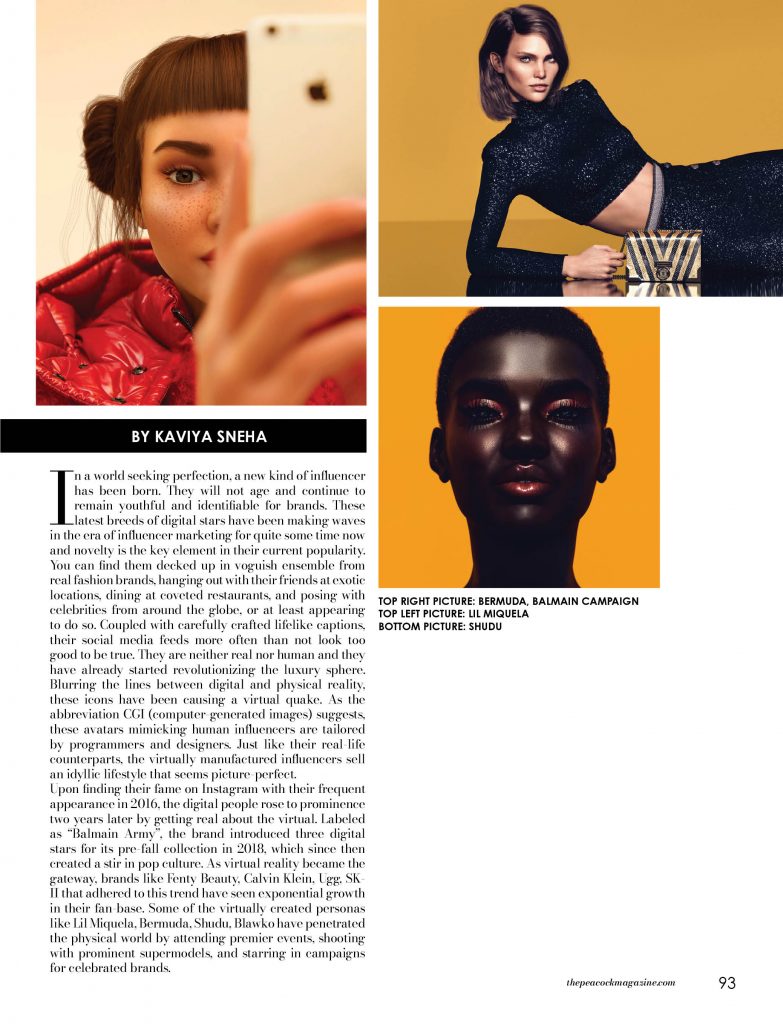 In a world seeking perfection, a new kind of influencer has been born. They will not age and continue to remain youthful and identifiable for brands. These latest breeds of digital stars have been making waves in the era of influencer marketing for quite some time now and novelty is the key element in their current popularity. You can find them decked up in voguish ensemble from real fashion brands, hanging out with their friends at exotic locations, dining at the coveted restaurants, and posing with celebrities from around the globe, or at least appear to do so. Coupled with carefully crafted lifelike captions, their social media feeds more often than not look too good to be true. They are neither real nor human and they have already started revolutionizing the luxury sphere. Blending the lines between digital and physical reality, these icons have been causing a virtual quake. As the abbreviation CGI suggests, these avatars mimicking human influencers are tailored by programmers and designers. Just like their real-life counterpart, the virtually manufactured influencers sell an idyllic lifestyle that seems picture-perfect.

Upon finding their fame on Instagram with their frequent appearance in 2016, the digital people rose to prominence two years later by getting real about the virtual. Labeled as "Balmain Army", the brand introduced three digital stars for its pre-fall collection in 2018, which since then created a stir in pop culture. As virtual reality became the gateway, brands like Fenty Beauty, Calvin Klein, Ugg, SK-II that adhered to this trend have seen exponential growth in their fan-base. Some of the virtually created personas like Lil Miquela, Bermuda, Shudu, Blawko have penetrated the physical world by attending premier events, shooting with prominent supermodels, and starring in campaigns for celebrated brands.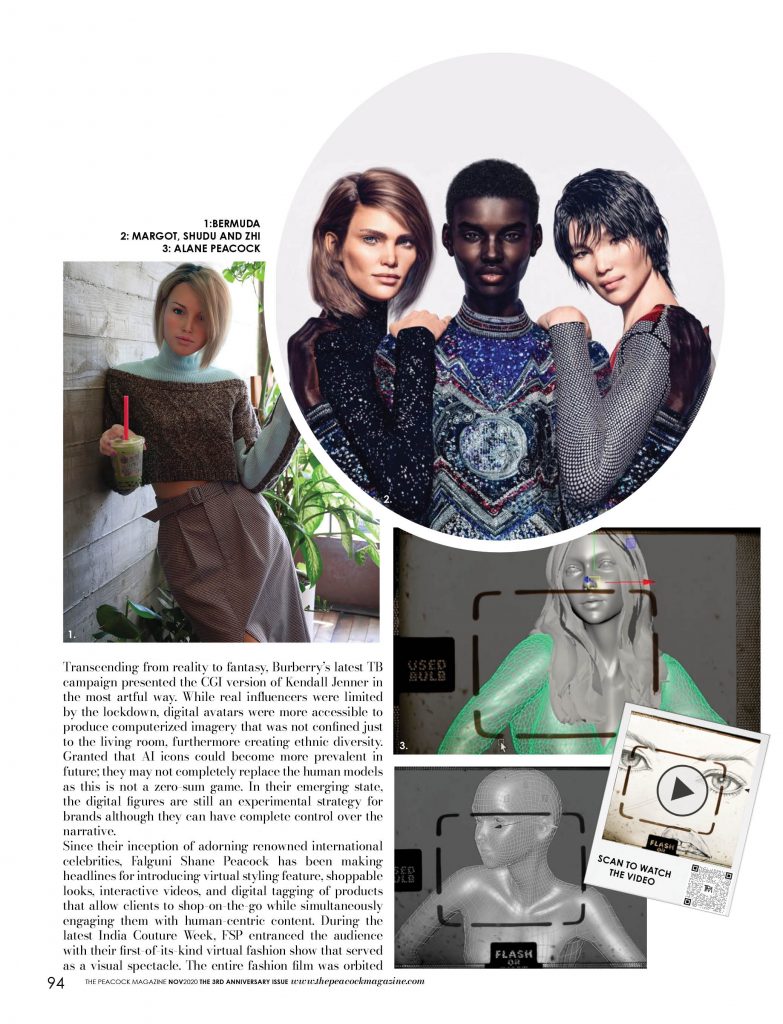 Transcending from reality to fantasy, Burberry's latest TB campaign presented the CGI version of Kendall Jenner in the most artful way. While real influencers were limited by the lockdown, digital avatars were more accessible to produce computerized imagery that was not confined just to the living room, furthermore creating ethnic diversity. Granted that AI icons could become more prevalent in the future; they may not completely replace the human models as this is not a zero-sum game. In their emerging state, the digital figures are still an experimental strategy for brands although they can have complete control over the narrative.

Since their inception of adorning renowned international celebrities, Falguni Shane Peacock has been making headlines for introducing virtual styling feature, shoppable looks, interactive videos, and digital tagging of products that allow clients to shop-on-the-go while simultaneously engaging them with human- centric content. During the latest India Couture Week, FSP entranced the audience with their first-of-its- kind virtual fashion show that served as a visual spectacle. The entire fashion film was orbited digitally to offer an immersive and riveting experience, indulging the viewers via VR. Symbolizing the brands' genes, this virtually groundbreaking addition represents the fundamental essence of the brand. Moreover, echoing the ever-evolving voice of FSP, Alane Peacock, is gearing up to flex her binary limbs and transform the fashion dialogue magnificently in the Indian subcontinent in the forthcoming future.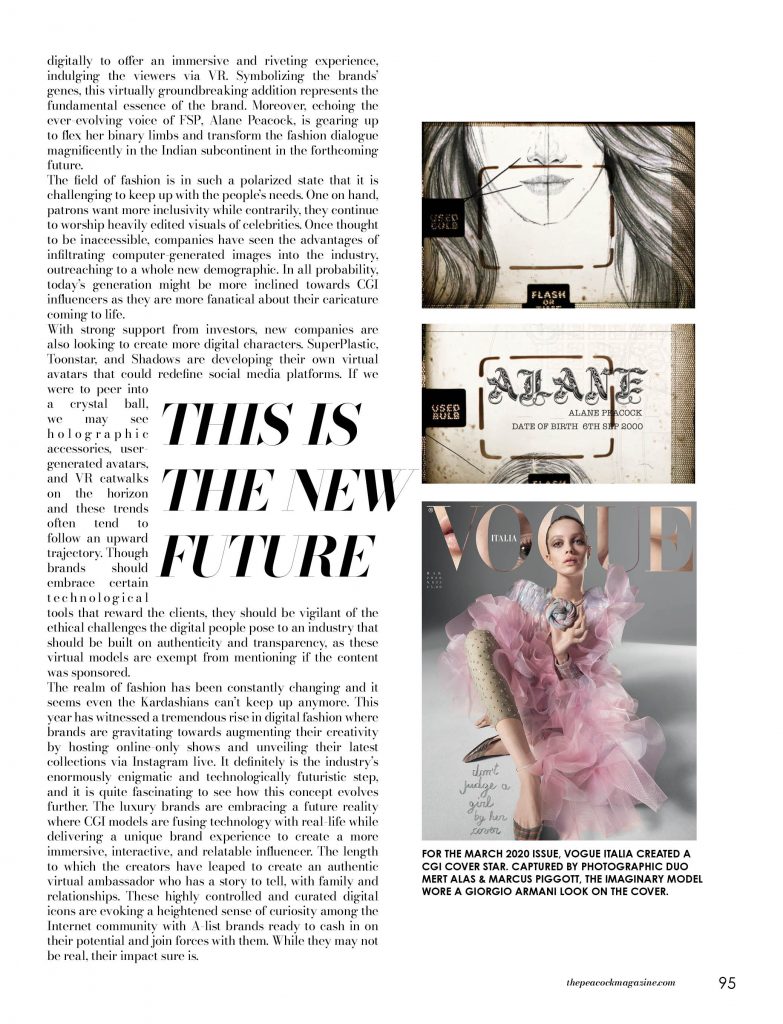 The field of fashion is in such a polarized state that it is challenging to keep with the people's needs. One on hand, patrons want more inclusivity while contrarily, they continue to worship heavily edited visuals of celebrities. Once thought to be inaccessible, companies have seen the advantages of infiltrating computer-generated images into the industry, outreaching to a whole new demographic. In all probability, today's generation might be more inclined towards CGI influencers as they are more fanatical about their caricature coming to life.
With strong support from investors, new companies are also looking to create more digital characters. SuperPlastic, Toonstar, and Shadows are developing their own virtual avatars that could redefine social media platforms. If we were to peer into a crystal ball, we may see holographic accessories, user- generated avatars, and VR catwalks on the horizon and these trends often tend to follow an upward trajectory. Though brands should embrace certain technological tools that reward the clients, they should be vigilant of the ethical challenges the digital people pose to an industry that should be built on authenticity and transparency, as these virtual models are exempt from mentioning if the content was sponsored.

The realm of fashion has been constantly changing and it seems even the Kardashians can't keep up anymore. This year has witnessed a tremendous rise in digital fashion where brands are gravitating towards augmenting their creativity by hosting online-only shows and unveiling their latest collections via Instagram live. It definitely is the industry's enormously enigmatic and technologically futuristic step, and it is quite fascinating to see how this concept evolves further. The luxury brands are embracing a future reality where CGI models are fusing technology with real-life while delivering a unique and 21 st century brand experience to create a more immersive, interactive, and relatable influencer. The length to which the creators have leaped to create an authentic virtual ambassador who has a story to tell, with family and relationships. These highly controlled and curated digital icons are evoking a heightened sense of curiosity among the internet community with A-list brands ready to cash in on their potential and join forces with them. While they may not be real, their impact sure is.