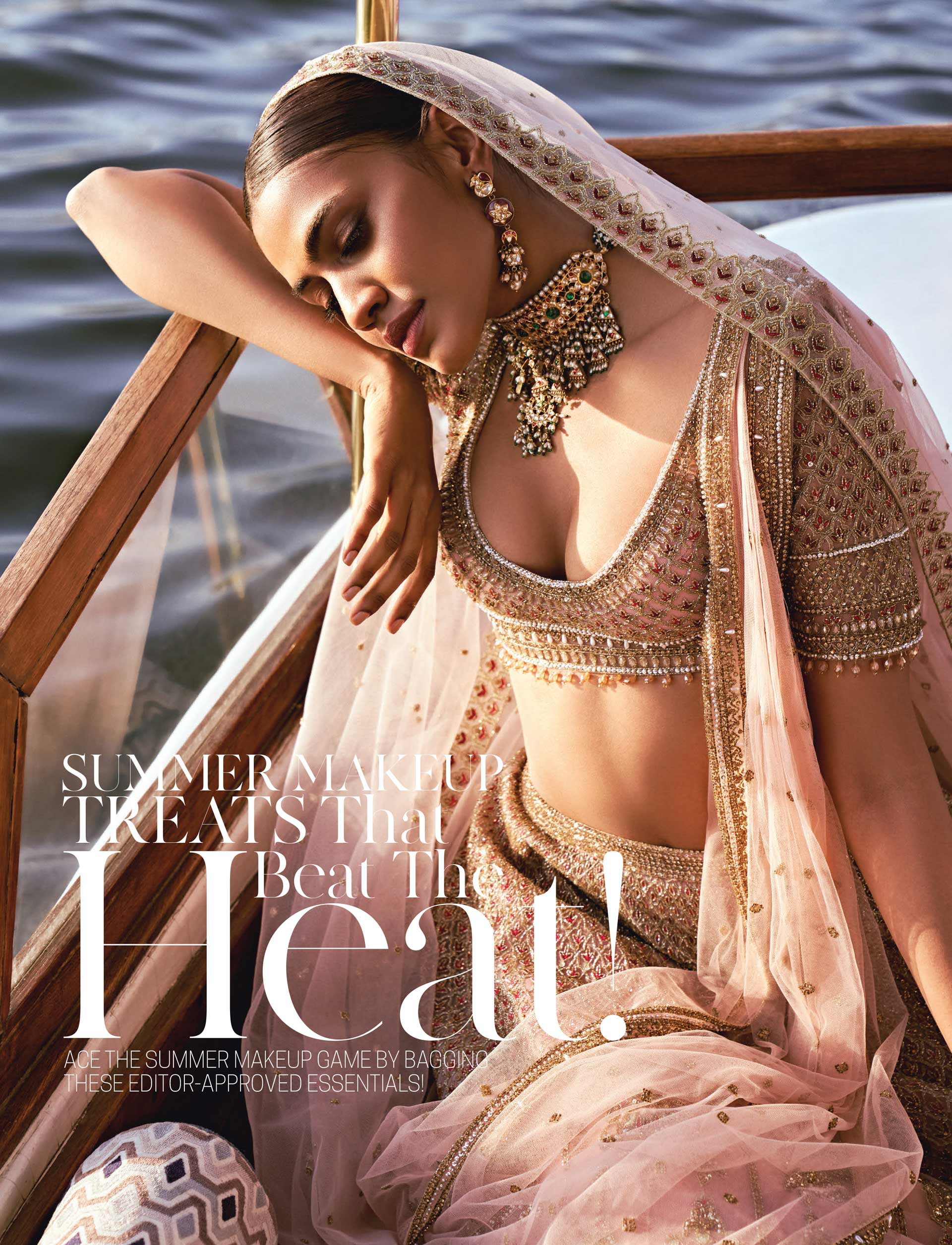 Ace the summer makeup game by bagging these editor-approved essentials!
Let's face it, dearies, summers are here and it's here to melt your all enthusiasm to step outside and bask in the sun's glory! But don't let the sun's flare dampen your spirit to step out for summers are also about wonderful things, think brunches with your pals, gelato dates with bae, or even a quick drive down to a beach town. While planning your summer looks, it's important to not leave the makeup behind for you don't want the horror of blotchy eyes, melted lipstick, and a shiny face. (Thanks, but we got the sun covered to do the shine job!) Save yourself from a sweaty, cakey disaster and turn to these summer makeup essentials that will keep that perfect summer look natural and keep it intact while making it last longer!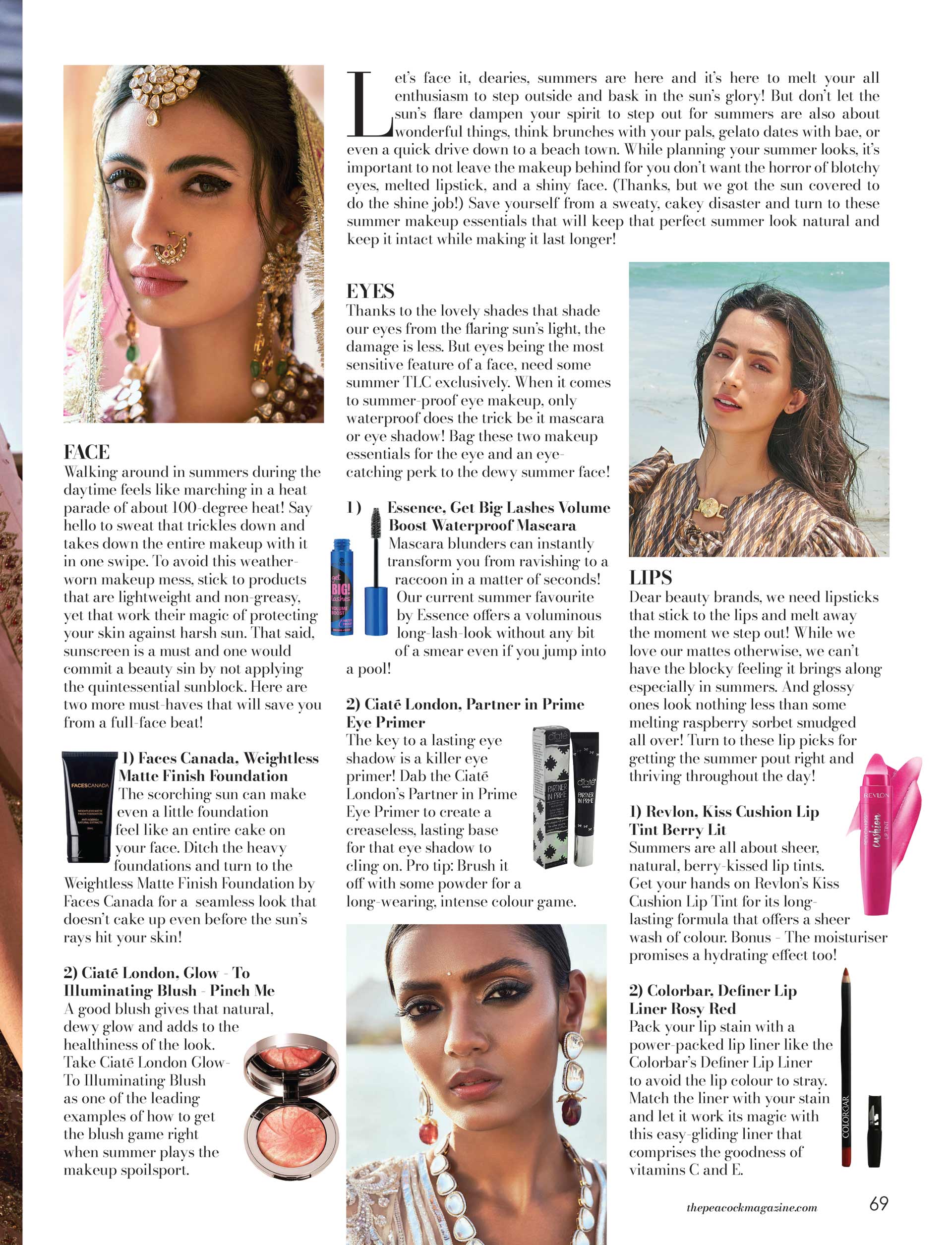 FACE
Walking around in summers during the daytime feels like marching in a heat parade of about 100-degree heat! Say hello to sweat that trickles down and takes down the entire makeup with it in one swipe. To avoid this weather-worn makeup mess, stick to products that are lightweight and non-greasy, yet that work their magic of protecting your skin against harsh sun. That said, sunscreen is a must and one would commit a beauty sin by not applying the quintessential sunblock. Here are two more must-haves that will save you from a full-face beat!
[1] Faces Canada, Weightless Matte Finish Foundation
The scorching sun can make even a little foundation feel like an entire cake on your face. Ditch the heavy foundations and turn to the Weightless Matte Finish Foundation by Faces Canada for a seamless look that doesn't cake up even before the sun's rays hit your skin!
[2] Ciaté London, Glow – To Illuminating Blush – Pinch Me
A good blush gives that natural, dewy glow and adds to the healthiness of the look. Take Ciaté London Glow-To Illuminating Blush as one of the leading examples of how to get the blush game right when summer plays the makeup spoilsport.
EYES
Thanks to the lovely shades that shade our eyes from the flaring sun's light, the damage is less. But eyes being the most sensitive feature of a face, need some summer TLC exclusively. When it comes to summer-proof eye makeup, only waterproof does the trick be it mascara or eye shadow! Bag these two makeup essentials for the eye and an eye-catching perk to the dewy summer face!
[1] Essence, Get Big Lashes Volume Boost Waterproof Mascara
Mascara blunders can instantly transform you from ravishing to a raccoon in a matter of seconds! Our current summer favourite by Essence offers a voluminous long-lash-look without any bit of a smear even if you jump into a pool!
[2] Ciaté London, Partner in Prime Eye Primer
The key to a lasting eye shadow is a killer eye primer! Dab the Ciaté London's Partner in Prime Eye Primer to create a creaseless, lasting base for that eye shadow to cling on. Pro tip: Brush it off with some powder for a long-wearing, intense colour game.
LIPS
Dear beauty brands, we need lipsticks that stick to the lips and melt away the moment we step out! While we love our mattes otherwise, we can't have the blocky feeling it brings along especially in summers. And glossy ones look nothing less than some melting raspberry sorbet smudged all over! Turn to these lip picks for getting the summer pout right and thriving throughout the day!
[1] Revlon, Kiss Cushion Lip Tint Berry Lit
Summers are all about sheer, natural, berry-kissed lip tints. Get your hands on Revlon's Kiss Cushion Lip Tint for its long-lasting formula that offers a sheer wash of colour. Bonus – The moisturiser promises a hydrating effect too!
[2] Colorbar, Definer Lip Liner Rosy Red
Pack your lip stain with a power-packed lip liner like the Colorbar's Definer Lip Liner to avoid the lip colour to stray. Match the liner with your stain and let it work its magic with this easy-gliding liner that comprises the goodness of vitamins C and E.