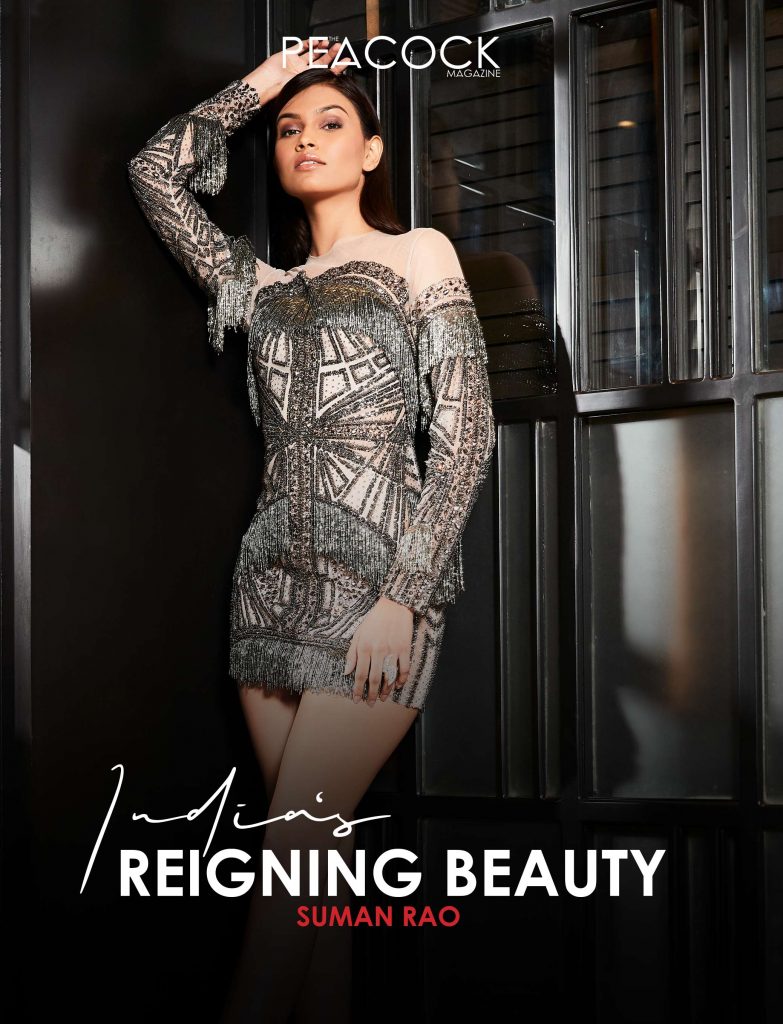 CREDITS-
PHOTOGRAPHY – ABHEET GIDWANI
CLOTHING – FALGUNI SHANE PEACOCK

It takes much to become the symbol of beauty; it takes, even more, to become a beauty with conscience and Suman Rao, Miss India 2019, seems to portray the latter quite effortlessly. Hailing from Udaipur, Suman's journey to Miss India and subsequently to Miss World is, with no doubt, a life-changing one for the 21-year-old. With an interest in promoting gender equality, she also plans to use this platform for her initiative called 'Project Pragati', aiming to empower women from rural backgrounds.
Here's an excerpt of the conversation –
[Q] Tell us about your journey to the Miss World Platform. Was the platform a stepping stone to a greater goal or were you taking it in a flow?
My 'Miss World' journey was incredible, which I'm never going to forget throughout my life. Yes, of course, the platform was a stepping stone to a lot of things and specially to an initiative – my 'Project Pragati' – which is not only empowering women with voice but also giving them an essence of self-worth back.
[Q] How did your family react when you told them this is what you wanted to do?
Honestly, before stepping into the pageantry world I was pursuing only CA and now, by God's grace, it's both. But yes, because I was pursuing CA, me taking this decision kind of sounded weird to my parents but they had let me to do it so that I don't have any regrets in my life. Also, my father always believed in me so it was easy for me to make him understand.
[Q] Alongside your pageant journey, you are also studying to become a Chartered Accountant. How do you find a balance between both?
I want to confess that it's very difficult to manage both at the same time but not impossible! So yes, when it comes to having a balance between both, I need to make sure that I give adequate importance and time to both whenever needed.
[Q] How do you stay relevant in an industry where the dynamics of beauty change so often?
For me, beauty is confidence and staying true to myself, hence anything else matters least. Also, change is the only constant thing and I always try to cope up with it.
[Q] Your campaign 'Project Pragati' was featured at the top 10 in 'Miss World 2019' competition. Tell us a bit more about the project and how do you plan to pursue and extend this project further?
I started this project – 'Project Pragati' in collaboration with Princess Diya Kumari Foundation and Udaan Mahila Samuh to make women in the state of Rajasthan financially independent, which will not only make them feel empowered financially, but will also give them the confidence and courage to make their own decisions about their lives, including those about their education, or profession, or even when it comes to choosing their own groom. I've grown up seeing my mom doing whatever is being told to her by her parents, husband or in-laws, she never really had a say in any matters or I would say no one even bothered to ask her anything. I didn't want this for any woman, neither me nor anyone. It is this thought that gave birth to 'Pragati'. Under 'Pragati', we have units in different villages of Rajasthan where women learn to make different kinds of products based on their skill sets and these products are being sold online and at local stalls in the state. Recently we've opened a new unit and now we have total 3 unit giving employment to overall 70 women. I'm striving to take this project ahead by aiming to have at least one unit in every village.
[Q] Was there a pressure on you to perform at the Miss World 2019 pageant? And if so, how did you cope with it?
As a 21-year-old, I did feel a certain amount of pressure because everyone had a lot of expectations and I wanted to stand by it and make my country proud. But, to be honest, at the same time I had tremendous amount of support from all across the country and world, and that helped me to tackle all my problems easily.
[Q] How is Suman Rao among her near and dear ones?
Suman Rao is a very simple and normal girl, who loves to be around her loved ones and spend quality with them.
[Q] What about when you're in love? What is love to you?
Love to me is the same what it was to Shahrukh Khan in the movie 'Kuch Kuch Hota Hai' – "Pyaar Dosti Hai.." (Love is friendship). (laughs)
[Q] Would you ever date a fan?
Why not! If he's the one! (winks)