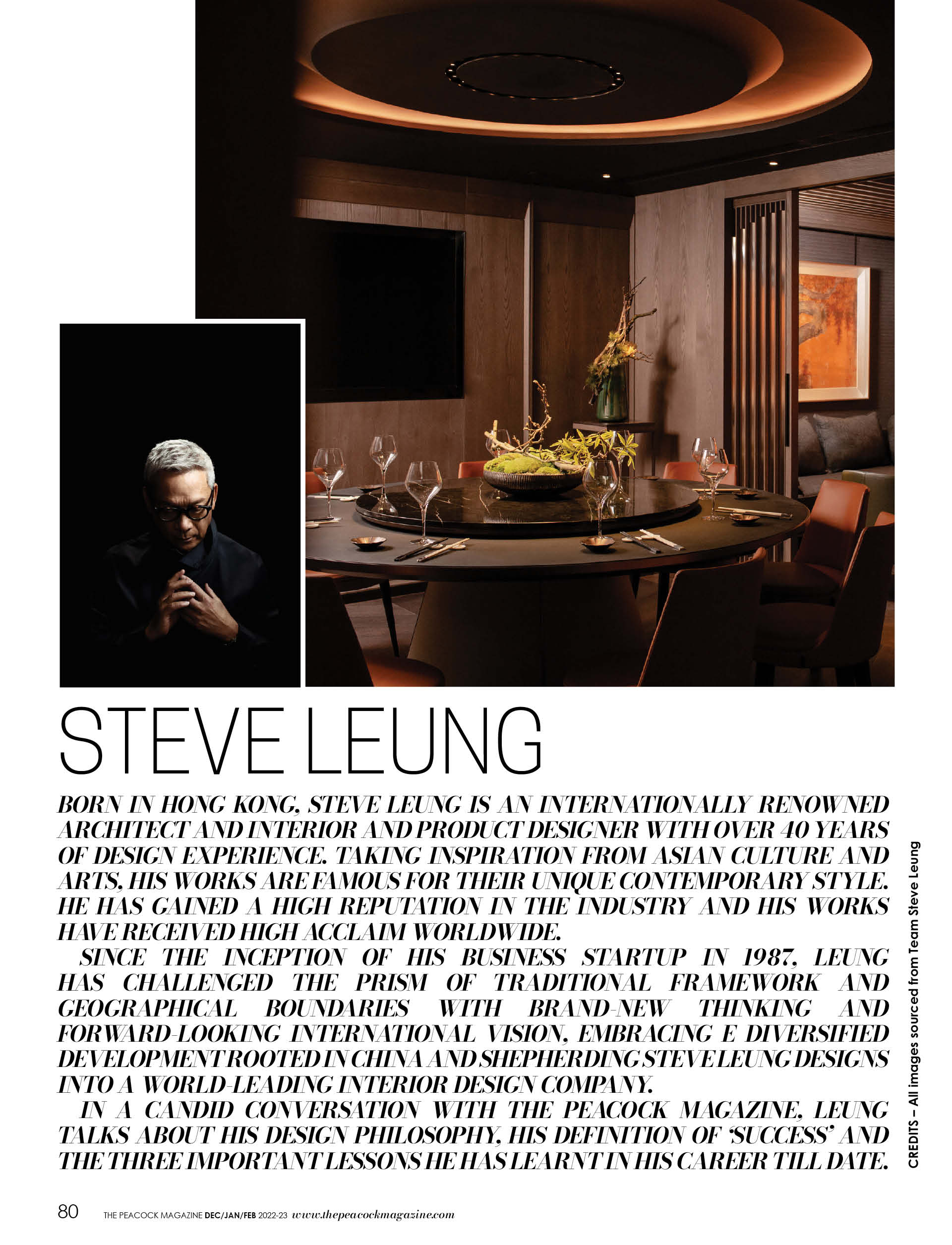 CREDITS: All images sourced from Team Steve Leung
Born in Hong Kong, Steve Leung is an internationally renowned architect and interior and product designer with over 40 years of design experience. Taking inspiration from Asian culture and arts, his works are famous for their unique contemporary style. He has gained a high reputation in the industry and his works have received high acclaim worldwide.
"Design" represents different meanings for every master in history. Their varying thoughts have influenced their creation, and have also shaped their understanding of contemporary culture and lifestyles. Likewise, Leung too has his own unique thoughts and philosophy on design. Since the inception of his business startup in 1987, Leung has challenged the prism of traditional framework and geographical boundaries with brand-new thinking and forward-looking international vision, embracing e diversified development rooted in China and shepherding Steve Leung Designs into a world-leading interior design company.
In a candid conversation with The Peacock Magazine, Leung talks about his design philosophy, his definition of 'success' and the three important lessons he has learnt in his career till date.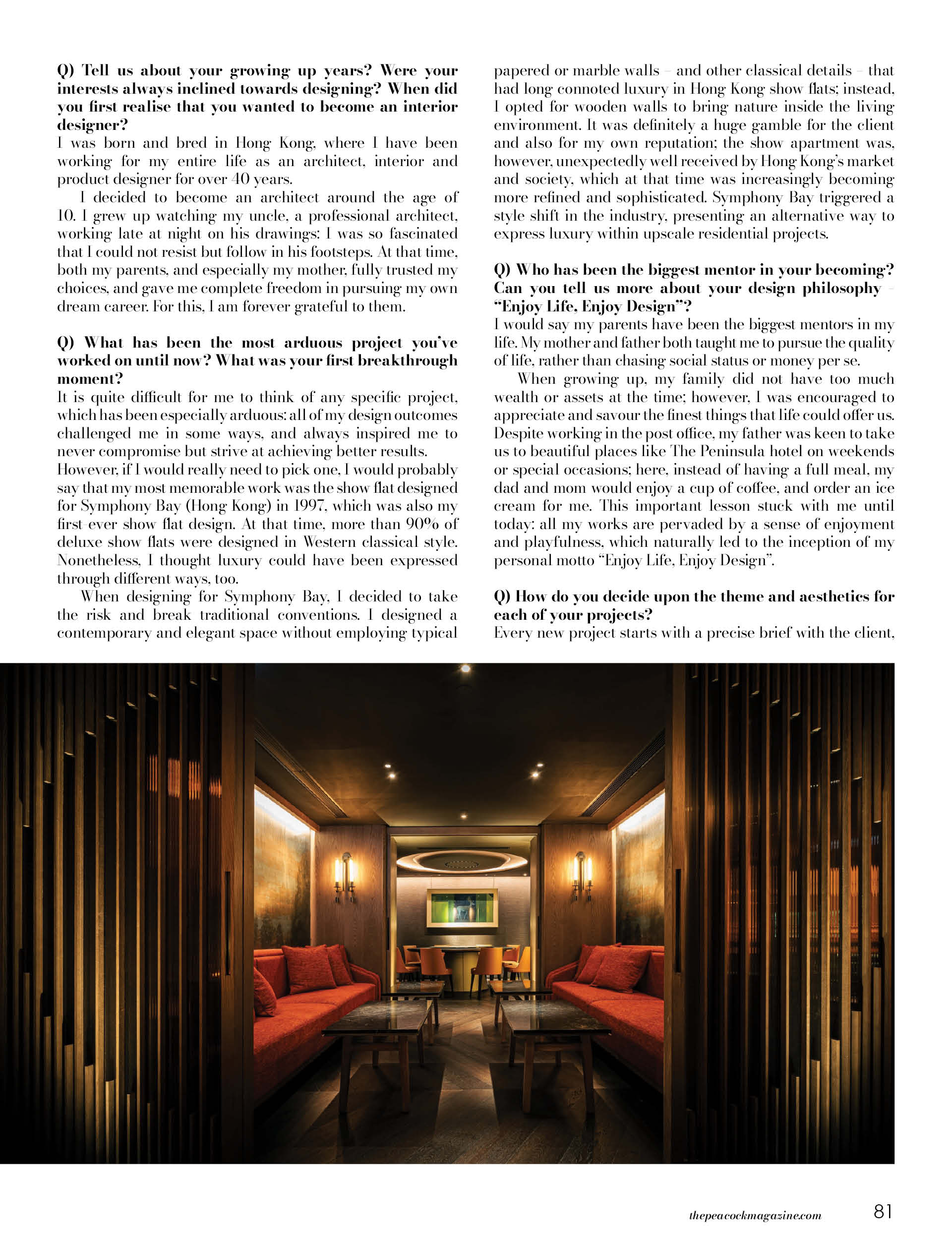 Q) Tell us about your growing up years? Were your interests always inclined towards designing? When did you first realise that you wanted to become an interior designer?
I was born and bred in Hong Kong, where I have been working for my entire life as an architect, interior and product designer for over 40 years.
I decided to become an architect around the age of 10. I grew up watching my uncle, a professional architect, working late at night on his drawings: I was so fascinated that I could not resist but follow in his footsteps. At that time, both my parents, and especially my mother, fully trusted my choices, and gave me complete freedom in pursuing my own dream career. For this, I am forever grateful to them.
Q) What has been the most arduous project you've worked on until now? What was your first breakthrough moment?
It is quite difficult for me to think of any specific project, which has been especially arduous: all of my design outcomes challenged me in some ways, and always inspired me to never compromise but strive at achieving better results.
However, if I would really need to pick one, I would probably say that my most memorable work was the show flat designed for Symphony Bay (Hong Kong) in 1997, which was also my first-ever show flat design. At that time, more than 90% of deluxe show flats were designed in Western classical style. Nonetheless, I thought luxury could have been expressed through different ways, too.
When designing for Symphony Bay, I decided to take the risk and break traditional conventions. I designed a contemporary and elegant space without employing typical papered or marble walls — and other classical details — that had long connoted luxury in Hong Kong show flats; instead, I opted for wooden walls to bring nature inside the living environment. It was definitely a huge gamble for the client and also for my own reputation; the show apartment was, however, unexpectedly well received by Hong Kong's market and society, which at that time was increasingly becoming more refined and sophisticated. Symphony Bay triggered a style shift in the industry, presenting an alternative way to express luxury within upscale residential projects.
Q) Who has been the biggest mentor in your becoming? Can you tell us more about your design philosophy – "Enjoy Life, Enjoy Design"?
I would say my parents have been the biggest mentors in my life. My mother and father both taught me to pursue the quality of life, rather than chasing social status or money per se.
When growing up, my family did not have too much wealth or assets at the time; however, I was encouraged to appreciate and savour the finest things that life could offer us. Despite working in the post office, my father was keen to take us to beautiful places like The Peninsula hotel on weekends or special occasions; here, instead of having a full meal, my dad and mom would enjoy a cup of coffee, and order an ice cream for me. This important lesson stuck with me until today: all my works are pervaded by a sense of enjoyment and playfulness, which naturally led to the inception of my personal motto "Enjoy Life, Enjoy Design".
Q) How do you decide upon the theme and aesthetics for each of your projects?
Every new project starts with a precise brief with the client, during which I always bear in mind the fundamental ideal of what "good design" represents to me. "Good design" needs to be human-centred, blending harmonious aesthetics and functionality to serve people by enhancing their quality of living. Afterwards, I would then start analysing specific requests and needs, whilst carefully assessing the critical elements of the project to identify how to best maximise its advantages and minimise its limitations. I believe a designer should never start his creative process without a logical understanding of the project. Meticulous attention to detail is also another crucial attribute for good project management and holds true for every stage of the design journey — from conception to its final execution.
Regardless of specific client and work, the way that I design is not a "style". It's about my attitude. It's about my philosophy. I always say that the most important word in my design philosophy is to be appropriate. But what is appropriate? We should do the right thing at the right time in the right context. Everything should come together. I find this approach to be particularly true in my own definition of "good design", which always strives to achieve the most "appropriate" balance between aesthetics and functionality to better serve the final user.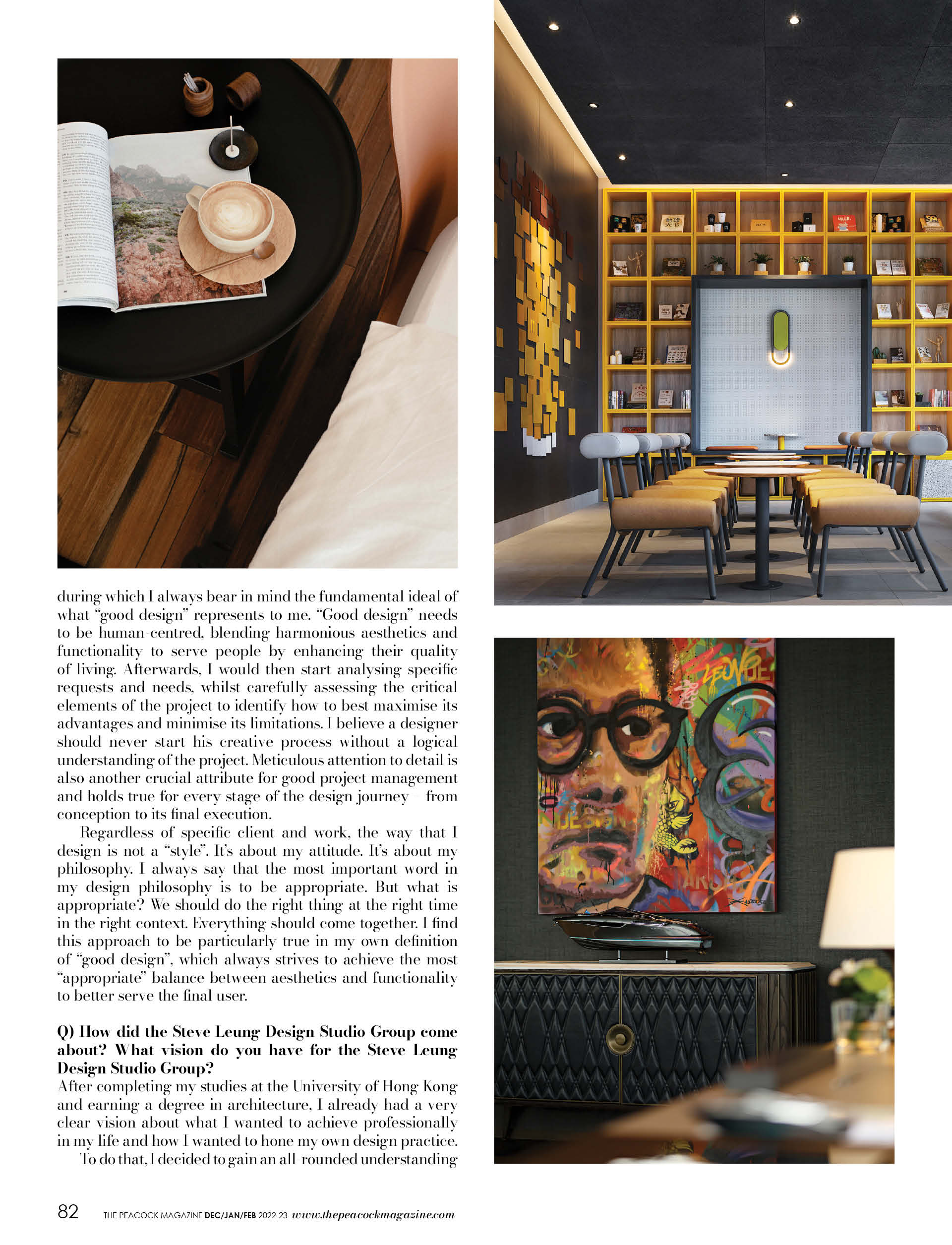 Q) How did the Steve Leung Design Studio Group come about? What vision do you have for the Steve Leung Design Studio Group?
After completing my studies at the University of Hong Kong and earning a degree in architecture, I already had a very clear vision about what I wanted to achieve professionally in my life and how I wanted to hone my own design practice.
To do that, I decided to gain an all-rounded understanding of the industry by taking up different roles that could help me explore the field through different angles. Namely, I worked as assistant architect at Wong & Ouyang, a well-established architectural practice; building surveyor for the Hong Kong government; and serving as a project manager at a renowned Hong Kong-based property developer. Each experience equipped me with the necessary knowledge and tools to be finally able to launch my own architectural and urban planning consultancy in 1987. In 1997, I restructured the firm into Steve Leung Architects (SLA) and Steve Leung Designers (SLD), to focus more on interior design projects.
Regarding the future of SLD, I simply expect nothing less than to keep honouring the corporate motto of designing without limits. It is my hope for the group to be always engaged in influential projects, right from luxury residential developments to high-end hotels and resorts, to multifaceted restaurants, to exclusive product collaborations with internationally acclaimed brands, with our works extending from Hong Kong, China, across Asia, and globally, and breaking the boundaries during the journey.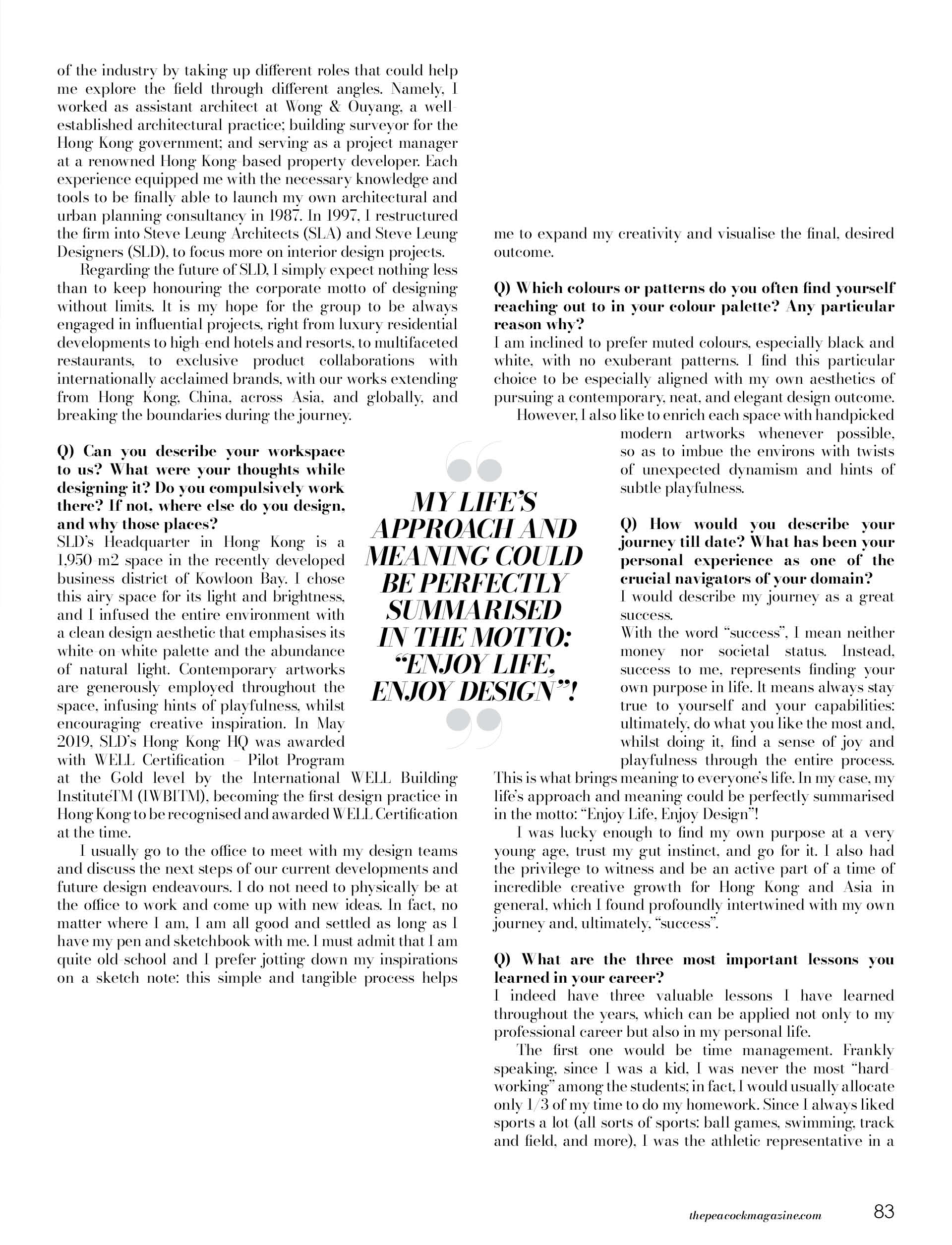 Q) Can you describe your workspace to us? What were your thoughts while designing it? Do you compulsively work there? If not, where else do you design, and why those places?
SLD's Headquarter in Hong Kong is a 1,950-m2 space in the recently developed business district of Kowloon Bay. I chose this airy space for its light and brightness, and I infused the entire environment with a clean design aesthetic that emphasises its white-on-white palette and the abundance of natural light. Contemporary artworks are generously employed throughout the space, infusing hints of playfulness, whilst encouraging creative inspiration. In May 2019, SLD's Hong Kong HQ was awarded with WELL Certification — Pilot Program at the Gold level by the International WELL Building InstituteTM (IWBITM), becoming the first design practice in Hong Kong to be recognised and awarded WELL Certification at the time.
I usually go to the office to meet with my design teams and discuss the next steps of our current developments and future design endeavours. I do not need to physically be at the office to work and come up with new ideas. In fact, no matter where I am, I am all good and settled as long as I have my pen and sketchbook with me. I must admit that I am quite old-school and I prefer jotting down my inspirations on a sketch note: this simple and tangible process helps me to expand my creativity and visualise the final, desired outcome.
Q) Tell us how your usual work day looks like?
Regardless if it is going to be a leisure or working day, I always make sure to drink two cups of lukewarm water first thing in the morning. After this little ritual, I check the daily agenda on my phone whilst having breakfast, and plan the upcoming days accordingly.
When I am on a working schedule, I sometimes go to my office in Kowloon Bay to meet with my design teams and talk about the status of current projects and new prospects; or, perhaps, I have a catch up with the senior management to oversee how the overall business is going and explore new strategies together. Sometimes, I also plan to meet with old and new clients outside the office, so as to discuss business possibilities and also visit new spaces here in Hong Kong, from hotels, to restaurants and cafes. It really depends. I do not like to normally stick to a precise routine, as I tend to find it quite boring. However, every day I make sure to always allocate a little bit of time for "fun" activities: those being practising sports (I love playing golf and cycling), spending quality time with my family, enjoying a solitary ride on my Rolls-Royce Dawn, and the like. Whenever I can, I am also inclined to go to sleep around the same hour — 11:00 pm or so. I definitely am one of those persons in need of a solid seven–eight-hour sleep to function the next day without being too grumpy!
Q) Which colours or patterns do you often find yourself reaching out to in your colour palette? Any particular reason why?
I am inclined to prefer muted colours, especially black and white, with no exuberant patterns. I find this particular choice to be especially aligned with my own aesthetics of pursuing a contemporary, neat, and elegant design outcome.
However, I also like to enrich each space with handpicked modern artworks whenever possible, so as to imbue the environs with twists of unexpected dynamism and hints of subtle playfulness.
Q) How would you describe your journey till date? What has been your personal experience as one of the crucial navigators of your domain?
I would describe my journey as a great success.
With the word "success", I mean neither money nor societal status. Instead, success to me, represents finding your own purpose in life. It means always stay true to yourself and your capabilities: ultimately, do what you like the most and, whilst doing it, find a sense of joy and playfulness through the entire process. This is what brings meaning to everyone's life. In my case, my life's approach and meaning could be perfectly summarised in the motto: "Enjoy Life, Enjoy Design"!
I was lucky enough to find my own purpose at a very young age, trust my gut instinct, and go for it. I also had the privilege to witness and be an active part of a time of incredible creative growth for Hong Kong and Asia in general, which I found profoundly intertwined with my own journey and, ultimately, "success".
Q) What are the three most important lessons you learned in your career?
I indeed have three valuable lessons I have learned throughout the years, which can be applied not only to my professional career but also in my personal life.
The first one would be time management. Frankly speaking, since I was a kid, I was never the most "hard-working" among the students; in fact, I would usually allocate only 1/3 of my time to do my homework. Since I always liked sports a lot (all sorts of sports: ball games, swimming, track and field, and more), I was the athletic representative in a few teams at my school, even becoming captain at one point. Thus, 1/3 of my time was used for playing sports and for training and leading my team. The other 1/3 was instead allocated to my personal interests, including learning French and doing design-related freelance jobs. At that time, I was definitely wearing several hats, and this soon made me realise the importance of good time management in order to achieve all the things I wanted to accomplish.
Another key lesson is to be present and become fully aware of your own personal strengths and weaknesses. For the strengths, keep tuning them and make them your solid groundings; for the weaknesses, learn how to delegate, relying on people who are actually able to do them better than you.
The last, but perhaps the most meaningful lesson, is to always look forward and think positively about the future. Do not look back and, most importantly, never hold any regret in your life.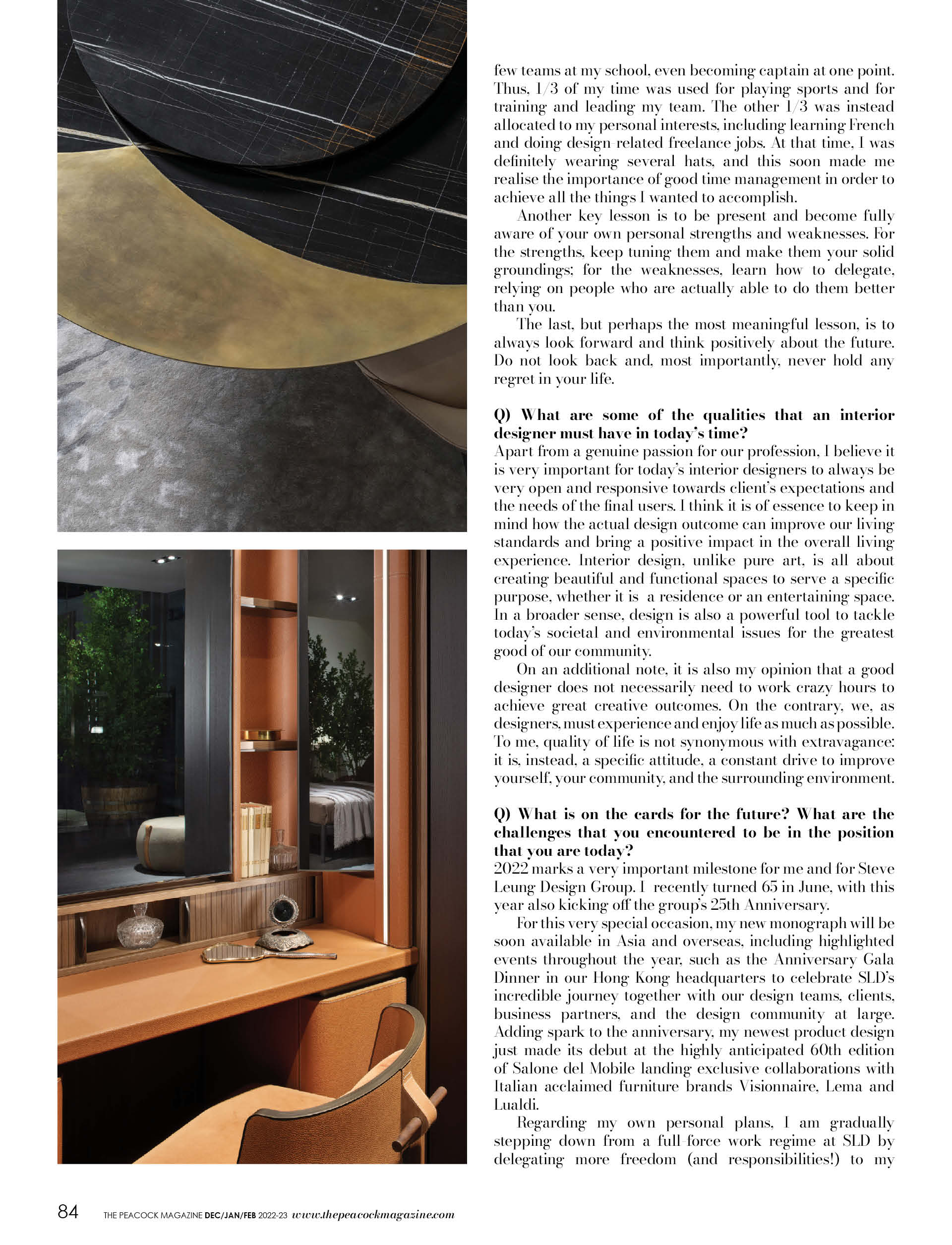 Q) What are some of the qualities that an interior designer must have in today's time?
Apart from a genuine passion for our profession, I believe it is very important for today's interior designers to always be very open and responsive towards client's expectations and the needs of the final users. I think it is of essence to keep in mind how the actual design outcome can improve our living standards and bring a positive impact in the overall living experience. Interior design, unlike pure art, is all about creating beautiful and functional spaces to serve a specific purpose, whether it is a residence or an entertaining space. In a broader sense, design is also a powerful tool to tackle today's societal and environmental issues for the greatest good of our community.
On an additional note, it is also my opinion that a good designer does not necessarily need to work crazy hours to achieve great creative outcomes. On the contrary, we, as designers, must experience and enjoy life as much as possible. To me, quality of life is not synonymous with extravagance: it is, instead, a specific attitude, a constant drive to improve yourself, your community, and the surrounding environment.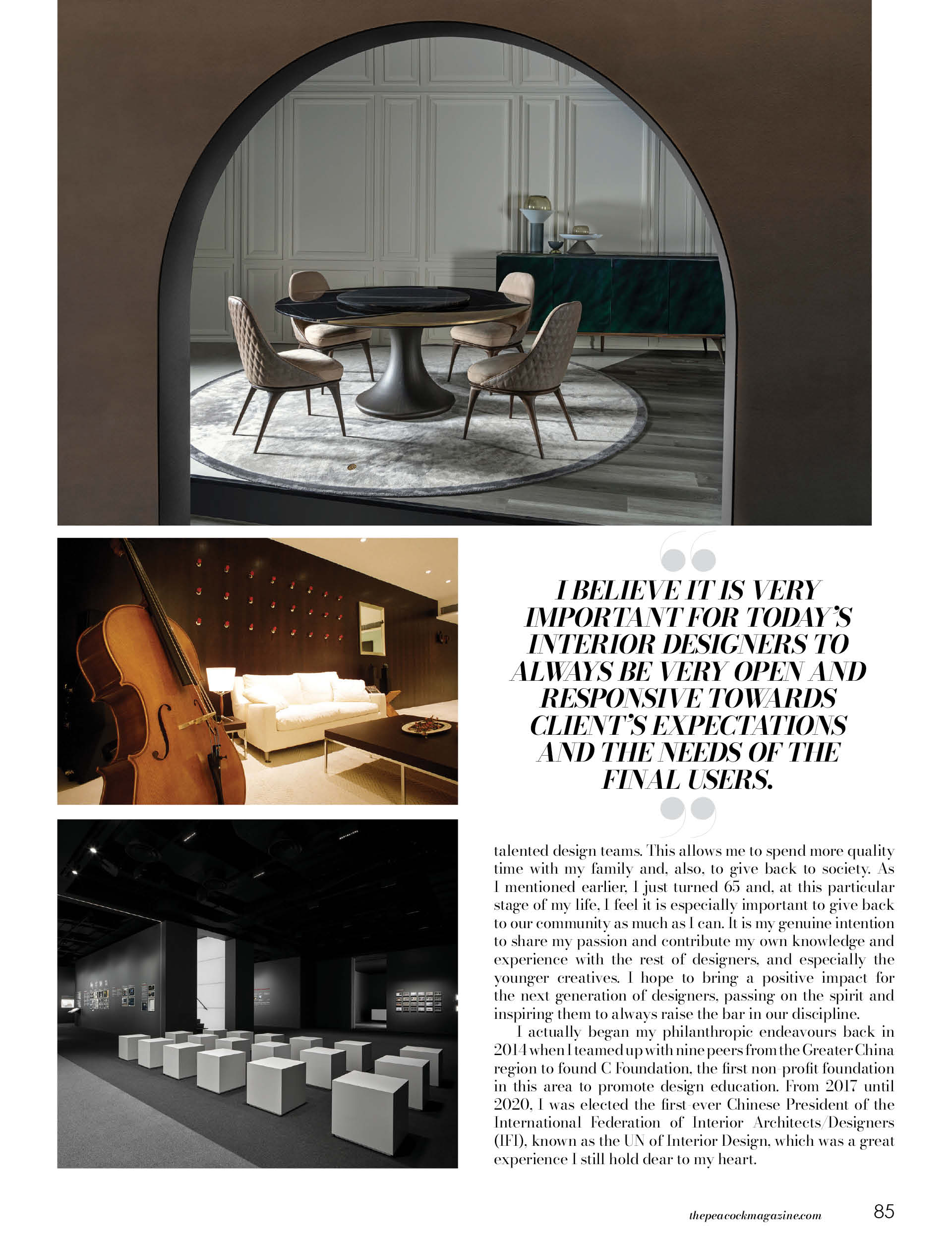 Q) What is on the cards for the future? What are the challenges that you encountered to be in the position that you are today?
2022 marks a very important milestone for me and for Steve Leung Design Group. I recently turned 65 in June, with this year also kicking off the group's 25th Anniversary.
For this very special occasion, my new monograph will be soon available in Asia and overseas, including highlighted events throughout the year, such as the Anniversary Gala Dinner in our Hong Kong headquarters to celebrate SLD's incredible journey together with our design teams, clients, business partners, and the design community at large. Adding spark to the anniversary, my newest product design just made its debut at the highly anticipated 60th edition of Salone del Mobile landing exclusive collaborations with Italian acclaimed furniture brands Visionnaire, Lema and Lualdi.
Regarding my own personal plans, I am gradually stepping down from a full-force work regime at SLD by delegating more freedom (and responsibilities!) to my talented design teams. This allows me to spend more quality time with my family and, also, to give back to society. As I mentioned earlier, I just turned 65 and, at this particular stage of my life, I feel it is especially important to give back to our community as much as I can. It is my genuine intention to share my passion and contribute my own knowledge and experience with the rest of designers, and especially the younger creatives. I hope to bring a positive impact for the next generation of designers, passing on the spirit and inspiring them to always raise the bar in our discipline.
I actually began my philanthropic endeavours back in 2014 when I teamed up with nine peers from the Greater China region to found C Foundation, the first non-profit foundation in this area to promote design education. From 2017 until 2020, I was elected the first-ever Chinese President of the International Federation of Interior Architects/Designers (IFI), known as the UN of Interior Design, which was a great experience I still hold dear to my heart.