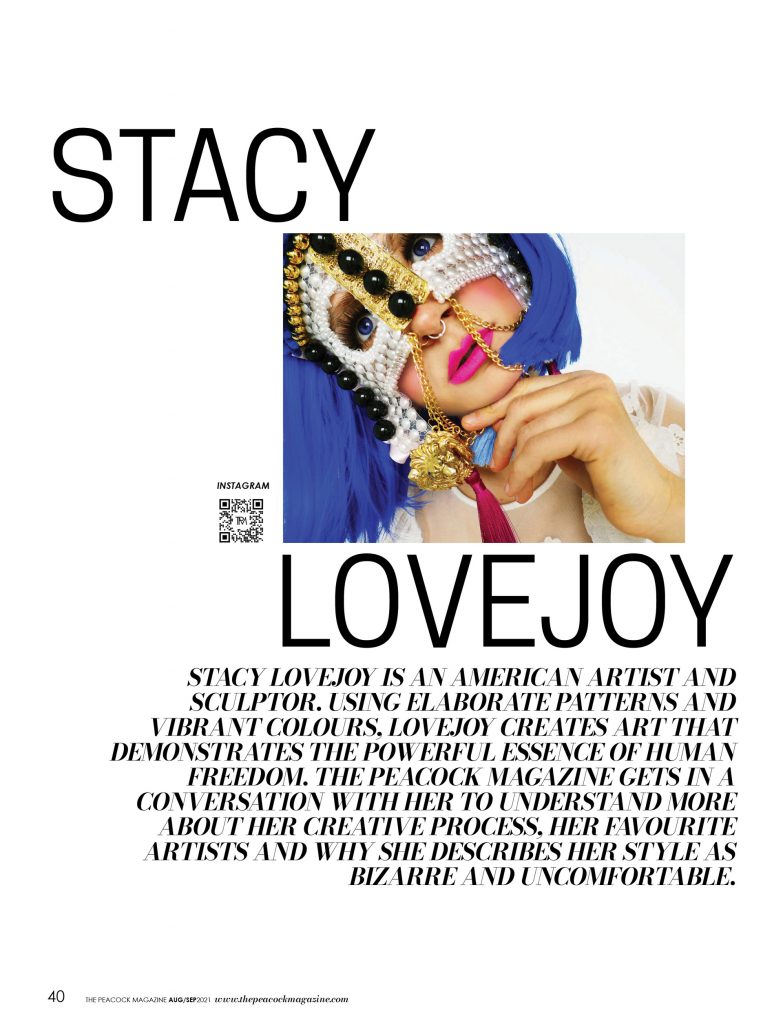 stacy lovejoy is an american artist and sculptor. using elaborate patterns and vibrant colours, lovejoy creates art that demonstrates the powerful essence of human freedom. the peacock magazine gets in a conversation with her to understand more about her creative process, her favourite artists and why she describes her style as bizarre and uncomfortable.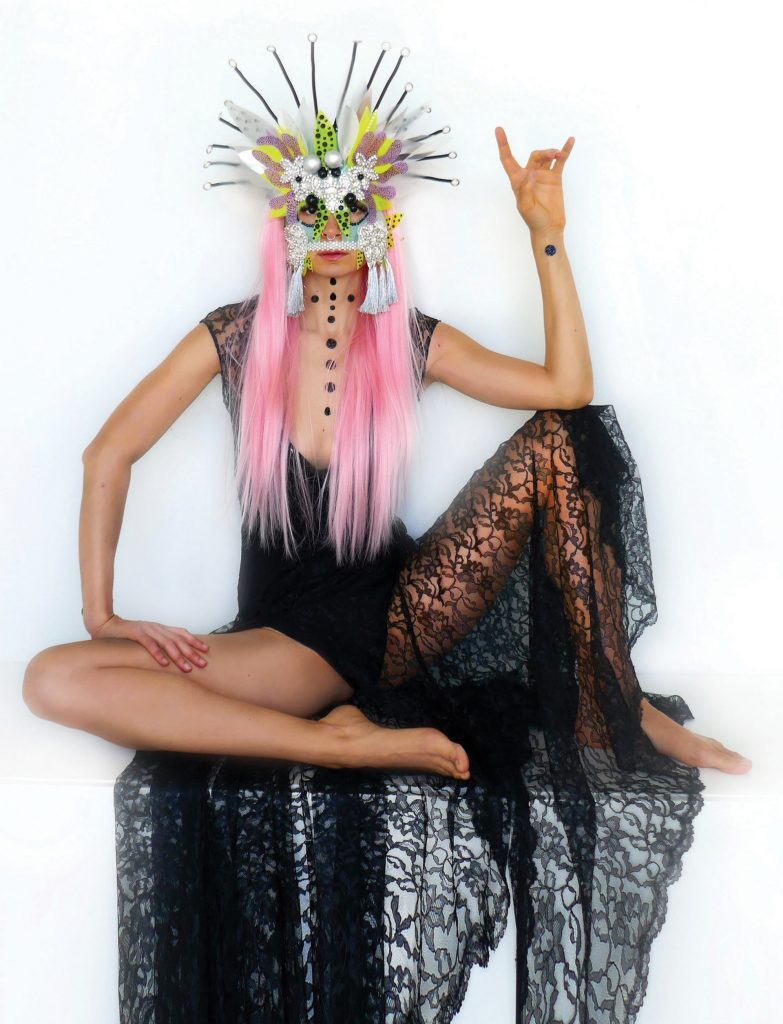 [Q] What were your growing up years like?
I've always been a free-spirited creative person who liked experimenting with style, wore weird handmade clothing, and dyed my hair a new colour every week. I was completely different from the other students, and it pissed my teachers off. I was constantly fighting with the system for my right to freedom of self-expression until I dropped out of school and dedicated my life to art. I remember I was always painting, doing makeup, making decorations and props, dancing, singing, and filming the processes on camera. That was the beginning of my art career.
[Q] How did your parents react?
I was lucky enough to have an open-minded family. My mother is an extremely creative person who was able to see in my early childhood that I had a talent for making art. She has always been very supportive of my self-expression, providing me with art supplies, developing my imagination through a variety of games, taking me to numerous art shows, and positively accepting all my art experiments.
[Q] Did you study painting or are you self-taught?
Although I received basic academic art training, I soon got bored with classical drawing and painting. I love breaking rules and creating my own.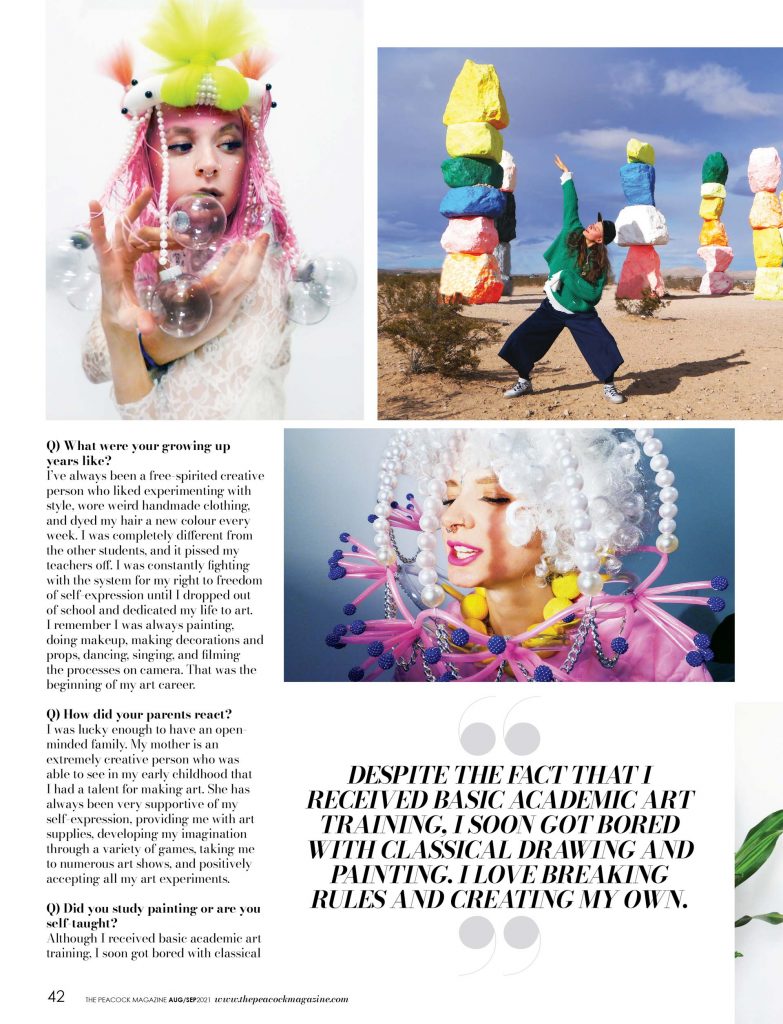 [Q] How do you go about creating a sculpture or a painting or any of your artwork? What is the process like?
The most important thing is to switch my brain off in the beginning and go with the flow, allowing divine energy to use me as a tool. I rarely use any sketches. All the decisions are being made during the process. In this way, I keep myself intrigued during the process of creation and am always honestly surprised by the result. It's an extremely fascinating game.
[Q] Do all your paintings have an underlying theme or focal point?
I've noticed that once I truly believe in something, I can materialize it, and the more I practice it, the stronger my belief in it becomes. Eventually, I got so swallowed by this discovery that it made me eager to tell everybody about it. Since then, the idea of human 'almightiness' runs through every project of mine, it works to activate in people the mode of being forever young, omnipotent, and free of any boundaries, norms, or traditions established by society.
[Q] Where/in whom do you find your inspiration?
From within and through interactions with others.
[Q] Who are your biggest influences/mentors?
Great question. I believe that everything in this world can become a tool for self-development, whether it's people, books, or a coincidence. Sometimes, a random phrase that I heard in a crowd could turn my whole world upside down and in a good way. As an example, when I was a kid, I saw a performance artist on TV who glued random trinkets onto his face while giving an interview. It was so overwhelming and memorable that from this same moment, I knew that being a performance artist was my destiny.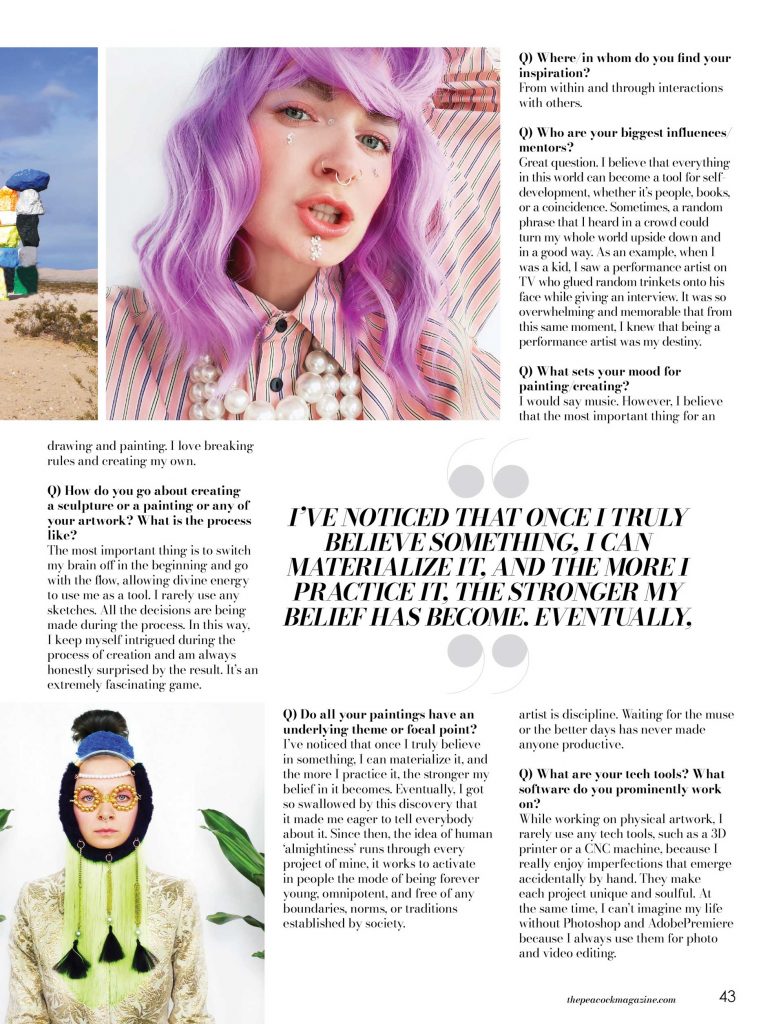 [Q] What sets your mood for painting/creating?
I would say music. However, I believe that the most important thing for an artist is discipline. Waiting for the muse or the better days has never made anyone productive.
[Q] What are your tech tools? What software do you prominently work on?
While working on physical artwork, I rarely use any tech tools, such as a 3D printer or a CNC machine, because I really enjoy imperfections that emerge accidentally by hand. They make each project unique and soulful. At the same time, I can't imagine my life without Photoshop and AdobePremiere because I always use them for photo and video editing.
[Q] Who has been your biggest client so far?
The majority of my work is in private collections. Some well-known individuals own my pieces, but unfortunately, I can't mention their names.
[Q] How did you go about creating those signature works? Where did you find your inspiration?
Before taking a commission, I need to make sure that I'll be able to own total freedom of my artistic expression as I believe it is the first key to any successful work.
[Q] Which work of yours is your personal favourite?
Each freshly finished piece is my favourite until I create something new.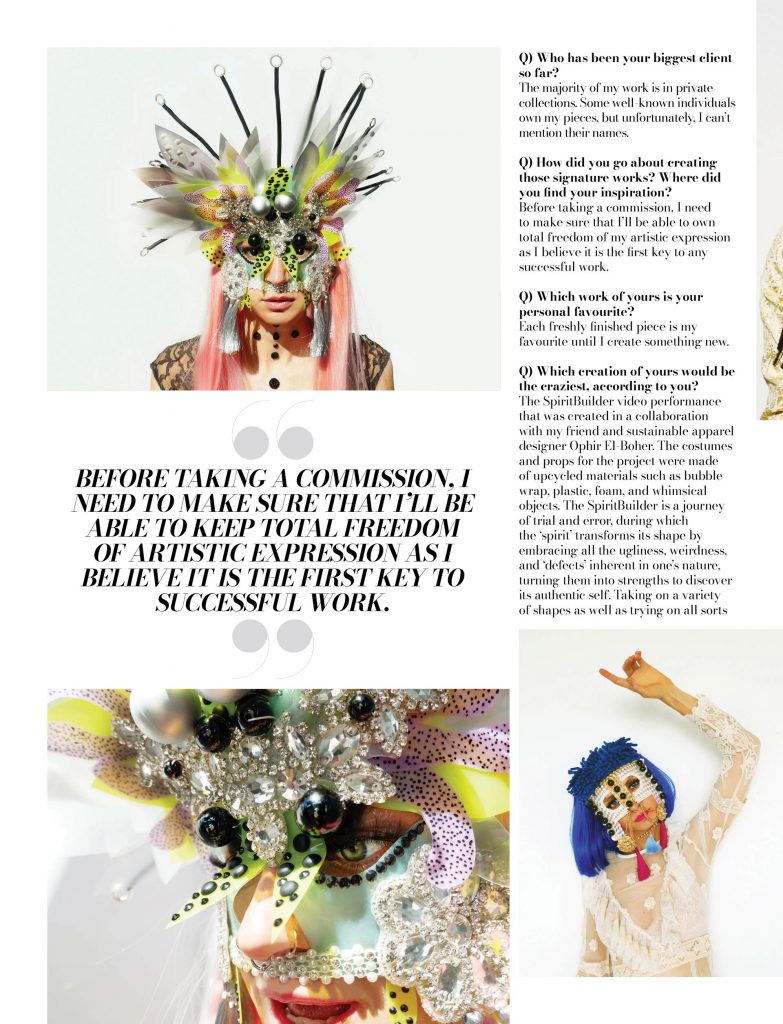 [Q] Which creation of yours would be the craziest, according to you?
The SpiritBuilder video performance that was created in a collaboration with my friend and sustainable apparel designer Ophir El-Boher. The costumes and props for the project were made of upcycled materials such as bubble wrap, plastic, foam, and whimsical objects. The SpiritBuilder is a journey of trial and error, during which the 'spirit' transforms its shape by embracing all the ugliness, weirdness, and 'defects' inherent in one's nature, turning them into strengths to discover its authentic self. Taking on a variety of shapes as well as trying on all sorts of materials and substances, the spirit accretes what becomes its form of physical and spiritual growth.
[Q] How do you deal with an art block if you ever have one?
I'm lucky enough to not know what an art block is. There are some days when I feel a bit moody. I usually spend them in the company of artistic friends. I feel that sharing positive energy, laughing and collaborating on something is a great healer that puts me back on track.
[Q] You're a dancer, painter, sculptor and performance artist. Which aspect of you brings you the ultimate joy?
Any process of creation, whether it's painting or singing, makes me feel levitated and free. On the other hand, dancing and performing in front of others takes me to a state in which I completely forget about my physical body and transform into divine energy. I'm addicted to this feeling. It's surely something that keeps me alive.
[Q] What is the first thing you notice when you see another artist's work?
I adore vivid art full of colour that evokes positive emotions and joy. It gives me life!
[Q] Who are your favourite artists? Why?
The list of my favourite artists is constantly growing and changing. At the moment, I'm enjoying the works of Khairullah Rahim, Manish Arora, Nick Cave and Matthew Ronay. I adore the detail and the way they play with colours and textures. I also just realised that they are all bald. Maybe that's the actual reason I love them?! (laughs)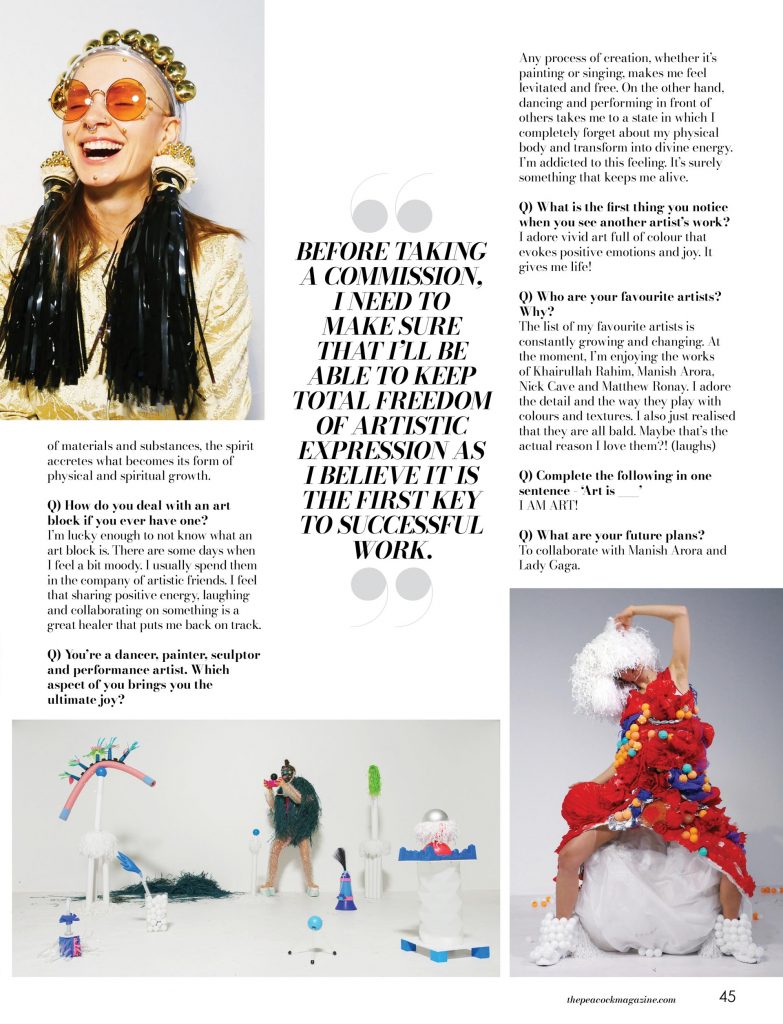 [Q] Complete the following in one sentence – 'Art is ___'
I AM ART!
[Q] What are your future plans?
To collaborate with Manish Arora and Lady Gaga.
[Q] What is on the card of your studio?
My card has a very laconic design. (laughs) It has 'stacy lovejoy dot com' in huge black letters and my Instagram page on a white background.
[Q] Would you want to visit India someday?
I've actually been to India once. It was several years ago when my friends and I were on a snowboarding trip to the Himalayas. It was a truly unforgettable experience, during which I completely fell in love with the culture and architecture and the free-spirited people. Next time, I will definitely explore the Southern part, somewhere closer to the ocean.
[Q] What is your personal style like?
I have an eccentric style with quilted dresses, ruffles and lace mixed with sporty and futuristic elements.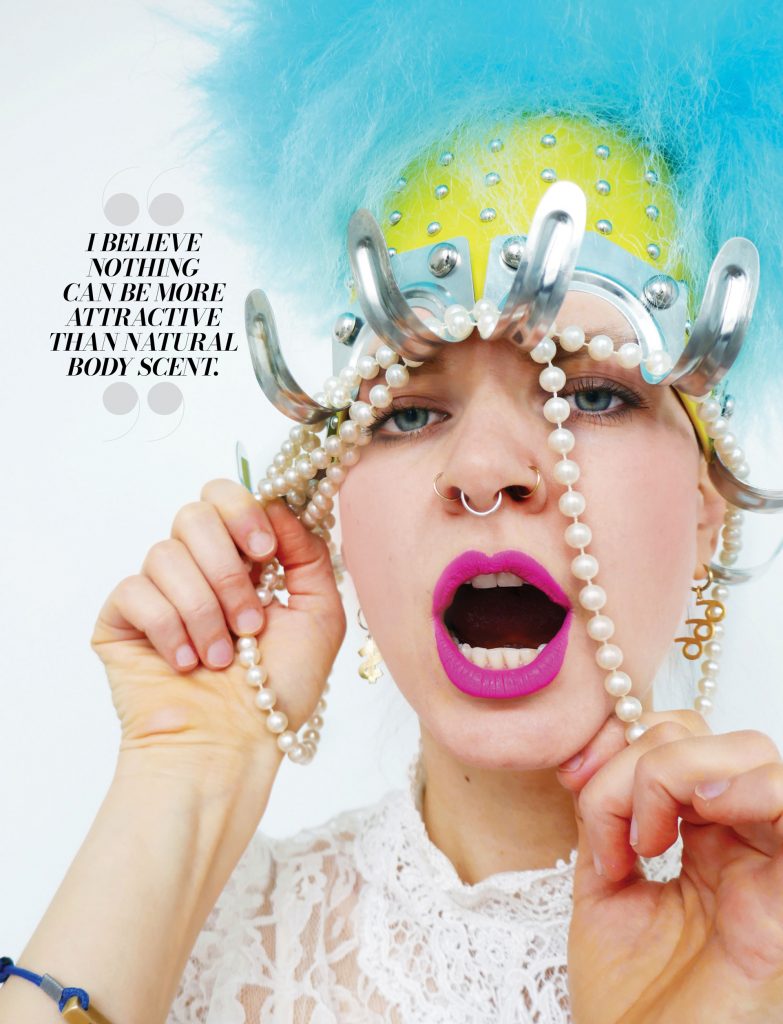 [Q] What does fashion mean to you?
Fashion is a great way to express and discover myself. It's a reflection of my inner world. I enjoy following some flamboyant fashion designers such as Tom Van Der Borght and Windowsen. However, in real life, I focus on creating my own trends and follow them until they get big.
[Q] What is your favourite perfume?
I believe nothing can be more attractive than a natural body scent.
[Q] Which is your favourite sneaker brand?
For many years, I've been desperately trying to get some unusual sneakers, but I always end up with a pair of Nike on my feet.
[Q] What does your wardrobe most consist of?
Mostly odd jumpsuits and dresses.
[Q] Your go-to outfit?
A floor-length black lace transparent nightgown, acid yellow sporty bra, compression shorts and a pair of sneakers.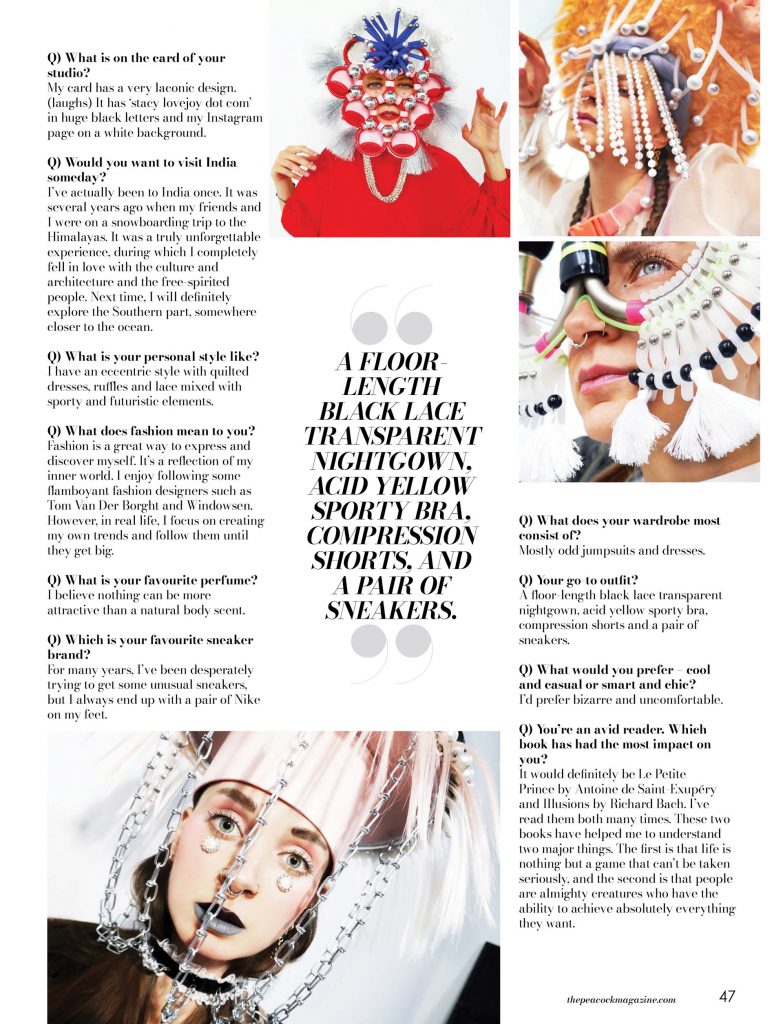 [Q] What would you prefer — cool and casual or smart and chic?
I'd prefer bizarre and uncomfortable.
[Q] You're an avid reader. Which book has had the most impact on you?
It would definitely be Le Petite Prince by Antoine de Saint-Exupéry and Illusions by Richard Bach. I've read them both many times. These two books have helped me to understand two major things. The first is that life is nothing but a game that can't be taken seriously, and the second is that people are almighty creatures who have the ability to achieve absolutely everything they want.