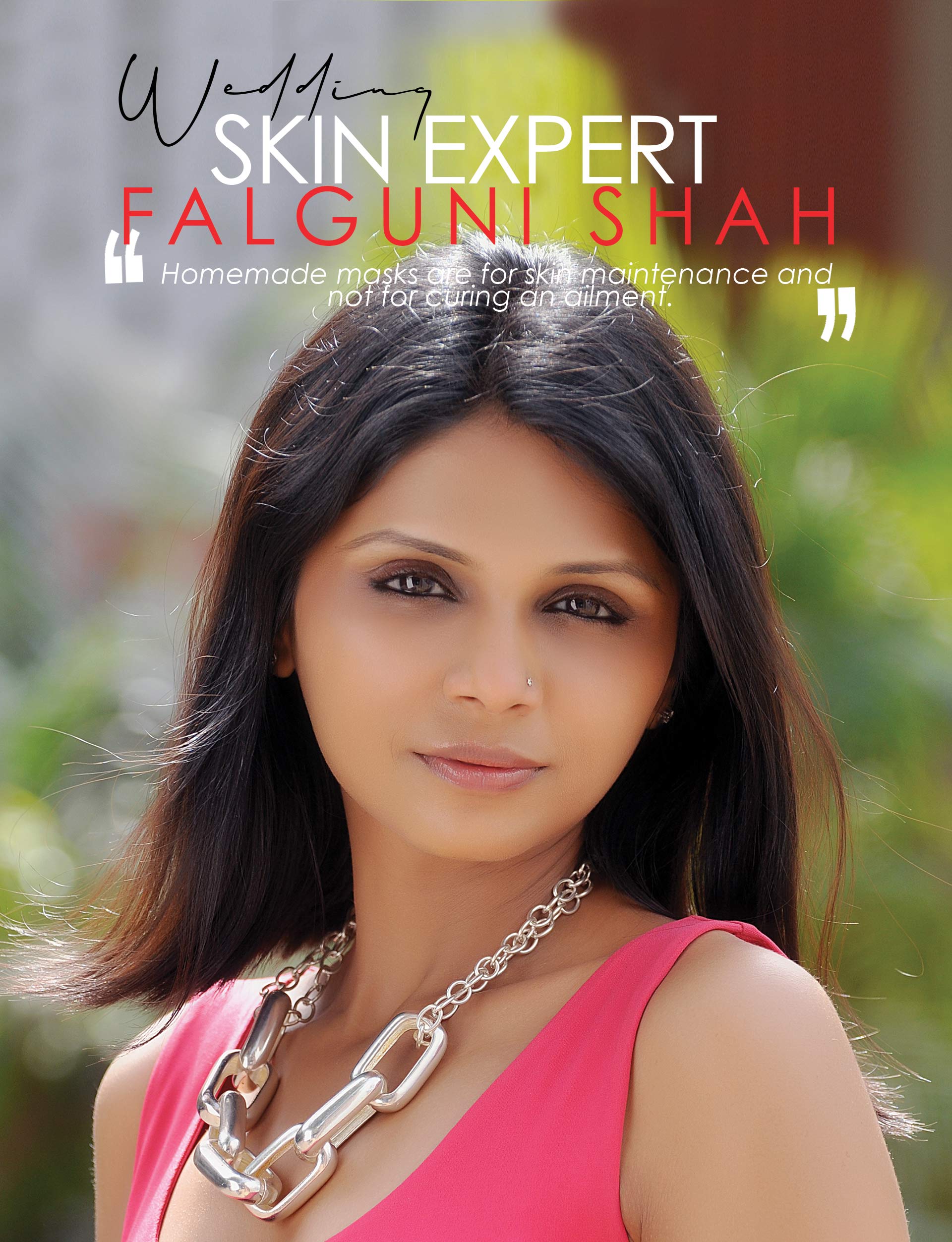 Dermatsologist and skin-care expert Falguni Shah shares her expertise on combatting those multiple skin issues for a to-be bride and how to achieve that flawless glass skin before your big day.
[Q] HOW LONG BEFORE THE WEDDING SHOULD A BRIDE MAKE A GROOMING APPOINTMENT WITH THE DERMATOLOGIST?
"It is very important to understand your skin before making an appointment if you have severe acne, pigmentation or discolouration issues you need to get on treatment 6 months prior but if you have healthy skin and you're only looking for glow, 3 months should be fine."
[Q] FOR BRIDES WITH ACNE PRONE SKIN, WHAT TREATMENTS, FACIALS AND SUPPLEMENTS DO YOU SUGGEST? IT IS SAID THAT STRESS IS A MAJOR CAUSE OF ACNE, HOW WOULD YOU SUGGEST BRIDES TO KEEP IT EASY?
"The first step is to get a hormonal test done, to find out the root cause of your acne, after which we put you on a treatment, which includes putting you on medication to reduce the oil content of your skin. Later we decide the mode of treatment as there are many options available now. You can opt for the blue-laser treatment or the multiple types of skin peels to combat the acne issue. If your acne scars/marks are grave you need to get laser toning, carbon-peeling or micro-needling done to get rid of them."
[Q] A LOT OF INDIAN BRIDES SUFFER FROM DISCOLOURATION AND UNEVEN SKIN TONE, WHAT TREATMENT DO YOU SUGGEST?
"Every skin type has a particular ailment for a reason, it's not happening just like that. Technically, you're not supposed to have patchy skin, but if it is, then maybe your skin is dry, maybe you have perioral dermatitis, where the skin around your mouth and eyes become dark. Maybe your hormones are imbalanced and that is why you're depositing more pigment in certain areas, maybe you are absorbing the sun evenly on your skin, these are the reason you have discolouration on your skin. To treat the patchiness, we put the client on a routine where they have to strictly use a sunscreen, toner and a moisturizer, to see to it that they are sun protected. There are a lot of dietary and oral supplements and vitamins they can consume, under the concept of nutraceutical, where you give nourishment to your skin orally. We put them on the right kind of neutraceutical, it could be Vitamin A, C, or E, then there are Kiwi seed extracts, there is omega 3 and then there is something called an oral sunscreen, then there are super anti-oxidants, then there are collagen supplements. After which we put them under the peeling treatment depending upon the thickness of the skin. Or we put them under laser toning."
[Q] WHAT ARE THE BEST HOMEMADE MASK REMEDIES FOR HAIR AND FACE?
"Homemade masks are for the maintenance of your skin and not for curing an ailment, always keep that in mind. One effective homemade mask is pure turmeric (aamba haldi) with honey, which is a very good combination for pigmentation. Add the paste on your face and keep it on for 15-20 minutes then rinse it off, if your skin dry, you can also add curd to your mask. Papaya and honey is another good combination, honey being the key component as it soothes your skin and has natural hydration properties. And for the hair, you need oral nutrition under which you have options like biotin and Vitamin D3 supplements for hair growth and loss control issues. If you external hair issues like frizz then go for spa treatments where they apply nourishing oils to your hair and give it steam which is good for the texture. I do advice brides to no undergo too much hair colouration process and other head inducing treatments because during the wedding festivities you are anyway going to put your hair under strenuous process. For hair masks, you can go for these Vitamin C masks, mix them with curd, and you can also break your Vitamin E tablet mix it with curd and use it as a hair mask, it will moisturize your hair."
[Q] TECHNOLOGICAL TREATMENTS ARE TAKING OVER; DO YOU THINK IT IS GOING TO BE A TREND IN 2019? DOES IT HAVE A BETTER EFFECT THAN NATURAL TREATMENTS?
"Everything that is researched and proven is better than natural treatment. When someone says they want to go for a natural treatment, what they mean is they don't want to harm their skin. There are a lot of herbs that are not researched and consumed in quantities unknown, which can do more harm to your skin. Therefore, I always tell my patients that a good shampoo and conditioner does less harm than the wrong oil. So yes, if the technological treatment is well researched, FDA approved and operated by the right hands, and then definitely it should take over because here you are damaging less and only giving what's required.
[Q] A BASIC SKIN CARE REGIMEN A BRIDE SHOULD FOLLOW A FEW MONTHS BEFORE THE WEDDING?
"3 steps – sun protection, moisturizing and cleansing is a must, keep it simple. When I say sun protection, I don't mean sunscreen when you step out, I mean sunscreen daily."
[Q] EVERY BRIDE WANTS TO HAVE A RADIANT, GLOWING SKIN ON HER WEDDING DAY. HOW DO YOU ADVISE PEOPLE TO ACHIEVE THAT?
"Good amount of sleep, lots of hydration, I suggest having coconut water daily, months prior to your wedding because one glass of coconut water is equivalent to a couple of litres of water. A good diet of super-food, because they are rich anti-oxidants, like berries, tomatoes and beetroots. If possible, start taking anti-oxidant vitamins, a month before your wedding, regularly."
[Q] INDIAN WEDDINGS COMPRISE OF MULTIPLE FUNCTIONS. HOW DO YOU KEEP YOUR SKIN HEALTHY IN THE MIDST OF EVERYTHING?
"Your skin is going to go under lots of strain, that's where your hydration comes in handy, every time after you remove your makeup, apply Vitamin C lotion, it is known to dissolve a lot of impurities, keep it on your bedside. Use a moisturizer constantly along with a Vitamin C mask. It lets your skin stay fresh before you put on some more makeup."
[Q] WHAT ARE THE QUICK FIXES IN CASE SOMEONE FACES BREAKOUTS, OILY/ DRY SKIN?
"Firstly, there are no quick-fixes to acne; nothing can make it go overnight, because it's an inflammation. What you can do it, ice it, to suppress it, because it makes the inflammation go down. Apply the basic chamomile lotion; the idea is to make it appear less. There's another option called the silicone gel, which you apply on your problem area before you apply your makeup, so the acne doesn't' burst because of the makeup and it will look suppressed."
[Q] WHAT ARE SOME FIXES/ TREATMENTS FOR COMMONLY OCCURRING PROBLEMS LIKE STRETCH MARKS, BLEMISHES, SCARS, BLACKHEAD/ WHITEHEADS, OPEN PORES?
"To avoid blemishes, you need to sun protect your skin and keep it clean. Open pores need medical attention, it cannot be fixed by masks, but to avoid open pores, avoid frequent cleanups. The issue is, people get their black and whiteheads removed very often by cleanups, which leads to open pits, try and remove your black/whiteheads at home with a basic scrub, instead of frequent cleanups. Use a moisturizer, cleanser, but do not opt for a harsh cleanser as it will strip your skin off-it's natural moisture. Stretch-marks are very difficult to treat medically, even with the laser, but retinol and Vitamin A based creams do help in lightening them. Also, do not use retinol based creams without prescription, because it may cause inflammation, but they do help in stretchmark reduction."
[Q] WHAT ARE SOME SKIN-CARE AND BEAUTY PRODUCTS A BRIDE SHOULD HAVE HER IN VANITY?
"Sun-block, silicone gel, refreshing eye drops to keep it clean, a lip balm, even if you have lipstick on, you can apply the lip balm on the inner side of your lip to keep it hydrated."
[Q] WHAT ARE SOME SKIN CARE BRANDS AND PRODUCTS THAT YOU SWEAR BY?
"La Roche, is a dermato-skin-care brand, it has the right amount of retinol and the right amount of Vitamin c, another brand I like is Rio skin care which is big in Hollywood and other parts of the world."
[Q] WHAT ARE THE RIGHT KINDS OF BEAUTY TREATMENTS YOU SUGGEST? HOW EFFECTIVE ARE TREATMENTS LIKE JADE ROLLING, SHEET MASKS, MICRO NEEDLING ETC.?
"Sheet masks moisturize and hydrate your skin. I prefer micro-needling over jade rolling as you're helping your skin create passages for it to absorb what you want it to absorb. "
[Q] WHAT ARE SOME ABSOLUTELY SAFE LASER HAIR TREATMENTS THAT YOU SUGGEST FOR BRIDES TO BE?
"It is absolutely safe if you use the right technology, the right brand it has to be USFDA approved. These three factors are very important. I personally prefer doctors handling the laser treatment themselves; I feel it is very important that the people who handle the machines are also doctors. It needs to be a tailor-made treatment for each client, depending on the quality and the growth of their hair. Laser treatments should specifically be handled by doctors and not technical staff."