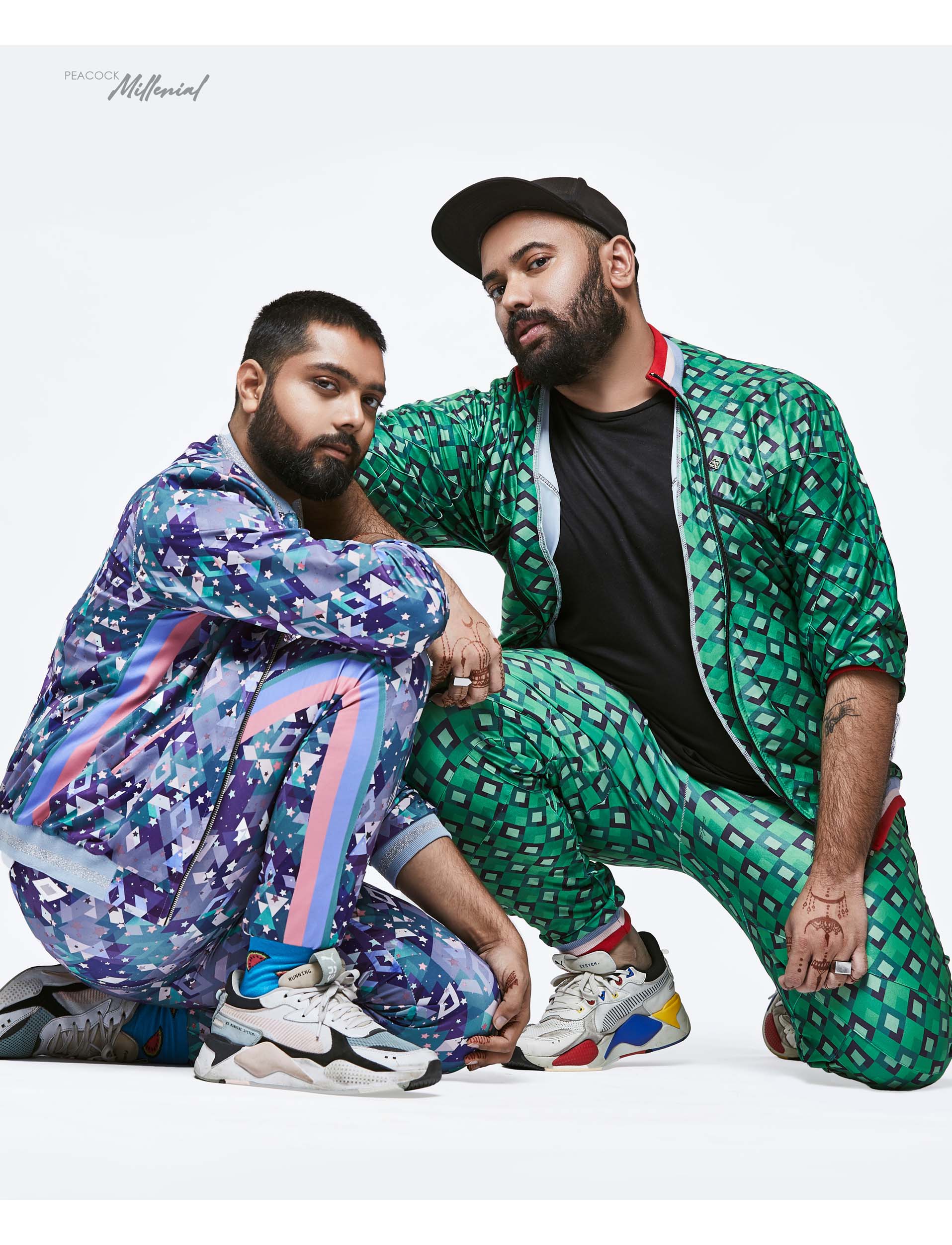 THE STYLE DYAD
WHO WORE WHAT WHEN
CELEBRITY STYLISTS
Armed with a portfolio of high-profile styling assignments, the duo is just getting started!
They know who wore what and when, and it is most probably because they have styled the who's who of the fashion and Bollywood industry. The up and coming stylists duo of Who Wore What When, Pranay Jaitly and Shounak Amonkar, have garnered quite a following and notable celebrity clients; a remarkable feat for a brand that has just begun their journey. Pranay and Shounak's tryst with fashion styling started when they were students in Milan, and their growing interest in street fashion styles brought them together to begin their very own styling brand, upon their return to India. Citing their first breakthrough project to be a styling assignment for Vidya Balan's Kahaani 2 promotions, the duo has since collaborated and worked with leading celebrity actors, designers and professionals like Kalki Koechlin, Radhika Apte, Chitrangda Singh, Radhika Madan, Ali Fazal, Vikas Khanna, Falguni Shane Peacock, to name a few.
[Q] HOW OLD WERE YOU WHEN YOU REALIZED FASHION WOULD BE THE INDUSTRY YOU'D LIKE TO WORK IN? WAS IT ALWAYS YOUR DREAM TO WORK IN FASHION?
PRANAY | I was 19 and studying Product Design when I realized I wanted to work in fashion.
SHOUNAK| I was 21 when I firmly decided I wanted to work in fashion, and so by 23 I applied to schools in Milan for my Masters in Accessory Design
[Q] WHAT ORIGINALLY ATTRACTED YOU TO THE CREATIVE SIDE OF THE FASHION INDUSTRY?
PRANAY |The Milan street style is something that truly inspired us. My house in Milan was right behind Dolce&Gabbana's studio, the Metropol, where they conduct their fashion shows. I was enamored and inspired by the people in their beautiful outfits, who used to hang around on the streets right outside the studio after the shows have gotten over.
SHOUNAK|I was always a creative kid. I developed a keen interest in fashion during my teenage years. I was an avid illustrator, and I would constantly sketch pretty looking women in fancy clothes before I could eventually grasp the concepts of supermodels or even fashion illustration for that matter. I guess this innate sense of fashion was always there, even before I realized what it really meant.
[Q] TELL US ABOUT YOUR INITIAL DAYS AT MILAN'S DOMUS ACADEMY AND IED, AND YOUR DOCUMENTATION OF THE STREET STYLE THERE.
PRANAY & SHOUNAK | During our initial days in Milan we were introduced to styling because of the Milan fashion week's street style. Gradually we started documenting the street styles, along with inspirations from the global fashion scene.
[Q] HOW DID YOU THINK OF COMING TOGETHER AND STARTING WHO WORE WHAT WHEN? WHAT WAS YOUR FIRST BREAKTHROUGH MOMENT AS A STYLIST?
PRANAY | I had a street-style blog in Milan, for which I used to do the styling and the photography part. I was not that great at the layouts and the cropping, and one fine day Shounak just pitched in with his skills, and we realized that the outcome was much better than the initial ones. And that's when we started working together, with Shounak applying his expertise on graphics and layouts. When we came back to India, Shounak and I decided to continue this collaboration and create our brand. Our first breakthrough was soon after we started working, three years back, when we got to style Vidya Balan for Kahaani 2 promotions.
[Q] FROM WORKING WITH CELEBRITIES TO FASHION MAGAZINES AND FASHION DESIGNERS, TELL US YOUR EXPERIENCE IN EACH OF THESE ARENAS.
PRANAY & SHOUNAK | Working with celebrities is collaboration in terms of their style and our aesthetics. It is interesting to meet midway and put a whole new look together for them.
It is an interesting experience working with fashion magazines as we work with the vision of the editor and the art director. And of course, we enjoy the most when working for style campaigns and look-books as we are the creative directors of the project and along with our team we try to put together something exceptional each time, as stylists and art directors.
[Q] HOW WOULD YOU DESCRIBE BOTH OF YOUR INDIVIDUAL STYLE? IS IT COMPLEMENTARY OR DOES IT TENDS TO BE POLES APART?
PRANAY |Our styles are completely different, I am a classic, and I love everything vintage and prints.
SHOUNAK |I am very rock and roll-meets-Yamamoto.
[Q] WHAT ARE SOME OF THE CHALLENGES THAT YOU HAVE FACED?
PRANAY & SHOUNAK | Coming to Bombay from Milan, with no contacts or networks in the industry, we found it difficult to get work initially.
[Q] DO YOU FACE CHALLENGES AS INDIVIDUALS WORKING TOGETHER IN A CREATIVE FIELD? DO YOUR CREATIVE IDEAS CLASH AT MOMENTS? AND IF SO HOW DO YOU GO ABOUT RESOLVING IT?
PRANAY & SHOUNAK | If Pranay is Valentino, Shounak is Yohji Yamamoto! We have our creative differences and it's interesting to meet midway and have different perspectives about projects that we work on.
[Q] HOW DIFFERENT DID YOU FIND THE FASHION SCENE IN MILAN TO INDIA? WERE THERE ANY MOMENTS THAT SURPRISED YOU IN BOTH THESE PLACES?
PRANAY & SHOUNAK | The fashion scene is extremely different in Milan from India and yes! There have been many surprising moments, most of which are confidential (wink*).
[Q] HOW DO YOU DECIDE WHAT KIND OF LOOK WORKS FOR EACH OF THE BOLLYWOOD STARS YOU STYLE?
PRANAY & SHOUNAK | We study the personal style of each celebrity we work with before we style them and meet midway with a new sense of style that we would like them to try. We never try to put them in something which is not an extension of their personality.
[Q] DOES YOUR CLOTHING CHOICE FOR CLIENTS END UP INSPIRING YOUR PERSONAL STYLE? OR VICE-VERSA?
PRANAY | Not very often.
SHOUNAK | Definitely not.
[Q] DO YOU HAVE AN ABSOLUTE FAVORITE STYLING PROJECT OR LOOK IN YOUR CAREER SO FAR?
PRANAY & SHOUNAK | We are working on it as we speak!
[Q] WHO DO YOU LOOK UP TO WHEN IT COMES TO STYLING?
PRANAY | Ekta Rajani.
SHOUNAK| Sohiny Das.
[Q] HOW DO YOU HANDLE ANY STYLING CRITICISM THAT COMES YOUR WAY?
PRANAY | Reviews help me do better than the last time.
SHOUNAK| Depends on who is talking, Internet Trolls don't matter.
[Q] WHAT'S NEXT FOR WHO WORE WHAT WHEN?
PRANAY & SHOUNAK | We have just started. There is a long way to go.
[Q] AND FOR SHOUNAK AMONKAR AND PRANAY JAITLY?
PRANAY & SHOUNAK | Some vacation time in Europe without our phones.
Credits-
Photography – Sumit Ghag
Hair & Makeup – Ankita Varkhade
Clothing – Falguni Shane Peacock