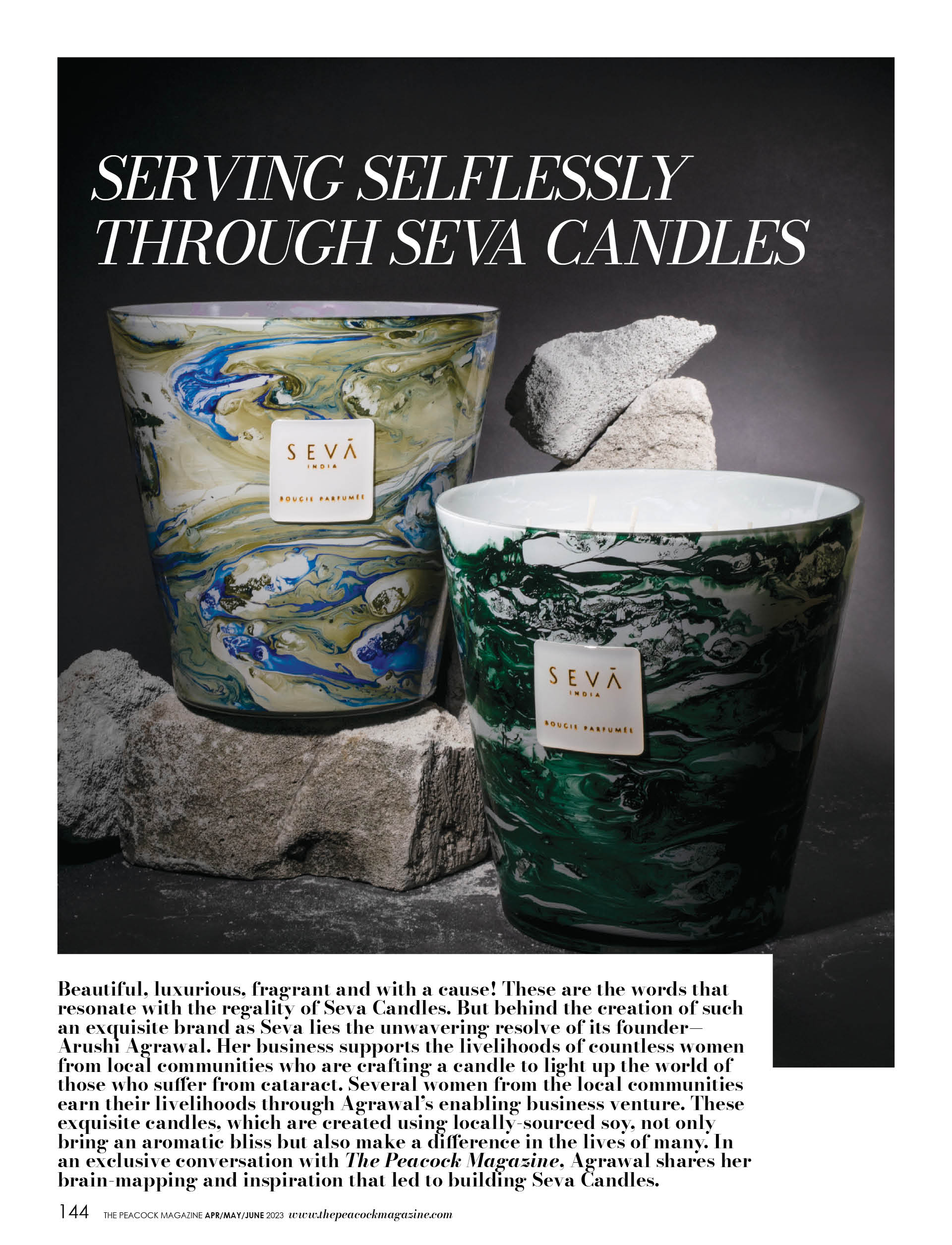 Beautiful, luxurious, fragrant and with a cause! These are the words that resonate with the regality of Seva Candles. But behind the creation of such an exquisite brand as Seva lies the unwavering resolve of its founder—Arushi Agrawal. Her business supports the livelihoods of countless women from local communities who are crafting a candle to light up the world of those who suffer from cataract. Several women from the local communities earn their livelihoods through Agrawal's enabling business venture. These exquisite candles, which are created using locally-sourced soy, not only bring an aromatic bliss but also make a difference in the lives of many. In an exclusive conversation with The Peacock Magazine, Agrawal shares her brain-mapping and inspiration that led to building Seva Candles.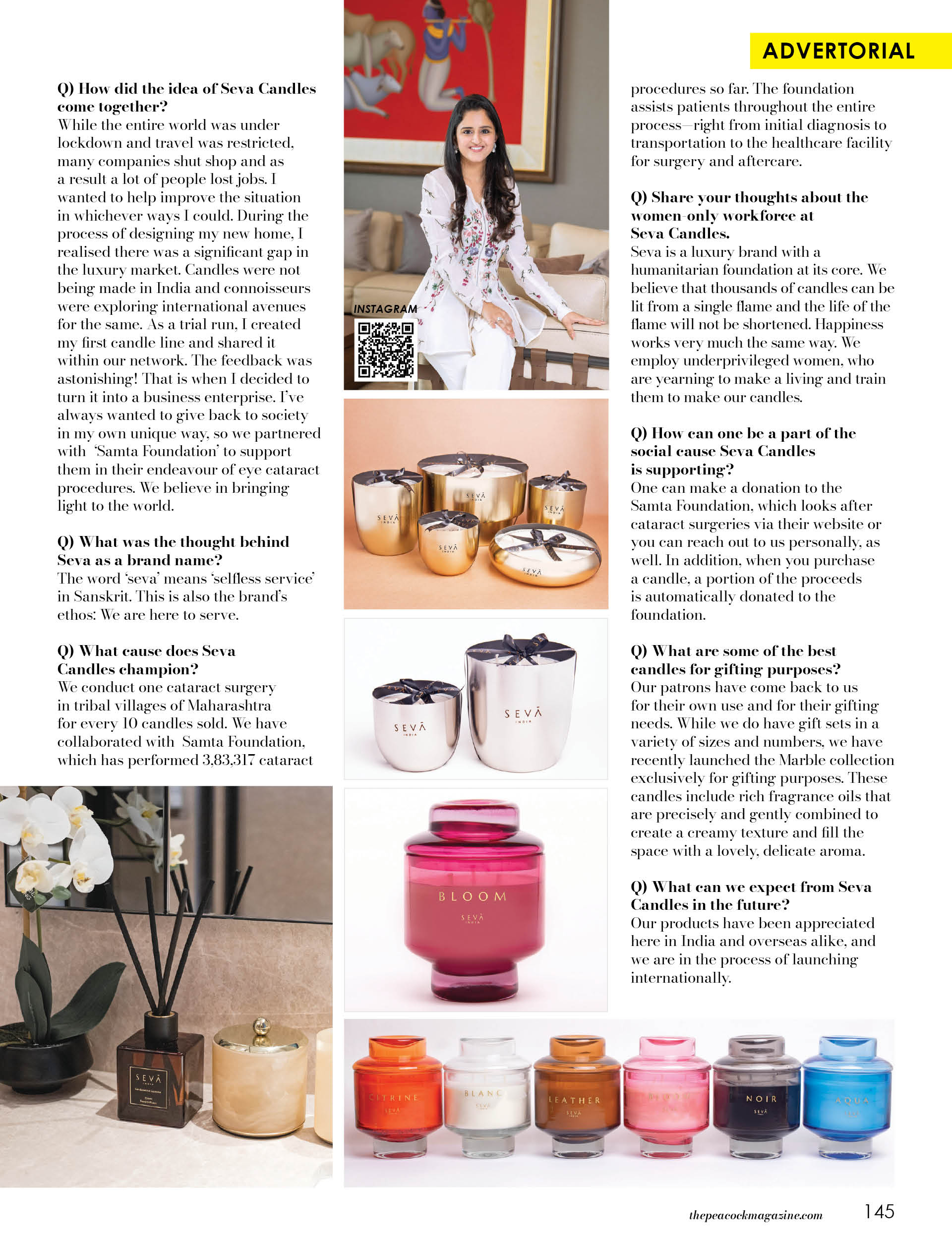 Q) How did the idea of Seva Candles come together?
While the entire world was under lockdown and travel was restricted, many companies shut shop and as a result a lot of people lost jobs. I wanted to help improve the situation in whichever ways I could. During the process of designing my new home, I realised there was a significant gap in the luxury market. Candles were not being made in India and connoisseurs were exploring international avenues for the same. As a trial run, I created my first candle line and shared it within our network. The feedback was astonishing! That is when I decided to turn it into a business enterprise. I've always wanted to give back to society in my own unique way, so we partnered with 'Samta Foundation' to support them in their endeavour of eye cataract procedures. We believe in bringing light to the world.
Q) What was the thought behind Seva as a brand name?
The word 'seva' means 'selfless service' in Sanskrit. This is also the brand's ethos: We are here to serve.
Q) What cause does Seva Candles champion?
We conduct one cataract surgery in tribal villages of Maharashtra for every 10 candles sold. We have collaborated with Samta Foundation, which has performed 3,83,317 cataract procedures so far. The foundation assists patients throughout the entire process—right from initial diagnosis to transportation to the healthcare facility for surgery and aftercare.
Q) Share your thoughts about the women-only workforce at Seva Candles.
Seva is a luxury brand with a humanitarian foundation at its core. We believe that thousands of candles can be lit from a single flame and the life of the flame will not be shortened. Happiness works very much the same way. We employ underprivileged women, who are yearning to make a living and train them to make our candles.
Q) How can one be a part of the social cause Seva Candles is supporting?
One can make a donation to the Samta Foundation, which looks after cataract surgeries via their website or you can reach out to us personally, as well. In addition, when you purchase a candle, a portion of the proceeds is automatically donated to the foundation.
Q) What are some of the best candles for gifting purposes?
Our patrons have come back to us for their own use and for their gifting needs. While we do have gift sets in a variety of sizes and numbers, we have recently launched the Marble collection exclusively for gifting purposes. These candles include rich fragrance oils that are precisely and gently combined to create a creamy texture and fill the space with a lovely, delicate aroma.
Q) What can we expect from Seva Candles in the future?
Our products have been appreciated here in India and overseas alike, and we are in the process of launching internationally.