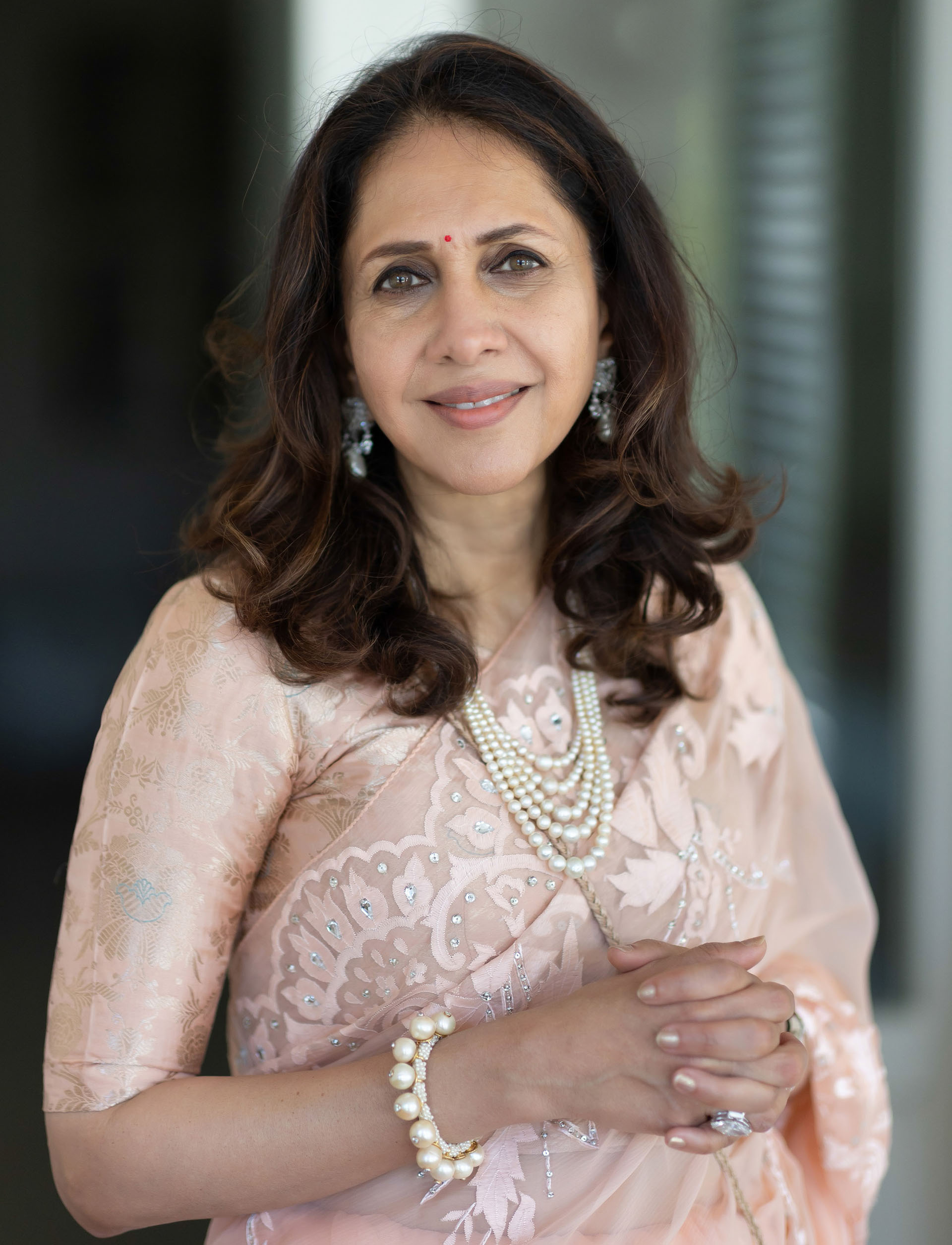 In the gifting world of silvers and ceramics, Arttd'inox and founder Deepika Jindal are carving out luxe buys using the humble steel.
An extraordinary entrepreneur and the founder of Arttd'inox, a renowned luxury stainless steel gifting brand, Deepika Jindal's visionary leadership and creative prowess have revolutionised the perception of stainless steel, infusing it with a newfound sense of elegance and refinement. She embarked on her journey with an in-depth understanding of stainless steel and an unwavering passion for its artistic possibilities. Through Arttd'inox, she has masterfully crafted a unique design philosophy that harmoniously combines beauty, functionality, and sustainability. Each Arttd'inox creation emanates an everlasting allure, a testament to Deepika's impeccable attention to detail and unwavering dedication to exquisite craftsmanship.
In an exclusive conversation with The Peacock Magazine, Deepika Jindal sheds light on her entrepreneurial journey, design ethos, and her unwavering commitment to creating a sustainable and luxurious stainless steel gifting brand that Arttd'inox is.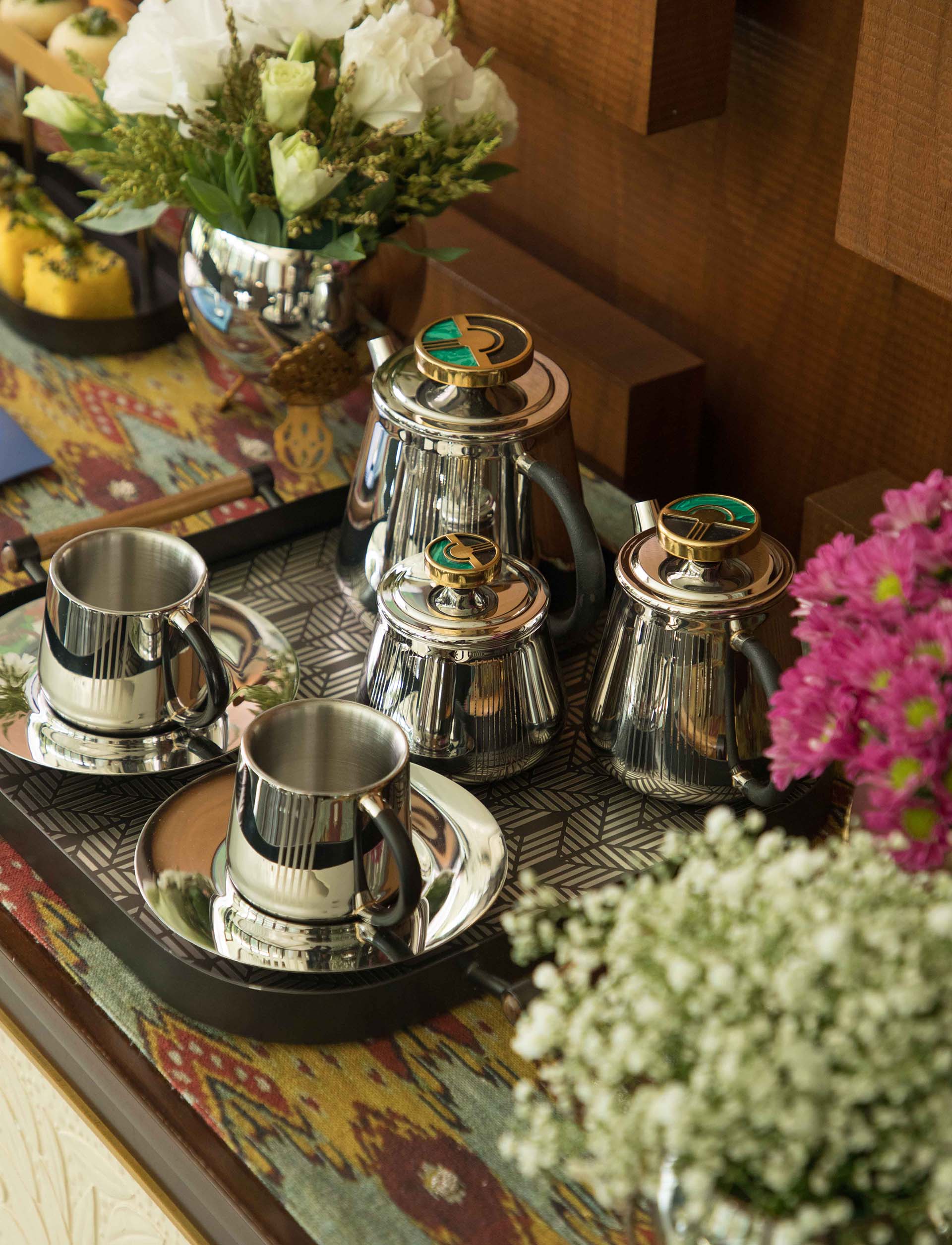 Q) What inspired you to start Arttd'inox and what motivated you to establish a brand in the luxury lifestyle industry via products that are 'art in stainless steel'?
This journey started when the Jindal Group, primarily focused on metals and stainless steel, was being managed by my husband, Ratan Jindal. After getting married, I gained considerable knowledge about stainless steel, especially while travelling. Around 25-30 years ago in India, stainless steel was mainly used by common people for personal items, utensils, storage, and kitchenware, but not for lifestyle products. It was initially my husband's idea to expand the market for stainless steel in India, make it more premium, and utilise it in a more artistic manner. I believe he realised that we should venture into this space because it was an unexplored territory in India, and there was limited knowledge about it. Figuring out how to proceed was quite challenging. That's where my role came into play. Previously, I was primarily a housewife. My husband asked me if I would be interested in getting involved in something like this. I was eager to do something meaningful in my life, and this opportunity came my way, leading me to delve into the world of lifestyle products.
Q) How does Arttd'inox differentiate itself from other brands in the market? What unique features or qualities does Arttd'inox offer to its customers?
If we disregard the material itself and focus on the current scenario, stainless steel is undoubtedly the best choice. For instance, when it comes to homes, people prefer items that are non-carcinogenic, healthy, convenient, and hassle-free to use. They also want them to be aesthetically pleasing and stylish, while not being as expensive or difficult to maintain as silver. Considering all these aspects, stainless steel is the most hygienic material available, especially in the realm of food. At our brand, we take pride in creating our own unique designs, ensuring that not a single piece is copied. Every product is manufactured and designed in-house, making it a fully homegrown brand. From the raw materials to the finished goods, everything is produced here. Each piece is special and tailored to meet individual requirements. Our purpose is to showcase the premier aspects of stainless steel to Indians who were unaware of its potential in the lifestyle space.
Thanks to social media, people are now more open to exploring new possibilities. While it may serve as a selling point for businesses, it has also cultivated a culture of training designers and vendors, bringing them into the mainstream for growth and opportunities. People now have extensive knowledge about stainless steel, and there are even art shows dedicated to it. Regardless of the project at hand, stainless steel products have become highly sought-after and are ideal for various spaces.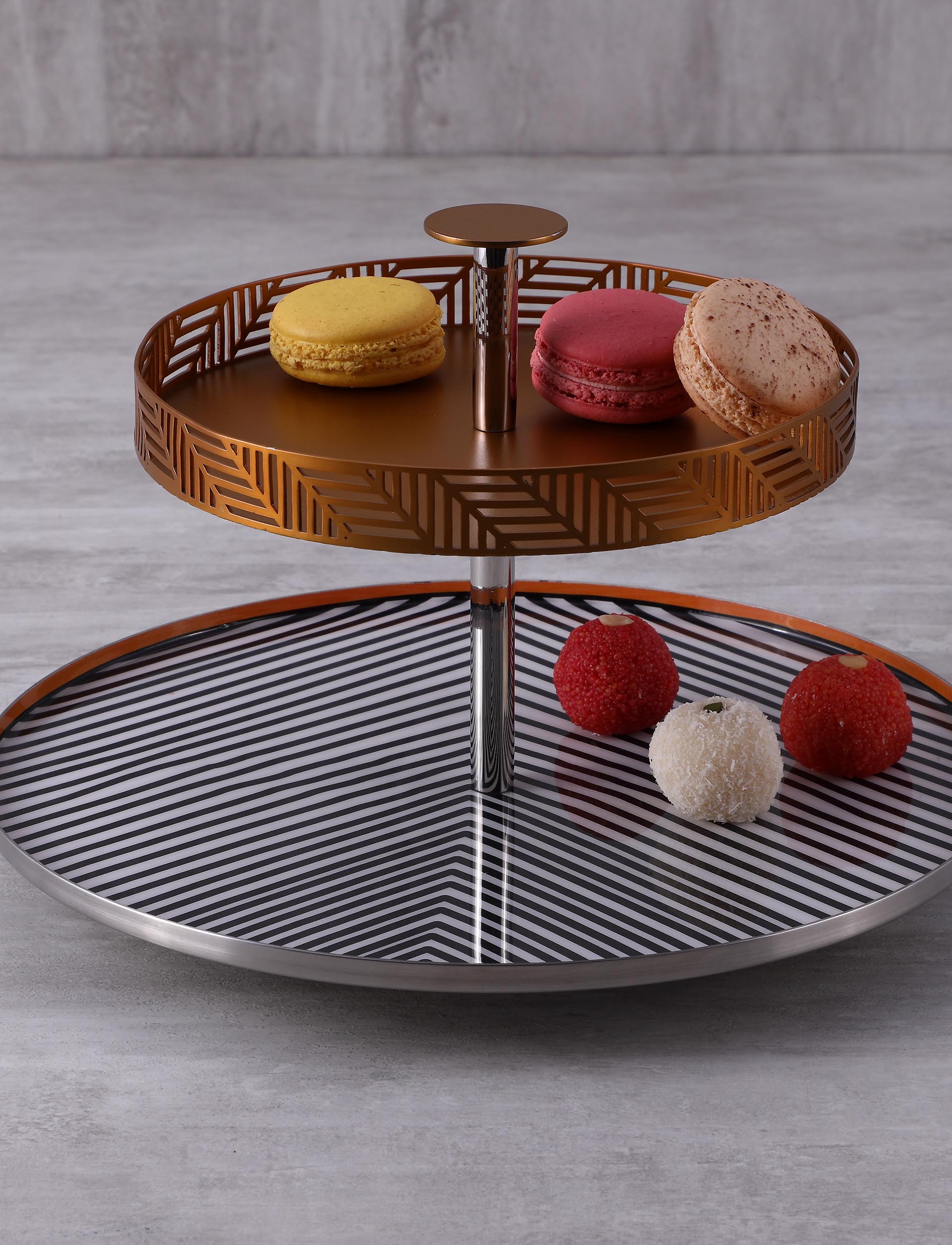 Q) Can you share some insights into Arttd'inox design philosophy? What factors and influences shape the brand's design choices, collections and approach to creating stainlestainlestainless steel steel steel products?
Working with stainless steel requires smart techniques to create products. The complexity of the design often translates to higher costs, and it's essential to ensure that the product's price matches its value. People should feel comfortable purchasing the items, as they should be reasonably priced yet sensible. We always keep this concept in mind.
In our last collection, we focused on the Art Deco theme. Each design was crafted based on this concept, resulting in a wide range of the collection. Stainless steel works exceptionally well in household items. It's not about replacing other materials; instead, we aim to regain our position in the market. Our focus is on Indian consumers and clientele, and we have a good understanding of what they are looking for.
We cater to their preferences by designing products suitable for tea parties, server settings, and other collective uses in Indian homes. Indians appreciate a touch of embellishment and a hint of bling in stainless steel. Therefore, we started incorporating handwork and semi-precious stones to add value and uniqueness to our stainless steel products. However, we always ensure that practicality is not compromised and refrain from going overboard with excessive extravagance.
Q) Sustainability is an increasingly important aspect of consumer choices. How does Arttd'inox prioritise sustainability in its manufacturing procestainlestainless steel steeles and materials sourcing? Are there any specific initiatives or practices that the brand follows to reduce its environmental impact?
The advantage of stainless steel as a material is its a 100% recyclable material. Every piece of stainless steel can be sold as scrap and melted down in furnaces to be remade into new stainless steel products.
Regarding raw materials, if people follow the Jindal Steel and Power company, they will know that it is transitioning to become fully green. They are investing in green initiatives, such as renewable power sources, to make the manufacturing process more environmentally friendly. In our own company, we have installed solar panels in all our factories to ensure that the energy we use is green. This gradual transition toward sustainability is important, making both the product and its production processes more environmentally friendly.
We now need to focus on making the entire lifecycle of the product more sustainable, including packaging. It is crucial to become conscious of the kind of packaging we use and explore options that are more environmentally-friendly.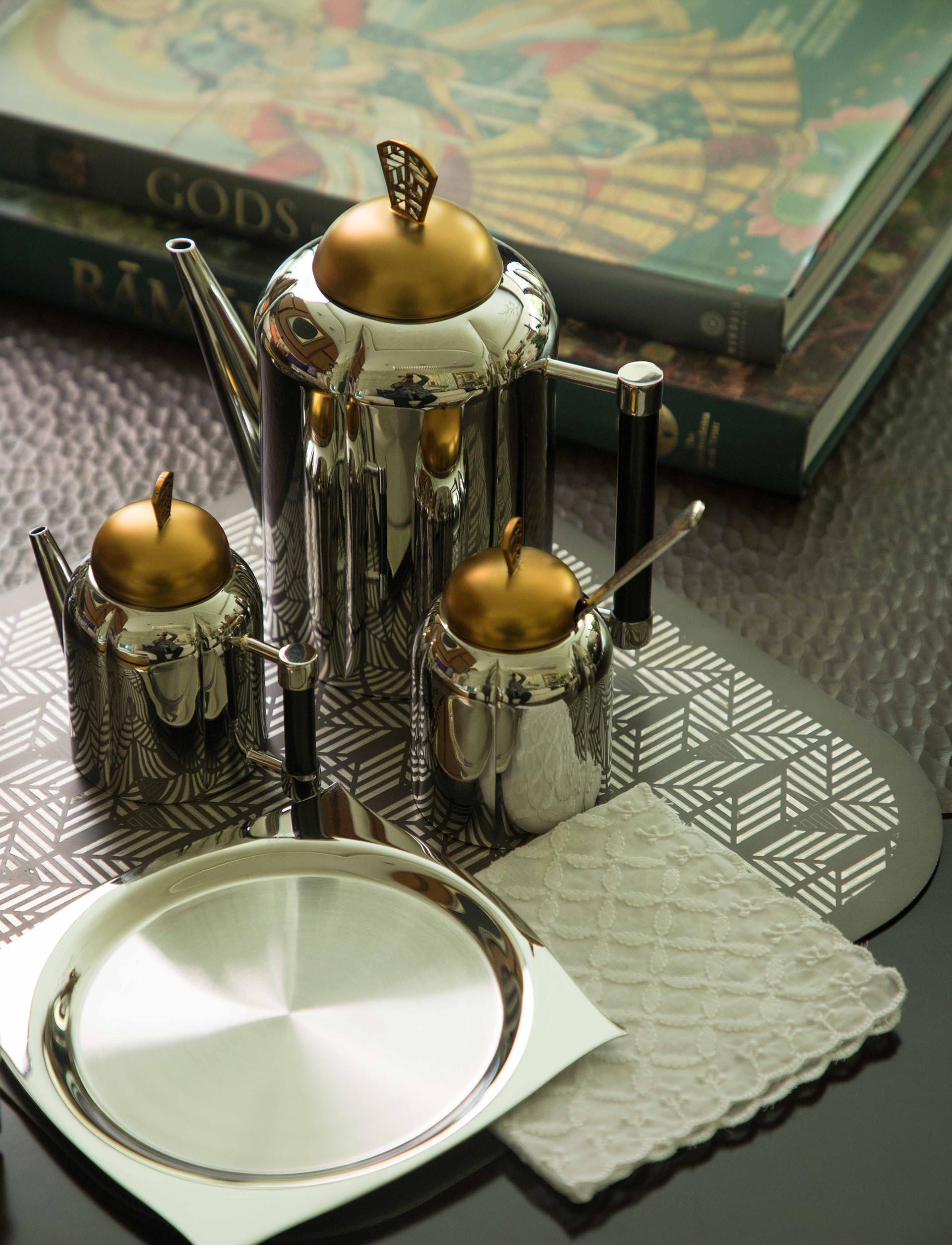 Q) Arttd'inox has gained a significant presence in the market. How do you envision the future of the brand? Are there any upcoming product lines, collaborations, or expansion plans that you can share with us?
Yes, currently, we are also involved in the kitchen segment under the brand Arttd'inox, where we create 100% stainless steel kitchens. In terms of our product offerings, we make it a point to introduce new lines every quarter. As a brand, it's crucial to continuously offer something fresh and unique in the market to keep customers excited. In terms of new product lines, our plan is to introduce offerings that are more functional and suitable for everyday use. While our current products are lifestyle-oriented, we aim to create items that are practical for daily use in households by exploring unexplored spaces to provide unique and distinct offerings.
Regarding collaborations, we are actively engaging with individuals from various professions. I find it exciting to partner with different creative minds as it adds a fresh perspective and encourages them to explore working with stainless steel, a material they might not have considered otherwise.
The journey of establishing our brand has taken time, as it requires understanding not only the material but also direct consumer engagement and product development. We have invested in acquiring knowledge about production processes, material grades, and design. This knowledge has enabled us to deliver products with exceptional finishes and quality. Over time, the market has also evolved, with consumers becoming more accepting and appreciative of the materials we create. While the initial purpose of our brand was to change the perception of stainless steel among Indian consumers, sustaining the business requires a focus on profitability. Therefore, we are actively seeking ways to generate more revenue and grow our business further. We are focusing on developing products that have regular demand and appeal to a wider consumer base. This allows for faster sales cycles and helps ensure the longevity of our business.