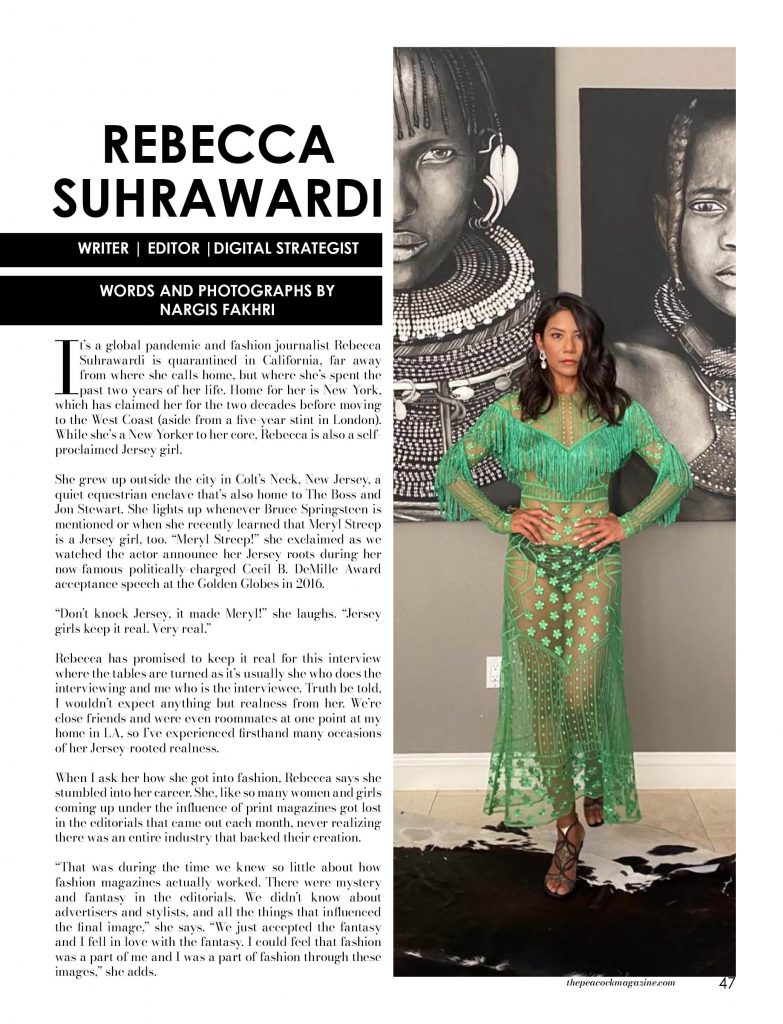 CREDITS-
PHOTOGRAPHER – NARGIS FAKHRI
HAIR – BONETTA SULTZE
MAKE-UP – SHIRIN ARMANI
LOCATION – HUMA SULAIMAN
EARRINGS – TANZILA RAB DESIGNS
SHOES – RENE CAOVILLA AND BOOTS – AERA
EDITORIAL DEBUT – AIKO, THE DOGGO!
CLOTHING – FALGUNI SHANE PEACOCK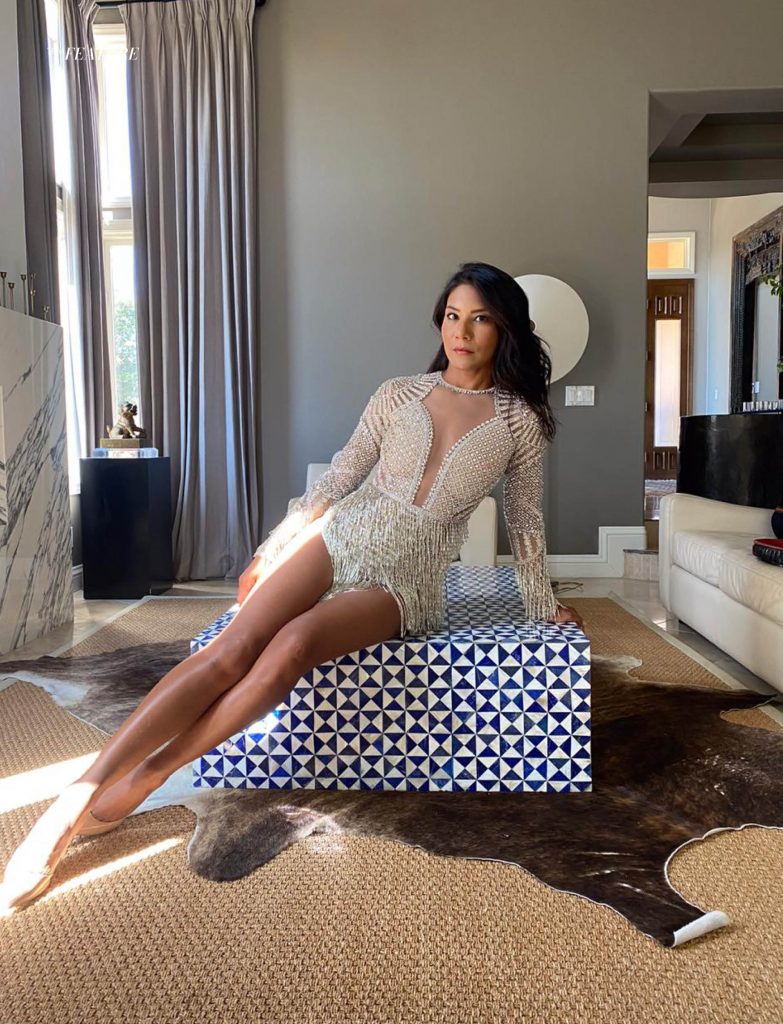 It's a global pandemic and fashion journalist Rebecca Suhrawardi is quarantined in California, far away from where she calls home, but where she's spent the past two years of her life. Home for her is New York, which has claimed her for the two decades before moving to the West Coast (aside from a 5-year stint in London). While she's a New Yorker to her core, Rebecca is also a self-proclaimed Jersey Girl.
She grew up outside the city in Colt's Neck, New Jersey, a quiet equestrian enclave that's also home to The Boss and Jon Stewart. She lights up whenever Bruce Springsteen is mentioned or when she recently learned Meryl Streep is a Jersey girl, too. "Meryl Streep!" she exclaimed as we watched the actor announce her Jersey roots during her now-famous politically-charged Cecil B. DeMille Award acceptance speech at the Golden Globes in 2016.
"Don't knock Jersey, it made Meryl!" she laughs. "Jersey girls keep it real. Very real."
Rebecca has promised to keep it real for this interview where the tables are turned as it's usually her that does the interviewing and me who is the interviewee. Truth be told, I wouldn't expect anything but realness from her. We're close friends and were even roommates at one point in my home in LA, so I've experienced firsthand many occasions of her Jersey-rooted realness.
When I ask her how she got into fashion, Rebecca says she stumbled into her career. She, like so many women and girls coming up under the influence of print magazines got lost in the editorials that came out each month, never realizing there was an entire industry that backed their creation.
"That was during the time we knew so little about how fashion magazines actually worked. There were mystery and fantasy in the editorials. We didn't know about advertisers and stylists, and all the things that influenced the final image," she says. "We just accepted the fantasy and I fell in love with the fantasy. I could feel that fashion was a part of me and I was a part of fashion through these images."
When she finally came to understand that fashion could be a career path she left business school and enrolled at the Fashion Institute of Technology where she flourished.
"It was at FIT where I first met the sort of women I wanted to be. Smart, successful, interesting, driven, educated and committed to fashion. I was Student Body President so I became very close to Dr. Joyce Brown, FIT's President, and Dr. Valerie Steele, the Director of FIT's museum, and Dr. Nancy Grossman, the Director of Student Life," she says, recalling the women who became her most important female role models and mentors. "They were committed to fashion and had Ivy League degrees and it blew my mind these things could co-exist."
After graduating Cum Laude and with Dean's List Honors from FIT, she was lucky to land a coveted internship at Interview Magazine working directly for its Fashion Director, Annabel Tollman.
Tollman was a young and talented fashion starlet who, in addition to her role at Interview, had private styling clients like Scarlett Johansson and Catherine Zeta-Jones. Rebecca assisted her on everything, from glamorous cover shoots with A-list celebrities to the gruntwork which fashion internships are known for like tracking samples, organizing look books, and being the office messenger. While the hands-on labor of styling didn't suit her, "I had so many moments of tears wondering why I was doing all this," she says, it was here where she discovered writing. A cerebral activity that suited her mind, talent, and interests.
"Annabel asked me to ghostwrite a small story for her. I did it so quickly and it turned out to be so interesting and well-written that it surprised her," Rebecca recalls. "That was when I'd known I'd found my calling. That I have this talent I enjoy using, that comes easily to me and which would allow me to work in fashion in a capacity I have never considered before."
It was Tollman who would eventually champion her admission to the MA Fashion program at Central Saint Martins in London, the world's most competitive and prestigious fashion course, where she was accepted as one of only 40 students from thousands of applicants. During this time, she was the first-ever London Correspondent for ELLE.com and found herself covering the biggest fashion shows from New York to Paris all while pursuing her Master's Degree. Her career only went up from there working for, or writing for, Harper's Bazaar (US & UK), Vogue (UK, US, Russia, India), and The New York Post. She currently maintains a column on Forbes.com where she muses about fashion, culture, and design.
Although print publications have been fumbling for more than a decade, Rebecca still finds time to look at a few.
"I don't look at the glossies so much anymore because they really haven't found their footing since the onset of digital. That said, I love Sophie Pera's pages in Tatler UK. She brings to life these sexy, fantasy editorials with incredible storylines that harken back to the glory days of print editorials. They're racy and imaginative. I absolutely love and relish them," she says.
"My daily read, though, is the New York Times. Digitally, of course. I love the diversity of content they present. There's fashion, interiors, books, and film and it's all very critical and smart. I recognize the Times is left-leaning, so I take the news with a grain of salt, but the journalism is solid, and having many friends on staff there, I know they've done their homework."
When I ask her how reading has changed in the last five years, her answer is simple but bleak: "Less people are doing it," and she (sadly) counts herself as one of those people.
"Digital media and iPhones have affected my attention span and I'm not proud of this. I find it hard to stay focused on a book these days. This is frustrating because I'm a voracious reader and a writer, to boot. Still, I read a lot, but in much shorter intervals," she explains. "So I've become very vocal about how much I hate my phone and my screen addiction, in hopes it will inspire others to put their phones down, too. I crave long stretches of detachment from my phone to spend time in my mind and I always put it in airplane mode when I sleep."
Like the women who mentored her at FIT, the people that inspired her over the years have always been women breaking boundaries, so it makes sense the first powerful woman she looked up to came about in her early teens via a book, and it was Maya Angelou's I Know Why the Caged Bird Sings. She describes it as the single most positively impactful thing in her life. "I admired that Dr. Angelou was so open about everything that happened in her life and owned her history proudly, the good and the bad. Much of it was ugly, too. Difficult," she recalls. "Until then, I hadn't seen people in stories owning their shit as she did. I felt if the good and great Maya Angelou could be so open about the terrible things that made up her life, then maybe I'd be ok, too. The angsty teenager I was at the time felt confident everything would work out, as it did for Maya."
They say never meet your heroes, but for Rebecca, this is an absolute falsity, as when she hosted Dr. Angelou for an event as an adult many years later, the author and poet was as introspective, deep, and inspiring as the words that Rebecca took from her pages when she was so young. "It was a very full-circle moment for me, one that still fills my heart," she says.
While it sounds like everything has been laid out neatly for her, Rebecca has had hurdles like anyone. When she entered fashion she found herself in a business that was inhospitable to people of color and had to fight for every job and every project. This is still true to some extent today. She also has a very estranged relationship with her immediate family caused by struggles they've endured and continue to endure, which weigh heavily on her.
The things I admire about her the most—her focus, drive, and discipline—are the things that keep her balanced day-to-day. She works out intensely 5 days a week and keeps a superhealthy diet of fresh vegetables and food rich in antioxidants, keeping away from sugar and junk food. She meditates daily and tries to go to bed early to stay fresh for whatever is on her plate the following day. She has a keen ability to keep her head down and keep moving forward in her pursuits and knows that staying positive helps her to achieve whatever it is she's trying to achieve.
Interestingly, her current goal also happens to be her greatest professional accomplishment."I'm writing my first novel and the fact I'm almost halfway through is the most major accomplishment of my life," she says proudly. "It's taken a lifetime to get this far and I'm incredibly proud of where I am. I expect it to be published in mid-2021."
At this point, our day is coming to a close. We've finished our shoot and Rebecca will stay in San Clemente—a charming surf village in Orange County where's she's been riding out the pandemic—and I'll head back to Los Angeles. I still want to get a few more questions in as start to sense the Jersey girl starting to get real with me.
I ask, what does fashion mean to you? "Honestly, you don't want to know," she answers with a laugh.
I take my chance with one more question: Which part of the workday do you look forward to?
"The part when it's done!"