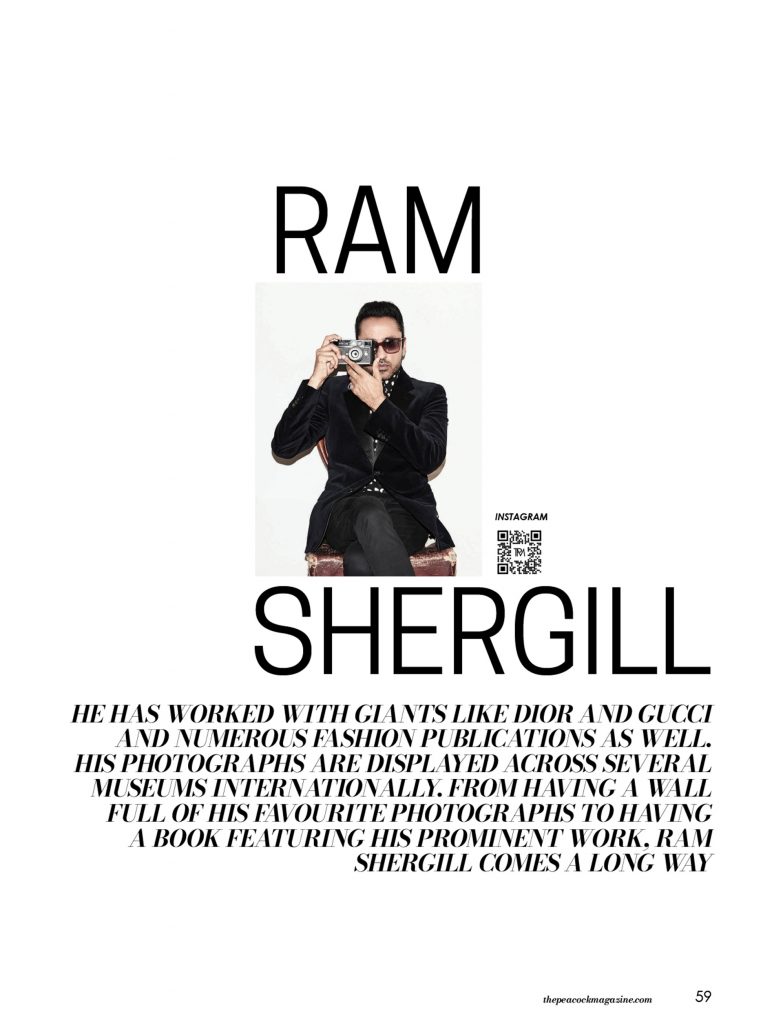 HE HAS WORKED WITH GIANTS LIKE DIOR AND GUCCI AND NUMEROUS FASHION PUBLICATIONS AS WELL. HIS PHOTOGRAPHS ARE DISPLAYED ACROSS SEVERAL MUSEUMS INTERNATIONALLY. FROM HAVING A WALL FULL OF HIS FAVOURITE PHOTOGRAPHS TO HAVING A BOOK FEATURING HIS PROMINENT WORK, RAM SHERGILL COMES A LONG WAY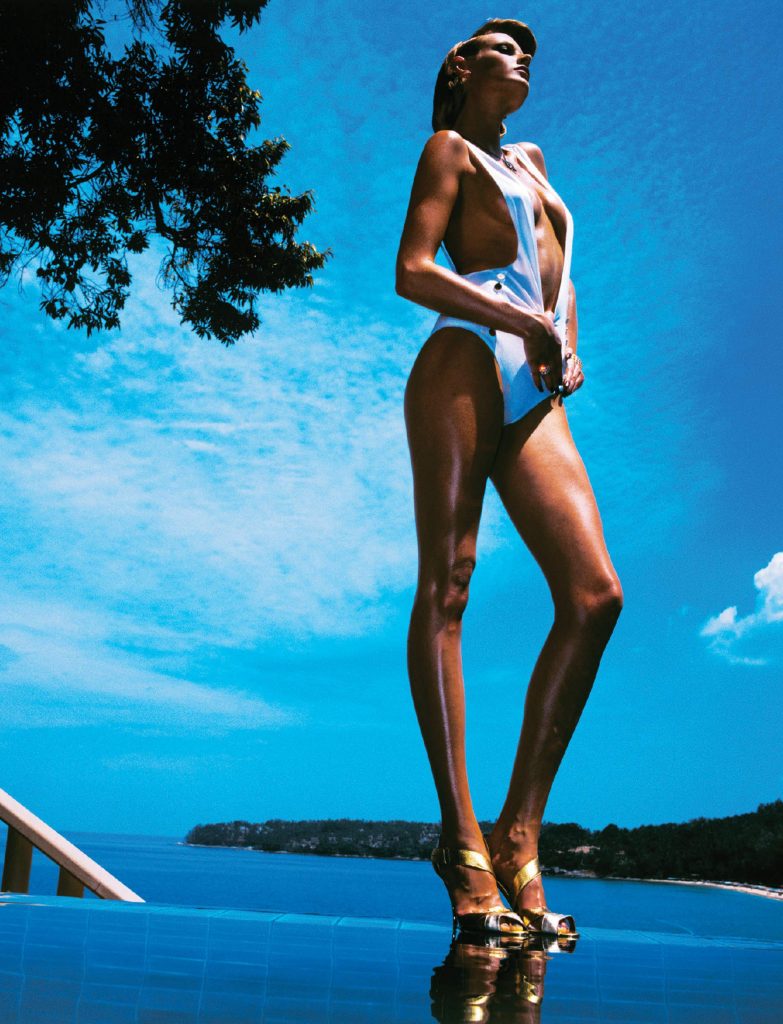 [Q] What were your growing up years like?
I had an intercultural upbringing as I was brought up in Greater London. Growing up was an enjoyable experience as I could get to enjoy diverse cultures all at once. It was important to my parents that I did not forget my Indian heritage, and it was fundamental to understand the cultural underpinnings of being both British and Indian. Links to India became closer to me as my parents and family, as well as the Indian community in and around London, would go to the cinema and watch Indian films on the weekend. The communities came together, and the experience allowed us to make family friends in the intervals and after the films had finished. From Indian cinema, I was educated about colour, dance, culture, visual choreography, and community.
[Q] When and how did you find yourself taking interest in fashion photography?
From an early age from about when I was six or seven years old, I used to collect film posters of the Indian films we used to go to. Having a still image from a film resonated with me deeply, from my perspective the "still" images in these posters, became "fashion images" as they allowed me to dream about an aesthetic lifestyle that one could only see as a moving image once in the comfort of the cinema seat. It was the glossy films that inspired me, while the kaleidoscopic colours, hues and saturation made me fantasize about other worlds and engage with diffractive fragments of light on the surface of a body or object. Having this world of Indian cinema in my hand, and the posters of films like Sholay adjacent to posters of Alfred Hitchcock's The Birds which covered my wall allowed me to engage with an intercultural documentary in my mind. The manifestation of images provided a 'punctum' and collage to my mind's eye. Added to these images, I would study the images in the Sunday Times magazine supplement, which I also tore out of the magazines and put them haphazardly over my walls. The war images — photography by Don McCullin and his depictions of war-torn countries and tormented populations — that were in the Sunday Times supplement were uniquely visual. The combination of the images, which also sometimes contained fashion images of Jerry Hall and photographs by Helmut Newton and David Bailey, allowed me to create a mood board in my mind, the foundation for my interest in fashion photography.
[Q] How does the location of the shoot inspire the photographer in you?
The location of a photoshoot is fundamental in setting the "tone" of a photoshoot, it creates an atmosphere to provoke an agenda. The camera captures the essence of how the subject feels in an environment and its architecture. It also allows the person to feel "natural" in an environment and the location whether it is nature, or an inside location that is reflective of the subject's personality. The camera thus captures this reflection/reflexivity onto the person and hence makes for an image that will be far more interesting. The studio on the other hand is a "white space" and has no personality/structure to reflect, which then makes me reflect my personality on the person and having a more one-to-one interaction with my subject. Sometimes this is aided by the team on set, it may be a great art director, creative director, designer, makeup or hair artist.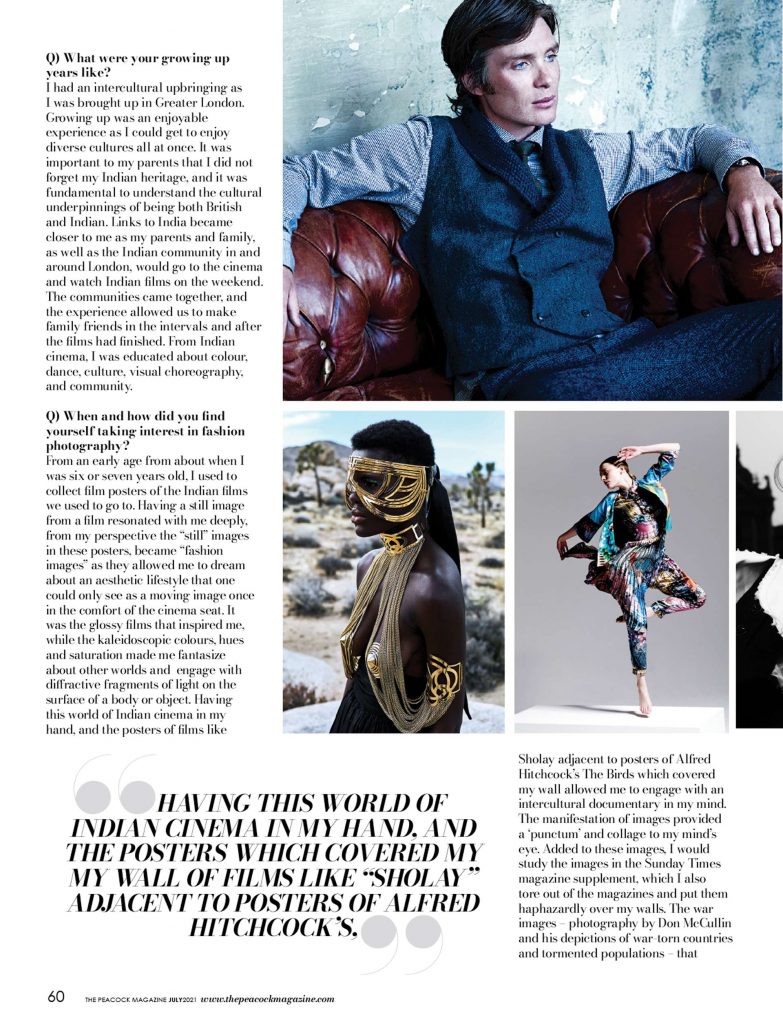 [Q] Where/in whom do you find your photography muse?
My muse is someone who can interact with me and my camera. The most important thing is that the 'muse' needs to enjoy the experience and work with me. This allows me to have many muses as they understand me from a psychological and artistic exploratory point of view. I find that actors are intriguing muses, as they have many facets to their persona. When I work with a talent, I want to find the true essence of them, and I aim to capture the truest essence of their soul. I found this particularly true with a handful of people I have worked with such as Cillian Murphy, Dame Judi Dench, Eddie Redmayne, Helen McCrory, as well as some of my dancer muses from The Royal Ballet.
[Q] What sets your mood for photographing?
Music always helps, but it must be the right music. Maybe classical music is always a good starting point, then a film soundtrack, and then finishing off with some jazz by Chet Baker is always relaxing and sets the tone. Apart from the music, a good conversation with my subject over coffee allows me to break the ice and get to know them. Sometimes just a simple question to them such as 'how are you?' is a great way to get to know someone. I feel that in the digital age we live in we have lost the essentials of being human. Eye contact is a must, and it seems to be very hard to make eye contact as most people spend much of their time looking at a mobile telephone screen. So, on my set, we encourage face-to-face communication with the crew members.
[Q] Do you always stick to the concept you have had in your mind or do you tend to improvise?
The concept and the mood board is always seen as a starting point and allows me and my team to improvise with the shoot. This is sometimes challenged when we have a large advertising campaign to do. However, it normally works out well that we work according to the strict mood boards when working with a client, and then they say to me, 'have a play' and do what you want, and generally they end up choosing the latter, in allowing me to do 'what I want.' This is a great way to work as the client gets what they want and then also they get a creative exchange, which allows for further perspectives on their brand.
[Q] How do movies inspire your photography?
I feel cinema has a big part in inspiring me. I feel the films of (Alfred) Hitchcock have a great significance on my photography in terms of colours and lighting, as well as aesthetic. The abstract films in terms of cinematography are very inspiring. In London, I tend to usually go to the Curzon, BFI or private screenings of films.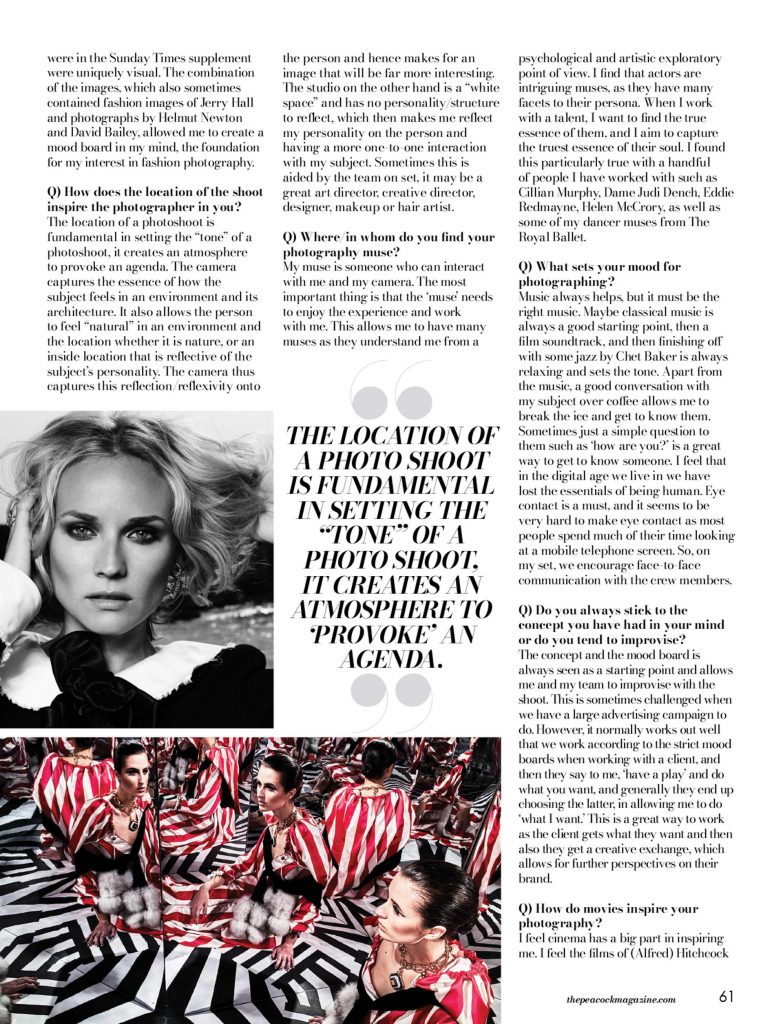 [Q] Which of your personal shoots was challenging?
Every shoot has its own challenges, that is the fun of it, I guess. It is my job to overcome the challenges, by making the team feel at ease. Sometimes on location things do not go right such as the weather is too cold to shoot, however with a good team and great production values we can overcome these challenges.
[Q] Which photograph of yours is your personal favourite?
I think the one of the Butterfly series, which features the model wearing a butterfly headpiece. This was an image very close to my heart as it holds three of my mentors in one image: Isabella Blow, Alexander McQueen and Philip Treacy.
[Q] Which has been your most favourite shoot in your journey till now?
I enjoyed the work I did with Amy Winehouse as that was honest photography. She wanted me to capture her as a real person. The images are in a book called Amy by Ram and are in the permanent collection of the National Portrait Gallery (London). Further images from the shoot will be out in a book, Back to Amy published by Thames and Hudson later this year.
[Q] One person who is on the top of your bucket list to shoot?
Timothée Chalamet.
[Q] Who are your biggest influences/mentors?
Isabella Blow and (Alexander) McQueen.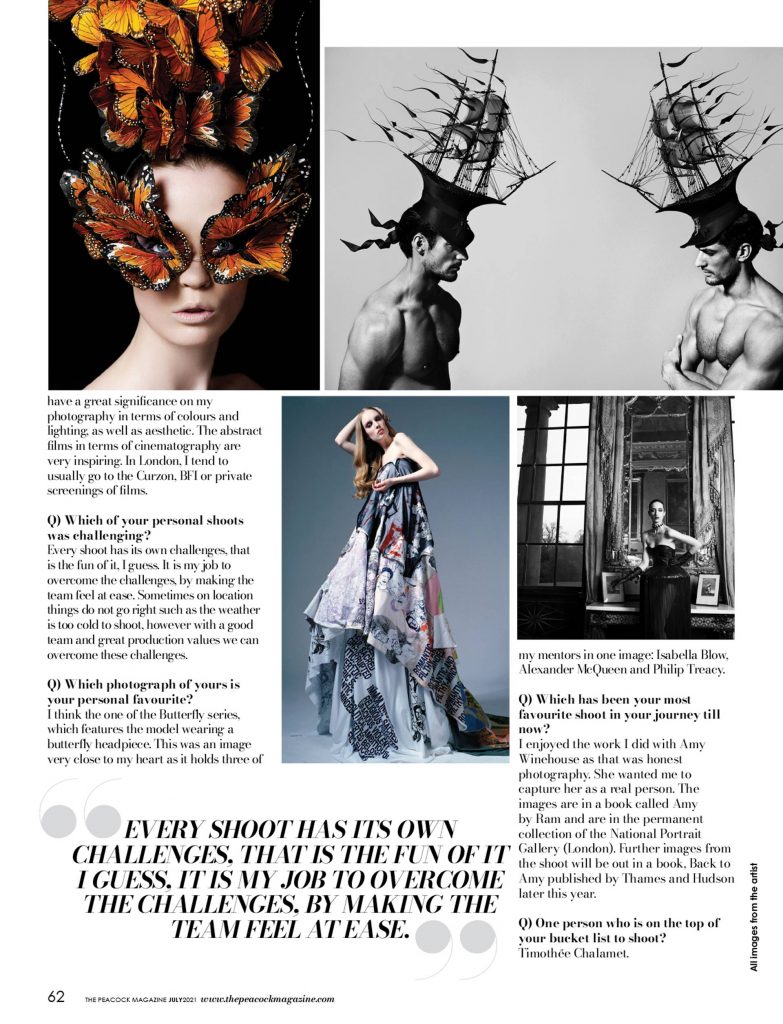 [Q] What is the first thing you notice when you see other photographers' work?
Emotion. If an image can provoke emotion in me, then it is the sign of a good photograph, sometimes I go to galleries and do not want to look at the credits, as then I have no preconceived conditioning about the image.
[Q] Who are your favourite photographers? Why?
Richard Avedon, Paul Strand, Irving Penn and Cecil Beaton. Their works are timeless, and I want them on my walls.
[Q] What makes a photograph an image?
When it transcends time.
[Q] What is your favourite photographing style?
Working on a Rolleiflex and 10×8 polaroid.
[Q] What are some of the things you are obsessed with as a photographer?
(Capturing) performative techniques of life through imagery.
[Q] From working with the likes of McQueen, Isabella Blow to being featured in several books to showcasing at various prestigious exhibitions to working with almost every top fashion magazine, you've been there and done it all. Is there anything that is remaining on your to-do list of achievements?
Yes, I am planning to work with NASA (National Aeronautics and Space Administration) on a special project next year.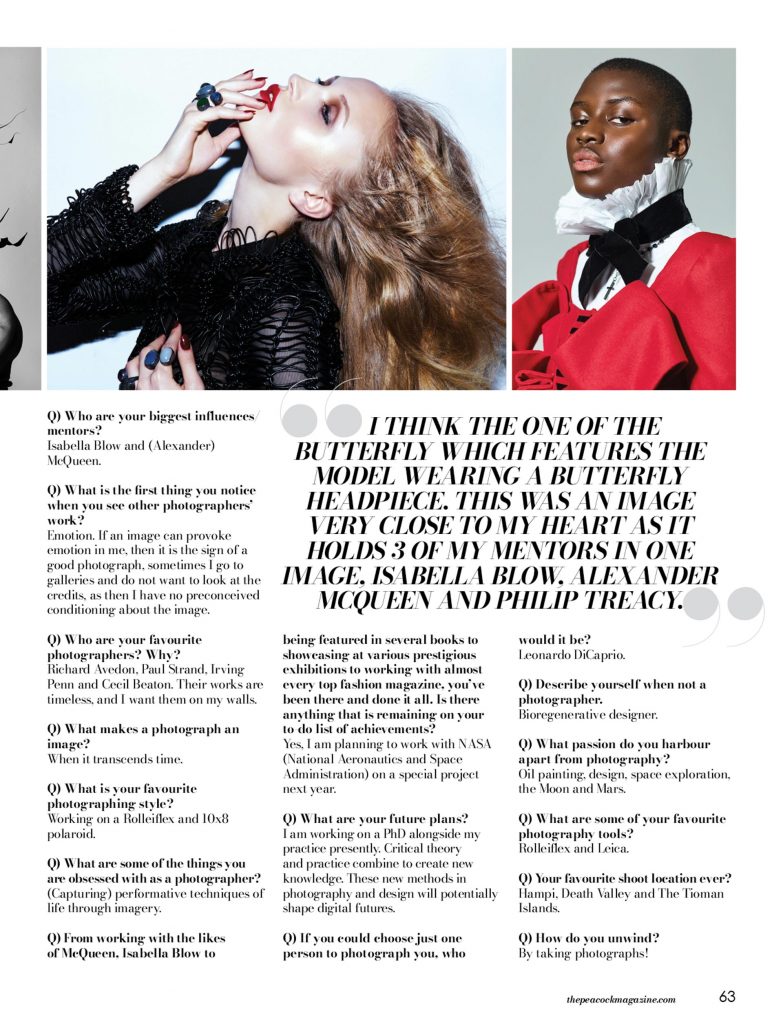 [Q] What are your future plans?
I am working on a PhD alongside my practice presently. Critical theory and practice combine to create new knowledge. These new methods in photography and design will potentially shape digital futures.
[Q] If you could choose just one person to photograph you, who would it be?
Leonardo DiCaprio.
[Q] Describe yourself when not a photographer.
Bioregenerative designer.
[Q] What passion do you harbour apart from photography?
Oil painting, design, space exploration, the Moon and Mars.
[Q] What are some of your favourite photography tools?
Rolleiflex and Leica.
[Q] Your favourite shoot location ever?
Hampi, Death Valley and The Tioman Islands.
[Q] How do you unwind?
By taking photographs!