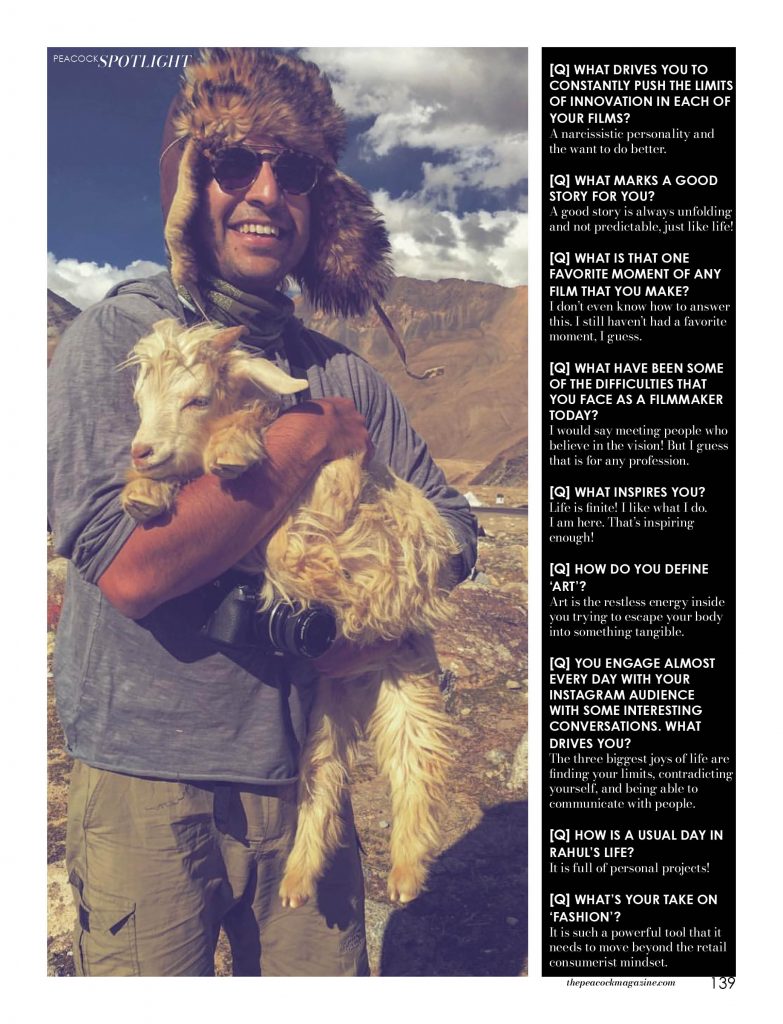 CREDITS-
IMAGES ARTIST'S OWN.

They say, 'Pursue what you've set your heart upon'. In Rahul Singh Datta's case, he pursued what he set his eyes upon – 'Starving Artist' – a mere quote on the t-shirt of an oilman at the shores whose hands and face were stained with oil and who embodied the spirit of a starving artist, indeed. 'The image stuck in my head,' Rahul says while telling us what got him to name his film production venture eponymously to the t-shirt. But for him, the notion of a starving artist does not borrow from the stereotypical ones that are influenced by the bohemian romanticism. For him, it stands for something that encapsulates his filmmaker personality. For the world, Rahul is a photographer and filmmaker, but from those who read his film and enprint each of his frames in their minds, he is a pure storyteller. His storytelling pursuits have taken his beyond his comfort zones, figuratively and literally. It is not surprising for those who know him to find his at odd terrains, gathering snippets of stories and moments that have been etched in his memory. Rahul translates it all via his films and the images he captures. His innate love for filmmaking is a stint of the recent few years. It wasn't too long that Rahul left his cushy job as an onshore officer of the oil-laden ships. He was born in the culturally-packed city of Chandigarh who succumbed to engineering like many in the country. There wasn't an iota of inclination towards filmmaking, although stories still were a large part of his life even then. It was at his merchant navy job that he developed an interest in filmmaking. He took to befriending his camera, lenses, and other relevant equipment to understand the process of filmmaking. He even made some short films during his understanding of cinema.
Rahul officially hung up his boot as an officer in 2014 and founded 'Starving Artist Films'. His venture undertakes to create films for corporates and individuals that are replete with his unique storytelling aesthetics. His bio says, 'Once found, he weaves them (stories) together into motion picture stories, not always following a predictable script but always carrying a piece of himself,' which can be seen via his films that tell ordinary stories in an extraordinaire way that are teeming with his persona. Today, Rahul has added photography and art commissioning to his repertoire and undertakes several personal projects. 'The Peacock Magazine' draws the spotlight to this adept artist and storyteller by having a conversation centered around things he feels passionately for, his stint as a filmmaker, and his definition of 'Art'.

[Q] You have an interesting Instagram handle name 'Starving Artist'. What's the story behind it?
I used to work on an oil tanker. One day, I remember we were at sea, and I saw one of the crew members wearing a t-shirt that read "Starving Artist." I instinctively loved it, and that got imprinted in my head back then. I had no plans to be a filmmaker. I was living a very different life as an officer on-board oil tankers. A lot of people follow this up with what does 'Starving Artist' means. For me, a starving artist is someone who is not satiated, always curious, always seeking the next milestone consistently.
[Q] How did you come around to become a filmmaker? Do you have a background in filmmaking?
There are two answers to this question. First, a simple one – destiny! This is the version my mother likes to tell everyone. I have a different version. I have always been a 'yes man.' My first response to any challenge is a 'yes,' and I feel we all have these intuitions and ideas in our head. We know what we truly desire, but only some of us are foolishly fearless to act on them.
[Q] Describe your creative process? How do you work?
My creative process is simple – reject the first six ideas that come to you! That's my number. The first six ideas on any subject are always passive derivatives of things I have liked or seen, and basically question each and every frame, and reason its validity in the film. Everything has to have a reason!
[Q] How do you ensure that the emotions come through in a real and human way in your films?
By not going in with a concrete idea, and not letting it get in the way of the story!
[Q] What details about filmmaking are you extremely particular about?
All aspects of it! I shoot, script, edit, sound design, fly drones, and even make my own lenses.
[Q] What drives you to constantly push the limits of innovation in each of your films?
A narcissistic personality and the want to do better.
[Q] What marks a good story for you?
A good story is always unfolding and not predictive, just like life!
[Q] What is that one favorite moment of any film that you make?
I don't even know how to answer this. I still haven't had a favorite moment, I guess.
[Q] What have been some of the difficulties that you face as a filmmaker today?
I would say meeting people who believe in the vision! But I guess that is for any profession.
[Q] What inspires you?
Life is finite! I like what I do. I am here. That's inspiring enough!
[Q] How do you define 'Art'?
Art is the restless energy inside of you trying to escape your body into something tangible.
[Q] You engage almost every day with your Instagram audience with some interesting conversations. What drives you?
The three biggest joys of life are finding your limits, contradicting yourself, and being able to communicate with people.
[Q] How is a usual day in Rahul's life?
It is full of personal projects!
[Q] What's your take on 'Fashion'?
It is such a powerful tool that it needs to move beyond the retail mindset.