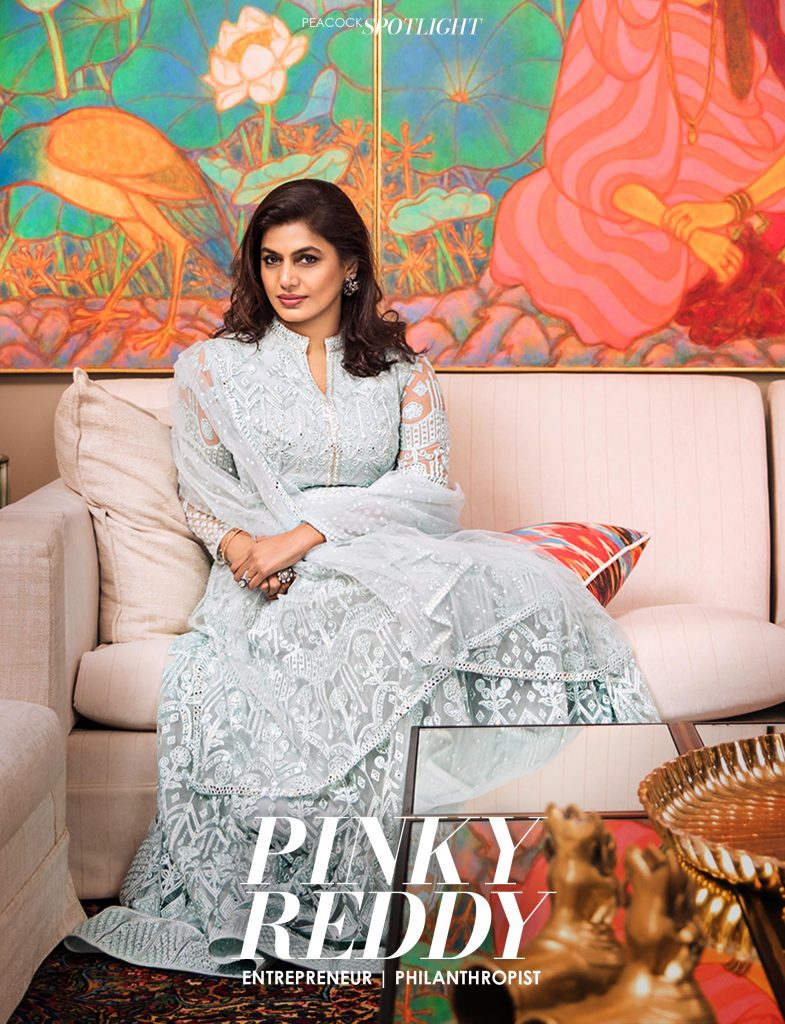 "I do a lot of work for children's education & elderly with health and other kinds of troubles. Aparna Foundation supports such causes."

Popular for her Midas touch, Aparna Reddy – fondly known as Pinky Reddy – is a woman who has been a groundbreaking trailblazer in every role she has adapted. Although she humbly badges the title of a 'homemaker' with pride, her work as an accomplished entrepreneur and philanthropist will leave you astounded. With a business management degree from Harvard University and a family comprising of iconic industrialists and politicians, Reddy was tailor-made for the mantle she deservingly holds. Having leadership quality instilled in her from a very young age, Aparna Reddy was always meant to lead from the front. Amongst her many charitable associations and business ventures, her constant affiliation with art has brought in a positive change, as she relentlessly worked towards reviving dying art forms.
Her organization, The Lotus Foundation, has been restoring art forms and artisans that were dissipating from the rich and heritable culture. The reinvigoration of art led to the idea of opening a one-of-a-kind museum at the iconic Mumbai International Airport. Causes that benefit women, children and elderly have always been her foremost priority. With her recent appointment as the National President of the FICCI Ladies Organization, she intends on creating equal opportunities and accessible mediums for women in need.
1) HAILING FROM A POWERFUL LINEAGE OF INDUSTRIALISTS AND POLITICIANS, HOW DID YOU MANAGE TO MANAGE TO CREATE AN INDIVIDUAL IDENTITY FOR YOURSELF IN THE BUSINESS AND PHILANTHROPIC WORLD?
"I myself am surprised about how I managed to create my individual identity. I was born to a well-known family and married into one that was a good foundation for me. Maybe it's my good luck that works for me; hence people think I am a lucky charm and call me for inaugurations and openings."
2) YOU'VE BEEN ACTIVELY INVOLVED IN PHILANTHROPIC WORK OVER THE YEARS, WHAT ARE THE CAUSES CLOSE TO YOUR HEART AND WHAT DOES THE 'APARNA FOUNDATION' STAND FOR?
"For me personally, causes related to children, old people are really important. I do a lot of work for children's education and elderly with health problems and other kinds of troubles. Aparna Foundation supports such causes."
3) RECENTLY BEING NAMED AS THE PRESIDENT OF FICCI LADIES ORGANIZATION (FEDERATION OF INDIAN CHAMBER OF COMMERCE & INDUSTRY), WHAT KIND OF VISION DO YOU HAVE FOR WOMEN IN INDIA?
"I feel it is very important for women today to be independent and confident without being arrogant about it and that's the kind of vision I have for them. Girls today are extremely creative, competitive and passionate, which is the right way to go about it."
4) YOUR AFFILIATION WITH ART AND FASHION HAS BEEN PROMINENT. HOW WOULD YOU DEFINE YOUR PERSONAL STYLE?
"I think my personal style is a reflection of my personality. It depends on my mood, where I'm going and who am I meeting. I dress according to the situation. If it's a serious occasion, I will be a dressed a little more formal than I will to a beach or an informal get-together."
Credits-
Photographer – Sanjeev Kumar
Make Up by – Vibha Gusain
Jewellery – Gehna Jewellers