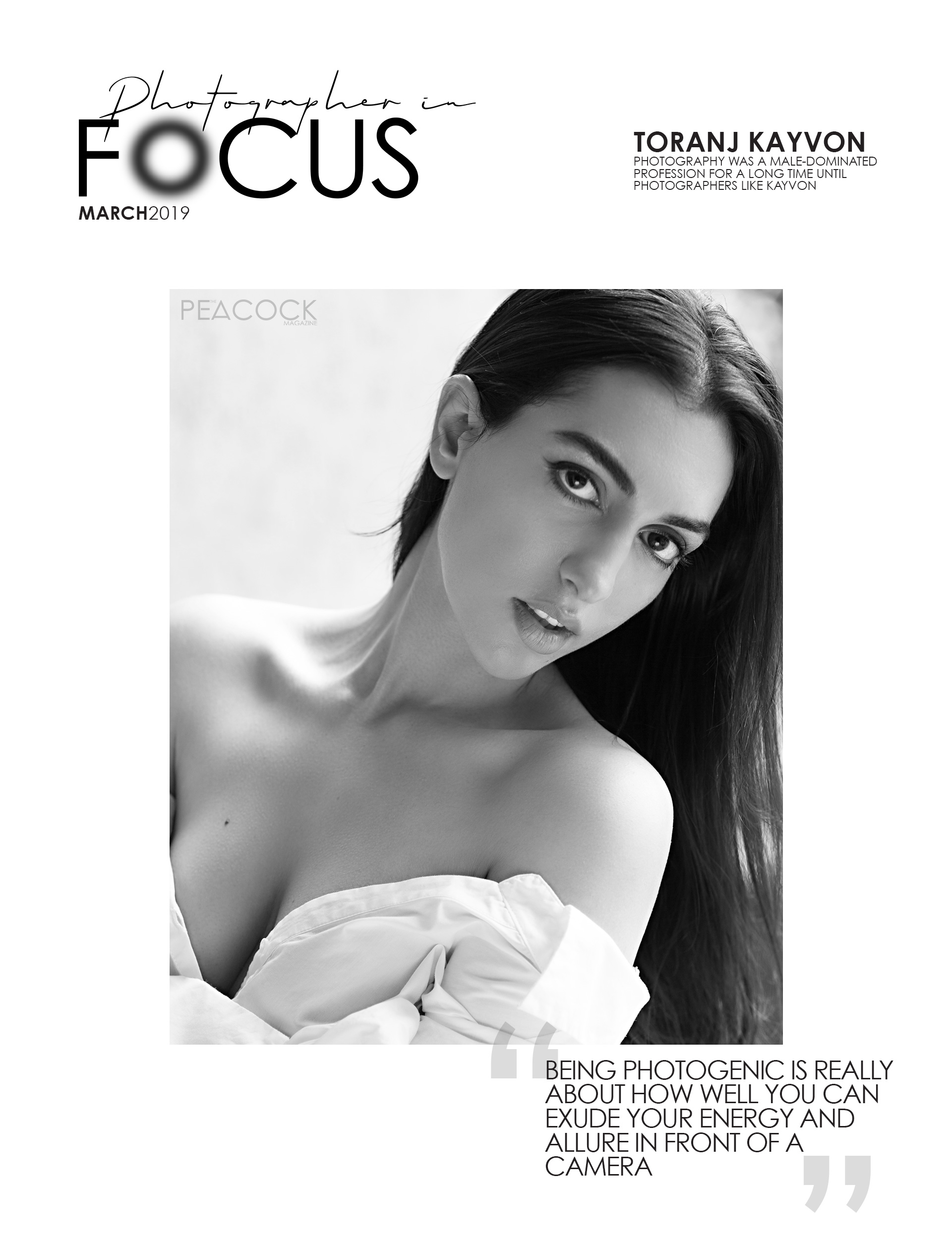 With an impressive body of work behind her, photographer Toranj Kayvon is a multi-faceted talent, who is as much as a muse as she is a genius behind the lens. Photography was a male-dominated profession for a long time until photographers like Kavyon rose above the horizon and created a niche for themselves in the competitive industry. Showing the subject from a female perspective was a refreshing change that reflects in Toranj's versatile scale of work. Her eye for detail is poignant in her captured pictures, the way she infuses art with fashion makes her photography style one-of-a-kind. From fashion and beauty editorials to sartorially exquisite cover shoots, Toranj Kovyan portrays a story through every shot. Celebrities like Jacqueline Fernandez, Taapse Pannu, and Alia Bhatt have been lensed by her, in a detailed interview with The Peacock Magazine, she talks about her inspiration and what makes her approach towards her work different from her contemporaries.
1) HOW WOULD YOU DISTINGUISH YOURSELF/ YOUR PHOTOGRAPHY STYLE FROM OTHER PHOTOGRAPHERS IN THE COUNTRY?
"Something that I focus on in each of my shoots is capturing the most beautiful aspects of an individual. And that really comes down to understanding their energy and micro-expressions. It happens too often that no matter how many times the individual I am photographing, has been photographed (whether its a model or famous actor), I am often told by that individual that the images I take of them are either their favourite in their career — or its their mothers favourite image of them — because after all, your mother sees the most honest and beautiful aspects of you! haha. I truly believe that's what my talent is: seeing the best in people."
2) HOW DO YOU MANAGE TO DO SOMETHING DIFFERENT WITH CELEBRITIES WHO HAVE ALREADY BEEN PHOTOGRAPHED BY VARIOUS PHOTOGRAPHERS IN VARIOUS DIFFERENT WAYS?
"When I'm shooting a person who is famous and has been photographed numerous times, I spend some time researching that person and listening to their interviews, to be honest. I even spend some time with them beforehand, either before the shoot date or while they are in hair and makeup. When I photograph someone it's important for me that they feel understood and that I can capture them in all their glory and honesty. I think there are a lot of talented people who no matter how famous there are, there are parts of them that no one has seen the way they themselves know and see themselves— that is the view I set out to understand before I start shooting."
3) TELL US ABOUT A SHOOT THAT ABSOLUTELY DID NOT GO AS PLANNED/ WENT ABSOLUTELY HAYWIRE!
"In Vancouver, Canada we were doing a spring-summer shoot outdoors — but we were shooting the spring summer collection during the winter — as you can imagine it was terribly cold! The heels we were using were extremely steep as well and our stunning and hardworking model could no longer stand the cold or the narrow high shoes. We just got to a point where she literally could not stand, and we had more looks to shoot and we were racing to finish while we had natural light. We literally had to stop the shoot between shots and massage her feet! It was intense but she was a real champ!"
4) WHAT ACCORDING TO YOU HAS BEEN YOUR BEST WORK?
"To be honest the shots I did when I first started shooting as a teenager are still among my favourites because they were born straight from my heart."
5) IS THERE SOMETHING YOU REALLY WANTED TO DO BUT STILL HAVEN'T GOTTEN THE OPPORTUNITY TO DO?
"Too many!! There is a lot of ideas I have for extravagant fashion shoots with beautiful themes with actors!"
6) WHO DID YOU LOVE WORKING WITH THE MOST?
"I really loved working with Saif Ali Khan. I believe it was in 2014 when I was still establishing my name in Bombay so when a magazine presented me as the one who would be shooting Saif for the cover, his team said no. The magazine kept pushing me until we got a yes… After the shoot, Saif ran into me at the gym and told me those were some of the best images in his career. Till today, he uses those for his PR. I absolutely loved working with him because although he didn't know me and his team had said no when he got on set, he gave me his full trust and that's how we got images that he and I both love."
7)WHO ACCORDING TO YOU IS THE MOST PHOTOGENIC PERSON YOU HAVE PHOTOGRAPHED? / WHO WOULD YOU LOVE TO PHOTOGRAPH AND STILL HAVEN'T GOTTEN THE CHANCE TO?
"I need to redefine what photogenic means before I can answer this question. Photogenic doesn't mean how pretty you look in an image— for me personally, it's about how well you can exude your energy and allure in front of a lens. To me, photogenic is the still image version of screen presence. Considering that definition, I would say Irfaan Khan is the most photogenic and alluring person I have worked with.
Someone I would love to photograph is Nawaz Siddique."
8) WHAT IS YOUR FAVOURITE PHOTOGRAPHING STYLE OF ALL TIMES?
"I'm obsessed with Renaissance art and era and have been since I was a teenager so anything that looks Elizabethan or Renaissance just leaves me looking like an emoticon with hearts in my eyes!"
9) IF NOT A PHOTOGRAPHER, WHAT WOULD YOU BE?
"I'm already both of the things I want to be, a photographer and an actor."
10) WHERE DO YOU SEEK INSPIRATION FROM?
"Beauty — whatever that means to me at the moment. It might be fashion, or it might even be a feeling."
11) ONE THING YOU LOVE AND ONE THING YOU HATE ABOUT YOUR JOB?
"I love seeing the final image… I hate retouching."
12) YOUR FAVOURITE PLACE IN THE WORLD?
"I'll tell you once I've seen it all!"
13) THE WORD/PHRASE YOU USE THE MOST
"BEAUTIFUL!! I need someone to count how many times I say that next time we are on set… it's a lot. And I mean it every time I say it"
14) WHICH PICTURE WAS TAKEN BY YOU "SAYS A THOUSAND WORDS"?
"My selfies, because I have a lot to say, more than a thousand words in fact :)"