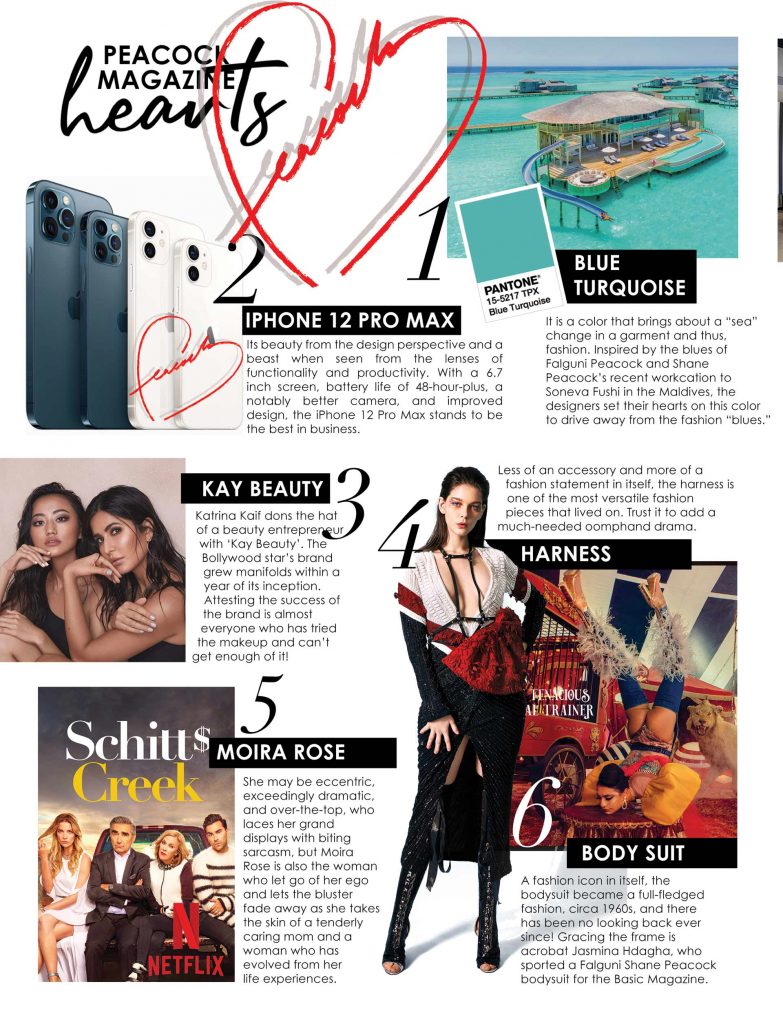 [1] Turquoise Blue
It is a color that brings about a "sea" change in a garment and thus, fashion. Pun intended. Inspired by the blues of Falguni Peacock and Shane Peacock's recent workcation to Soneva Fushi in the Maldives, the designers set their hearts on this color to drive away from the fashion "blues." Pun intended, yet again.
[2] iPhone 12 Pro Max
Its beauty from the design perspective and a beast when seen from the lenses of functionality and productivity. iPhone 12 Pro Max is the latest in the smartphone series. With a 6.7 inch screen, battery life of 48-hour-plus, a notably better camera, and improved design and ergonomics over its predecessors, the iPhone 12 Pro Max stands to be the best in business.
[3] Kay Beauty
They say, 'Beauty lies in the eyes of the beholder.' But when Katrina Kaif dons the hat of a beauty entrepreneur, you can vouch that she has an eye for everyone's beauty. The A-listed Bollywood star's beauty brand grew manifolds within a year of its inception. Attesting the success of the brand are fashionistas, beauty bloggers, and almost everyone who've tried the makeup and can't get enough of 'Kay Beauty.'
[4] Harness
Stylish, stunning, sexual, and snazzy! Less of an accessory and more of a fashion statement in itself, the harness is one of the most versatile fashion pieces that lived on. Adorn it on bare skin or strap it on a formal white short for a smart-chic look or accessorize it with a short dress for a flirty date night, a harness will add the much-needed oomph factor that it brings along.
[5] Moira Rose
She may be eccentric, exceedingly dramatic, and certainly over-the-top, who laces her grand displays with biting sarcasm, but Moira Rose is also the woman who let go of her ego and lets the bluster fade away as she takes the skin of a tenderly caring mom and a woman who has evolved from her life experiences, especially those from her stardom days.
[6] Bodysuit
We wouldn't lie when we say that we almost bought ourselves a seductive black bodysuit and claimed to be 'Single Ladies' as we grooved to Beyonce's number. A fashion icon in itself, the bodysuit became a full-fledged fashion, circa 1960s, and there has been no looking back ever since! In frame: acrobat Jasmina Hdagha for the Basic Magazine.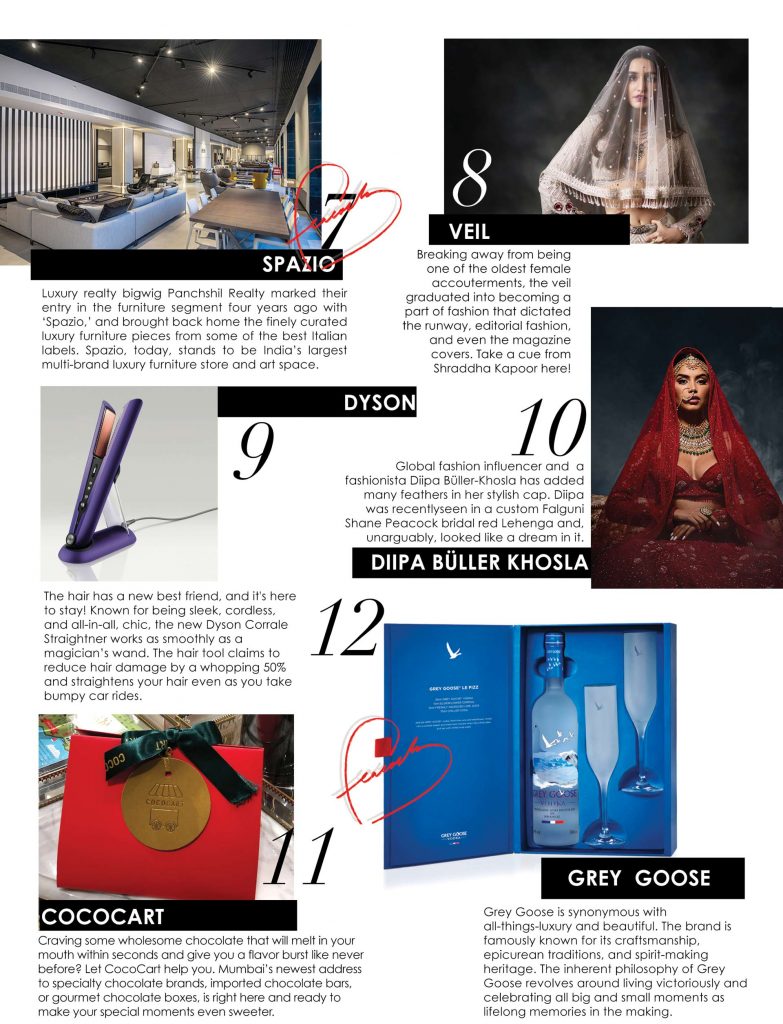 [7] Spazio
Luxury realty bigwig Panchshil Realty marked their entry in the furniture segment four years ago with 'Spazio,' and brought back home the finely curated luxury furniture pieces from some of the best Italian labels. Spazio, today, is India's largest multi-brand luxury furniture store and art space, and an address for those who are seeking to meet their premium, luxury furniture needs.
[8] Veil
A 'veil' holds immense significance in Indian culture and most of those abroad. Its origin dates back to the time even before fashion was officially birthed. Breaking away from being one of the oldest female accouterments, the veil graduated into becoming a part of fashion that dictated the runway, editorial fashion, and even the magazine covers. Take a cue from Shraddha Kapoor here!
[9] Dyson Corrale Straightener
The hair has a new best friend in the town, and it's here to stay! Known for being sleek, cordless, and all-in-all, chic, the new Dyson Corrale Straightner works as smoothly as a magician's wand. The hair tool claims to reduce hair damage by a whopping 50% and straightens your hair even as you take bumpy car rides and turbulent auto rides. Didn't we tell it's our hair bestie already!
[10] Diipa Büller-Khosla
From being the first Indian influencer to walk the Cannes Film Festival to addressing the British House of Commons on International Women's Day, and winning the title of 'Influencer of the year,' Diipa Büller-Khosla has added many feathers in her cap. The global fashionista was recently seen in a custom Falguni Shane Peacock bridal Lehenga and, unarguably, looked like a dream in the ensemble.
[11] CocoCart
Craving some wholesome chocolate that will melt in your mouth within seconds and give you a flavor burst like never before? Let CocoCart help you. Mumbai's newest address to specialty chocolate brands, imported chocolate bars, or gourmet chocolate boxes, is right here and ready to make your special moments even sweeter.
[12] Grey Goose
Grey Goose is synonymous with all-things-luxury and beautiful. The brand is famously known for its craftsmanship, epicurean traditions, and spirit-making heritage. The inherent philosophy of Grey Goose revolves around living victoriously and celebrating all big and small moments as lifelong memories in the making.