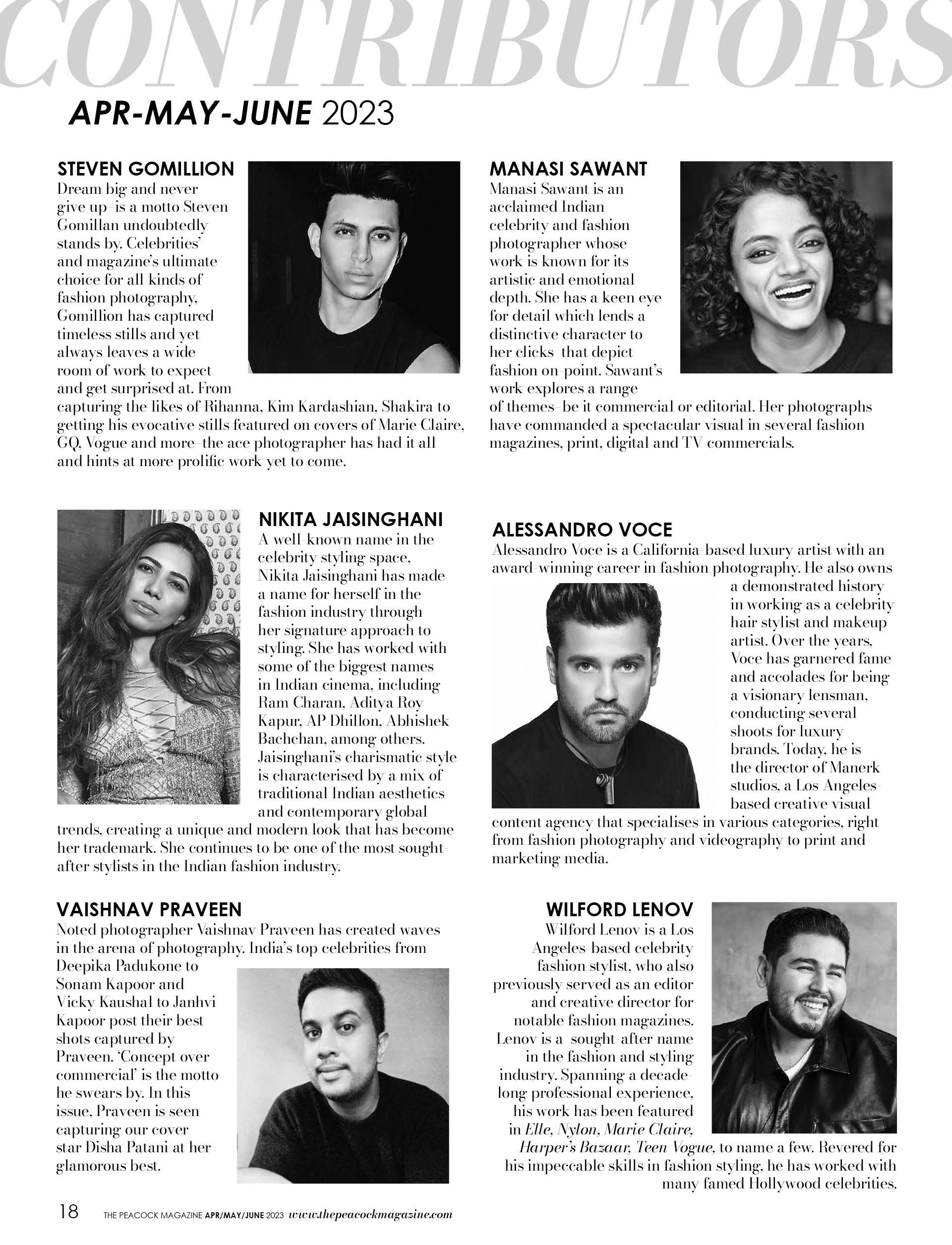 STEVEN GOMILLION
Dream big and never give up—is a motto Steven Gomillan undoubtedly stands by. Celebrities' and magazine's ultimate choice for all kinds of fashion photography, Gomillion has captured timeless stills and yet always leaves a wide room of work to expect and get surprised at. From capturing the likes of Rihanna, Kim Kardashian, Shakira to getting his evocative stills featured on covers of Marie Claire, GQ, Vogue and more—the ace photographer has had it all and hints at more prolific work yet to come.
NIKITA JAISINGHANI
A well-known name in the celebrity styling space, Nikita Jaisinghani has made a name for herself in the fashion industry through her signature approach to styling. She has worked with some of the biggest names in Indian cinema, including Ram Charan, Aditya Roy Kapur, AP Dhillon, Abhishek Bachchan, among others. Jaisinghani's charismatic style is characterised by a mix of traditional Indian aesthetics and contemporary global trends, creating a unique and modern look that has become her trademark. She continues to be one of the most sought-after stylists in the Indian fashion industry.
VAISHNAV PRAVEEN
Noted photographer Vaishnav Praveen has created waves in the arena of photography. India's top celebrities from Deepika Padukone to Sonam Kapoor and Vicky Kaushal to Janhvi Kapoor post their best shots captured by Praveen. 'Concept over commercial' is the motto he swears by. In this issue, Praveen is seen capturing our cover star Disha Patani at her glamorous best.
MANASI SAWANT
Manasi Sawant is an acclaimed Indian celebrity and fashion photographer whose work is known for its artistic and emotional depth. She has a keen eye for detail which lends a distinctive character to her clicks that depict fashion on-point. Sawant's work explores a range of themes—be it commercial or editorial. Her photographs have commanded a spectacular visual in several fashion magazines, print, digital and TV commercials.
ALESSANDRO VOCE
Alessandro Voce is a California-based luxury artist with an award-winning career in fashion photography. He also owns a demonstrated history in working as a celebrity hair stylist and makeup artist. Over the years, Voce has garnered fame and accolades for being a visionary lensman, conducting several shoots for luxury brands. Today, he is the director of Manerk studios, a Los Angeles-based creative visual content agency that specialises in various categories, right from fashion photography and videography to print and marketing media.
WILFORD LENOV
Wilford Lenov is a Los Angeles-based celebrity fashion stylist, who also previously served as an editor and creative director for notable fashion magazines. Lenov is a sought-after name in the fashion and styling industry. Spanning a decade-long professional experience, his work has been featured in Elle, Nylon, Marie Claire, Harper's Bazaar, Teen Vogue, to name a few. Revered for his impeccable skills in fashion styling, he has worked with many famed Hollywood celebrities.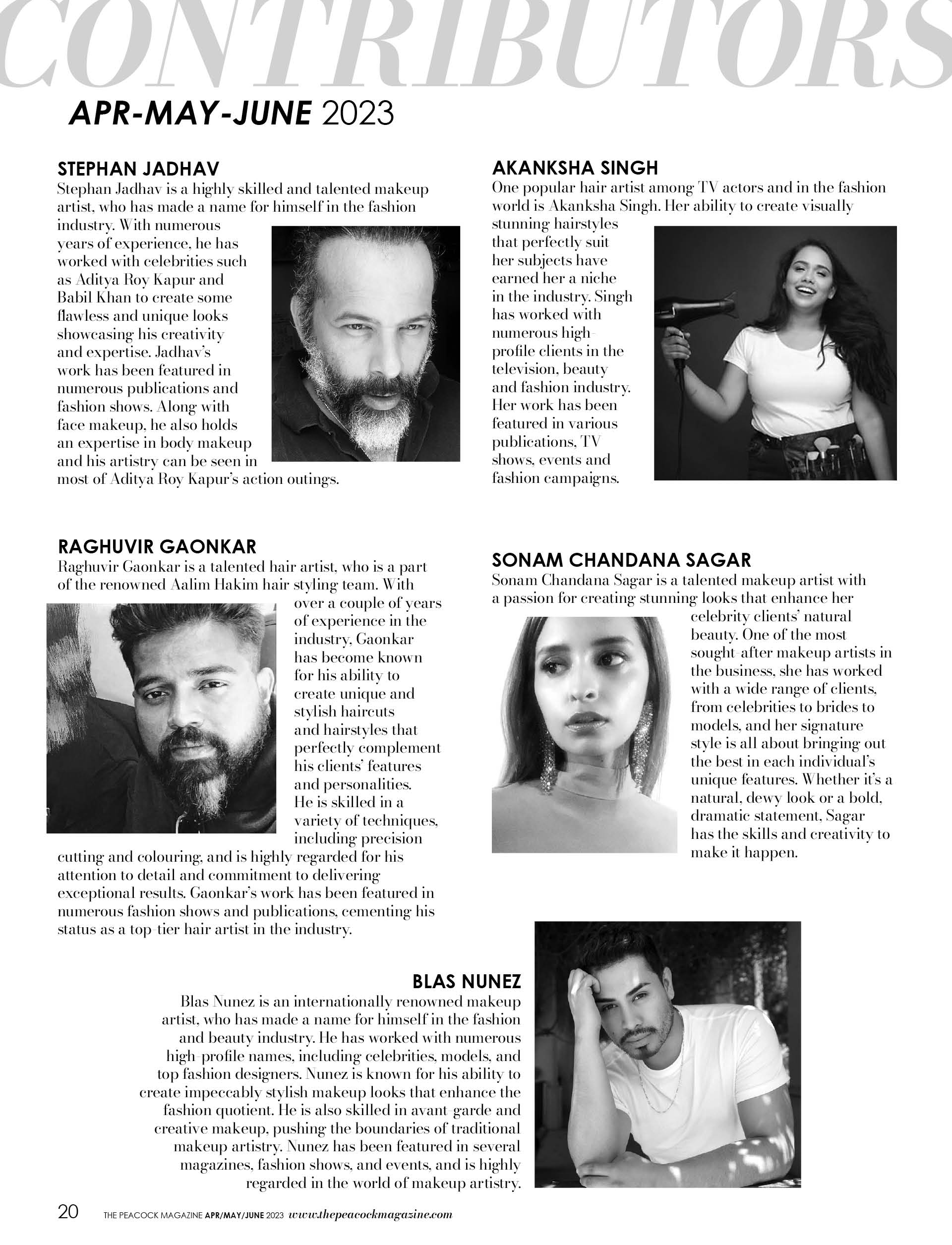 STEPHAN JADHAV
Stephan Jadhav is a highly skilled and talented makeup artist, who has made a name for himself in the fashion industry. With numerous years of experience, he has worked with celebrities such as Aditya Roy Kapur and Babil Khan to create some flawless and unique looks showcasing his creativity and expertise. Jadhav's work has been featured in numerous publications and fashion shows. Along with face makeup, he also holds an expertise in body makeup and his artistry can be seen in most of Aditya Roy Kapur's action outings.
RAGHUVIR GAONKAR
Raghuvir Gaonkar is a talented hair artist, who is a part of the renowned Aalim Hakim hair styling team. With over a couple of years of experience in the industry, Gaonkar has become known for his ability to create unique and stylish haircuts and hairstyles that perfectly complement his clients' features and personalities. He is skilled in a variety of techniques, including precision cutting and colouring, and is highly regarded for his attention to detail and commitment to delivering exceptional results. Gaonkar's work has been featured in numerous fashion shows and publications, cementing his status as a top-tier hair artist in the industry.
AKANKSHA SINGH
One popular hair artist among TV actors and in the fashion world is Akanksha Singh. Her ability to create visually stunning hairstyles that perfectly suit her subjects have earned her a niche in the industry. Singh has worked with numerous high-profile clients in the television, beauty and fashion industry. Her work has been featured in various publications, TV shows, events and fashion campaigns.
SONAM CHANDANA SAGAR
Sonam Chandana Sagar is a talented makeup artist with a passion for creating stunning looks that enhance her celebrity clients' natural beauty. One of the most sought-after makeup artists in the business, she has worked with a wide range of clients, from celebrities to brides to models, and her signature style is all about bringing out the best in each individual's unique features. Whether it's a natural, dewy look or a bold, dramatic statement, Sagar has the skills and creativity to make it happen.
BLAS NUNEZ
Blas Nunez is an internationally renowned makeup artist, who has made a name for himself in the fashion and beauty industry. He has worked with numerous high-profile names, including celebrities, models, and top fashion designers. Nunez is known for his ability to create impeccably stylish makeup looks that enhance the fashion quotient. He is also skilled in avant-garde and creative makeup, pushing the boundaries of traditional makeup artistry. Nunez has been featured in several magazines, fashion shows, and events, and is highly regarded in the world of makeup artistry.