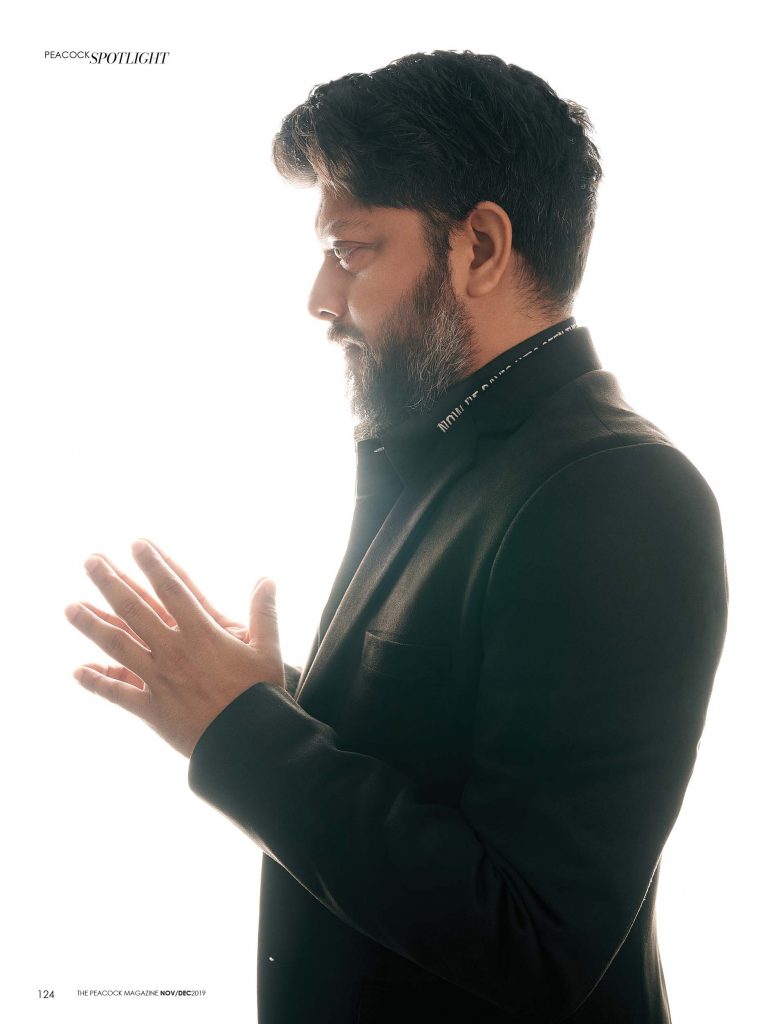 ONLINE OUTLIER
PRODUCER | DIRECTOR
In a tête-à-tête with this talented, powerhouse of a director who opened up to us about his two prize-winning series, his literary debut and his take on fashion.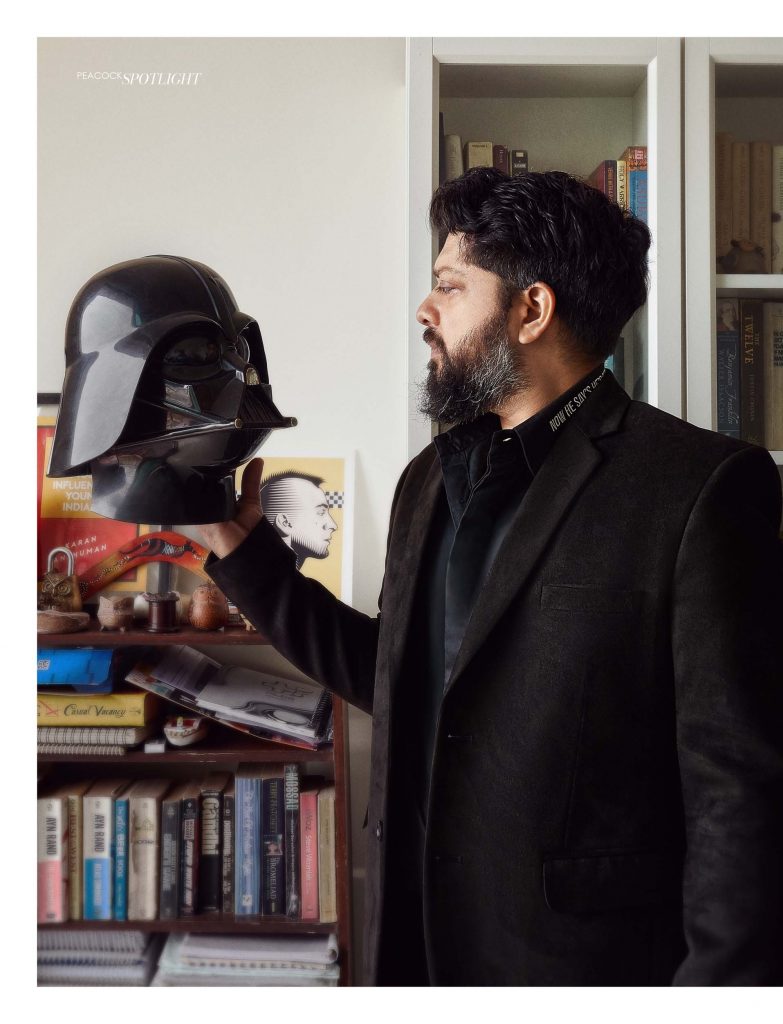 From dropping out of his computer science course to picking up awards for his two blockbuster series, writer-director-producer Karan Anshuman has undoubtedly come a long way. The creator of Amazon Prime's first Indian series 'Inside Edge' – which also went on to become India's first Emmy nomination – and director of 'Mirzapur' – another well-received show, Karan is a storyteller like no other. After having to drop out of course for his friendship-gone-sour with mathematics, Karan took to enrolling for a filmmaking course in the same campus. He came back to India and first tasted success for being a film critic for leading national daily. Karan's out-of-the-box and innovative style of writing struck a chord with his readers.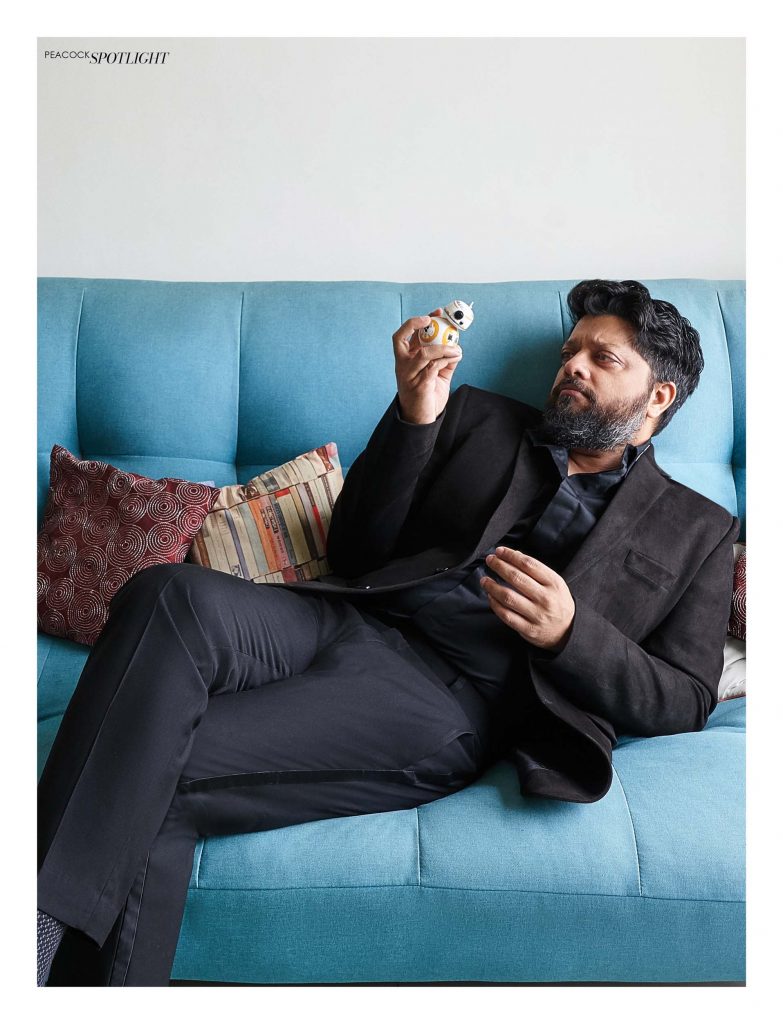 Parallelly, he kept up with his love affair for technology by founding a software start-up and movie portal. Karan took the plunge with full might and made his directorial debut in 2015 with 'Bangistan' – a satirical take on religious fundamentalism and terrorism. Cut to 2017, when Karan hit the nail on the head with his and Amazon Prime's first Indian TV series 'Inside Edge,' and then there was no looking back. The web series earned a nomination at the 46th International Emmy Awards. Soon after, his second web series for the same OTT platform 'Mirzapur' – a gangster drama – also turned out to be a hit, and all we can say is Karan Anshuman is on a roll and how!
[Q] DESCRIBE THE PERSON THAT YOU ARE, WHEN BEHIND THE CAMERA.
"Behind the camera, I'm always aiming for perfection. Every element in the frame needs to be aligned with the vision set for what is to be filmed and yes, at times, that involves me being a bit demanding on the cast and crew.
[Q] WHAT ABOUT WHEN YOU AREN'T BEHIND ONE?
"As much as I'd like to think of myself as more relaxed and aspiring for zen when off the sets, the truth is that there's no on and off switch. Isn't this true of most people in creative fields? Artists, thinkers, musicians, filmmakers… So, I guess, a lot of that severity makes way into real life.
[Q] FROM IDEATION TO ASSEMBLING AN ENSEMBLE CAST TO THE FIRST DAY OF THE SHOOT – WALK US THROUGH THE ENTIRE PROCESS THAT WENT IN MAKING 'INSIDE EDGE'?
"I think 'Inside Edge' was an idea waiting to happen. It was just about all the elements coming together in what would be the perfect storm. Being in the industry and an ardent cricket follower, I feel everyone knows everything about Bollywood and the life of actors, but it's not the same with cricket. We wanted to showcase what goes on behind closed doors, the politics and the corruption of the game. And, something larger than life! I was hanging on to the idea for a while that a film wouldn't encompass it all. With the arrival of Amazon Prime, it was the perfect time to put together a series. We faced a few roadblocks initially, like casting for it. Most actors were cagey about audiences' reactions to streaming shows. It was the first big Indian show that would go on an OTT platform, and we were pretty lucky that the likes of Richa Chadha and Vivek Oberoi were open to trying out this new medium. We treated the show as an extended film, and the run-up to the first day was akin to that of a film.
[Q] FOR 'MIRZAPUR,' WHAT MADE YOU CURIOUS ABOUT THE HINTERLANDS OF UTTAR PRADESH, THE MAFIA SCENES, AND THE LAWLESSNESS THAT PREVAILED?
"The genre of the hinterland gangster drama has been explored in films, but because of the myriad restrictions, makers haven't always exploited its full potential. When we traveled for the writing and research, we absorbed and ended using a lot of what we came by – from little nuances in production design to critical character traits. The carpet business angle comes from the fact that the towns of Mirzapur and Bhadohi are the world centers of carpet exports. As for the crime and violence, we fed the lawless stereotype of UP and exaggerated it to the point of being hyperreal. At the end of it, Mirzapur is a fictional show and is not necessarily reflective of the lovely people who make up the beautiful state. Violence and bloodshed aside, the story we wanted to tell was of the angst and struggles of small-town youth and how limited opportunities compel them to choose immoral paths.
[Q] IN BOTH YOUR SERIES, YOUR CHARACTERS STAND OUT PROMINENTLY AT PAR WITH YOUR STORY. IN 'MIRZAPUR,' THEY LOOK LIKE THEY'VE EXPERIENCED LIFE IN GHETTOS WHILE IN 'INSIDE EDGE,' THEY OWN THE LARGER-THAN-LIFE TENOR. HOW DID YOU MANAGE TO SHOW TWO ENDS OF A SPECTRUM WITH EACH OF THESE SHOWS?
"With 'Inside Edge,' it was vital to showcase a world that is not experienced by the average viewer. A close-knit cult of the rich and powerful, a stratum of society living in rarefied luxury and to whom the rules don't apply. We had to find insight into what went on in the minds of these folks and their motivations and triggers. Despite the negative connotations, I suppose it was, in a subverted manner, almost aspirational.
With Mirzapur, we wanted to make the world very everyday and relatable. Getting down and dirty. And, still full of adventure, shock, and mystery at every turn. It both cases, we intended to have at least one character whose story each viewer would resonate with. As a filmmaker, it was truly satisfying to shape these extremities of society. Both of which can be found in our singular country.
[Q] IT HAS BEEN 2 YEARS TO 'INSIDE EDGE' AND ALMOST A YEAR TO 'MIRZAPUR'. LOOKING BACK, WOULD YOU HAVE MADE IT ANY DIFFERENTLY THAN YOU DID? HOW?
"I don't revisit my work after it's released, so the question of hindsight doesn't really come up. Though I can tell you this, no filmmaker is ever truly satisfied with their final work. As the great Da Vinci said, 'Art is never finished, only abandoned.'
[Q] WHO IS YOUR FAVORITE CHARACTER FROM 'INSIDE EDGE' AND 'MIRZAPUR'? WHY?
"In 'Inside Edge,' it would be Rohini Raghavan, the cricket analyst played by the effervescent Sayani Gupta. She's pure, bookending all things good in the world and sans agenda. She's sharp and is my favorite because I share a lot of qualities with her: her love for cricket, her penchant for useless trivia, her fierce loyalty, and someone who is always willing to experiment.
In 'Mirzapur,' it would be Munna, essayed flawlessly by Divyenndu, who is the prince of vice and darkness. The complex nature of his character, his incessant need to prove himself to his father, and the fact that despite his utter ruthlessness still manages to find sympathy with viewers – all of it makes him fascinating.
[Q] ANY CHARACTER FROM YOUR SERIES YOU'D WRITE DIFFERENTLY NOW?
"Not really. Plus, the advantage of multiple seasons is that you can make course corrections as you go along.
[Q] ONE MEMORABLE MOMENT DURING YOUR MAKING OF 'INSIDE EDGE'
"I don't think there was ever a feeling that we were making a 'blockbuster' series. We were just hoping that there'd be enough people simply willing to experiment with something new. Remember, these were early days and we were on a wild, experimental ride. But I guess the moment that worked for me was that of Vayu hitting that winning shot in the finale. That moment still gives me goosebumps. It gave me goosebumps when we wrote it, when we shot it, and even when we finally saw it in the edit. It's a moment that still gives me a high every time it comes up in any manner.
[Q] HOW CLOSE DO YOUR SERIES COME TO REALITY? DO YOU THINK THAT AN ELEMENT OF REALITY WORKS AS A CATALYST IN GETTING THE AUDIENCE CONNECTED?
"I think the reality is reflected in the emotions and feelings that the characters have. That is what is relatable to me, not the world per se but the characters. Like I said, one strives for every viewer to see themselves in at least one character and be fully invested in their story.
[Q] THE CHALLENGES YOU FACED WHILE MAKING 'INSIDE EDGE' AND 'MIRZAPUR'?
"I think in 'Inside Edge' the challenging aspect was creating and maintaining the grandiose and glamorousness of the world; showcasing it to people who've never experienced it while still surprising those who have had a brush with it.
In 'Mirzapur,' it was shooting the action sequences. These normally require big budgets and a lot of time, and with our multiple constraints, it was a real challenge. We constantly had to innovate and improvise. A lot of credit goes to Gurmmeet Singh, who also directed the show.
[Q] WHAT WAS THE BEST REVIEW/ REACTION YOU RECEIVED FOR 'INSIDE EDGE'/'MIRZAPUR'?
"I am happy with every and any kind of reaction I get. The best is when people don't know I'm a part of these shows and they recommend it to me.
[Q] WITH 'INSIDE EDGE 2' NEARING ITS RELEASE, WHAT CAN WE EXPECT FROM THE SHOW? IS THERE ANYTHING THAT YOU'VE DONE DIFFERENTLY FROM 'INSIDE EDGE'?
"'Inside Edge 2' ups the ante; it's a lot more complex, with many more conspiracies at play and a lot more cricket. We've shot extensively in foreign locations and that's added a lot of value. The actors, too, have upped their game and own their characters a lot more.
[Q] AWARDS, TOP IMDB RATINGS, EMMY NOMINATION, OR AUDIENCES' RECEPTION – WHAT IS MORE SATISFACTORY FOR YOU?
"I think it's a bit of both. A crowd-pleasing show might not always be the best piece of work in terms of the craft, and a critically acclaimed show might not always be crowd-pleasing. There's a balance that needs to be struck.
[Q] DO YOU THINK THE AUDIENCE IS EVOLVED ENOUGH TO LAP UP THE OTT EXPERIMENTATION GOING AROUND WITH CONTENT?
"The audience has always been smart and evolved, and its external agencies like censorship and hypocritical social mores that have held us back from truly expressing ourselves. With streaming, we've broken those shackles. With no censorship and a personal viewing experience, the pretense is over. What people are watching now is what they were always ready to watch. They just didn't have the opportunity. I am lucky to be where I am to be able to tell great stories in an unhindered manner.
[Q] YOUR BOOK 'KASHMIRNAMA' DEALS WITH THE KASHMIR CONUNDRUM. WHAT MADE YOU CHOOSE THIS SUBJECT TO MARK YOUR LITERARY DEBUT?
"Kashmir is a mystery to most Indians. They think they know it, that they understand what's going on, but that's far from the truth; a lot of information about Kashmir is misinformation. A lot of opinions based on propaganda and not ground realities. Look what's happening right now post 370! With a total communication lockdown, how does anyone who is not physically present there know anything? There's no internet, no cell phones, and here we are sitting on our armchairs in the metros and commentating one way or the other. The book, in the garb of a fast-paced political thriller, really is a 101 on Kashmir, its people and core issues. I don't know what motivated me to write it. I have been working on this story for years in different forms; I'm just glad I got to say my piece.
[Q] WHAT ARE THE OTHER PROJECTS THAT YOU'RE WORKING ON?
"Kashmirnama is going to be made into a series, and I'm looking forward to it. It's more relevant than ever. And, it'd be badass to direct a book I've authored.
[Q] DO WE EXPECT YOU TO COME BACK TO MOVIES EVENTUALLY?
"Yeah, of course, lots of stories don't need more than 2 hours to tell. I have ideas that I hope will see the light of day soon.