– BY KAVIYA SNEHA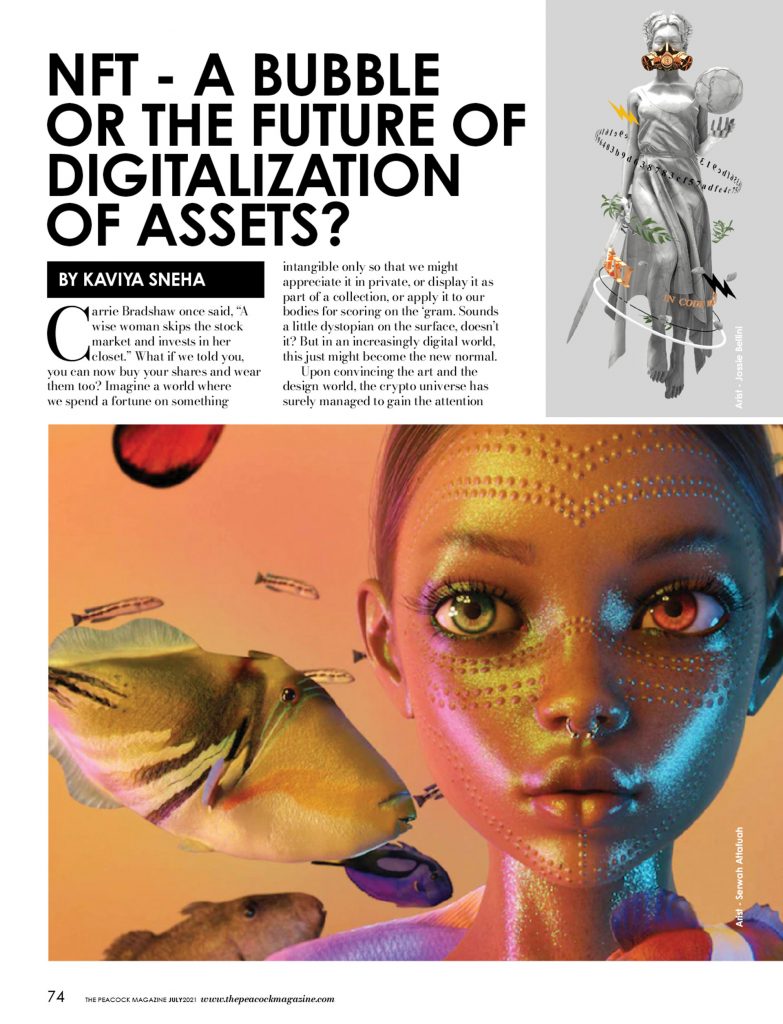 Carrie Bradshaw once said, "A wise woman skips the stock market and invests in her closet." What if we told you, you can now buy your shares and wear them too? Imagine a world where we spend a fortune on something intangible only so that we might appreciate it in private, or display it as part of a collection, or apply it to our bodies for scoring on the 'gram. Sounds a little dystopian on the surface, doesn't it? But in an increasingly digital world, this just might become the new normal.
Upon convincing the art and the design world, the crypto universe has surely managed to gain the attention of the fashion world, causing the landscape of the industry to shift seismically. Now that fashion is joining the non-fungible token (NFT) crypto craze and pivoting towards virtual avatars, there are two phrases that are here to stay — Digital Drop Couture and Metaverse Streetwear. And lately, NFTs have been the talk of the town. So, what's all the fuss about?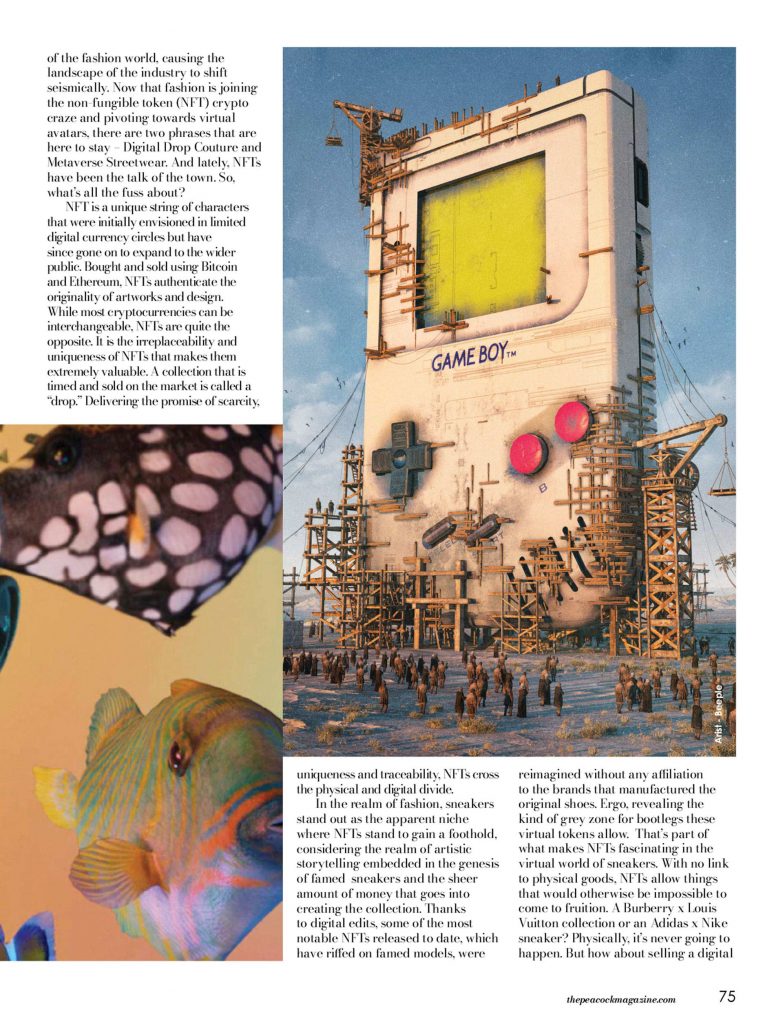 NFT is a unique string of characters that were initially envisioned in limited digital currency circles but have since gone on to expand to the wider public. Bought and sold using Bitcoin and Ethereum, NFTs authenticate the originality of artworks and design. While most cryptocurrencies can be interchangeable, NFTs are quite the opposite. It is the irreplaceability and uniqueness of NFTs that makes them extremely valuable. A collection that is timed and sold on the market is called a "drop." Delivering the promise of scarcity, uniqueness and traceability, NFTs cross the physical and digital divide.
In the realm of fashion, sneakers stand out as the apparent niche where NFTs stand to gain a foothold, considering the realm of artistic storytelling embedded in the genesis of famed sneakers and the sheer amount of money that goes into creating the collection. Thanks to digital edits, some of the most notable NFTs released to date, which have riffed on famed models, were reimagined without any affiliation to the brands that manufactured the original shoes. Ergo, revealing the kind of grey zone for bootlegs these virtual tokens allow. That's part of what makes NFTs fascinating in the virtual world of sneakers. With no link to physical goods, NFTs allow things that would otherwise be impossible to come to fruition. A Burberry x Louis Vuitton collection or an Adidas x Nike sneaker? Physically, it's never going to happen. But how about selling a digital render in a photo or video format as an NFTs? Entirely possible.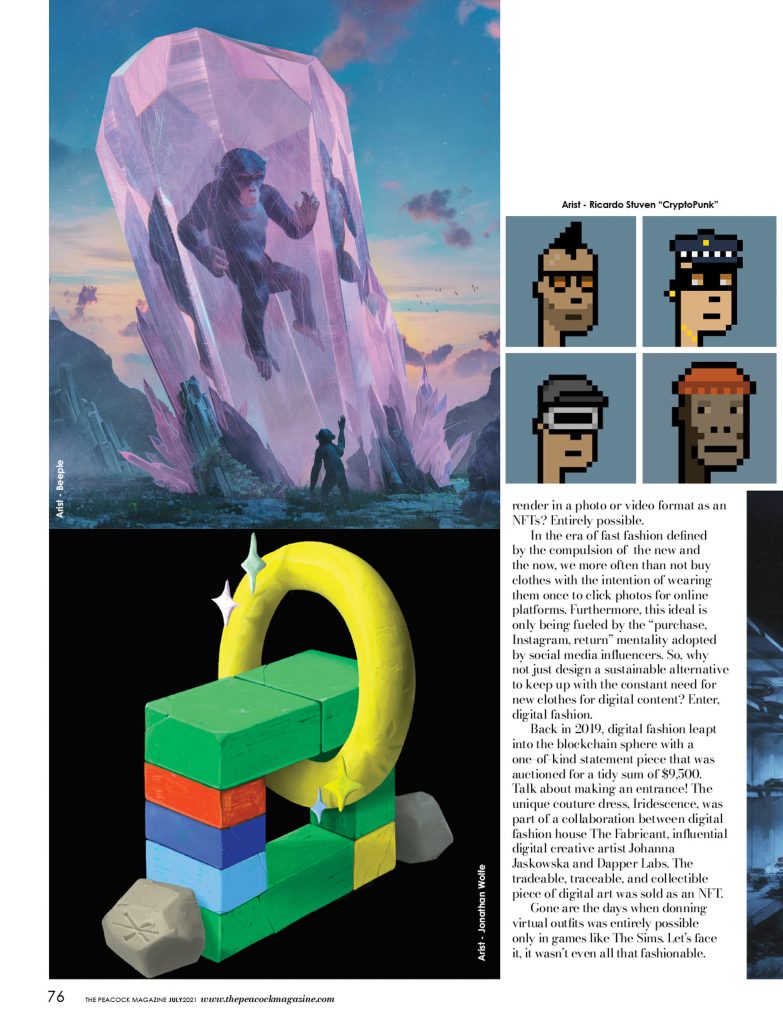 In the era of fast fashion defined by the compulsion of the new and the now, we more often than not buy clothes with the intention of wearing them once to click photos for online platforms. Furthermore, this ideal is only being fueled by the "purchase, Instagram, return" mentality adopted by social media influencers. So, why not just design a sustainable alternative to keep up with the constant need for new clothes for digital content? Enter, digital fashion.
Back in 2019, digital fashion leapt into the blockchain sphere with a one-of-kind statement piece that was auctioned for a tidy sum of $9,500. Talk about making an entrance! The unique couture dress, Iridescence, was part of a collaboration between digital fashion house The Fabricant, influential digital creative artist Johanna Jaskowska and Dapper Labs. The tradeable, traceable, and collectible piece of digital art was sold as an NFT.
Gone are the days when donning virtual outfits was entirely possible only in games like The Sims. Let's face it, it wasn't even all that fashionable. Then, along came Gucci. Replacing textiles and sweatshops with pixels and computers, virtual clothes have started gaining more attention than video games themselves. GTA and Fortnite are just a couple examples of games that are entirely unrelated to fashion, but have caught the eyes of designers and fashionistas alike with their share of exclusive "skins" for their characters. As gaming natives, Gen-Z and Gen Alpha spend a large part of their youth hanging out in virtual landscapes represented by an avatar, most of whom purchase skins to enhance their play. So, it is only logical to assume that as these next-gen fashion lovers mature into young professionals, they would wish to express their sense of style using digital-only fashion drops, that can traverse virtual mediums across games to social media, video calls and beyond.
As the concept of luxury is becoming more and more fluid, the phenomenon of NFTs is also gaining ground in fashion. Virtual fashion might just become bigger than physical fashion. Simply because it's more expressive, more sustainable and hyper-scalable. Blurring the line between physical and digital fashion, crypto tokens are set to profoundly change the world of luxury, by acting as the "digital twin" of the real garment. The demand for high-end fashion has always been deep-rooted in singularity, exclusivity and its ability to set apart its wearer from the rest. Scarcity is the basis for both NFTs and the luxury market. Just like in the art and fashion sphere, NFTs are all about collectibles. A tantalizing prospect, they are now bringing a new level of exclusivity that there will be only one original ever. Self-expression, which once used to be solely physical is now merging with the virtual world at an accelerated pace. Does that make NFTs an unparalleled asset in the world of fashion? Only time will tell.