FROM BEING A MOVIE BUFF TO MAKING A MARK AS THE MAN WHO STRIVED TO PUT SAUDI ARABIA IN THE LIST OF WORLD CINEMA HOTSPOTS, MOHAMMED AL TURKI HAS COME A LONG WAY. THE AWARD-WINNING FILM PRODUCER, ENTREPRENEUR, AND PHILANTHROPIST SPEAKS TO THE PEACOCK MAGAZINE ABOUT HIS JOURNEY SO FAR.

CREDITS-
Images artist's own.

[Q] How were your growing up years like?
I grew up in Saudi and was always a daydreamer. Films were my escape and passion. I come from a family that values its strong family bond. I did plenty of activities with my mother, father, and my siblings. To this day, I look at my parents as my best friends. They taught me how to express myself and never hold back. They were my core support system and pushed me to pursue my passion. They always said aim to the stars and never give up.
[Q] You grew up in a country where movies were not permitted. How did you manage to catch up on all the movies?
Movies were permitted. It was the movie theatres that were banned till recently. Again, it all goes back to my family. My dad is a huge western and spy-action film kind of guy. He made me watch all the John Wayne, Clint Eastwood classics, and every 007 movie. Our favorite Bond, to this day, is the late Sean Connery. My mother did the same with all the family film classics such as Disney and many others. Whenever we traveled, I was eager to watch all the new films and stock up on VHS/DVDs.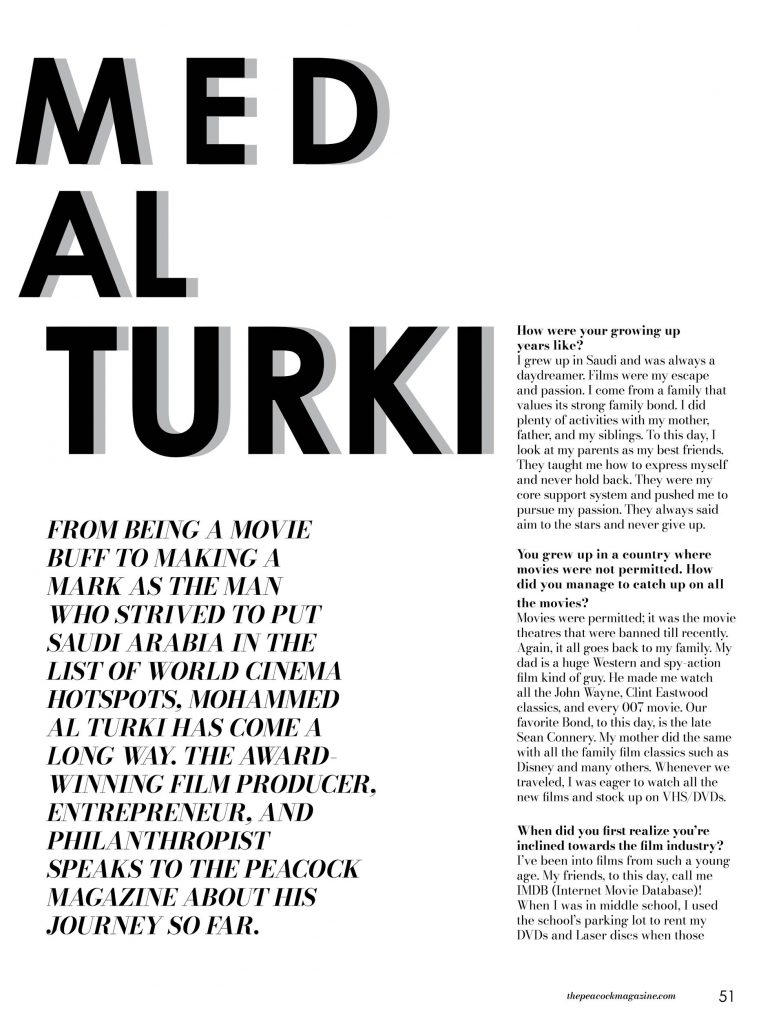 [Q] When did you first realize you're inclined towards the film industry?
I've been into films from such a young age. My friends, to this day, call me IMDB (Internet Movie Database). When I was in middle school, I used the school's parking lot to rent my DVDs and Laserdiscs when those were even a thing. My bedroom at my parents' house looked like a blockbuster video store that had numerous stacks of movies and film memorabilia, artwork, and posters. I still collect movies on my iTunes account. I have over a thousand purchased films. I took action around the high school, where I shot my first music video in a summer program at Exeter Phillips Academy in the US, and my love for cameras evolved.
[Q] What was your first breakthrough moment as a film producer?
My first breakthrough moment was being part of 'Arbitrage' in 2012. The film ended up with several award nominations, that includes a Golden Globe nomination for screen legend Richard Gere. Arbitrage, to this day, remains the highest-grossing independent film to be released day and date. Another breakthrough was '99 Homes' in 2015, which was also nominated for several awards, including a Golden Globe nomination for Michael Shannon.
[Q] You have successfully bridged the entertainment gap between the East and the West. Was this always a part of your endeavor as a filmmaker?
I'm honored and elated that I have bridged the entertainment gap between East and West and continue to do so. Being a proud Saudi, you tend to welcome people to learn about your culture. I always loved to host my friends in my country, even during my London college days. With the rapid positive change in Saudi and with the vision for 2030, this is certainly the start of many extraordinary milestones, and I'm extremely proud that I've had a push-start being a pioneer in cross-cultural missions ahead of its implementation. I see my success in Hollywood as my country's success. It is an exciting time and a big responsibility that I hope I will always honor with the voice that I've been given towards this beautiful change. I'm honored to have been part of Saudi cinema's history and become a point of reference to the wonderful youth and leadership of my country.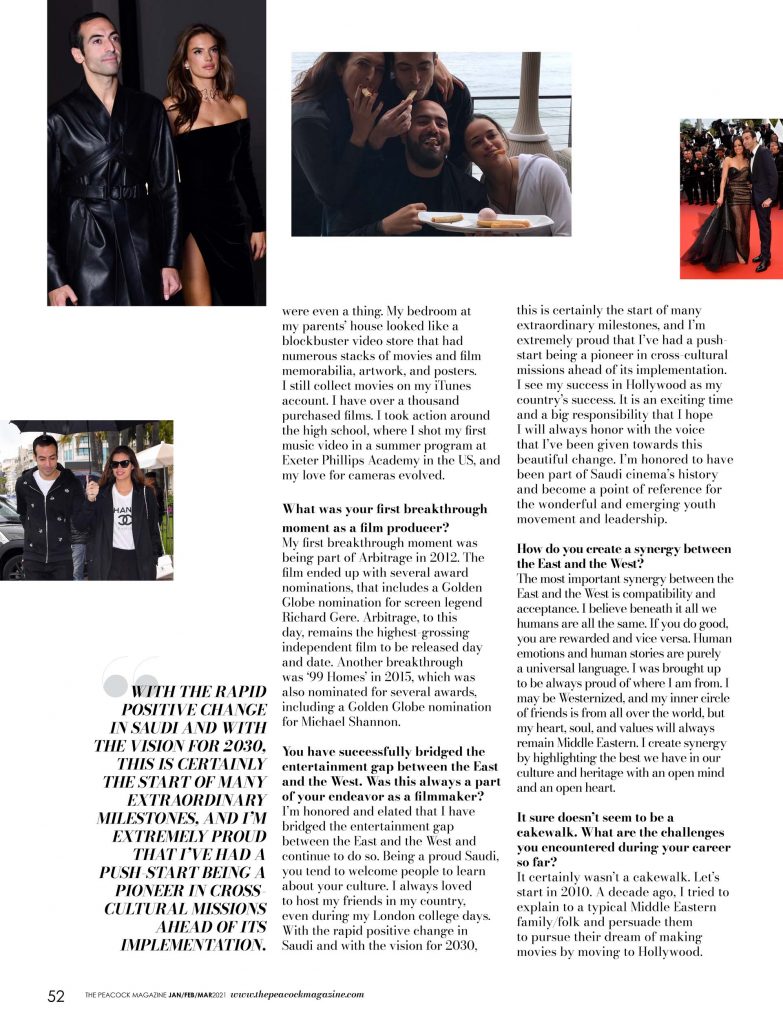 [Q] How do you create a synergy between the East and West?
The most important synergy between East and West is compatibility and acceptance. I believe beneath it all we humans are all the same. If you do good, you are rewarded and vice versa. Human emotions and human stories are purely a universal language. I was brought up to always be proud of where I am from. I may be westernized, and my inner circle of friends is from all over the world, but my heart, soul, and values will always remain Middle Eastern. I create synergy by highlighting the best we have in our culture and heritage with having an open mind and an open heart.
[Q] It sure doesn't seem to be a cakewalk. What are the challenges you encountered during your career so far?
It certainly wasn't a cakewalk. Let's start in 2010. A decade ago, I tried to explain to your Middle Eastern family you want to pursue your passion in following your dreams of moving to Hollywood to make movies. At first, that didn't fly by. My first feature was an official selection at the Sundance Film Festival and won a few prestigious awards. Back then, even something like that meant nothing at home. I was questioned about why did I choose this path as if I committed a crime. I was even ridiculed by some family friends and extended family members. The cinema industry was non-existent in Saudi until two years ago. No one understood why I wanted to be a filmmaker in a country that had banned movie theatres. Even to this day, I'm sometimes questioned about my authenticity. I guess it drives people crazy seeing someone with my background doing exactly what they are passionate about. Being on set with Richard Gere, a personality they love back home was a big push for me. That, followed by Gere flying with me to Abu Dhabi. Being on stage giving the opening speech at the Abu Dhabi film festival followed by Gere, Jarecki, and actor Nate Parker joining me on stage after my speech that included this line that I would never forget 'My dream was always to make an impression in Hollywood. But to bring Hollywood home my dream has come true.' I consider that moment to be a milestone in my film career. I still hear the cheers of the audience. It was the start of many great things. Challenges, in a nutshell, were mainly around financing, marketing, and distribution on the production side. On a personal level, being all over the world and traveling to be on location, shooting for months, followed by the US and international press tour and the awards and festival circuits. Don't get me wrong. It is a dream, but doing it on a few films back-to-back since 2010 can be both challenging and exhausting. I was living out of a suitcase. I still kind of do. It's hard to maintain relationships, friendships, and family bonds when you are all over the place. I always say 2020 is a difficult year, but beneath all the hardships lies a silver lining. I've used this time to priorities my goals, make amends with issues I never had the time to take care of, both within and with others, while admiring mother nature and spending the much-needed quality time with those who matter the most.
[Q] What were your key takeaways from your first film 'The Imperialists Are Still Alive!' that you went on to implement in all your films thereafter?
Something that is timely, newsworthy with an important social message. I related to the main character in 'The Imperialists Are Still Alive.' The main character was more-or-less the female version of me, in a way. A westernized, Middle Eastern who is a part of the crowd of New York City's elite, dealing with day-to-day social dilemmas while being paranoid about being screened and racially profiled as a terrorist post 9/11. Many of my friends and I have the most interesting stories to share around that period.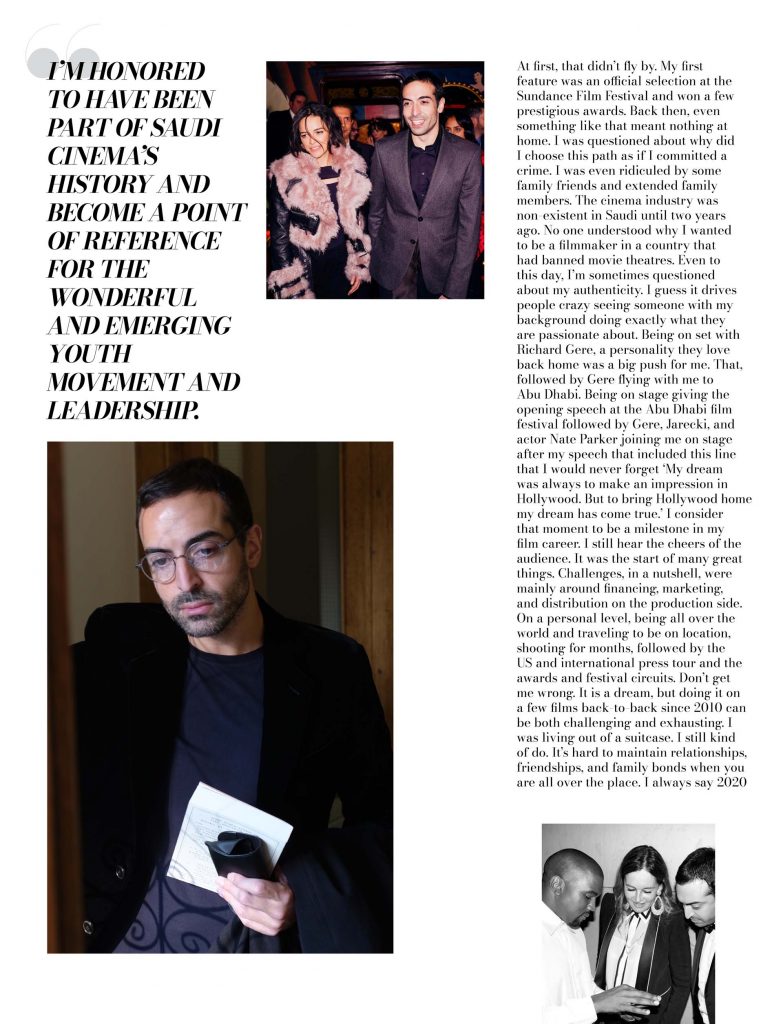 [Q] Is it mandatory for your movies to have some social message?
It is mandatory, to a certain extent. At the end of the day, I'm in the business of making money without being a sell-out. It's a must for my movies to have commercial appeal.
[Q] What is more important to you – recognition via wards or audiences' appreciation?
It's a tie. I would love audiences and critics to love the film and win awards based on that.
[Q] What has been your personal experience as one of the crucial navigators of the film industry?
There has been a major shift from the big screen to streaming. People don't go to movie theatres anymore unless they go and watch Marvel movies or Fast and Furious, etc. Big franchises in general along with Netflix, Amazon Prime, HBO, Hulu, Disney+, amongst others are all proof of where the film industry is heading towards. Not to mention all the big movie stars, such as Julia Roberts, Nicole Kidman, Hugh Grant, Reese Witherspoon, Ewan McGregor, Tom Hanks, Jude Law, Zac Efron, Armie Hammer, and many others, are now doing TV.
[Q] You're a philanthropist who has immensely contributed to giving it back to society via various platforms. What moved you to take this step?
I owe everything I do with philanthropy to my father. I grew up watching him give back so freely and how it brought him happiness. He has taught me and my siblings the importance of giving back to the country, the society, and to find a middle ground in helping those in need. He has also implemented corporate social responsibility within his group of companies. I believe doing charity work should come from the heart, and it has to be done in silence unless your mission is to bring about awareness for a specific cause.
[Q] Your father has been a great influence in your life. What are some of the greatest lessons you've learned from him?
Being patient is the greatest lesson I learned from my father. I have also learned to love freely with no expectations, and to always try to find the good in every person and every situation. I also inherited his style, but I'm still far away from how chic he is. I'm sure I got inspired wearing three-piece suits from him.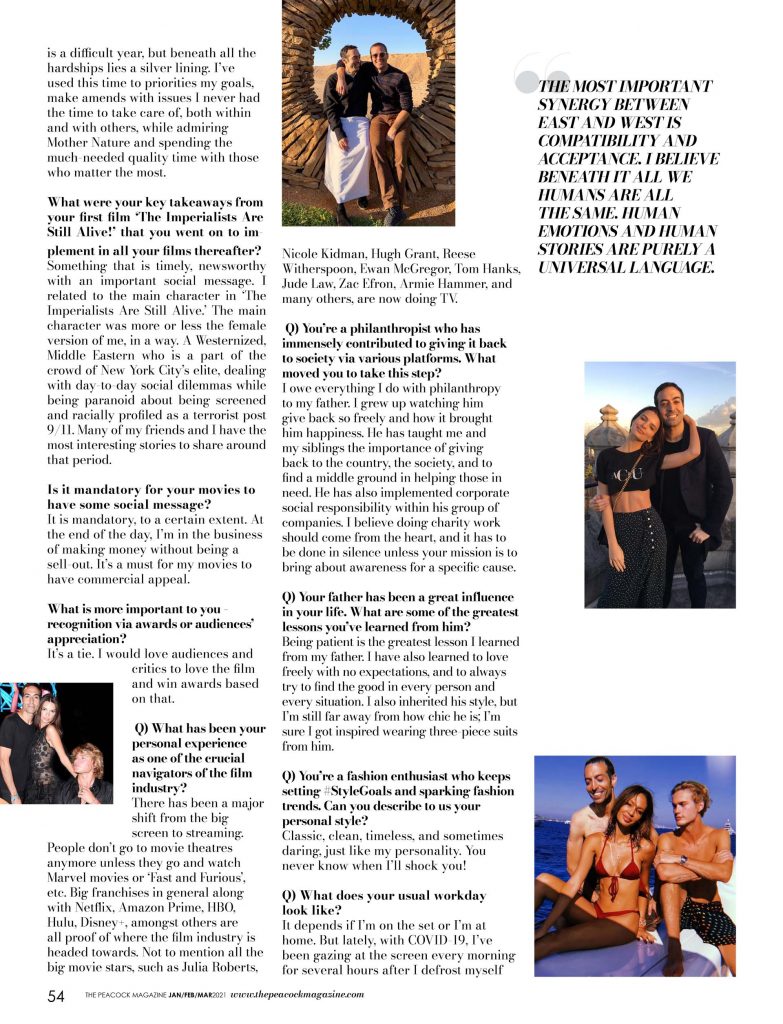 [Q] You're a fashion enthusiast who keeps setting #StyleGoals and sparking fashion trends. Can you describe to us your personal style?
Classic, clean, timeless, and sometimes daring, just like my personality. You never know when I'll shock you!
[Q] What does your usual workday look like?
It depends if I'm on the set or I'm at home. But lately, with COVID-19, I've been gazing at a screen every morning for several hours after I defrost myself from a large cup of coffee.
[Q] How do you unwind?
Being within nature is my cure. Most recently, I have been stargazing. Apart from that, I hang out with my loved ones. But I do appreciate some me-time, and I think it's important. And if you know me, you know how much I appreciate travel by going on adventures and indulging in my obsession with spas.
[Q] Tell us your top three all-time-favorite films ever?
Citizen Kane, One Flew Over the Cuckoo's Nest, Eyes Wide Shut, As Good As It Gets, and many more. I can't have only three. I'm a film fanatic.
[Q] How has cinema evolved in Saudi Arabia in the last decade? Do you see it becoming one of the cinema capitals of the world shortly?
Cinema has evolved immensely. They are investing in films, which is apparent. For me to witness something I dreamed of all along to see it happen is quite surreal. I have moments where I pinch myself to make sure I'm not dreaming. We have talented actors, writers, and directors. Most recently female director Shahad Ameed's film 'Scales' has been submitted as an official contender for the 93rd Academy Awards. I'm sure Saudi will be a world cinema capital before 2030. There are so many great stories to share from our rich culture and great locations to highlight. Al Ula, one of the first UNESCO approved heritage site, is a feast to the eyes. Ad Diriyah in Riyadh is breathtaking. Don't be surprised if you see those locations on screen very soon!
[Q] Are you working on any movie or series for the digital platforms currently or are planning to work on in the future?
My film 'Crisis,' previously named 'Dreamland,' has announced February 26th as its official theatre release date, followed by an on-demand release in March 2021.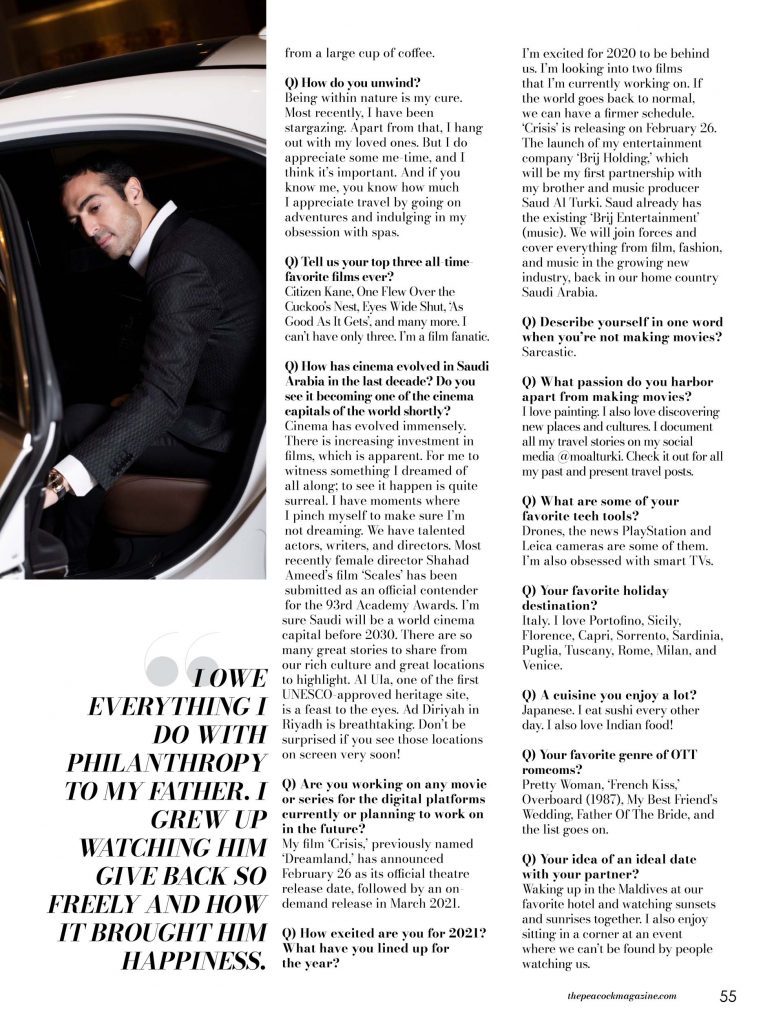 [Q] How excited are you for 2021? What have you lined up for the year?
I'm excited for 2020 to be behind us. I'm looking into two films that I'm currently working on. If the world goes back to normal, we can have a firmer schedule. 'Crisis' is releasing on February 26th. The launch of my entertainment company 'Brij Holding,' which will be my first partnership with my brother and music producer Saud Al Turki. Saud already has the existing 'Brij Entertainment' (music). We will join forces and cover everything from film, fashion, and music in the growing new industry, back in our home country Saudi Arabia.
FUN QUESTIONS:
[Q] Describe yourself in one word when you're not making movies?
Sarcastic
[Q] What passion do you two harbor apart from making movies?
I love painting. I also love discovering new places and cultures. I document all my travel stories on my social media @moalturki. Check it out for all my past and present travel posts.
[Q] What are some of your favorite tech tools?
Drones, the news PlayStation and Leica cameras are some of them. I'm also obsessed with smart TVs.
[Q] Your favorite holiday destination?
Italy. I love Portofino, Sicily, Florence, Capri, Sorrento, Sardinia, Puglia, Tuscany, Rome, Milan, and Venice.
[Q] A cuisine you enjoy a lot?
Japanese. I eat sushi every other day. I also love Indian food!
[Q] Your favorite genre of OTT romcoms?
Pretty Woman, French Kiss, Overboard (1987), My Best Friend's Wedding, Father Of The Bride, and the list goes on.
[Q] Your idea of an ideal date with your partner?
Waking up in the Maldives at our favorite hotel and watching sunsets and sunrises together. I also enjoy sitting in a corner at an event where we can't be found by people watching us.