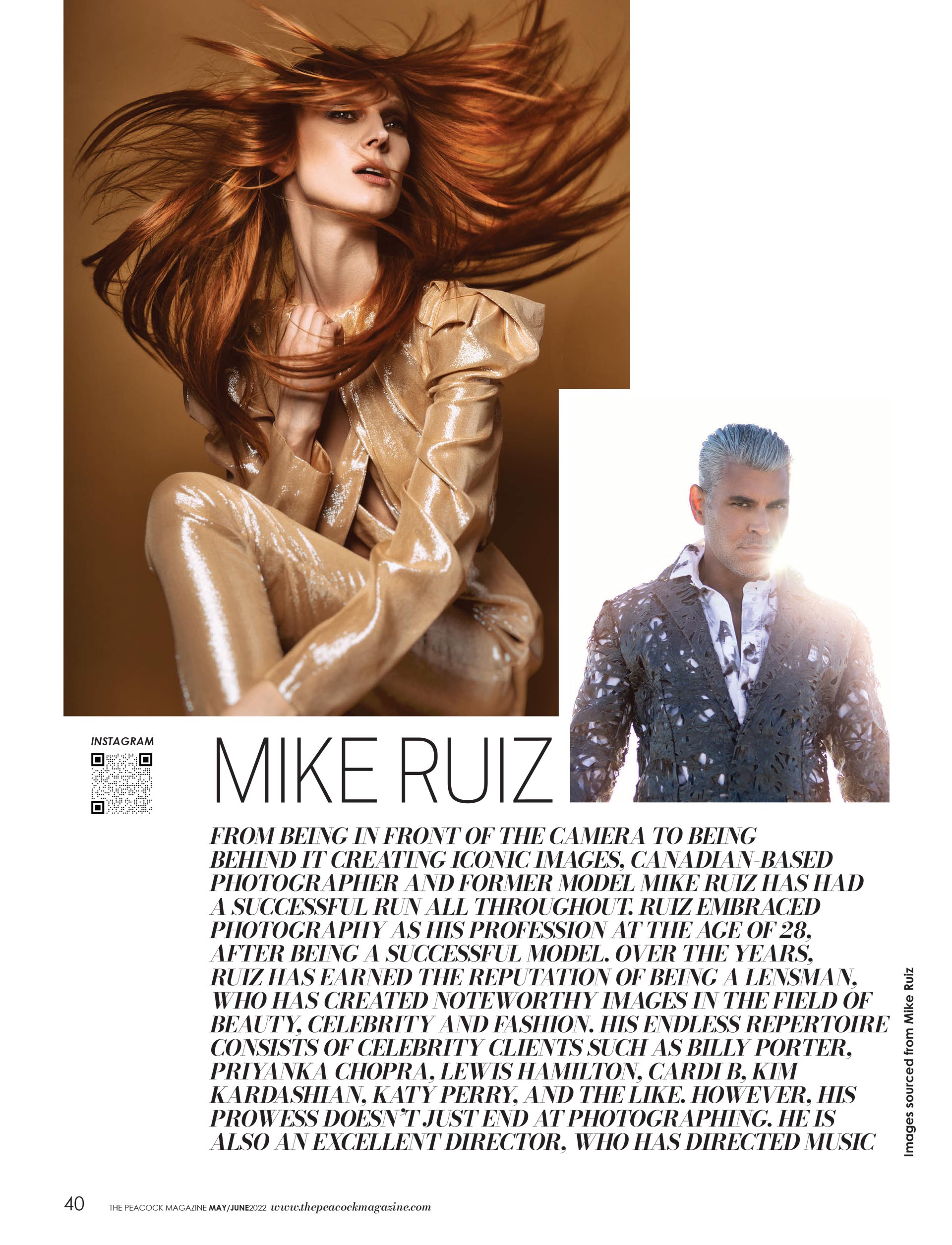 CREDITS – Images sourced from Mike Ruiz
From being in front of the camera to being behind it creating iconic images, Canadian-based photographer and former model Mike Ruiz has had a successful run all throughout. Ruiz embraced photography as his profession at the age of 28, after being a successful model. Over the years, Ruiz has earned the reputation of being a lensman, who has created noteworthy images in the field of beauty, celebrity and fashion. His endless repertoire consists of celebrity clients such as Billy Porter, Priyanka Chopra, Lewis Hamilton, Cardi B, Kim Kardashian, Katy Perry, and the like. However, his prowess doesn't just end at photographing. He is also an excellent director, who has directed music videos for Kelly Rowland, Vanessa Williams, and has even made his feature film directorial debut with a comedy StarrBooty starring RuPaul.

Today, he is the creative director and principal photographer for numerous fashion magazines, and doesn't hesitate to sit down with The Peacock Magazine for a candid conversation. He talks about his favourite photographs, his style and other aspects of his photography amongst many other things. Read onL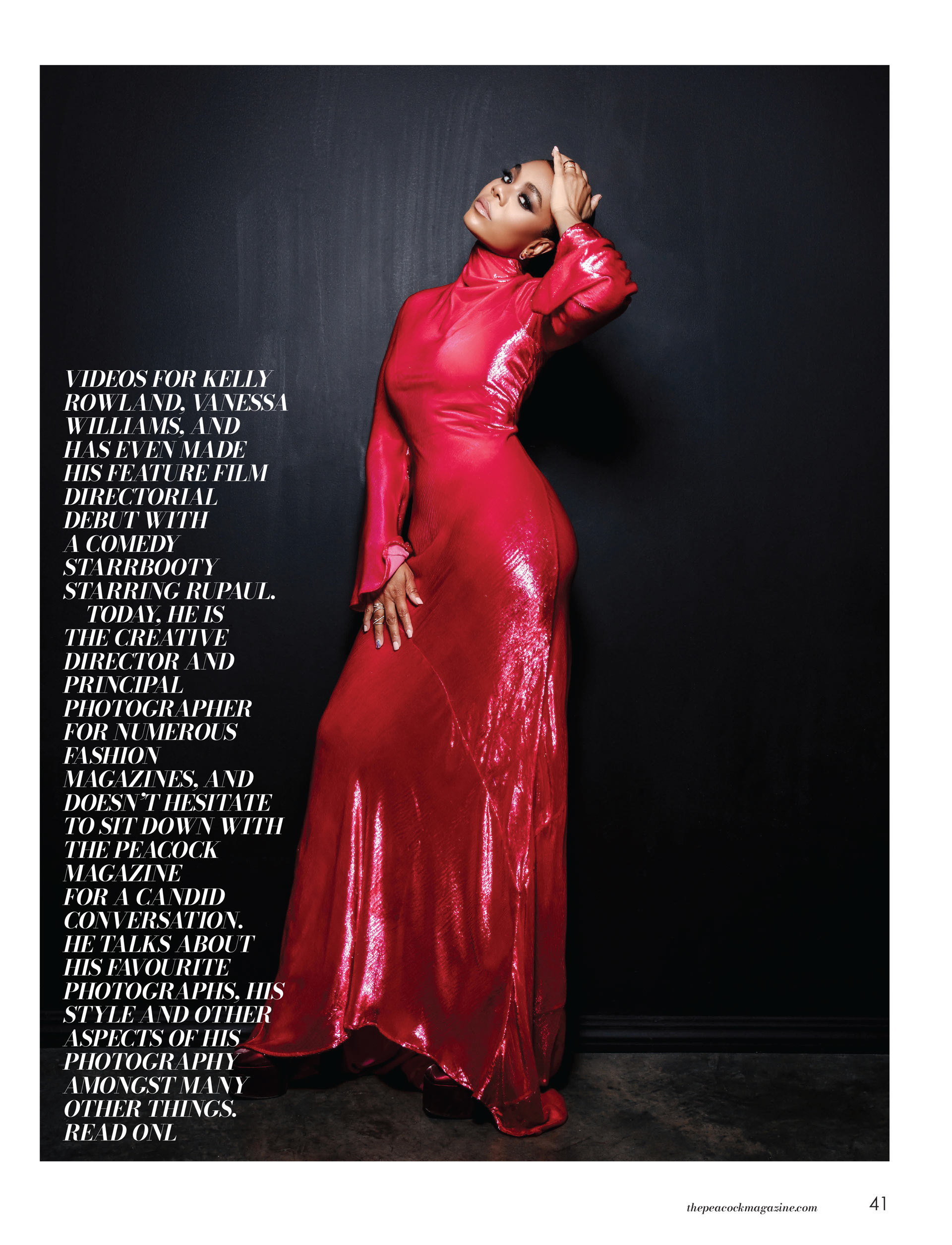 What were your growing up years like?
They were tough. I had a difficult childhood but my rich fantasy life helped me escape my stark reality.
[Q] When and how did you find yourself taking interest in fashion photography?
It wasn't until my very late 20s that I discovered my interest in photography. Fashion photography came later in my 30s.
[Q] How does the location of the shoot inspire the photographer/artist in you?
The location really adds to the story that I'm trying to tell.
[Q] You're a photographer and a director. Where does your love for multimedia stem from?
I'm all about the experience. I love trying new things, not only creatively but in every aspect of my life. I am now venturing into the metaverse, and was a part of a virtual exhibition. Technology is a driving factor in my desire to explore various mediums of media. I recently had two successful NFTs (non-fungible tokens) drops and I'm planning a big drop of 100 images this coming May. David Cash of Cash Labs has been helping me learn and understand this brave new world.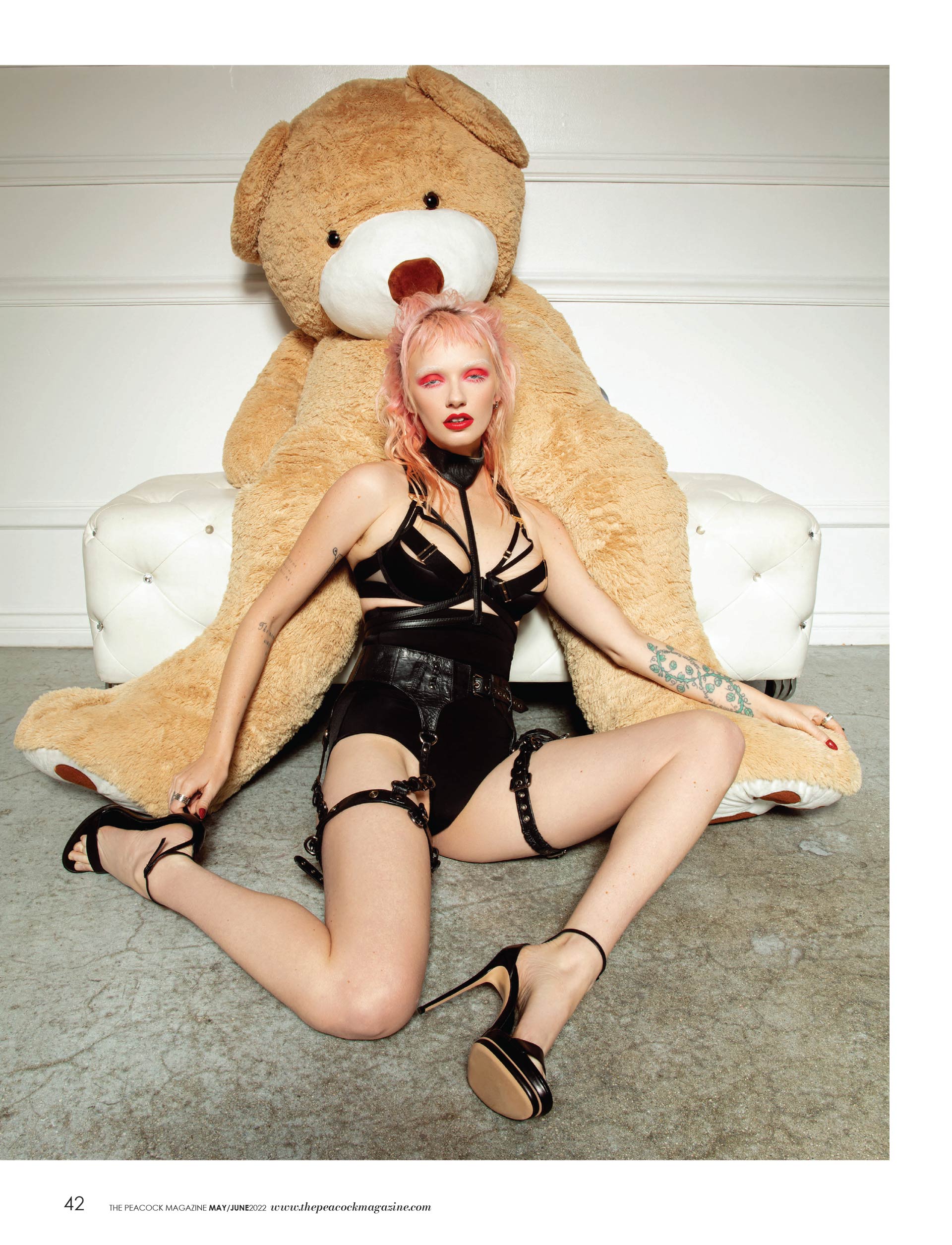 [Q] How do you prepare for your shoots?
I always come up with a specific theme or concept; I hire the appropriate team of hair, makeup, wardrobe stylist, etc, we all discuss the concept and then it all goes out of the window on the shoot day as things never go as planned, and the idea morphs into something better. I always stay very malleable for that reason.
[Q] Do you stick to the concept you had in your mind or do you improvise?
I always improvise as stated above.
[Q] Where/in whom do you find your photography muse?
It comes from so many different sources. I'm inspired by film, art, fashion, travel, people's personalities and accomplishments, music, food, technology, history and countless other things.
[Q] What sets your mood for photographing?
I need a mellow crew. I'm high strung as it is. If my team is too, that is usually cause for a stressful shoot. With that said, I usually am the one who keeps the mood relaxed and chill. Music also helps set the mood for a successful shoot.
[Q] How do you prepare yourself before any shoot as a director?
I'm a go with the flow kind of guy. I plan all of the logistics as best I can and then I let the shoot unfold organically from there.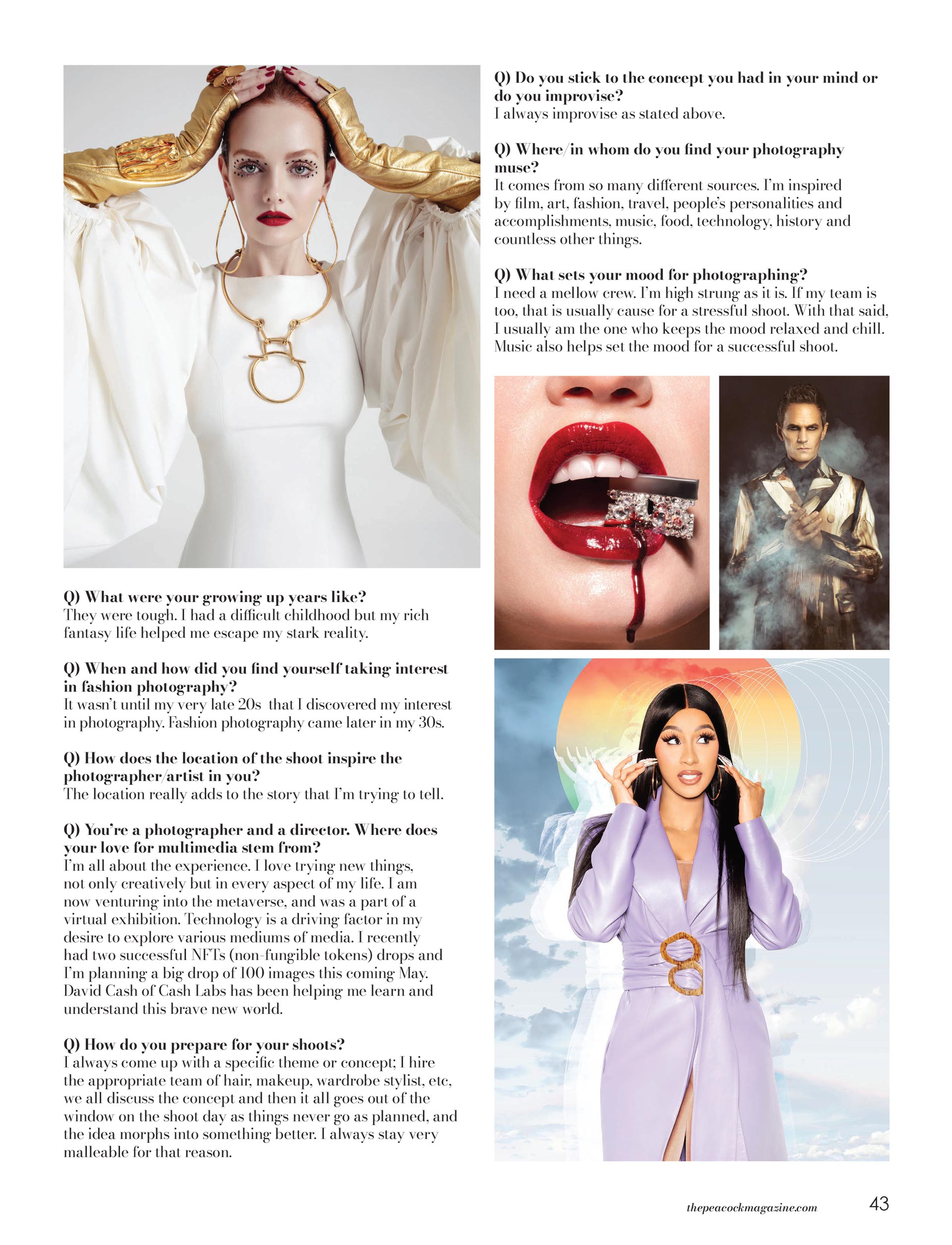 [Q] Which of your personal shoots was challenging?
I did a shoot partially submerged in a jellyfish-riddled lagoon in the British Virgin Islands.
[Q] Which photograph/video of yours is your personal favourite?
Pretty Mess with Erika Jayne.
[Q] Which has been your most favourite shoot in your journey till now?
My favourite shoot has to be my current project photographing men in the leather community. It's been an ongoing personal project rooted in self-exploration that has been highly gratifying.
[Q] One person who is on the top of your bucket list to shoot?
Zendaya.
[Q] Who are your biggest influences/mentors?
I'm going to say that there is no one person or group of people that has influenced me extensively; I'm influenced by the people that I meet every day.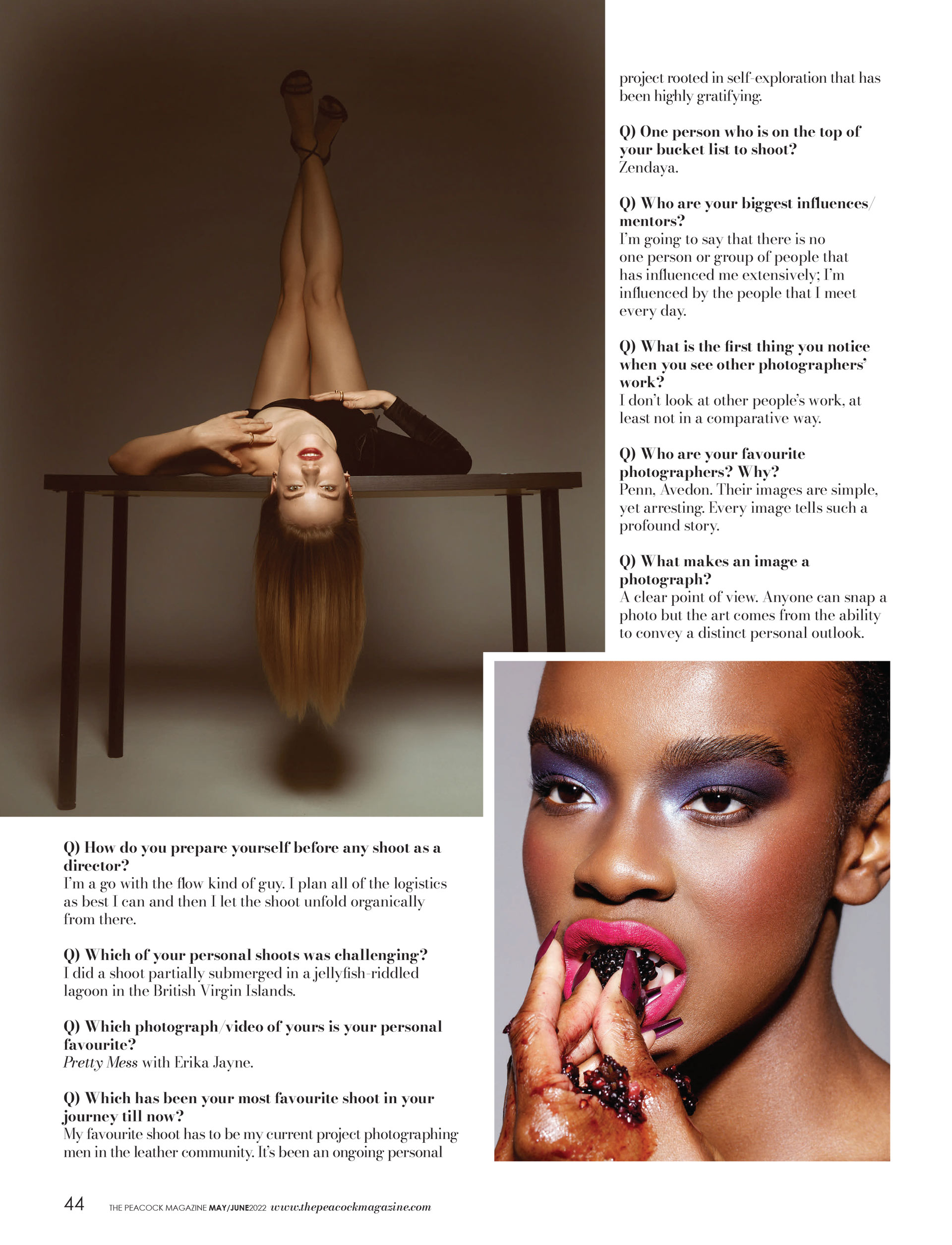 [Q] What is the first thing you notice when you see other photographers' work?
I don't look at other people's work, at least not in a comparative way.
[Q] ) Who are your favourite photographers? Why?
Penn, Avedon. Their images are simple, yet arresting. Every image tells such a profound story.
[Q] What makes an image a photograph?
A clear point of view. Anyone can snap a photo but the art comes from the ability to convey a distinct personal outlook.
[Q] What are some of the things you are obsessed about as a photographer?
I'm obsessed with photography as a source of communication. I can say things so clearly with photography that I could never with words.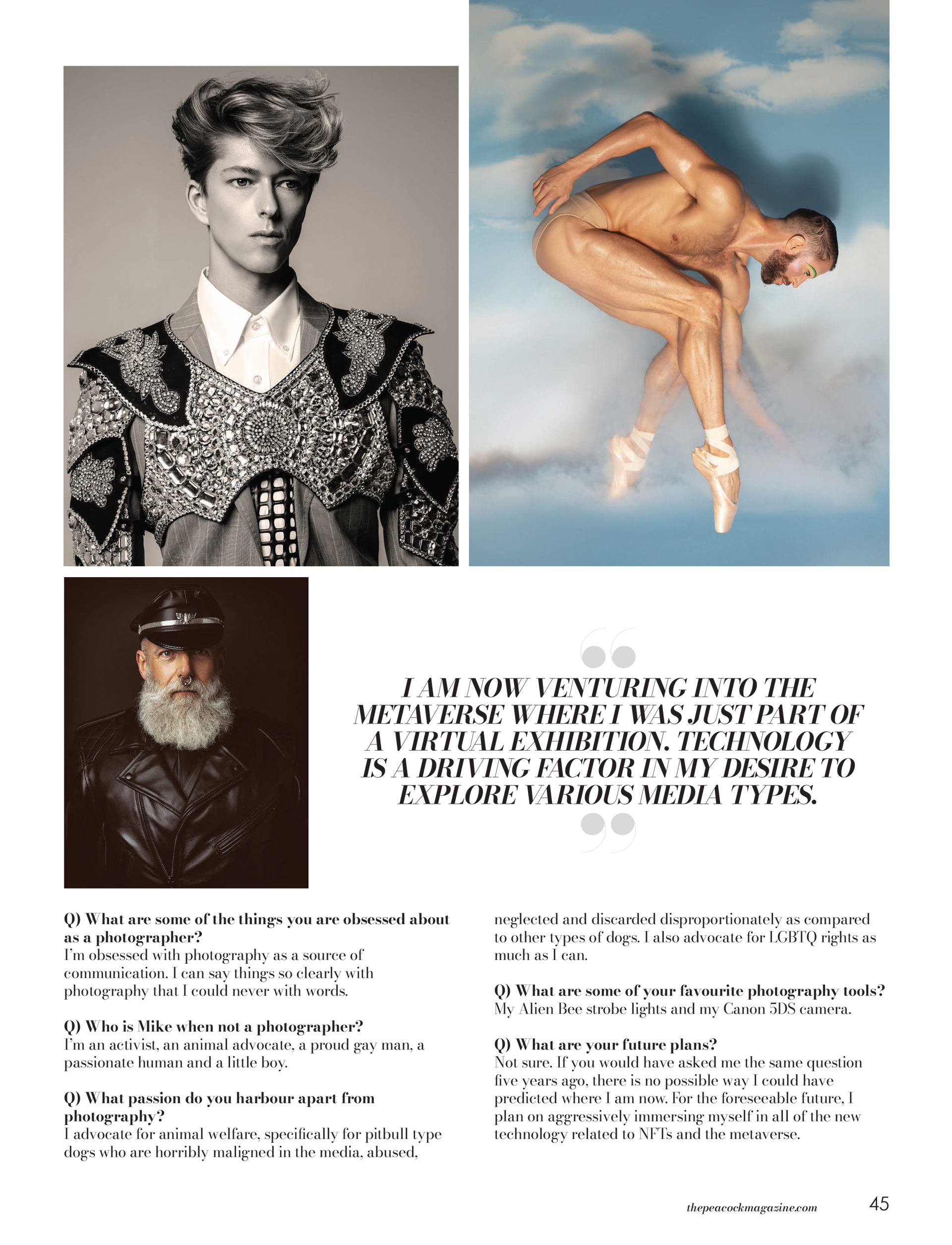 [Q] Who is Mike when not a photographer?
I'm an activist, an animal advocate, a proud gay man, a passionate human and a little boy.
[Q] What passion do you harbour apart from photography?
I advocate for animal welfare, specifically for pitbull type dogs who are horribly maligned in the media, abused, neglected and discarded disproportionately as compared to other types of dogs. I also advocate for LGBTQ rights as much as I can.
[Q] What are some of your favourite photography tools?
My Alien Bee strobe lights and my Canon 5DS camera.My Alien Bee strobe lights and my Canon 5DS camera.
[Q] What are your future plans?
Not sure. If you would have asked me the same question five years ago, there is no possible way I could have predicted where I am now. For the foreseeable future, I plan on aggressively immersing myself in all of the new technology related to NFTs and the metaverse.