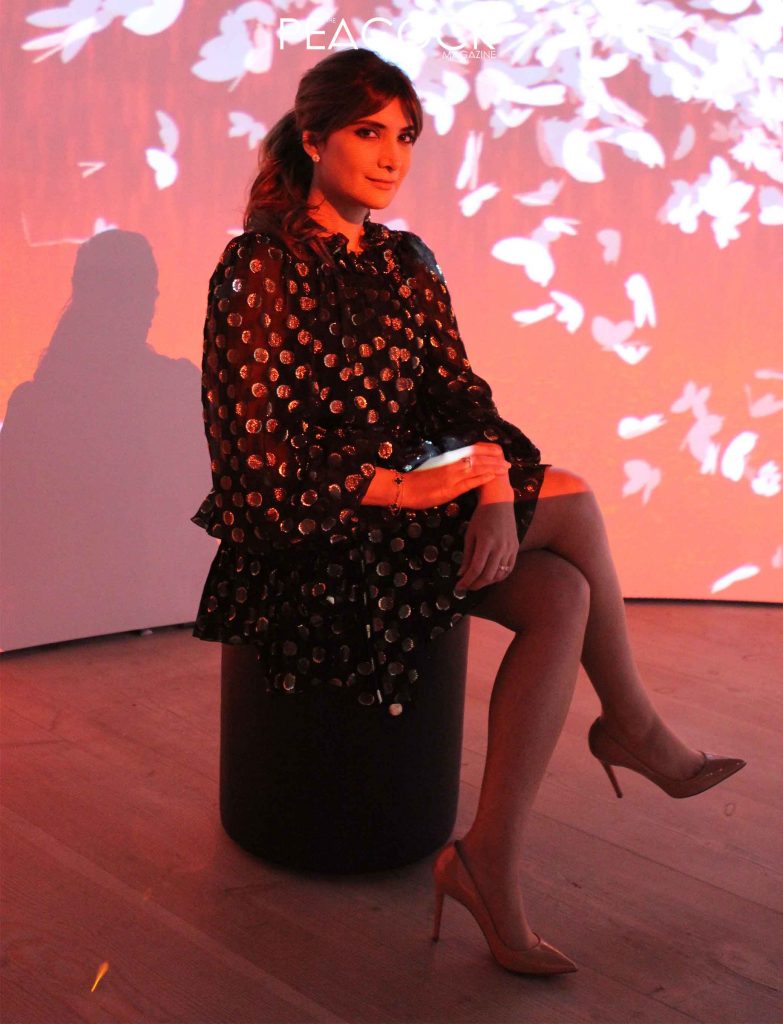 Michelle Y. Poonawalla is a name that is not unheard of. She's an artist, a philanthropist and yet she holds a reputation for being of the most humble and down-to-earth person you'd have possibly met. The Pune-based billionaire, artist, and socialite is multifaceted and is dedicated to every passion of hers, be it painting, horse-riding, fashion, or her love for vintage cars. Michelle was raised in India and the UK that lead to her dual-cultured upbringing. It was in her growing up years that she fostered her relationship with art – a fundamental part of her life. Michelle has received formal education from the American College, London wherein she pursued her graduate degree in Interior Design and a Bachelor of Arts. It was in 2016 that she had her first showcase at the Gateway School, Mumbai. After a praise-worthy debut, Michelle held various solo and group exhibitions back home and overseas.
Known for mostly painting butterflies, Poonawalla's artwork is classic yet futuristic. Her infusion of technology in art by deploying mixed-media and digital mapping technology to create some remarkable artworks have been commended by art connoisseurs all over. Some of her noted works include Khushi – India On Canvas in conjunction with Sotheby's, New Delhi, 2017; a project at the Parma Art Fair, Italy with Gallery Marco Antonio Patrizio, 2018, and the Introspection, a collateral project at the recently-concluded Kochi-Muziris Biennale 2018.
For the September issue of 'The Peacock Magazine', Michelle creates a spectacular piece of artwork that is dedicated to the 'FSP Woman'. We spoke to the creative genius as she tells us about her early influences, her future plans, and the art cover, from her point of view. Here's an excerpt –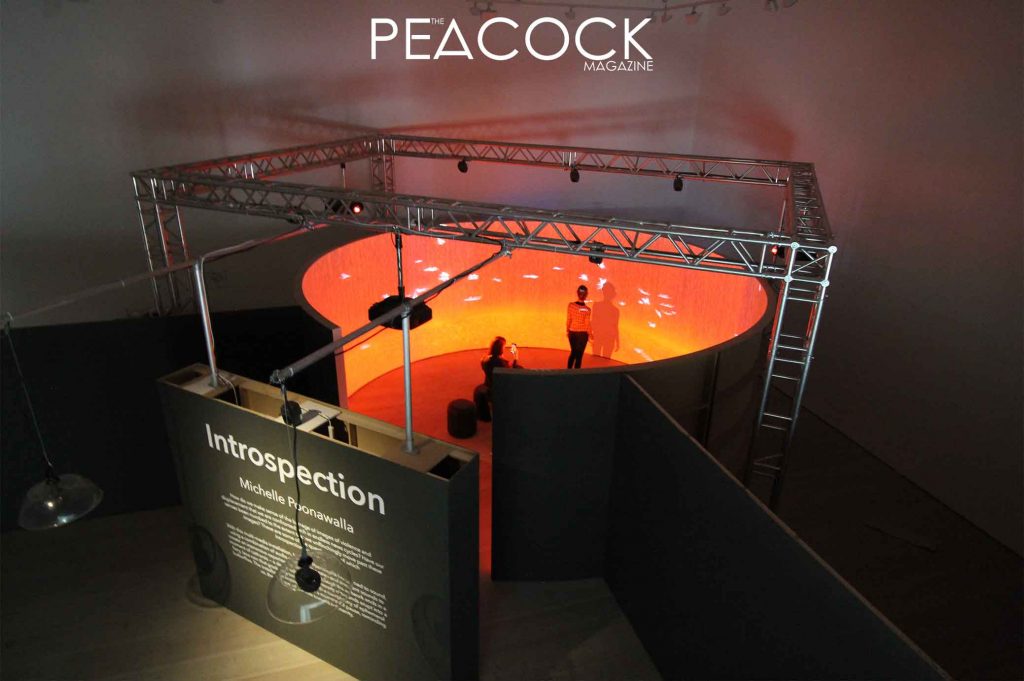 [Q] How were your growing up years like?
I have always been artistic from a very young age. My early years were spent growing up in India until I was 12 before I moved to London where I completed my schooling and college. I had always been interested in art and I had always enjoyed spending time with my grandfather, Jehangir Vazifdar, a renowned painter, whilst he worked. My Grandfather had a very special technique in oil painting with a ruler, which he shared only with me and it is important to me to carry on his legacy.
[Q] We have observed that you mostly paint butterflies. Why so? Is there a story behind it?
My very first solo show was at the Gateway School of Art with a group of Autistic children where we made a piece of art for their spring-summer show. The theme I chose was Butterflies. The work was so well received that everyone who saw it would say 'we want a work with the Butterflies flying out'. I then went on to do a show curated by Swapan Seth called 'What if you fly', which was solely with my name, and people identified me with 'The Butterfly'. Since then it has developed into a motif that has become synonymous with my work.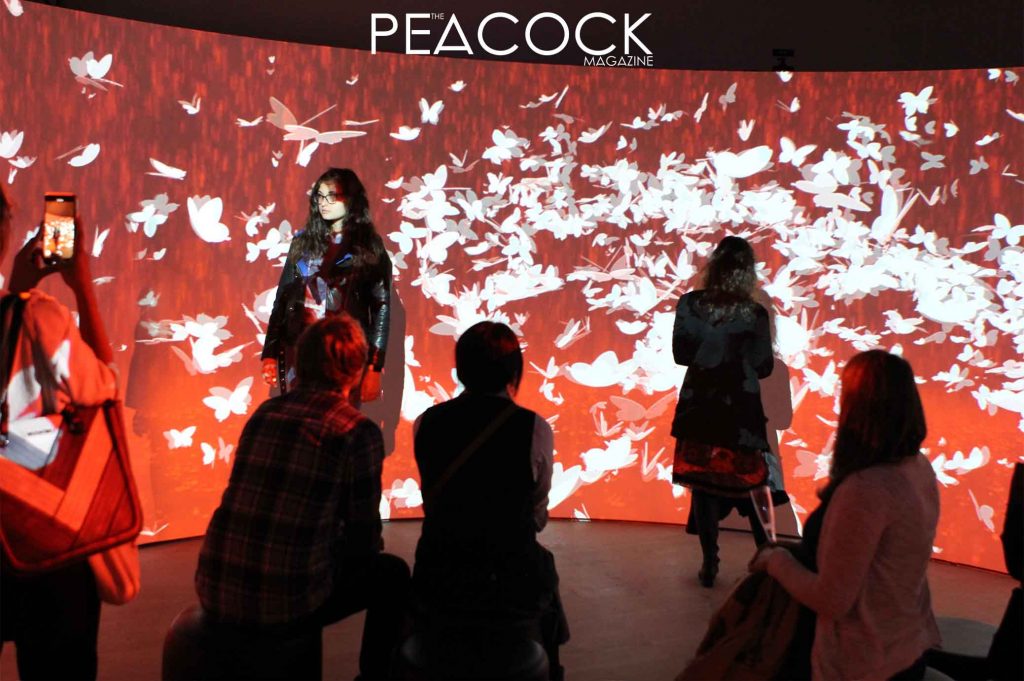 [Q] Who was your mentor? What was your relationship with him/her like?
My grandfather, Jehangir Vazifdar, was a famous South Bombay architect and art was his passion. He was a very intellectual man. I grew up hearing about his theories on art, seeing him sketching on his office desk daily. He would always say that art needs to be intelligent. It needs to make one think. He had created his own alphabet, his own color alphabet and his sketches were quick, in a matter of minutes. He used to say, don't think too much, just sketch what flows…..'. His pride was his oil painting with a ruler and that can never be recreated, or copied.
[Q] Where/in whom do you find your muse?
My inspiration normally comes to me before I want to paint. Maybe at night before I sleep, or something that I see which triggers my thought process. Once that happens, I create it. It is always at one go and I always like to finish what I start in a few hours.
[Q] What is your studio like? Do you compulsively paint there? If not, where else do you paint and why those places?
My studio is 'my' place. It is quiet and peaceful, surrounded by my garden. I have a large skylight. It is an art studio and doubles up as a place where I can have meetings.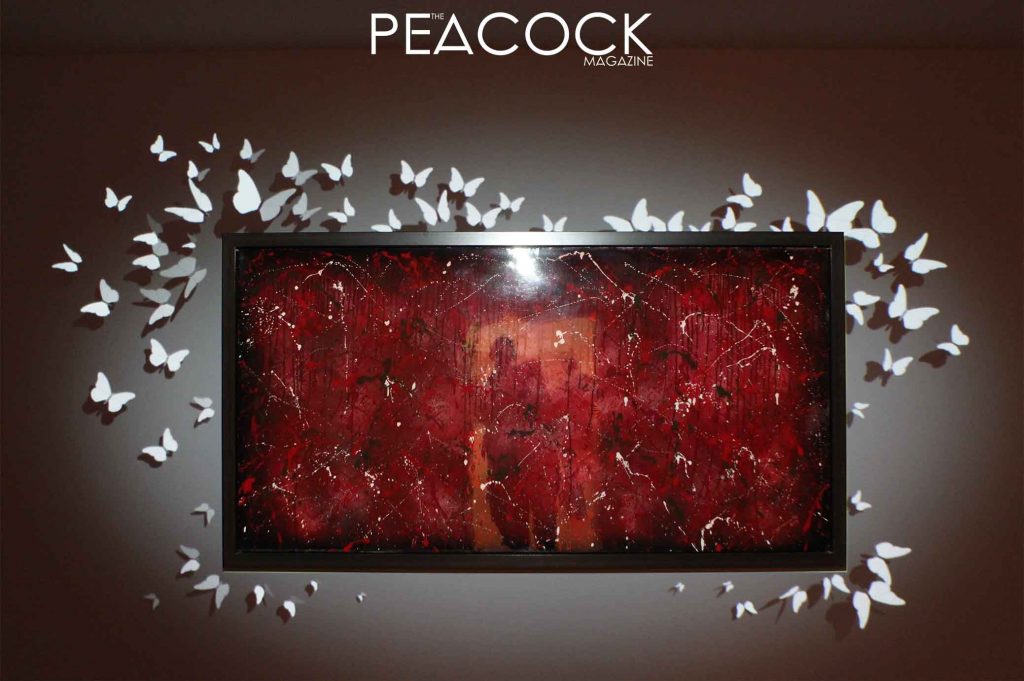 [Q] Which colors do you often find yourself reaching out to in your color palette? Any particular reason why?
The colors I work with depend a lot on the painting and my inspiration behind it. For me, beauty is such an important aspect of the work but of course, this can always change and be presented differently. For example, my recent work The Indian Summer is a large impasto oil painting inspired by the vibrant colors of the Gulmohar trees with their striking orange, red flowers. Whereas my recent collaboration with Inkiostro Biancno was all about celebrating their abilities to print on Gold Leaf and Pink Gold.
[Q] Have you been commissioned to paint for someone of high profile that we don't know of?
Yes. I've done several commissions for people for example I once did a commission for Finolex Pipes using their pipes.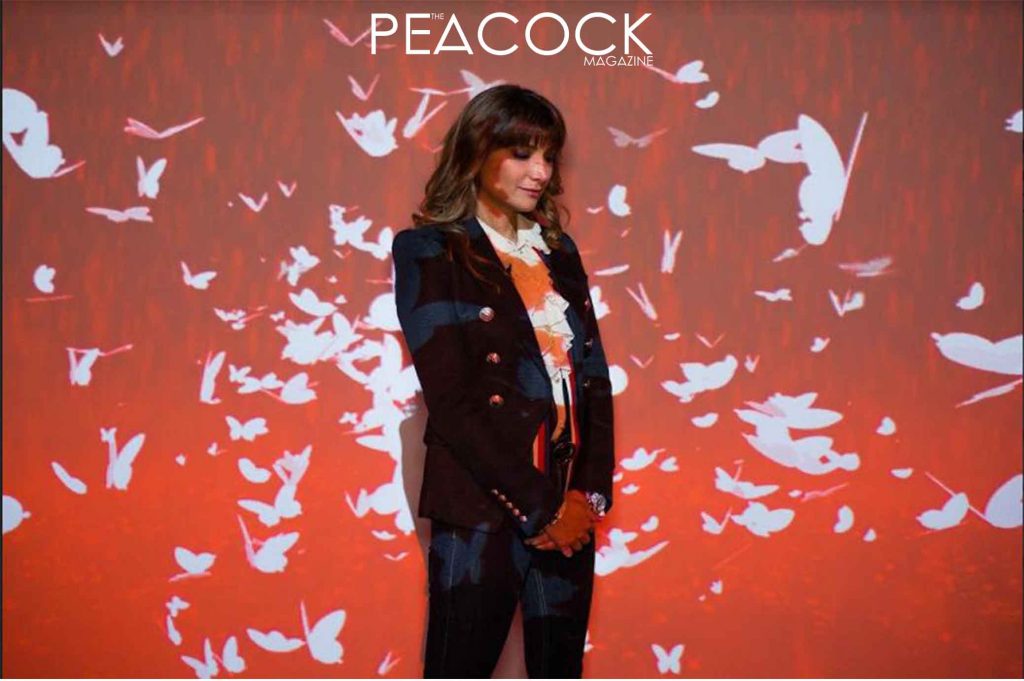 [Q] Without being unbiased, which paintings of yours are your personal favorites? Any particular painting of yours you loved but eventually, had to sell?
I love the experience my video mapping works create. 'Frost' is beautiful. The Butterflies rest on the frame and the entire work is motion-triggered. When a person walks close, the butterflies fly away as they would in nature.
[Q] If you had to divide your life as an artist into phases, what phases would those be? What/who have your biggest influences in each of these phases?
– Butterfly Art at the Gateway School
– Video mapping and Art
– 360 degrees immersive installation – Kochi Biennale Introspection
– Digital videos – Sedionart.com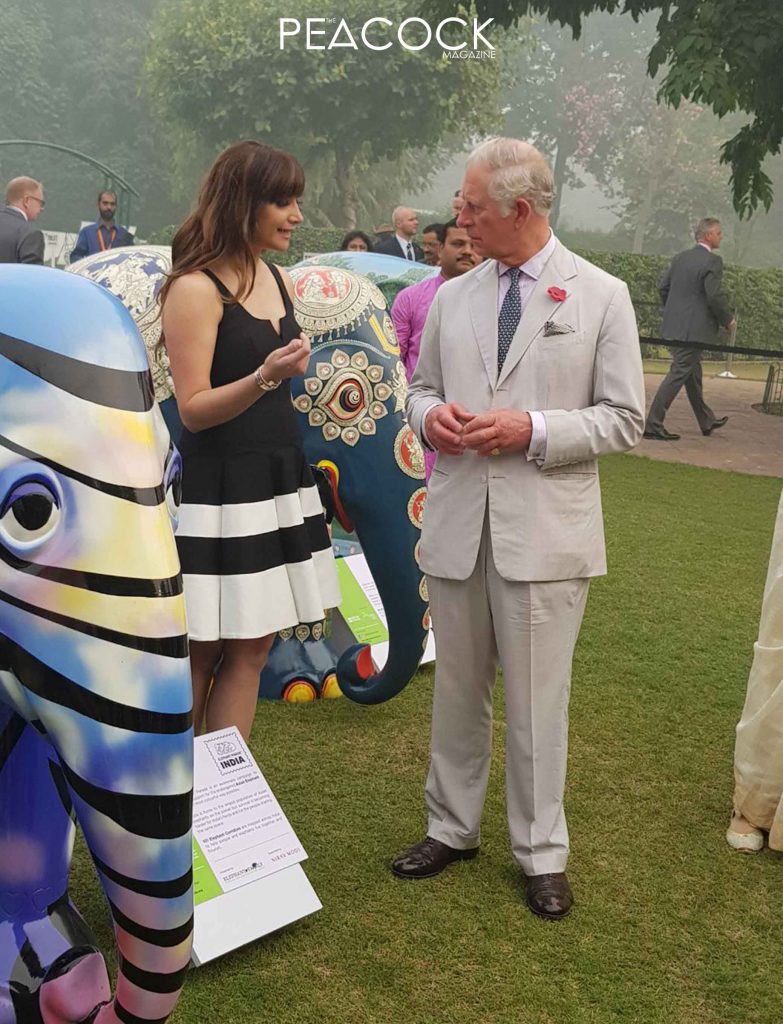 [Q] Who are your favorite artists? What is the first thing you notice when you see other artists' work?
There are many artists whose creative genius I admire. From old-timers like Van Gogh, Picasso, Dali, Miro to Banksy and Damien Hirst. I've also always liked to support upcoming Indian artists.
[Q] Now that the lockdown is over, what are your plans? What are you working on next?
I am working on environmental videos, and what is currently happening around us today – I think art has a voice, and it is a good medium to convey a message. I want my work to encourage people to stop, think, and introspect. Be it climate change, water scarcity, or about violence in our world, people should always stop and think.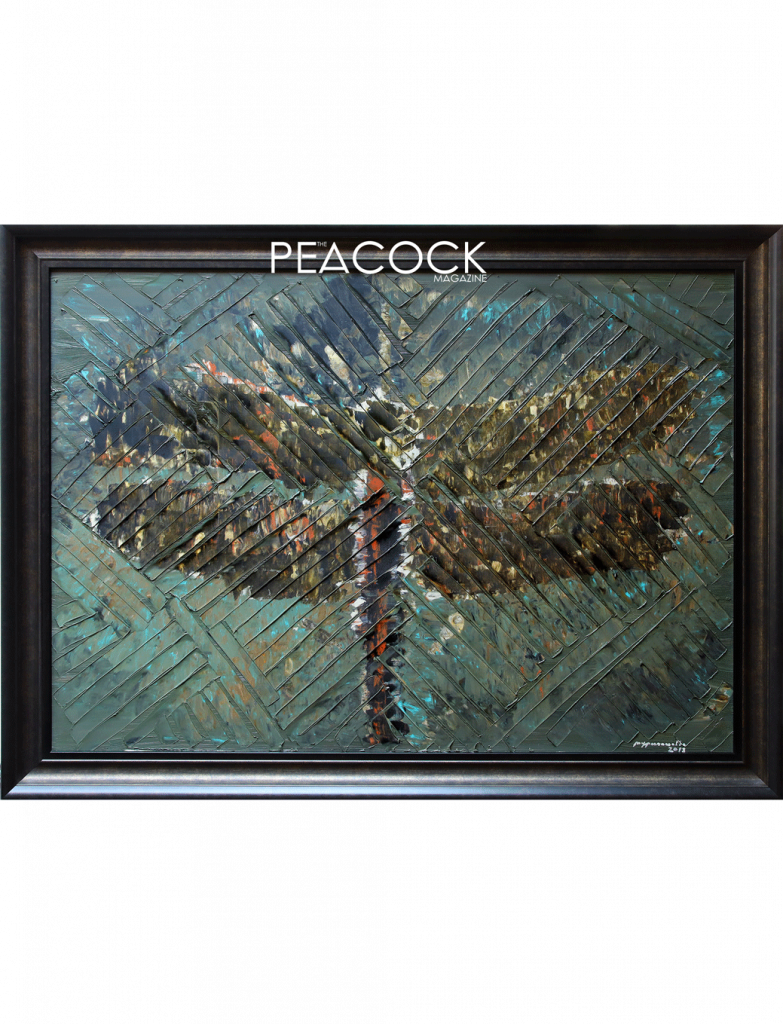 [Q] Can you tell us in detail about the cover you've created?
Love is part of a series of three works I created for Seditionart.com, which stems from my large-scale multi-sensory installation Introspection, first unveiled at the Kochi Biennial in 2018 and later at the Start Art Fair at the Saatchi Gallery in London. Whilst Introspection draws inspiration from pertinent questions that we find ourselves asking today, Love represents a positive message of strength and hope. The work features my signature motif of a butterfly, which represents many things including beauty and femininity as well as being a symbol of freedom. In the artwork, the butterflies come together against a deep red background a sign of strength and positivity, both with each other and for the future, before metamorphosing into the shape of a heart.
[Q] What was the process like? (Support with the relevant images taken during the painting)
My work is quite varied ranging from multimedia work to more traditional painterly techniques and the process is very organic. Although the themes are a little different this work, Love, evolved out of my larger installation work Introspection. I had wanted to make the work more accessible and to create something that was more easily viewed, and you didn't need the whole installation format.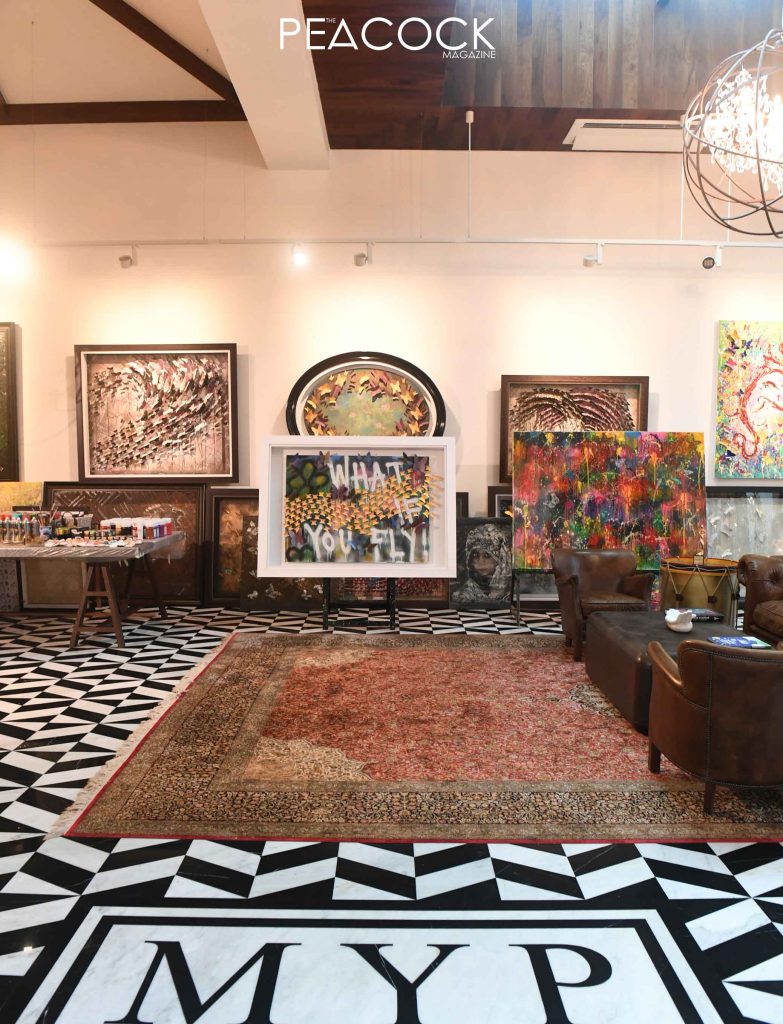 [Q] Could you talk about the cover from a fashion point of view for the FSP women?
Fashion and art for me have always been intrinsically linked. Whilst my artwork might address issues and challenges in the world it is always important for me that there is a beauty in the aesthetic of my work.
Fashion represents ideas of freedom and beauty, wearing what you want and what makes you feel good about yourself. For me, these are aspects that are deeply interwoven into Love and throughout my work through my signature motif of a butterfly which amongst many things represents beauty, femininity, and freedom.
CREDITS-
IMAGES – ARTIST'S OWN