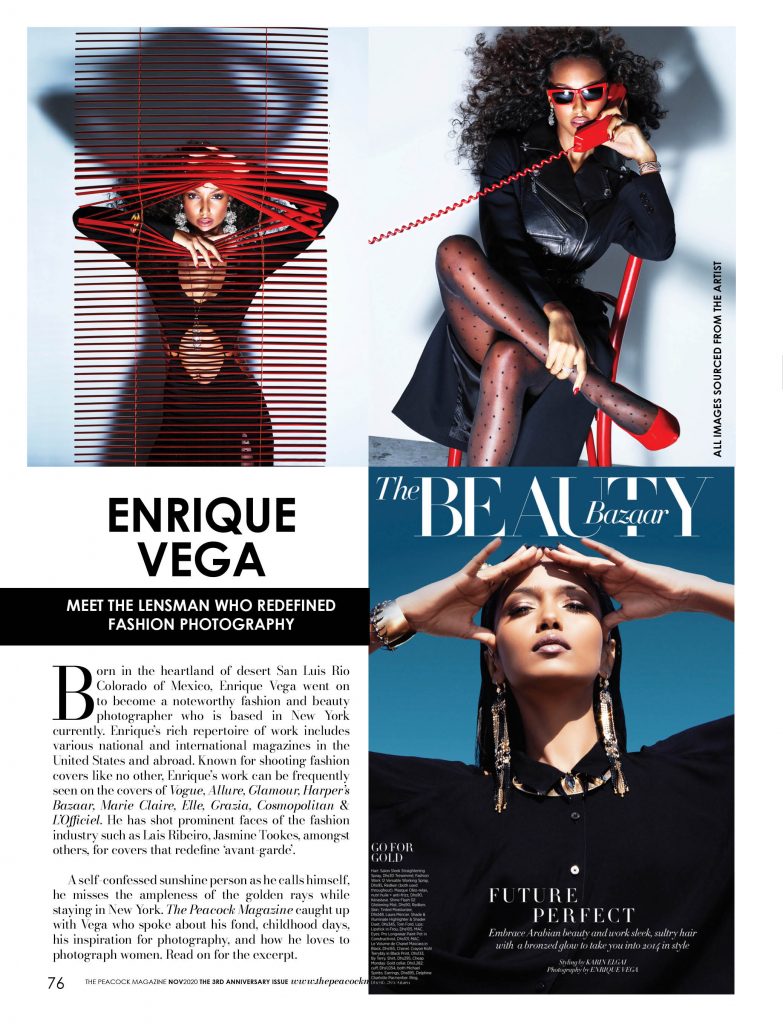 CREDITS-
IMAGES ARTIST'S OWN.

Born in the heartland of desert San Luis Rio Colorado of Mexico, Enrique Vega went on to become a noteworthy fashion and beauty photographer who is based in New York currently. Enrique's rich repertoire of work includes various national and international magazines in the United States and abroad. Known for shooting fashion covers like no other, Enrique's work can be frequently seen on the covers of Vogue, Allure, Glamour, Harper's Bazaar, Marie Claire, Elle, Grazia, Cosmopolitan & L'Officiel. He has shot prominent faces of the fashion industry such as Lais Ribeiro, Jasmine Tookes, amongst others, for covers that redefine 'Avant-Garde'.
A self-confessed sunshine person as he calls himself, he misses the ampleness of the golden rays while staying in New York. 'The Peacock Magazine' caught up with Vega who spoke about his fond, childhood days, his inspiration for photography, and how he loves to photograph women. Read on for the excerpt.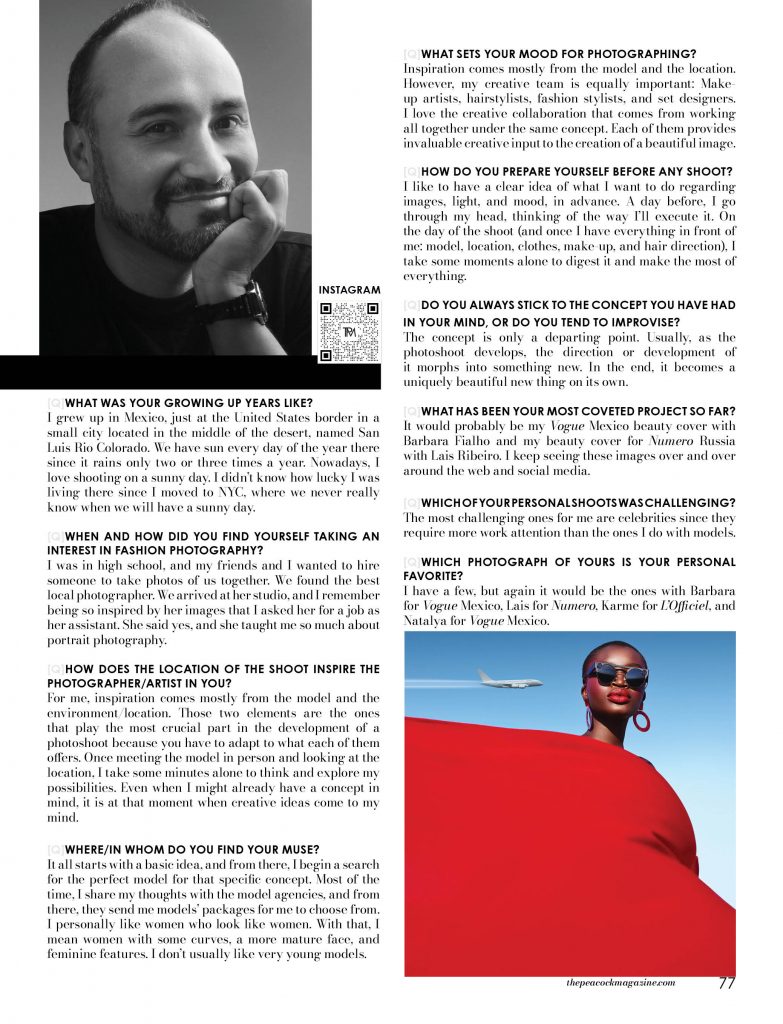 [Q] What was your growing up years like?
I grew up in Mexico, just at the United States border in a small city located in the middle of the desert, named San Luis Rio Colorado. We have sun every day of the year there since it rains only 2 or 3 times a year. Nowadays, I love shooting on a sunny day. I didn't know how lucky I was living there since I moved to NYC, where we never really know when we will have a sunny day.
[Q] When and how did you find yourself taking an interest in fashion photography?
I was in high school, and my friends and I wanted to hire someone to take photos of us together. We found the best local photographer. We arrived at her studio, and I remember being so inspired by her images that ask her for a job as her assistant. She said yes, and she taught me so much about portrait photography.
[Q] How does the location of the shoot inspire the photographer/artist in you?
For me, inspiration comes mostly from the model and the environment/location. Those two elements are the ones that play the most crucial part in the development of a photoshoot because you have to adapt to what each of them offers. Once meeting the model in person and looking at the location, I take some minutes alone to think and explore my possibilities. Even when I might already have a concept in mind, it is at that moment when creative ideas come to my mind.
[Q] Where/in whom do you find your muse?
It all starts with a basic idea, and from there, I begin a search for the perfect model for that specific concept. Most of the time, I share my thoughts with the model agencies, and from there, they send me models' packages for me to choose from. I personally like women who look like women. With that, I mean women with some curves, a more mature face, and feminine features. I don't usually like very young models.
[Q] What sets your mood for photographing?
Inspiration comes mostly from the model and the location. However, my creative team is equally important: make-up artists, hairstylists, fashion stylists, and set designers. I love the creative collaboration that comes from working all together under the same concept. Each of them provides invaluable creative input to the creation of a beautiful image.
[Q] How do you prepare yourself before any shoot?
I like to have a clear idea of what I want to do regarding images, light, and mood, in advance. A day before, I go through my head, thinking of the way I'll execute it. On the day of the shoot (and once I have everything in front of me: model, location, clothes, make-up, and hair direction), I take some moments alone to digest it and make the most of everything.
[Q] Do you always stick to the concept you have had in your mind, or do you tend to improvise?
The concept is only a departing point. Usually, as the photoshoot develops, the direction or development of it morphs into something new. In the end, it becomes a uniquely beautiful new thing on its own.
[Q] What has been your most coveted project so far?
It would probably be my Vogue Mexico beauty cover with Barbara Fialho and my beauty cover for Numero Russia with Lais Ribeiro. I keep seeing these images over and over around the web and social media.
[Q] Which of your personal shoots was challenging?
The most challenging ones for me are celebrities since they require more work attention than the ones I do with models.
[Q] Which photograph of yours is your personal favorite?
I have a few, but again it would be the ones with Barbara for Vogue Mexico, Lais for Numero, Karme for L'Officiel, and Natalya for Vogue Mexico.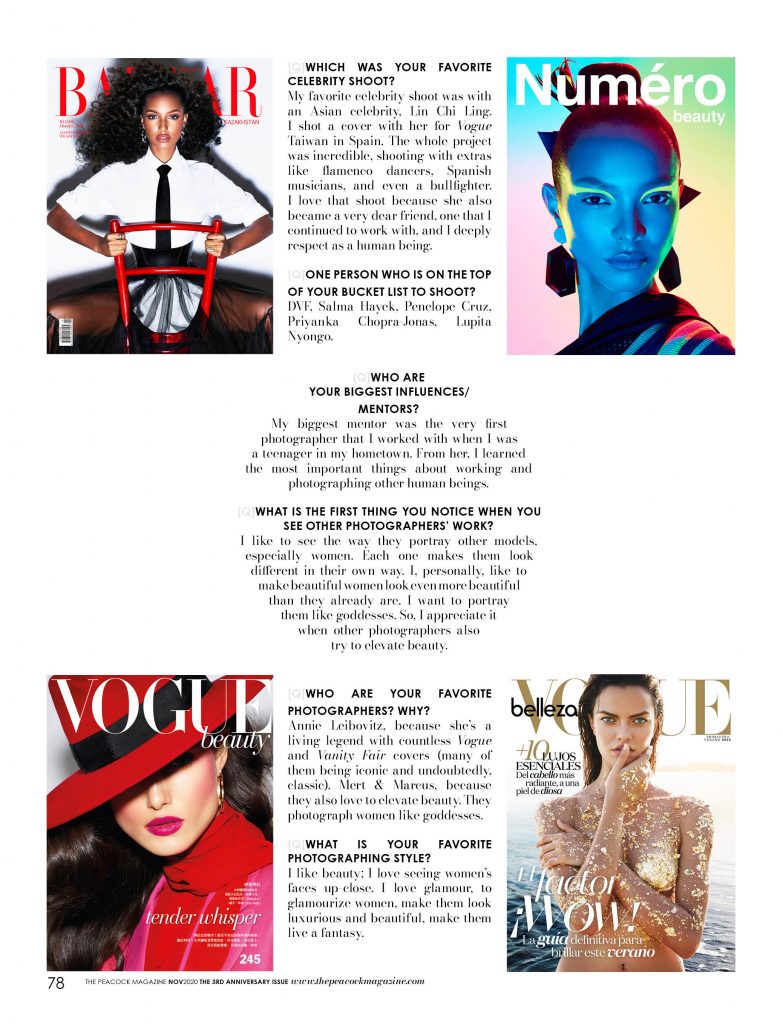 [Q] Which was your favorite celebrity shoot?
My favorite celebrity shoot was with an Asian celebrity, Lin Chi Ling. I shot a cover with her for Vogue Taiwan in Spain. The whole project was incredible, shooting with extras like flamenco dancers, Spanish musicians, and even a bullfighter. I love that shoot because she also became a very dear friend, one that I continued to work with, and I deeply respect as a human being.
[Q] One person who is on the top of your bucket list to shoot?
DVF, Salma Hayek, Penelope Cruz, Priyanka Chopra, Lupita Nyongo.
[Q] Who are your biggest influences/mentors?
My biggest mentor was the very first photographer that I worked with when I was a teenager in my hometown. From her, I learned the most important things about working and photographing other human beings.
[Q] What is the first thing you notice when you see other photographers' work?
I like to see the way they portray other models, especially women. Each one makes them look different in their own way. I personally like to make beautiful women even more beautiful than they already are. I want to portray them like Goddesses. So, I appreciate it when other photographers also try to elevate beauty.
[Q] Who are your favorite photographers? Why?
Annie Leibovitz, because she's a living legend with countless Vogue and Vanity Fair covers (many of them being iconic and undoubtedly, classic). Mert & Marcus, because they also love to elevate beauty. They photograph women like goddesses.
[Q] What is your favorite photographing style?
I like beauty; I love seeing women's faces up-close. I love glamour, to glamourize women, make them look luxurious and beautiful, make them live a fantasy.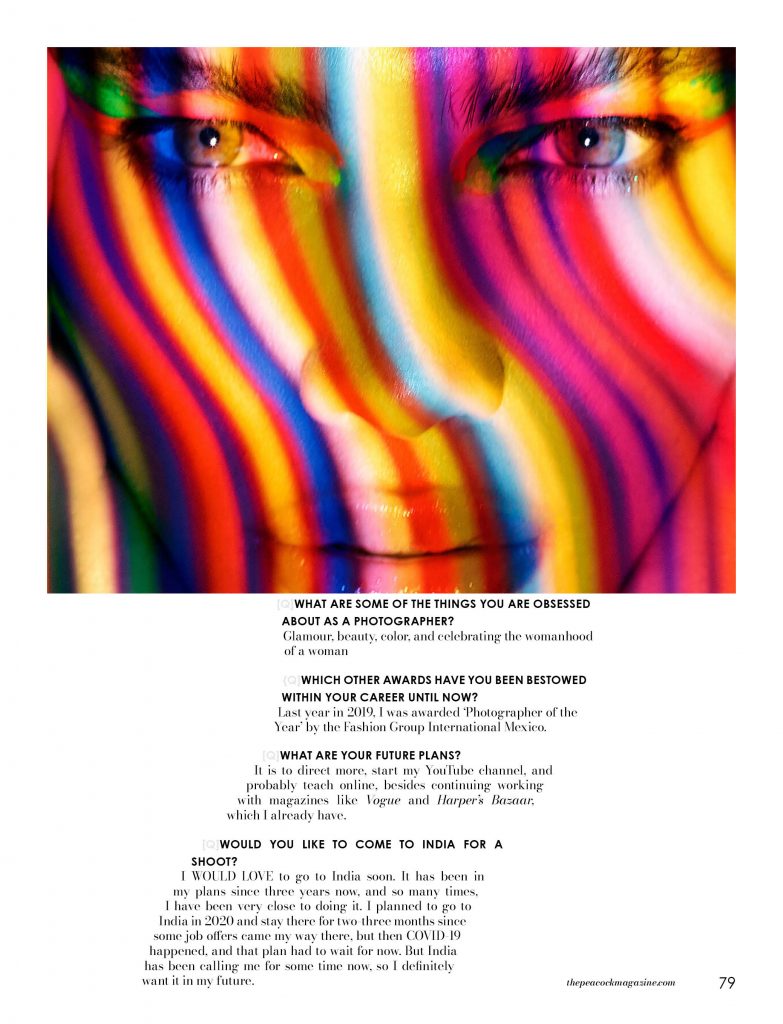 [Q] What are some of the things you are obsessed about as a photographer?
Glamour, beauty, color, and celebrating the womanhood of a woman.
[Q] Which other awards have you been bestowed within your career until now?
Last year in 2019, I was awarded 'Photographer of the Year' by the Fashion Group International Mexico.
[Q] What are your future plans?
It is to direct more, start my YouTube channel, and probably teaching online, besides continuing working with magazines like Vogue and Harper's Bazaar, which I already have.
[Q] Would you like to come to India for a shoot?
I WOULD LOVE to go to India soon. It has been in my plans since three years now, and so many times, I have been very close to doing it. I planned to go to India in 2020 and stay there for 2-3 months since some job offers came my way there, but then COVID happened, and that plan had to wait for now. But India has been calling me for some time now, so I definitely want it in my future.