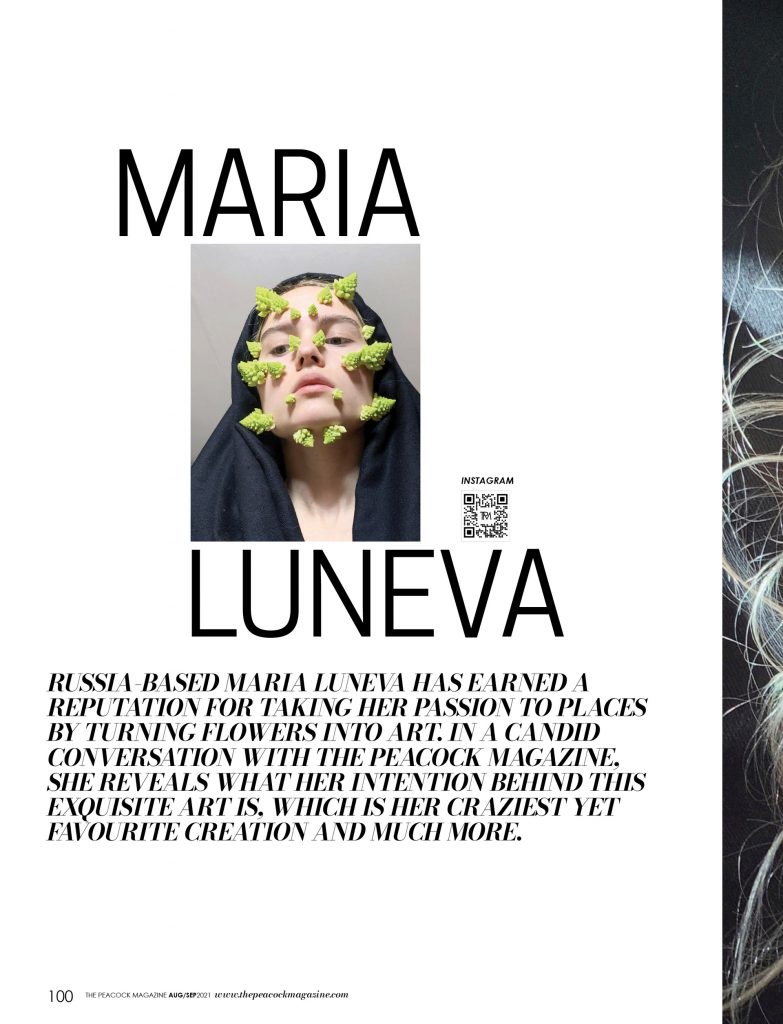 Russia-based maria luneva has earned a reputation for taking her passion to places by turning flowers into art. in a candid conversation with the peacock magazine, she reveals what her intention behind this exquisite art is, which is her craziest yet favourite creation and much more.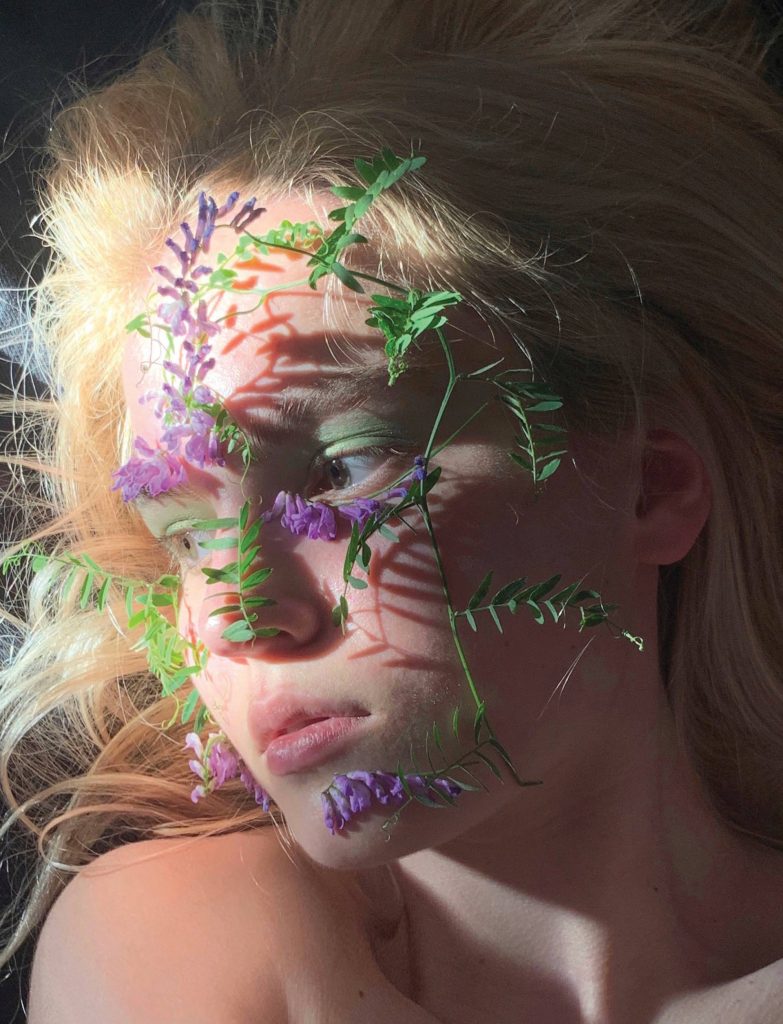 [Q] What were your years of growing up?
I grew up as a cheerful child spending every summer in the village. I would draw and play volleyball. Nothing remarkable in terms of crisis. Growing up, I had a contented calm.
[Q] When did you develop an interest in floral art?
In early 2019.
[Q] Have you studied art or are you self-taught?
I'm self-taught.
[Q] How are you going to create your work? What is this process like?
Most of the ideas come to me at the moment of direct contact with the plant. I study it and look for similarities with other objects, which that natural element could replace. Then I sit down, try on glue and fix. I get up next to the window and take a lot of pictures, and then I choose the best shots for a very long time.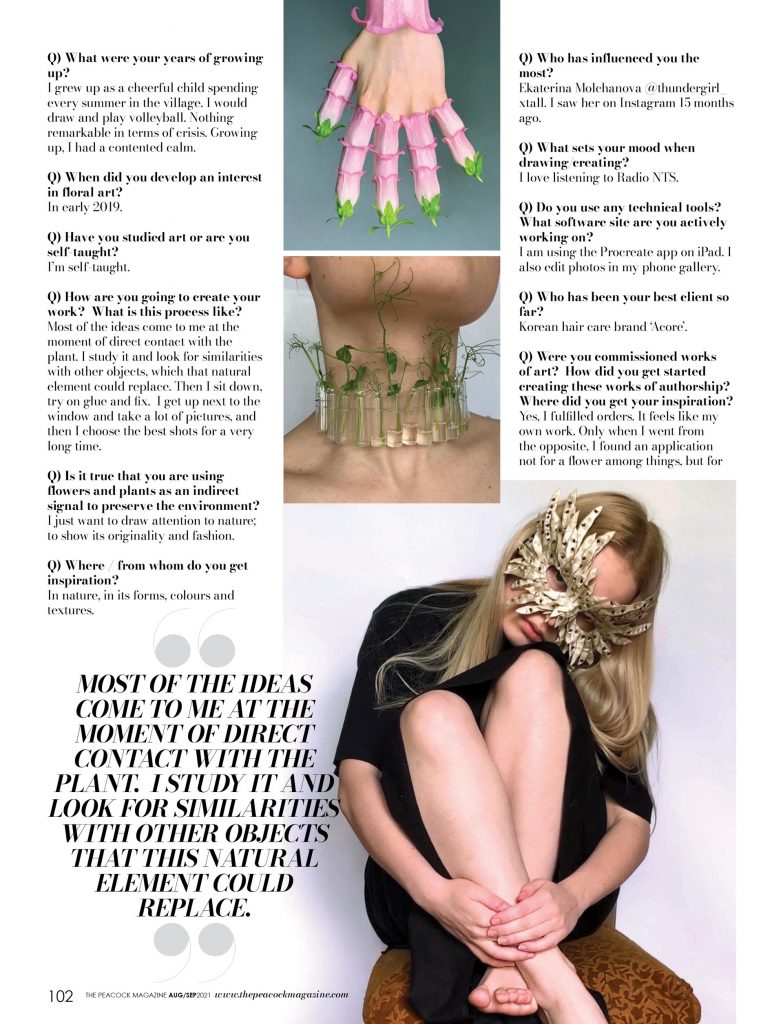 [Q] Is it true that you are using flowers and plants as an indirect signal to preserve the environment?
I just want to draw attention to nature; to show its originality and fashion.
[Q] Where / from whom do you get inspiration?
In nature, in its forms, colours and textures.
[Q] Who has influenced you the most?
Ekaterina Molchanova @thundergirl_xtall. I saw her on Instagram 15 months ago.
[Q] What sets your mood when drawing/creating?
I love listening to Radio NTS.
[Q] Do you use any technical tools? What software site are you actively working on?
I am using the Procreate app on iPad. I also edit photos in my phone gallery.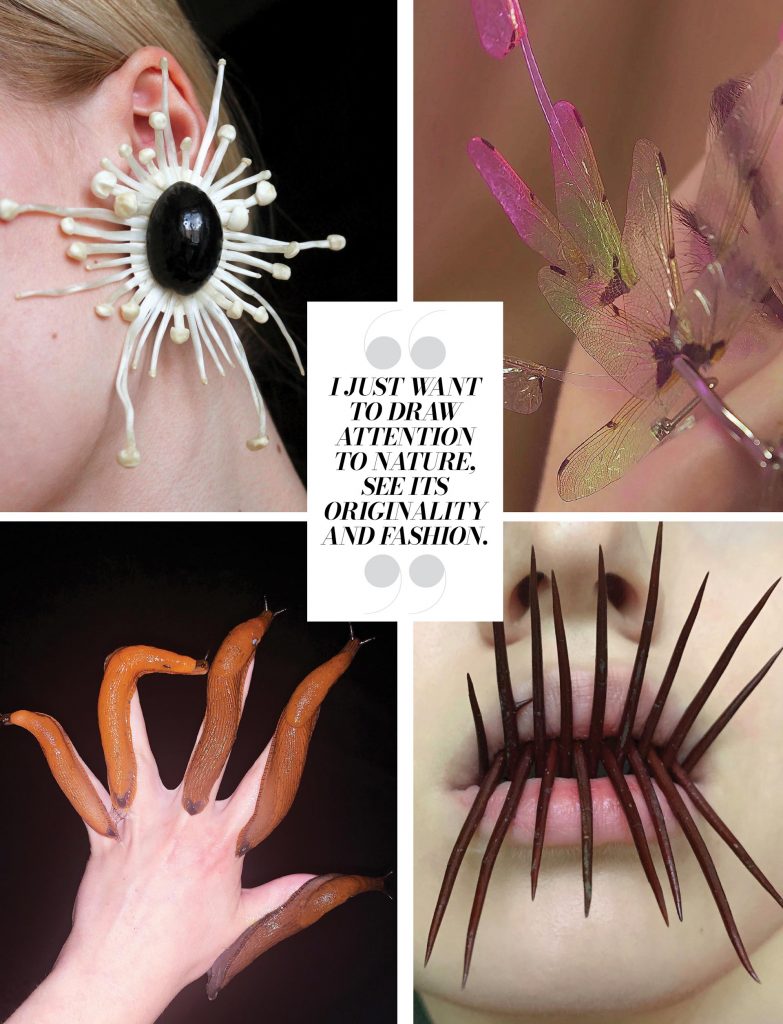 [Q] Who has been your best client so far?
Korean hair care brand 'Acore'.
[Q] Were you commissioned works of art? How did you get started creating these works of authorship? Where did you get your inspiration?
Yes, I fulfilled orders. It feels like my own work. Only when I went from the opposite, I found an application not for a flower among things, but for things among flowers. Those materials inspire me. I also look for similarities, paradoxes and combinations.
[Q] Which of your works do you like the most?
A photoshoot where I am like a goblin in the forest.
[Q] Which of your creations would be the craziest in your opinion?
Pubic hair, false eyelashes.
[Q] How do you deal with an art block if you ever have one?
I have not encountered this yet. Admiration for nature never leaves, because nature is constantly changing and so are the looks, so there is no time to get tired. But I do get tired physically and emotionally. Sometimes I need to rest. Paradoxically, I even rest at my country house, which is even closer to nature!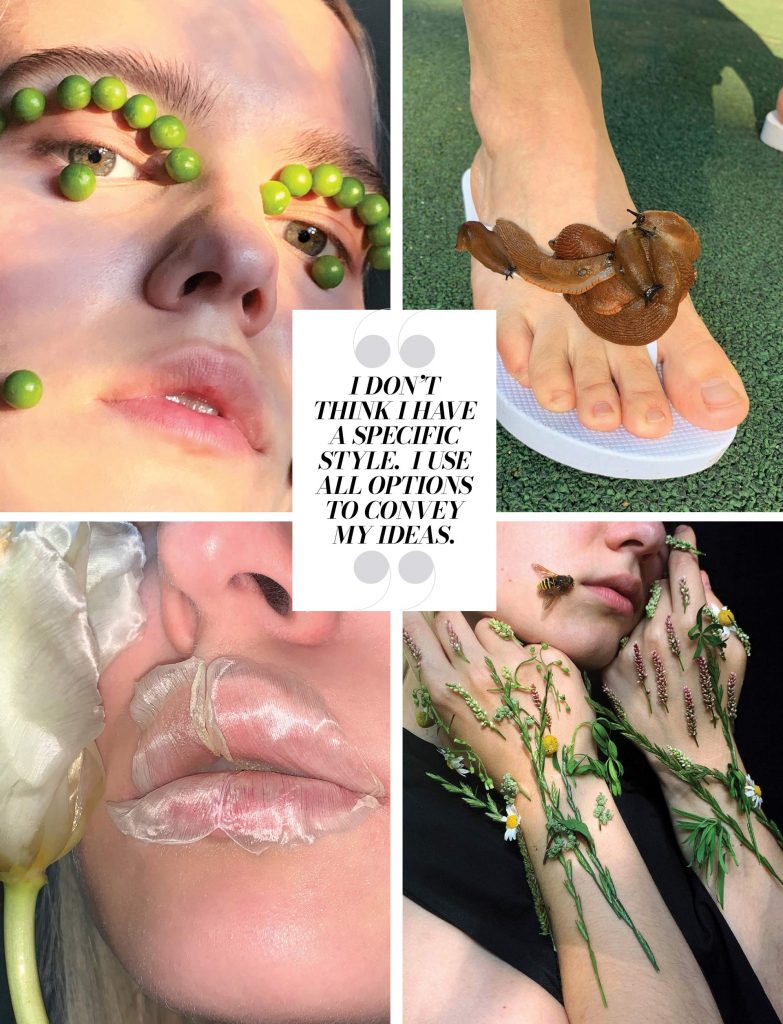 [Q] What is the first thing you notice when you see the work of other artists?
(The) idea.
[Q] Who are your favourite artists? Why?
Katya Molchanova @thundergirl_xtall is my educator.
Tamara Obukhova @toucheconomy – blows up my brain.
Anastasia Pilepchuk @nastia_pilepchuk – I really like the mask art, Nastya wants very stylish masks.
Polina Osipova @polinatammi I love the atmosphere of her art.
[Q] Art is __?
"Art is to see."
[Q] What are your plans for the future?
I have many more ideas that I am going to implement.
[Q] What is your goal as an artist?
This goal is inextricably linked to my life. I just want to create, be in demand and be satisfied with my work.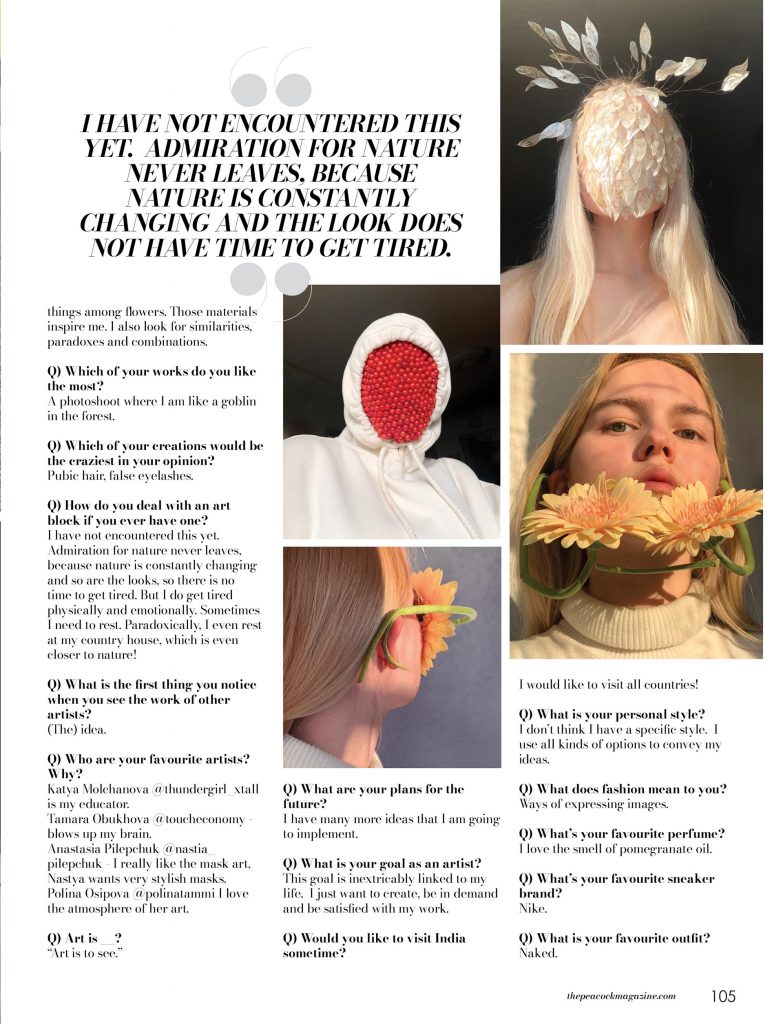 [Q] Would you like to visit India sometime?
I would like to visit all countries!
[Q] What is your personal style?
I don't think I have a specific style. I use all kinds of options to convey my ideas.
[Q] What does fashion mean to you?
Ways of expressing images.
[Q] What's your favourite perfume?
I love the smell of pomegranate oil.
[Q] What's your favourite sneaker brand?
Nike.
[Q] What is your favourite outfit?
Naked.