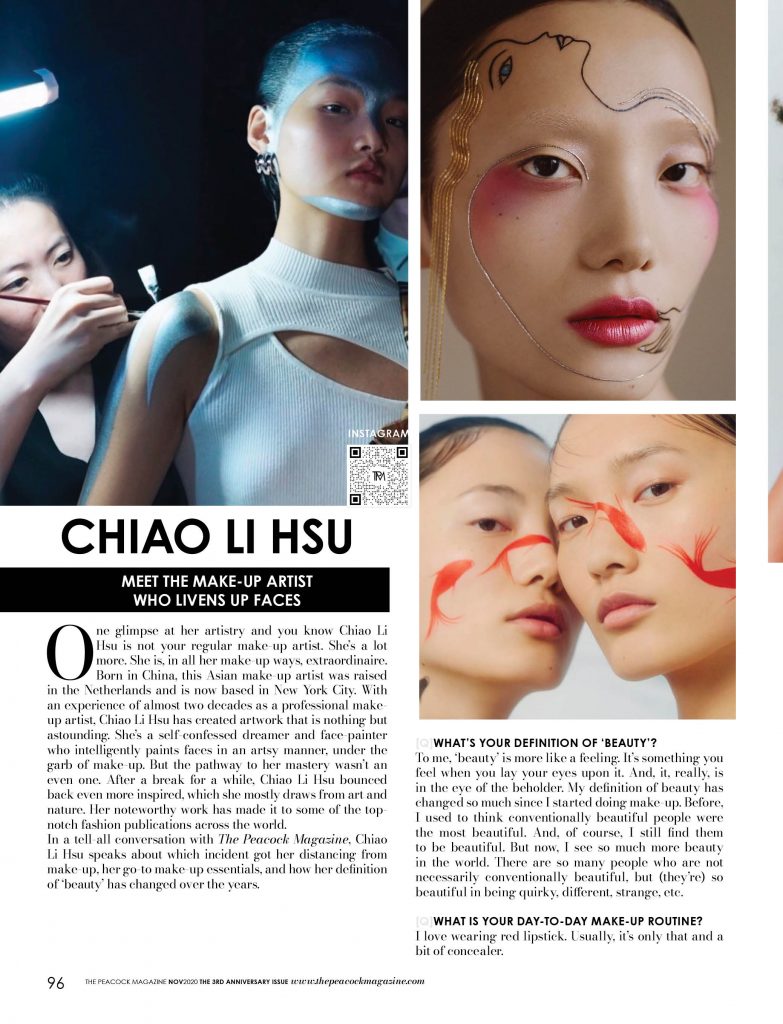 CREDITS-
IMAGES ARTIST'S OWN.

One glimpse at her artistry and you know Chiao Li Hsu is not your regular make-up artist. She's a lot more. She is, in all her make-up ways, extraordinaire. Born in China, this Asian make-up artist was raised in Netherland and is now based in New York City. With an experience of almost two decades as a professional make-up artist, Chiao Li Hsu has created artwork that is nothing but astounding. She's a confessed dreamer and face-painter who intelligently paint faces in an artsy manner, under the garb of make-up. But the pathway to her mastery wasn't an even one. After a break for a while, Chiao Li Hsu bounced back even more inspired, which she mostly draws from art and nature. Her noteworthy work has made it some of the top-notch fashion publications across the world.
In a tell-all conversation with 'The Peacock Magazine,' Chiao Li Hsu speaks which incident got her distancing from make-up, her go-to make-up essentials, and how her definition of 'Beauty' has changed over the years.

[Q] What's your definition of 'Beauty'?
To me, 'Beauty' is more like a feeling. It's something you feel when you lay your eyes upon it. And, it, really, is in the eye of the beholder. My definition of beauty has changed so much since I started doing make-up. Before, I used to think conventionally beautiful people were the most beautiful. And, of course, I still find them to be beautiful. But now, I see so much more beauty in the world. There are so many people who are not necessarily conventionally beautiful, but (they're) so beautiful in being quirky, different, strange, etc.
[Q] What is your day-to-day make-up routine?
I love wearing red lipstick. Usually, it's only that and a bit of concealer.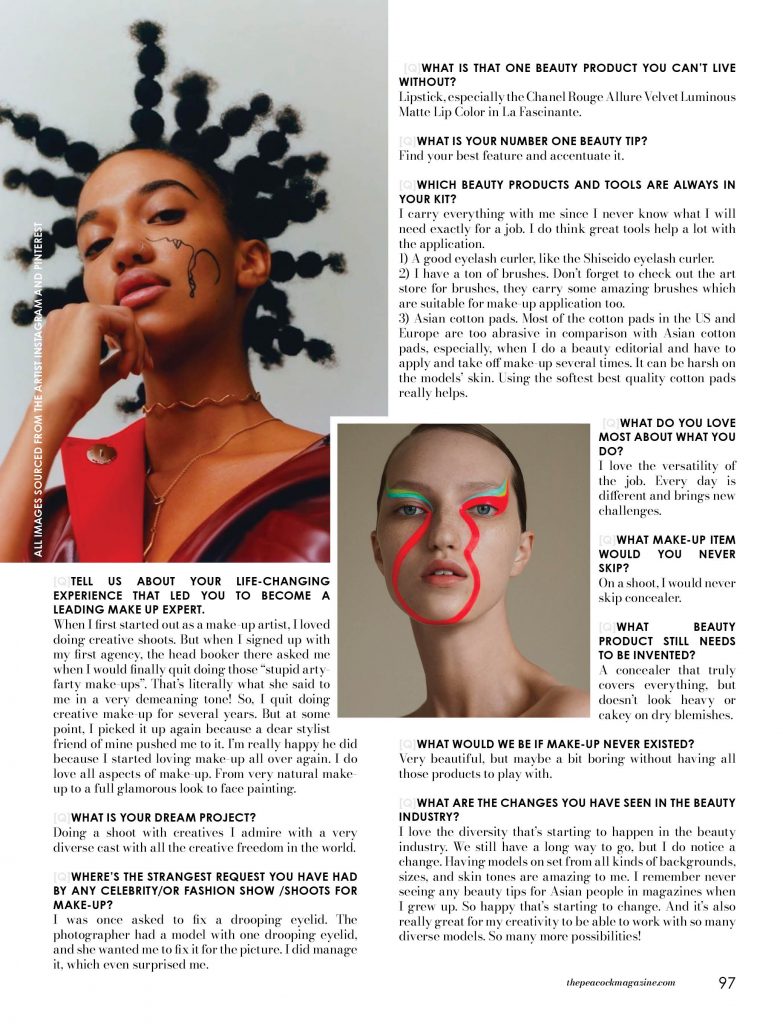 [Q] Tell us about your life-changing experience that led you to become a leading make up expert.
When I first started out as a make-up artist, I loved doing creative shoots. But when I signed up with my first agency, the head booker there asked me when I would finally quit doing those "stupid arty-farty make-ups". That's literally what she said to me in a very demeaning tone! So, I quit doing creative make-up for several years. But at some point, I picked it up again because a dear stylist friend of mine pushed me to it. I'm really happy he did because I started loving make-up all over again. I do love all aspects of make-up. From very natural make-up to a full glamorous look to face painting.
[Q] What is your dream project?
Doing a shoot with creatives I admire with a very diverse cast with all the creative freedom in the world.
[Q] Where's the strangest request you have had by any celebrity/or fashion show /shoots for make-up?
I was once asked to fix a drooping eyelid. The photographer had a model with one drooping eyelid, and she wanted me to fix it for the picture. I did manage it, which even surprised me.
[Q] What is that one beauty product you can't live without?
Lipstick, especially the Chanel Rouge Allure Velvet Luminous Matte Lip Color in La Fascinante.
[Q] What is your number one beauty tip?
Find your best feature and accentuate it.
[Q] Which beauty products and tools are always in your kit?
I carry everything with me since I never know what I will need exactly for a job. I do think great tools help a lot with the application.
1)A good eyelash curler, like the Shiseido eyelash curler.
2)I have a ton of brushes. Don't forget to check out the art store for brushes, they carry some amazing brushes which are suitable for make-up application too.
3)Asian cotton pads. Most of the cotton pads in the US and Europe are too abrasive in comparison with Asian cotton pads, especially, when I do a beauty editorial and have to apply and take off make-up several times. It can be harsh on the models' skin. Using the softest best quality cotton pads really helps.
[Q] What do you love most about what you do?
I love the versatility of the job. Every day is different and brings new challenges.
[Q] What make-up item would you never skip?
On a shoot, I would never skip concealer.
[Q] What beauty product still needs to be invented?
A concealer that truly covers everything, but doesn't look heavy or cakey on dry blemishes.
[Q] What would we be if make-up never existed?
Very beautiful, but maybe a bit boring without having all those products to play with.
[Q] What are the changes you have seen in the beauty industry?
I love the diversity that's starting to happen in the beauty industry. We still have a long way to go, but I do notice a change. Having models on set from all kinds of backgrounds, sizes, and skin tones are amazing to me. I remember never seeing any beauty tips for Asian people in magazines when I grew up. So happy that's starting to change. And it's also really great for my creativity to be able to work with so many diverse models. So many more possibilities!