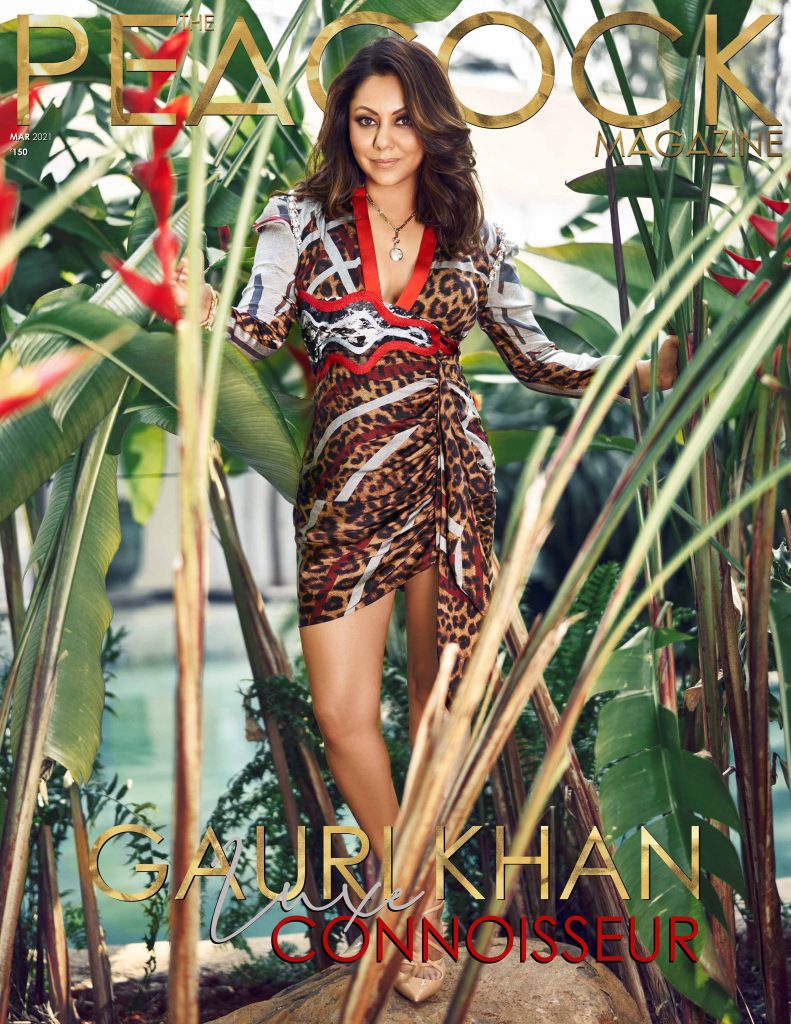 CREDITS-
PHOTOGRAPHER – AVINASH GOWARIKER
HAIR AND MAKEUP – MEHAK OBEROI
JEWELLERY- ARGENTO JEWELRY, ISHARYA AND OPALINA – SOULFUL JEWELLERY
PRODUCTION – FSP PRODUCTION
COORDINATING AGENCY AND TALENT MANAGEMENT – BOTTOMLINE MEDIA
WARDROBE – FALGUNI SHANE PEACOCK
RUGS – FALGUNI SHANE PEACOCK X COCOON

As we near the launch of Gauri Khan's march digital cover on the occasion of International Women's Day, I grow anxious about my story on her. Those who know Gauri know her to be one of the most easygoing persons they have ever come across. The difficult part that induces my nervousness is to do justice in listing down the numerous roles and ventures she owns and manages, with grace – for that matter. Gauri has carved her own niche and today, she holds her own as India's leading design magnate and an aesthete with a matchless taste in luxury. She has, indeed, come a long way to becoming the epitome of an ideal woman.
Born as Gauri Chhibber in the bustling city of Delhi, she was a quintessential young girl with aspirations aplenty. She was no sooner swept off her feet by a charming young lad who is now her husband and a superstar of the Indian film industry, Shahrukh Khan.
Gauri's formal education in fashion designing was her subtle way of foraying into the design domain. But the interest soon veered into interiors, as she took up her own house, Mannat, as her first project as an interior designer. Gauri and her dreams have only grown thereafter. On the personal front, Gauri is a beloved daughter, a loving wife, and a doting mother.
For the March 2021 digital issue of The Peacock Magazine, Gauri opens up about her younger days, the bond she shares with her mother, her work and family, and what makes her happy. Read on.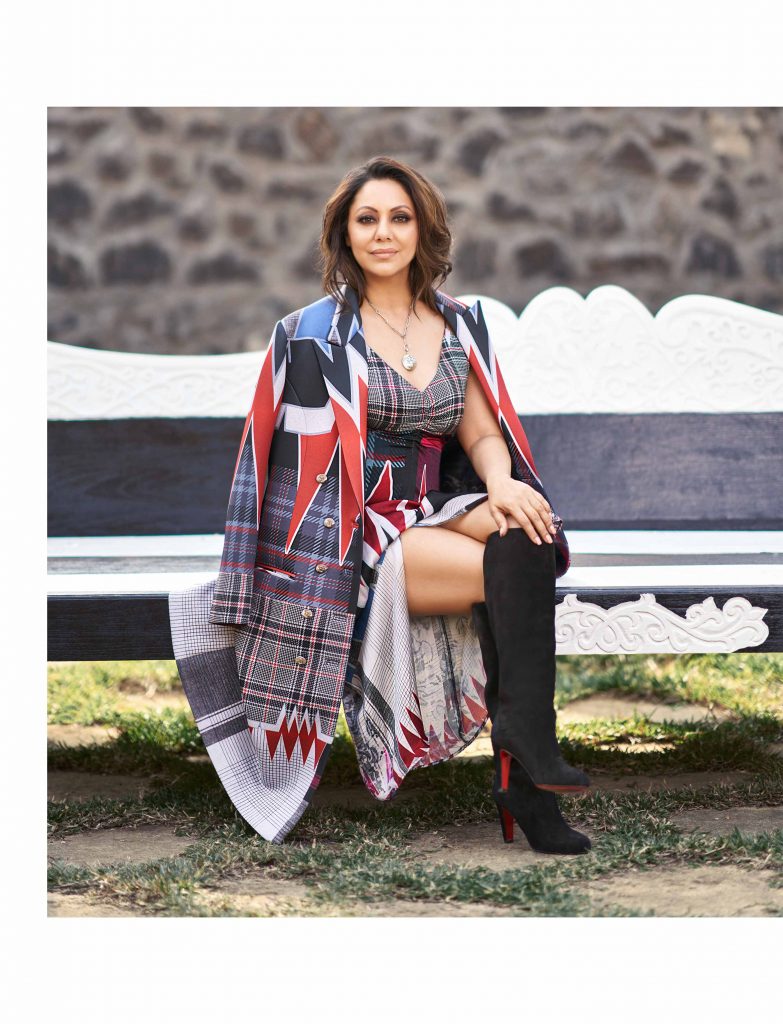 [Q] How were your growing up years like?
I was brought up in a strict Army background family with a bachelor's degree in History from Lady Shri Ram College, Delhi University. After finishing my studies, I took up a six-month-long course in Fashion Designing from the National Institute of Fashion Technology as I've been fascinated by art ever since I was a child.
[Q] How close are you to your mother?
I am very close to her.
[Q] You have a formal education in fashion designing. When did you first realize your inclination of getting into interior design?
I've been intrigued by art since I was a child. The start of my career was when I designed my home in Mumbai. Kef was the architect then. We worked very closely and I learnt a lot from him. It was at that time is when I first realized my inclination of getting into interior design.
[Q] How did film production happen to you?
I started off as a producer in 2004, and my first movie was 'Main Hoon Na,' which was also the second highest-grossing movie of that year.
[Q] What was your first breakthrough moment as an interior designer
Designing Mannat was my first breakthrough moment as an interior designer.
[Q] How would you define your design aesthetic?
Contemporary, modern, and classic. However, it is also unparalleled and individualistic.
[Q] Tell us about that significant turning point in your journey so far?
When I started my first store eight years back, I launched a small design studio with my own furniture line. I knew then that this was what I loved and was passionate about. After that, the sky was my limit, and there was no looking back.
[Q] Your love for art is very well reflected in the aesthetics of all the places you've done up. How do you decide upon the theme and art décor for each of your projects?
It depends on the personality of my client.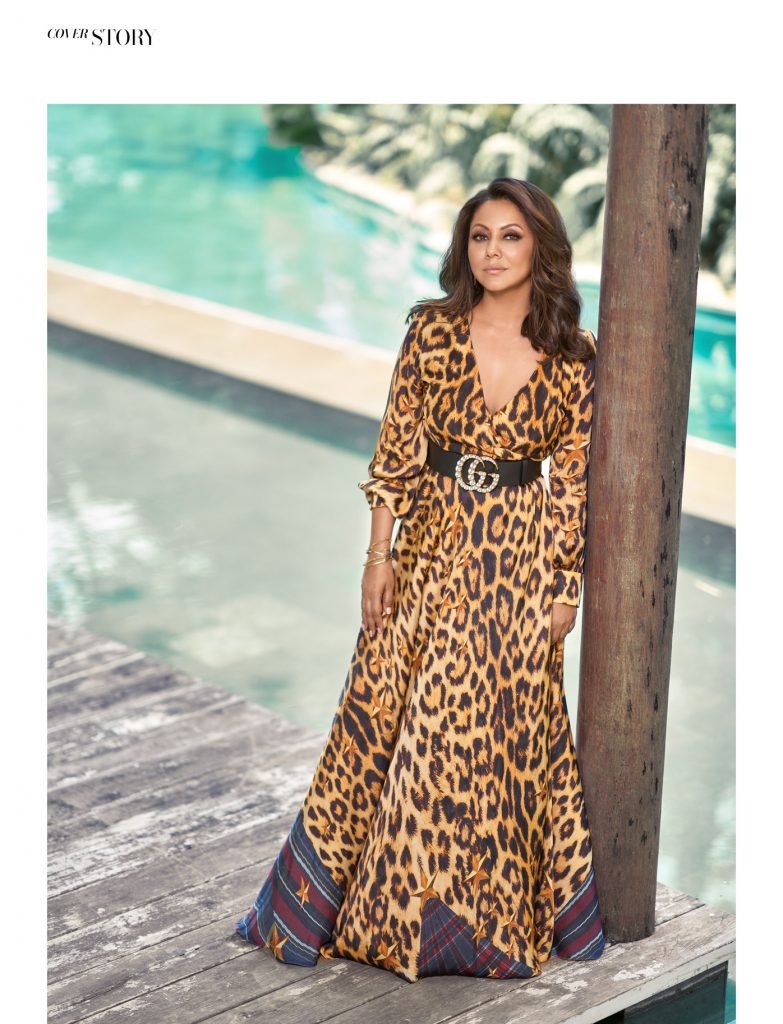 [Q] You are one of the most celebrated interior aesthetes in India. What has been your personal experience as one of the crucial navigators of your domain?
I believe if you love something and are passionate about it, you will definitely be successful.
[Q] How important is it for you to infuse technology in designing?
Technology is important because it helps you connect with people, and it also allows you to conduct projects in different parts of the world and stay connected.
[Q] Who has been the biggest mentor in your becoming?
My family has been my inspiration all along.
[Q] Being a part of the showbiz industry, how do movies end up inspiring your design aesthetics?
Movies play an important part because every movie has a different character, different backdrop. Sometimes it is in interesting cities across India which takes us through the heritage and culture. Even internationally in places such as Rome, which has cathedrals. Movies also help you travel with the character to a different part.
[Q] Where do you draw your inspiration from?
Through my travels, I take a lot of inspiration from the places I see. For example, Paris has a lot of art, galleries, museums, monuments, etc.
[Q] What makes you happy?
My family.
[Q] Does Abram bring out the child in you?
Of course!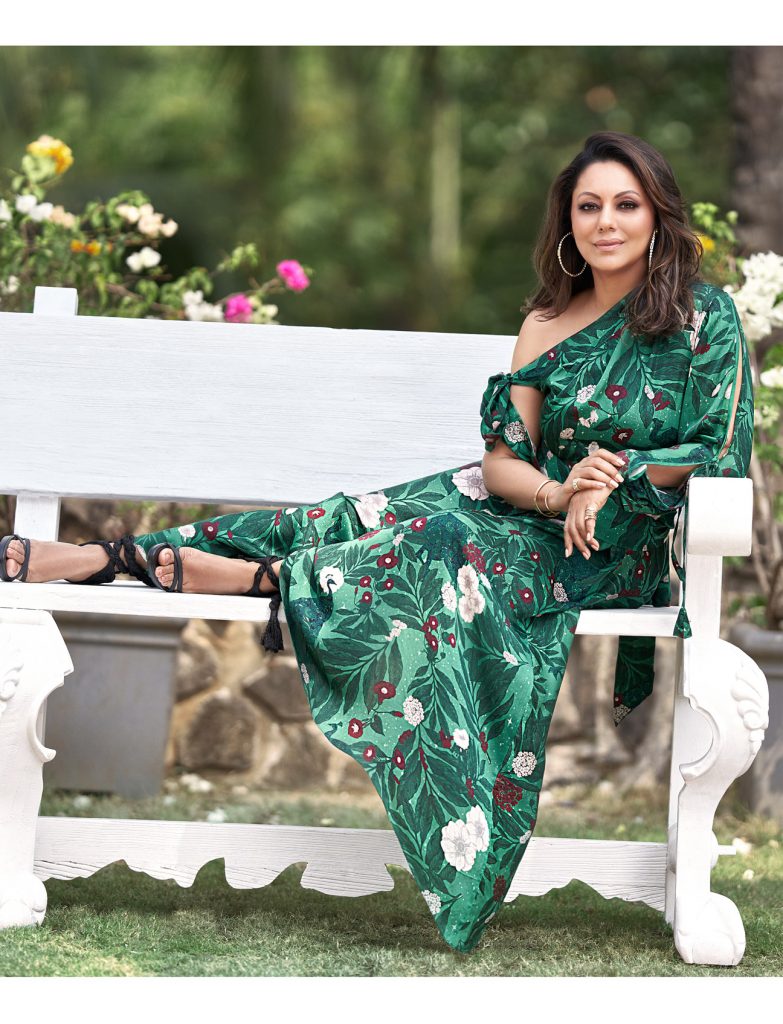 [Q] How does your family extend its support to you as you multitask being an entrepreneur, a producer, a daughter, a wife, and a mom?
They are very supportive. They have always been my motivation and strength for work.
[Q] How do you dabble in being a designer, film producer, daughter, wife, and mother with such elan?
My kids Aryan and Suhana are quite sorted with their school and college. Little Abram takes time but Shah Rukh and myself, both have enough time for him so we share our duties as parents, which gives me enough time to be at work and do what I love and I'm passionate about. It's going quite smoothly.
[Q] How excited are you for 2021? What have you lined up for the year?
I'm trying to stay safe and hoping we all meet on the other side of COVID-19.
[Q] What's new on the horizon for Gauri Khan Designs?
A lot of collection which is an affordable pret line of furniture which will be available towards the second half of the year. I'm really excited about that.
[Q] What is on the cards for the next five years' plan for all your ventures?
Go with the flow and cherish and be grateful for each day of good health that we have.
[Q] Who is Gauri Khan when not a designer or producer?
Mom. Wife. Friend.
[Q] Do you discuss your work with your family, especially your children?
Only when the need be.
[Q] Your favorite holiday destination?
Rome.
[Q] A cuisine you enjoy a lot?
Japanese.
[Q] How do you unwind?
I unwind by watching movies.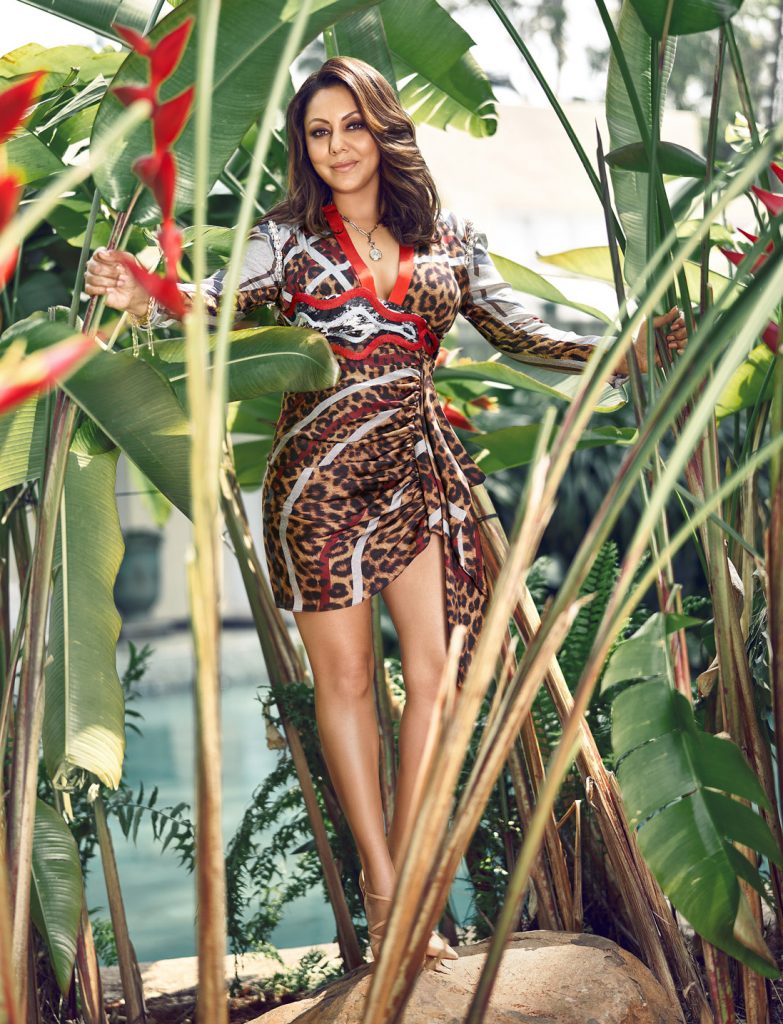 [Q] A TV show you binge-watched and wouldn't mind doing so again?
Money Heist.
[Q] If you wrote an autobiography, what would you name it?
I am more of a reader than a writer.
[Q] What would you be if not a designer or producer?
It would surely be something to do with design in any field.
[Q] What are some of your favorite work tools?
My iPad is my go-to work tool. However, the classic old way of using a basic pencil or pen and a sketchbook just does the trick.
[Q] Your favorite genre of movies?
Old classic movies.
[Q] A meal you'd whip up for your family on any given day?
I don't enjoy cooking.