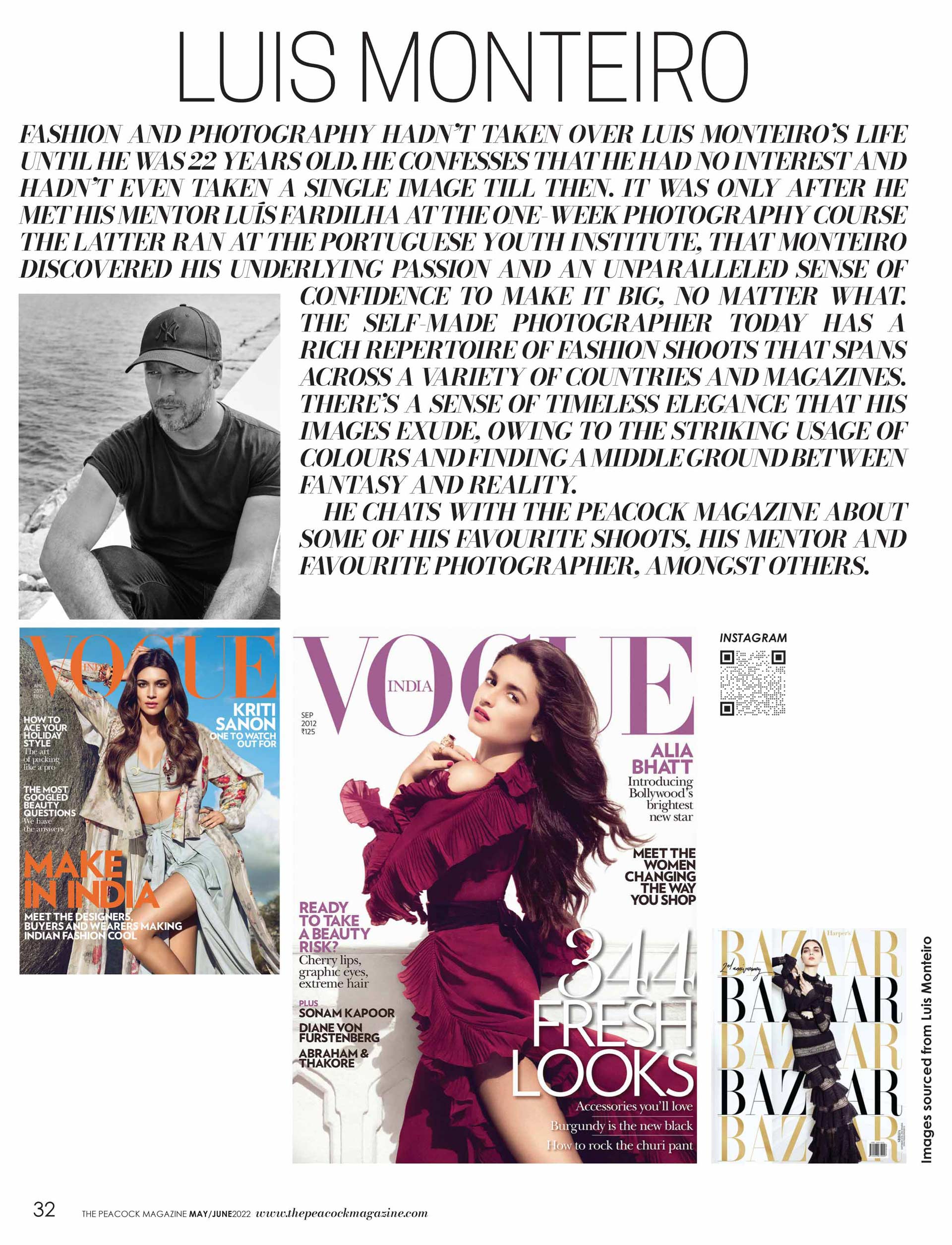 CREDITS – Images sourced from Luis Monteiro
Fashion and photography hadn't taken over Luis Monteiro's life until he was 22 years old. He confesses that he had no interest and hadn't even taken a single image till then. It was only after he met his mentor Luís Fardilha at the one-week photography course that the latter ran at the Portuguese Institute of Sports and Youth that Monteiro discovered his underlying passion and an unparalleled sense of confidence to make it big, no matter what. The self-made photographer today has a rich repertoire of fashion shoots spanning across a variety of countries and magazines. There's a sense of timeless elegance that his images exude, owing to the striking usage of colours and finding a middle ground between fantasy and reality.

He chats with The Peacock Magazine about some of his favourite shoots, his mentor and favourite photographer, amongst others.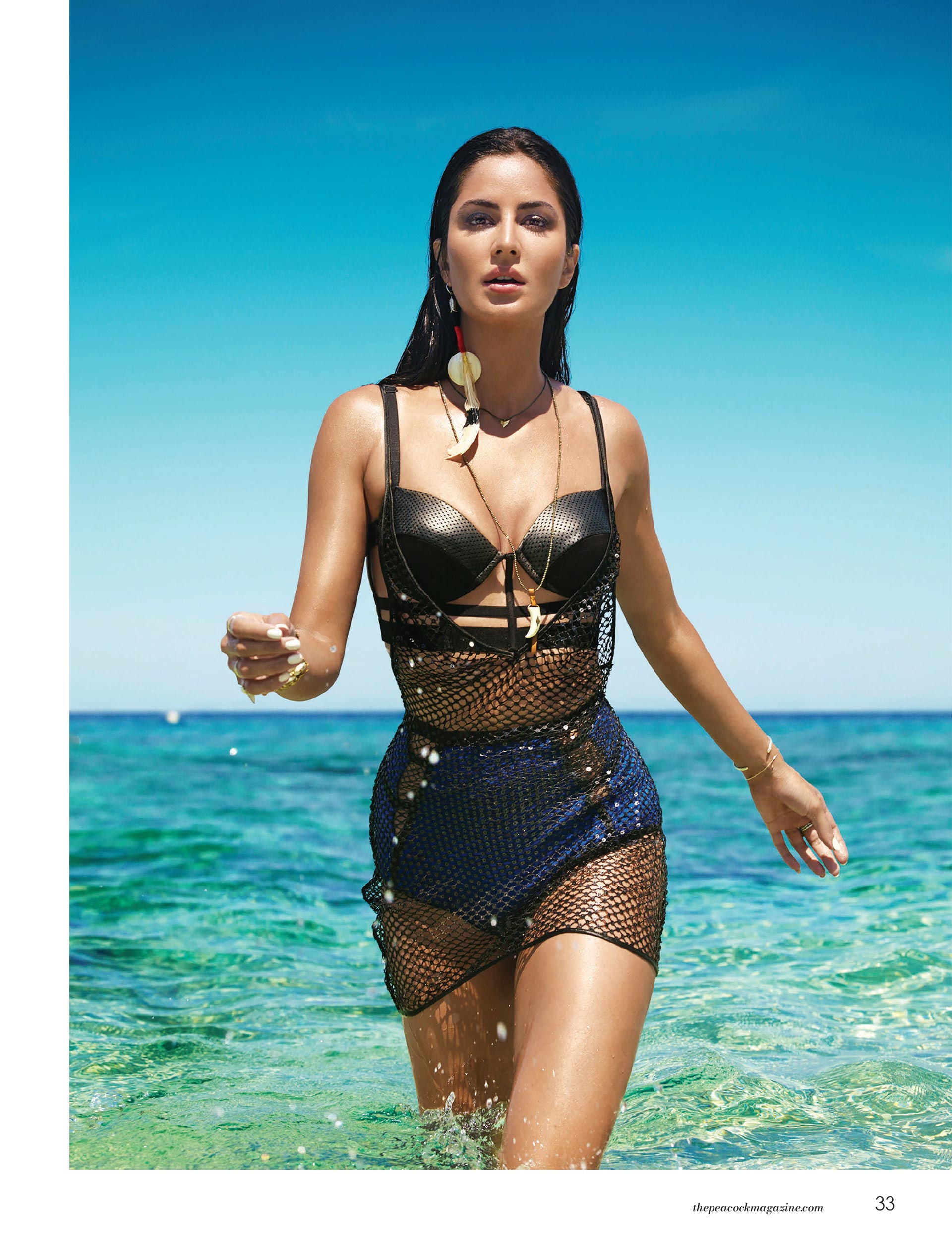 What were your growing up years like?
I grew up in Portugal in a small village near Aveiro and I had a very serene childhood.
[Q] When and how did you find yourself taking interest in fashion photography?
I had a friend who was a fashion designer. It all sparked from there.
[Q] How does the location of the shoot inspire the photographer in you?
To be honest, it depends. It can either be the concept or the pure beauty of the concept. Sometimes, it's just as simple as going from London to the Maldives, for example, during the winters. It's all about the energy that the place gives. It's all about the idea thereafter.
[Q] Where/in whom do you find your photography muse?
I don't have a muse per se. I always try to inspire myself from the subject I photograph.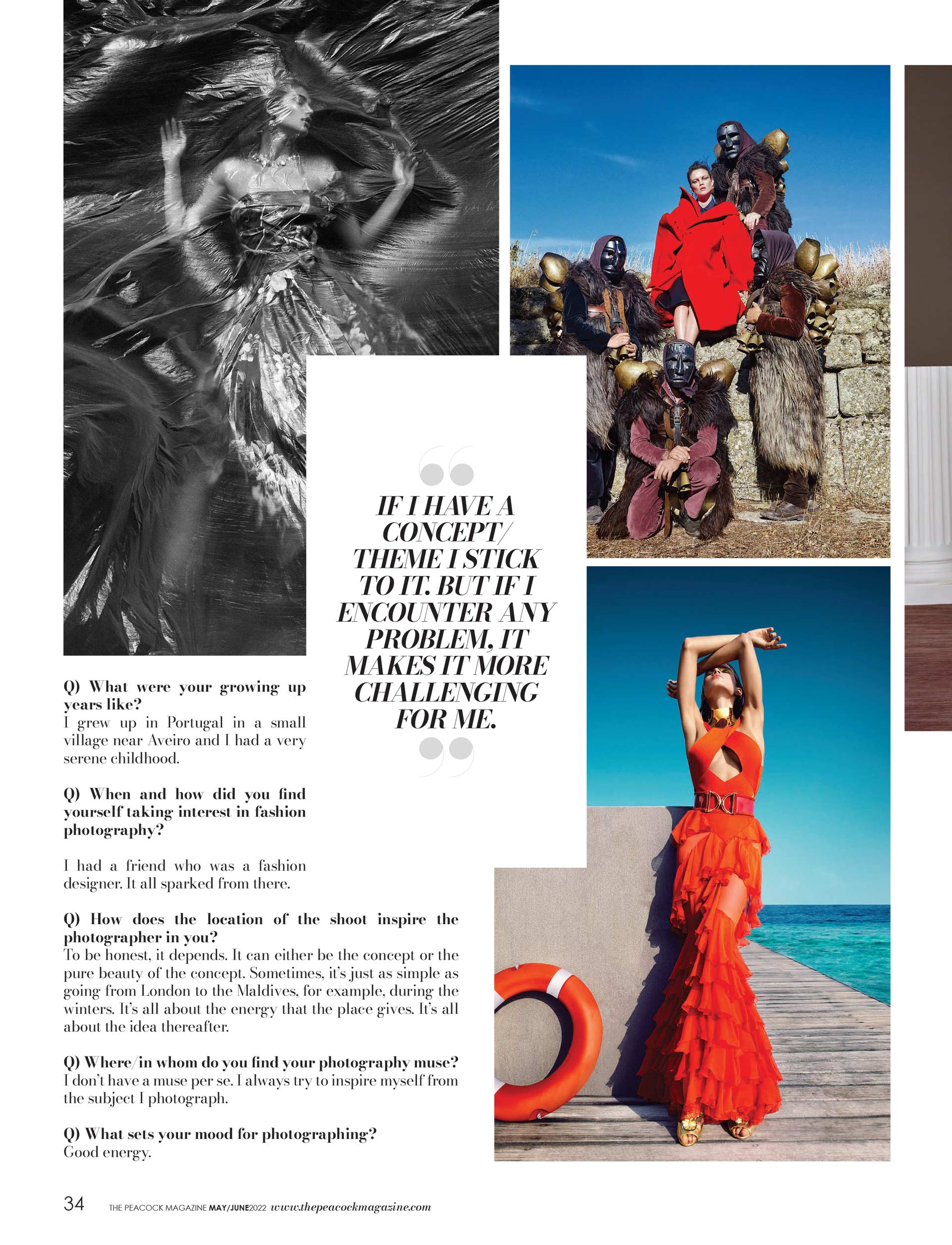 [Q] What sets your mood for photographing?
Good energy.
[Q] Do you always stick to the concept you have had in your mind or do you tend to improvise?
If I have a concept/theme I stick to it. But if I encounter any problem, it makes it more challenging for me.
[Q] What has been your most coveted photography project so far?
Too many to list! I loved the shot in the Maldives with Anaita (Shroff Adajania) and Katrina (Kaif) for Vogue India. I also love the one in South Africa with Kriti (Sanon) again with Anaita for the same magazine.
[Q] Which of your personal shoots was challenging?
I would say location-related ones, especially when the weather turns out to be unpleasant.
[Q] Which photograph of yours is your personal favourite?
It would be very difficult to pick one.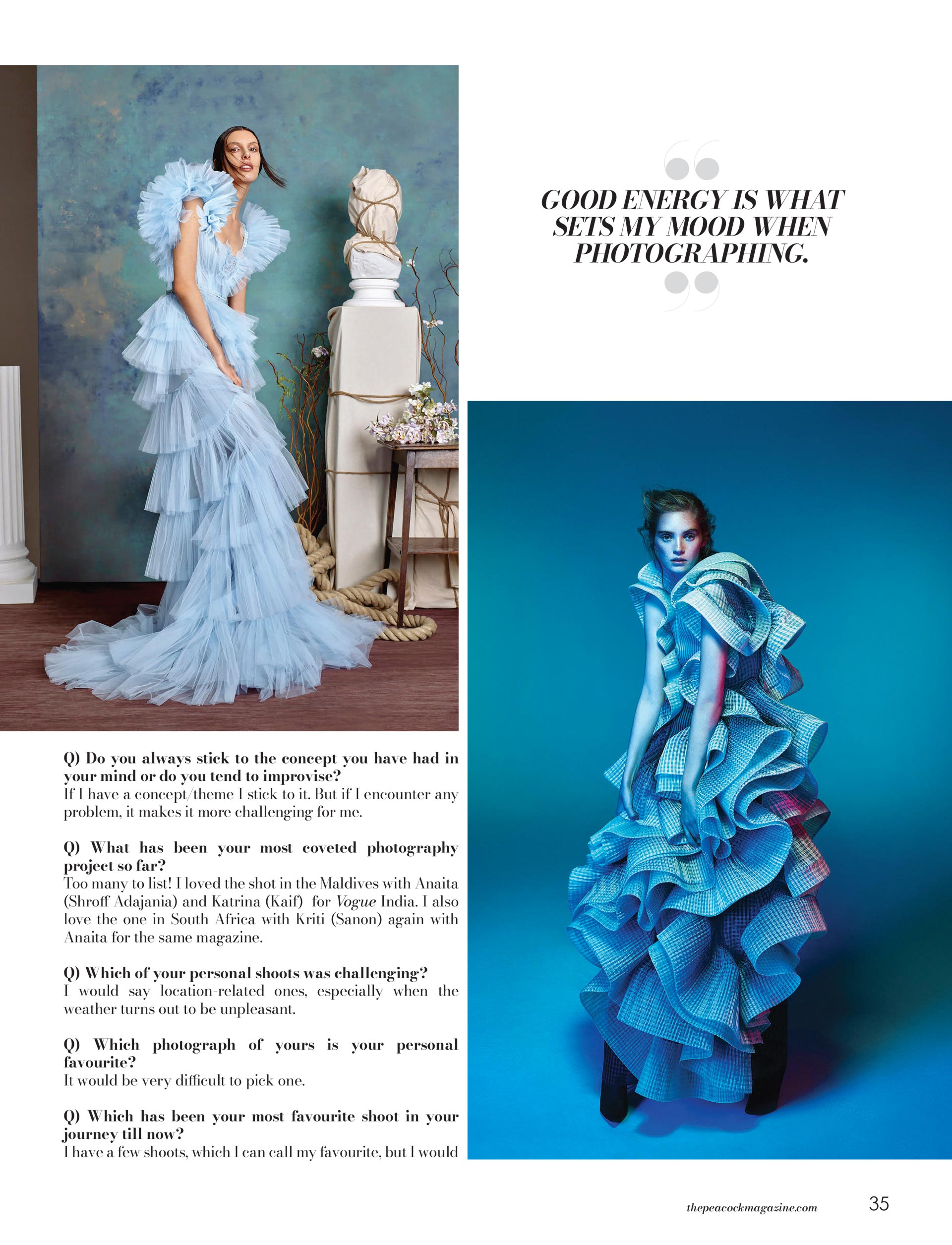 [Q] Which has been your most favourite shoot in your journey till now?
I have a few shoots, which I can call my favourite, but I would say some of the location ones make it to the top of the list. I believe that life is all about experiences and trips always provide amazing experiences.
[Q] One person who is on the top of your bucket list to shoot?
Emma Stone. I'd love to shoot some actresses.
[Q] Who are your biggest influences/mentors?
My mentor Luis Fardilha, who is also a very good friend of mine.
[Q] What is the first thing you notice when you see other photographers' work?
The concept/idea.
[Q] Who are your favourite photographers? Why?
Guy Bourdin, for just how creative he was.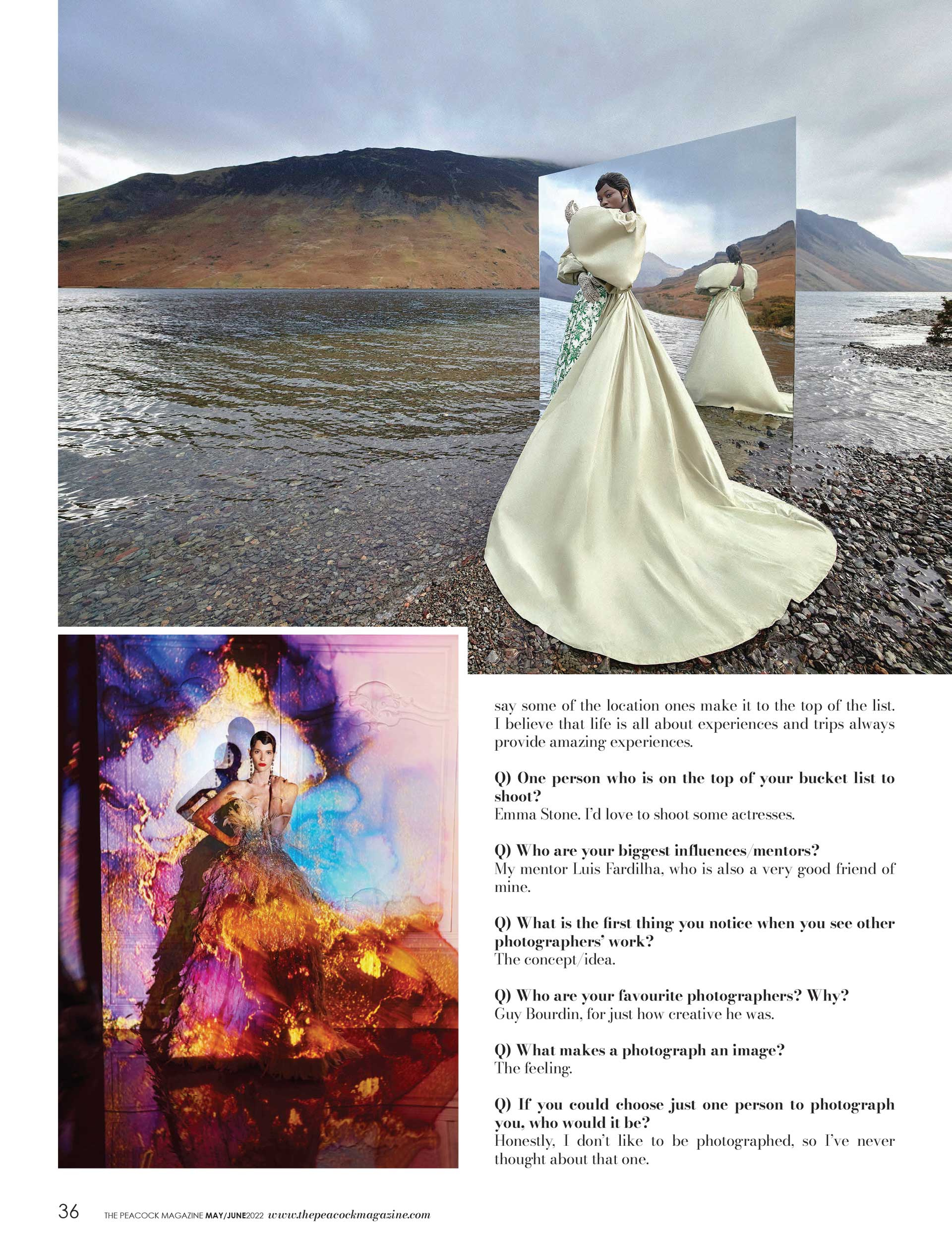 [Q] What makes a photograph an image?
The feeling.
[Q] ) If you could choose just one person to photograph you, who would it be?
Honestly, I don't like to be photographed, so I've never thought about that one.
[Q] Describe yourself when not a photographer.
Quiet, simple and distant.
[Q] What passion do you harbour apart from photography?
I love watching cinema, playing the piano and travelling.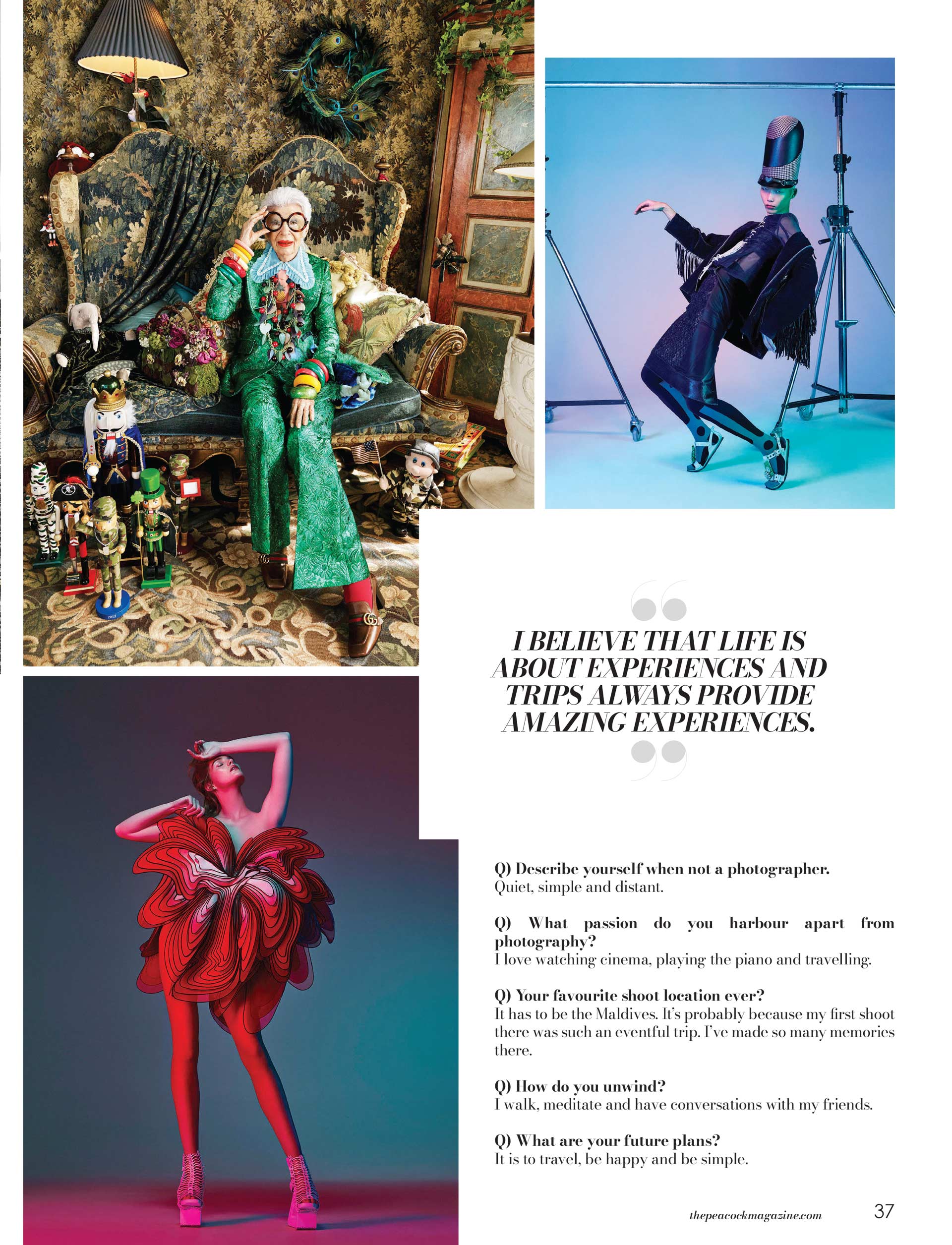 [Q] Your favourite shoot location ever?
It has to be the Maldives. It's probably because my first shoot there was such an eventful trip. I've made so many memories there.
[Q] How do you unwind?
I walk, meditate and have conversations with my friends.
[Q] What are your future plans?
It is to travel, be happy and be simple.