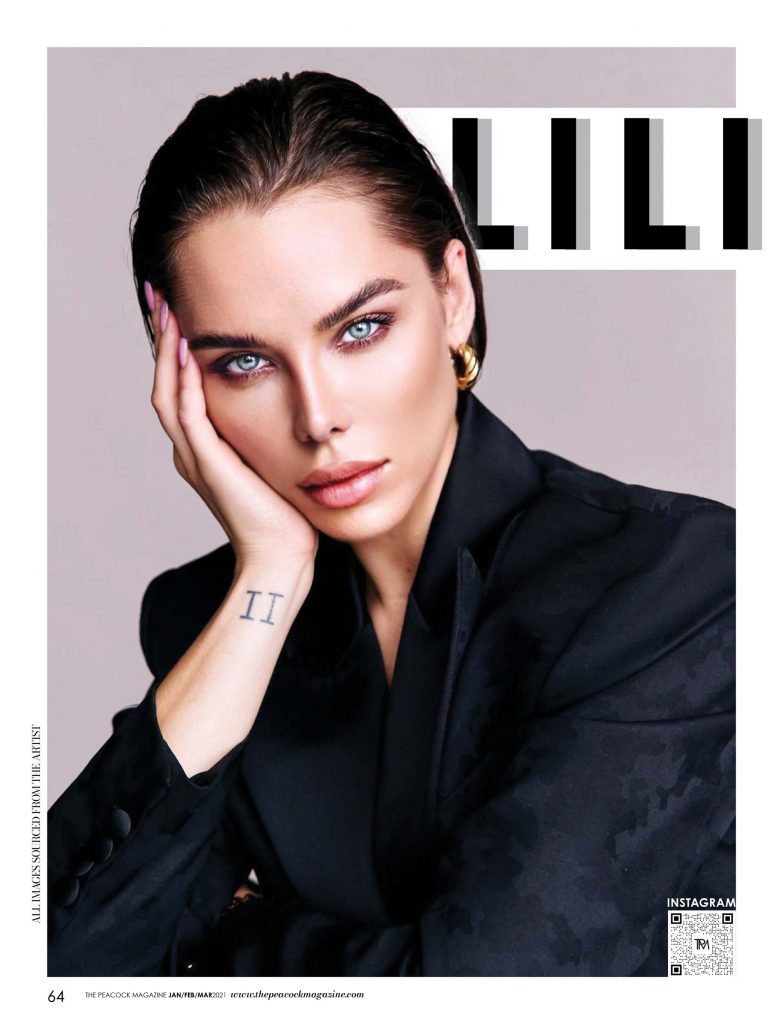 LIMELIGHT HAS BEEN HER BEST FRIEND EVER SINCE SHE WAS FOURTEEN. LILIANA MATTHÄUS IS A NAME THAT HAS CONSTANTLY MADE NEWS FOR THE MANY FEATHERS SHE HAS ADDED TO HER CAP, BE IT THAT OF A SUPERMODEL, PHOTOGRAPHER, ACTOR, AND NOW, AN ENTREPRENEUR. WHILE SPEAKING TO THE PEACOCK MAGAZINE, LILIANA TELLS US HOW SHE'S AN ARTIST AT HEART AND WHAT HER PHILOSOPHIES OF LIFE ARE.

CREDITS-
Images artist's own.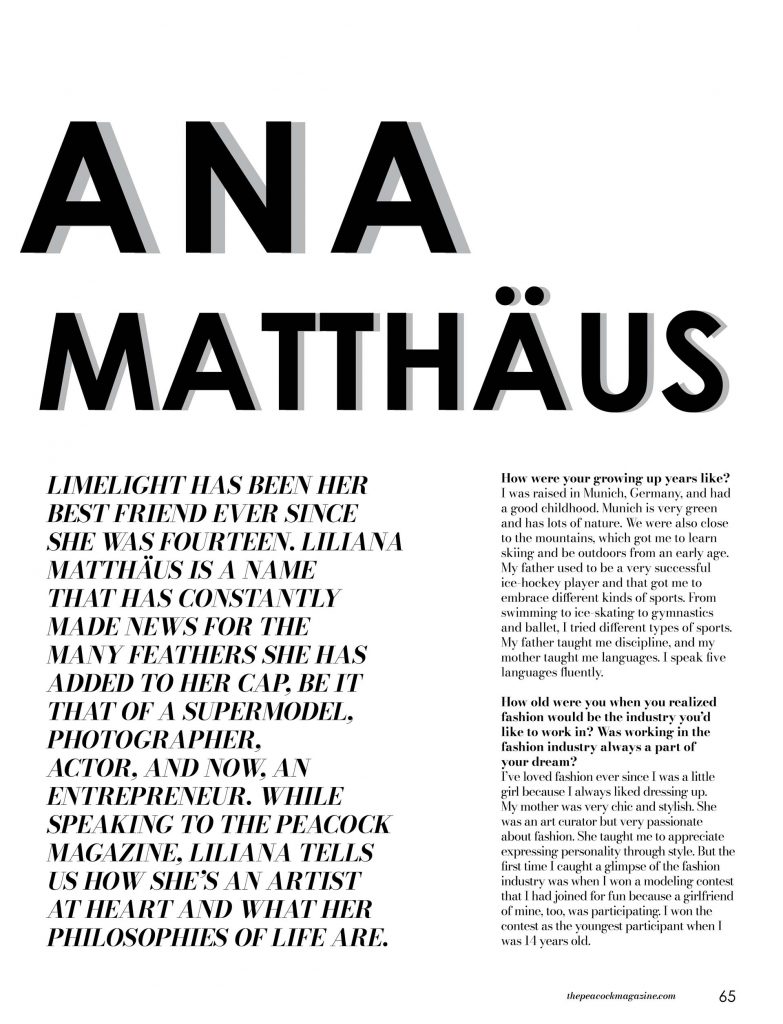 [Q] How were your growing up years like?
I was raised in Munich, Germany, and had a good childhood. Munich is very green and has lots of nature. We were also close to the mountains, which got me learning skiing and being outdoors from an early age. My father used to be a very successful ice-hockey player and that got me to embrace different kinds of sports. From swimming to ice-skating to gymnastics and ballet, I tried different types of sports. My father taught me discipline, and my mother taught me languages. I speak five languages fluently.
[Q] How old were you when you realized fashion would be the industry you'd like to work in? Was working in the fashion industry always a part of your dream?
I've loved fashion ever since I was a little girl because I always liked dressing up. My mother was very chic and stylish. She was an art curator but very passionate about fashion. She taught me to appreciate expressing personality through style. But the first time I caught a glimpse of the fashion industry was when I won a modeling contest that I had joined for fun because a girlfriend of mine, too, was participating. I won the contest as the youngest participant when I was 14 years old.
[Q] What attracted you to the fashion industry?
Life can be very grey sometimes, and I think fashion can spice up your life. Fashion should be fun. I love fashion for having no boundaries. (I am not talking about extremes) But you can play with fashion and understand your personality better. I think you should feel things in your gut and do them. It's quite tiring to make things happen, to learn how to master a skill and to push your fears aside, but I think fashion is a wonderful playground exactly meant for that. Most people would rather go with the flow. That might be easier, but it's not very interesting. It makes me think of a quote by Marylin Monroe. 'It's better to be absolutely ridiculous than absolutely boring,' she said.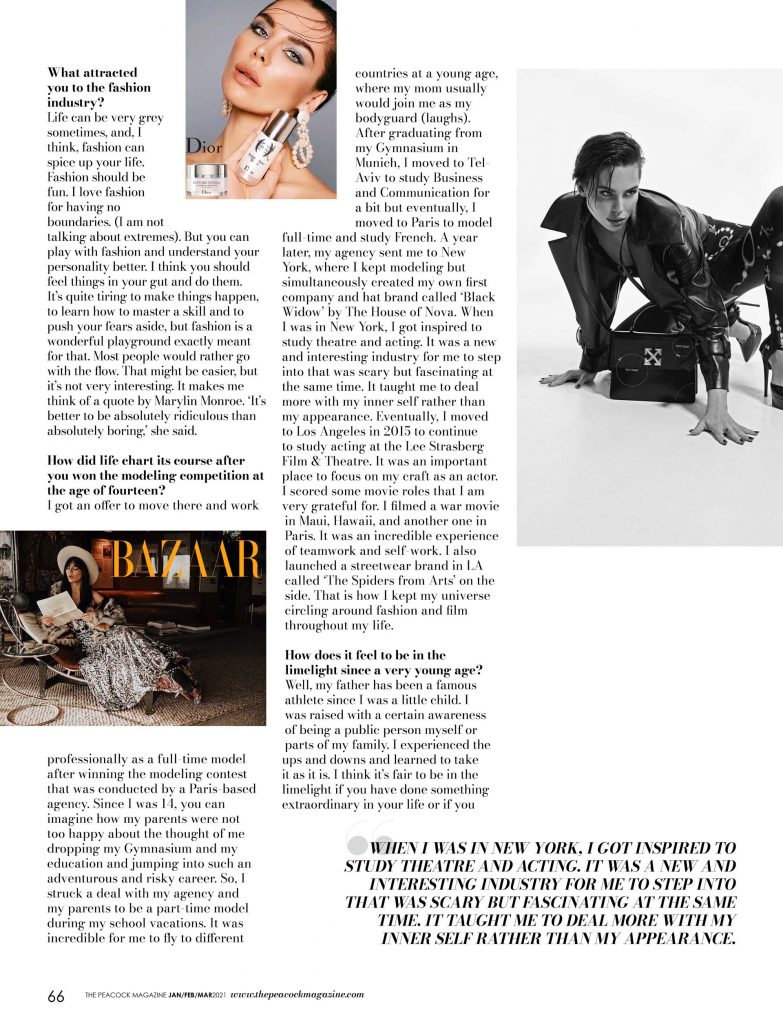 [Q] How did life chart its course after you won the modeling competition at the age of fourteen?
I got an offer to move there and work professionally as a full-time model after winning the modeling contest of an agency that was in Paris. Since I was fourteen, you can imagine how my parents were not too happy about the thought of me dropping my gymnasium and my education and jumping into such an adventurous and risky career. So I struck a deal with my agency and my parents to be a part-time model during my school vacations. It was incredible for me to fly to different countries at a young age, where my mom usually would join me as my bodyguard. (laughs) I experienced different cultures and languages. It also made me grow up faster than others and work with so many inspiring people from whom I could learn because many of them were older and more experienced than me. After graduating from my Gymnasium in Munich, I moved to Tel-Aviv to study Business and Communication for a bit but eventually, I moved to Paris to model full-time and study French. A year later, my agency sent me to New York, where I kept modeling but simultaneously created my own first company and hat brand called 'Black Widow' by The House of Nova. When I was in New York, I got inspired to study theatre and acting. It was a new and interesting industry for me to step into that was scary but fascinating at the same time. It taught me to deal more with my inner self rather than my appearance. Eventually, I moved to Los Angeles in 2015 to continue to study acting at the Lee Strasberg Film & Theatre. It was an important place to focus on my craft as an actor. I scored some movie roles that I am very grateful for. I filmed a war movie in Maui, Hawaii, and another one in Paris. It was an incredible experience of teamwork and self-work. I also launched a streetwear brand in LA called 'The Spiders from Arts' on the side. That is how I kept my universe circling around fashion and film throughout my life.
[Q] How does it feel to be in the limelight since a very young age?
Well, my father has been a famous athlete since I was a little child. I was raised with a certain awareness of being a public person myself or parts of my family. I experienced the ups and downs and to take it as it is. I think it's fair to be in the limelight if you have done something extraordinary in your life or if you have accomplished something outstanding and be a great example to others who strive for the same goals. I think too many people want to be famous for no reason. But standing in the limelight is not a profession. I've been in the limelight either because of my father or because of my first cover that I shot for ELLE Magazine at a young age and later on due to my marriage with a successful idol in football. But being in the limelight for these reasons was never my intention and will never be. I'd rather stay out of the limelight until I've done something I feel proud of, and I still have a long way to go.
[Q] What was your first breakthrough modeling assignment?
My first cool job was a cover for ELLE Magazine. I think I was seventeen, and that was huge for me. The first time I walked Paris Fashion Week, especially Haute Couture, was quite magical. I remember till today how nervous I was, but it was worth it. I then worked with the most established magazines, from Harper's Bazaar to L'Officiel to Vogue.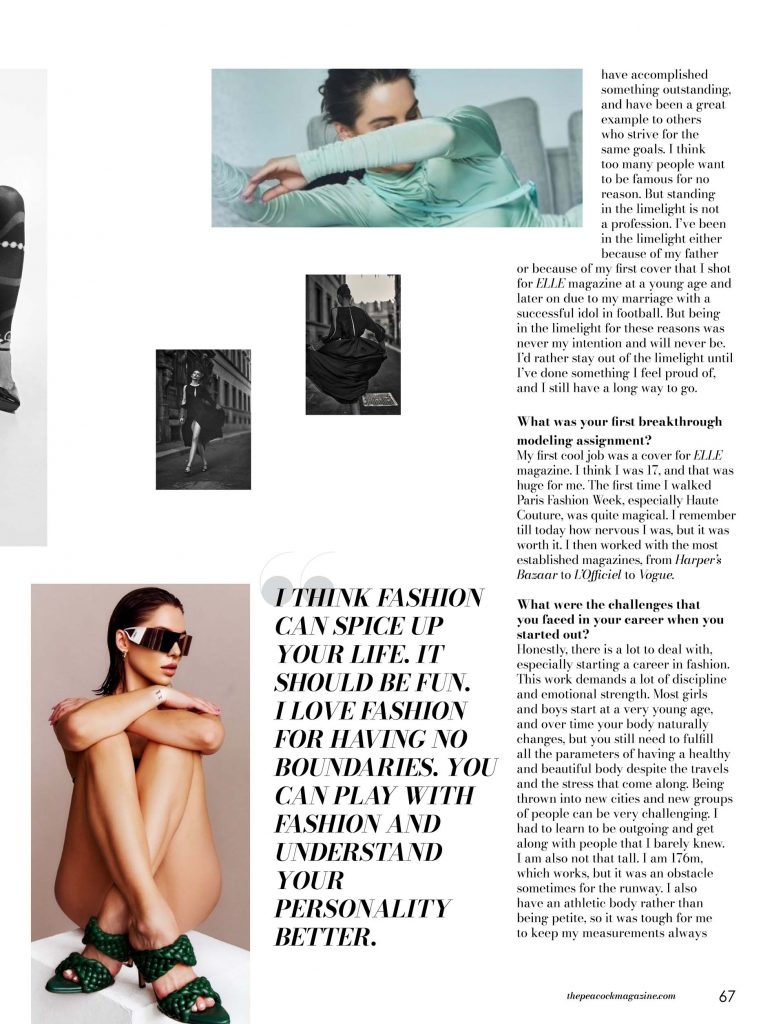 [Q] What were the challenges that you faced in your career when you started out?
Honestly, there is a lot to deal with, especially starting a career in fashion. This work demands a lot of discipline and emotional strength. Most girls and boys start at a very young age, and over time your body naturally changes, but you still need to fulfill all the parameters of having a healthy and beautiful body despite the travels and the stress that comes along. Being thrown into new cities and new groups of people can be very challenging. I had to learn to be outgoing and get along with people that I barely knew. I am also not that tall. I am 176m, which works, but it was an obstacle sometimes for the runway. I also have an athletic body rather than being petite, so it was tough for me to keep my measurements always perfect. I will not lie, it was hard sometimes, and I tried stupid diets, but eventually, I learned how to deal with my body and keep it fit without risking my health. I think no career is worth your health. I see myself also as a future mother that will need lots of energy for my children. I also want to say that it is important to know how to say 'no,' whether it is a person that makes you uncomfortable that you are supposed to work with or the ethical values of a brand that you don't support. It's important to keep your priorities straight and listen to your consciousness in the first place. People will respect you more if you take the long road rather than a shortcut to fame.
[Q] Which has been the turning point in your career until now?
I think the turning point is happening right now. Just before COVID-19 happened, I was looking for a new task in my life that would broaden my horizon and would help me understand the business side of fashion more. I like to take things into my own hands rather than wait for someone. So I decided to create my public relations agency 'Supernova,' where I help brands and other businesses such as art, sports, or music to connect. Throughout my years of work with several brands in the fashion and beauty industry, I was able to establish personal relationships that helped me to understand the values, heritage, and also what their customer is looking for, in a better way. I am also very aware of the sustainability movement and support protecting our environment by raising awareness to consumers for responsible consumption. Currently, I am collaborating on a new sustainable skincare line.
[Q] How was it working next to Susan Batson at the Susan Batson Film Academy?
Working with Susan was the best. She is out of this planet. I would love her, admire her, and hate her at the same time. This woman never sleeps. I remember spending my Monday nights in acting school until the next morning. We had to stay overnight at school to lose consciousness of ourselves. Learning her technique was as hard as it was mesmerizing at the same time. It was interesting to see what lack of sleep can bring out in people. I am very grateful that I was accepted at Susan's School and I had the honor to be taught by her. There is a reason she was Nicole Kidman's teacher for the movie 'Eyes White Shut.' Susan is wonderful, and so are the other teachers from whom I've learned a lot. I am very grateful for this experience.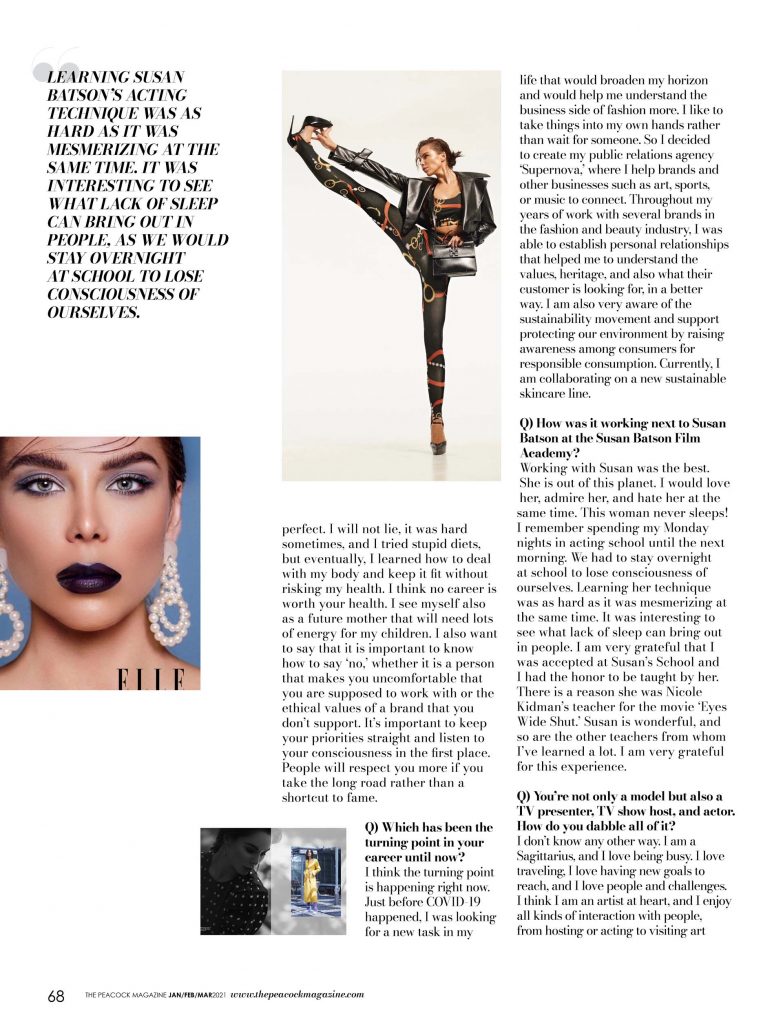 [Q] You're not only a model but also a TV presenter, TV show host, and actor. How do you dabble all of it?
I don't know any other way. I am a Sagittarius, and I love being busy. I love traveling, I love having new goals to reach, and I love people and challenges. I think I am an artist at heart, and I enjoy all kinds of interaction with people, from hosting or acting to visiting art galleries/fairs to photography. I think it's wonderful that in this modern world, I can do it all.
[Q] Out of all the abovementioned roles, which role do you identify with the most and why?
I think the closest to my heart is acting and photography. I love it when I can touch a person's soul, make them laugh or cry or even make them think. I have so much fun creating something beautiful. It's always fun to reinvent yourself.
[Q] Who has been the biggest influence in your life?
My grandmother and my mother.
[Q] Tell us about your experience at 'Project Runway'?
We filmed 'Project Runway' at the PARSONS School of Design in New York. It was interesting to see so many new and creative minds working and competing on their design art. It was very emotional for the designers, and I felt for them. I loved working with Zac Posen. He is a lot of fun. In the end, I opened the show for the winning designer during NYFW. It was phenomenal. It was the same year that I walked for my favorite designer Falguni Shane Peacock.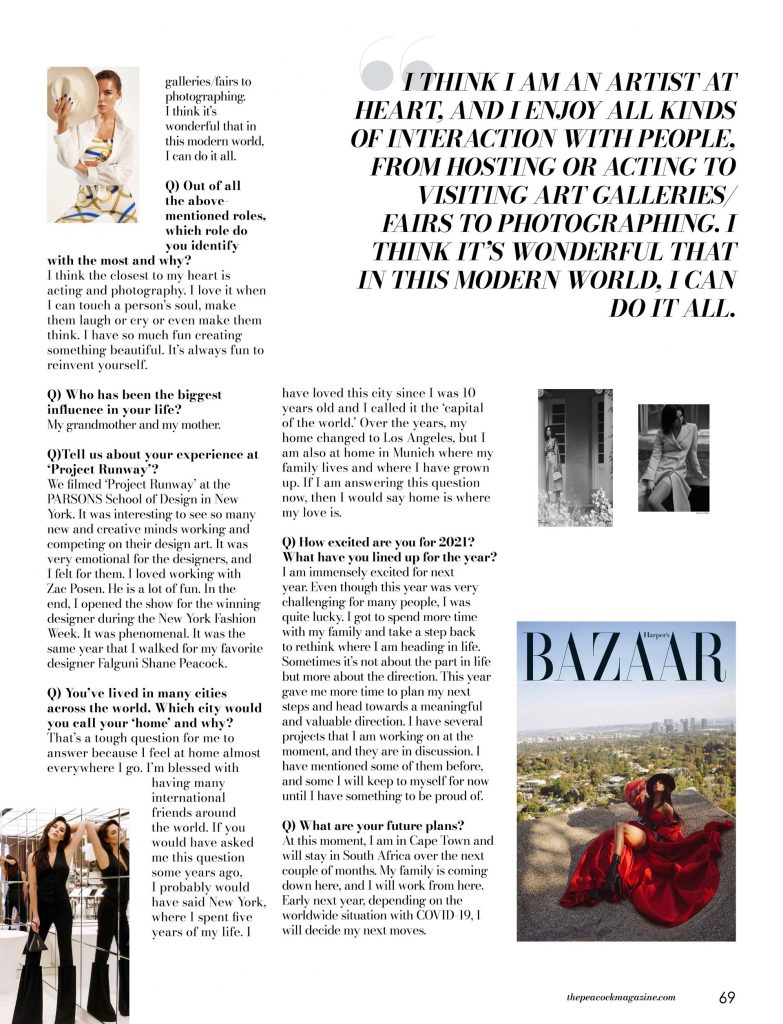 [Q] You've lived in many cities across the world. Which city would you call your 'home' and why?
That's a tough question for me to answer because I feel at home almost everywhere I go. I'm blessed with having many international friends around the world. If you would have asked me this question some years ago, I probably would have said New York, where I spent five years of my life. I have loved this city since I was ten years old and I called it the 'capital of the world.' Over the years, my home changed to Los Angeles, but I am also at home in Munich where my family lives and where I grew up. If I am answering this question now, then I would say home is where my love is.
[Q] How excited are you for 2021? What have you lined up for the year?
I am immensely excited for next year. Even though this year was very challenging for many people, I was quite lucky. I got to spend more time with my family and take a step back to rethink where I am heading in life. Sometimes it's not about the part in life but more about the direction. This year gave me more time to plan my next steps and head towards a meaningful and valuable direction. I have several projects that I am working on at the moment, and they are in discussion. I have mentioned some of them before, and some I will keep to myself for now until I have something to be proud of.
[Q] What are your future plans?
At this moment, I am in Cape Town and will stay in South Africa over the next couple of months. My family is coming down here, and I will work from here.
Early next year, depending on the worldwide situation with COVID 19, I will decide my next moves.