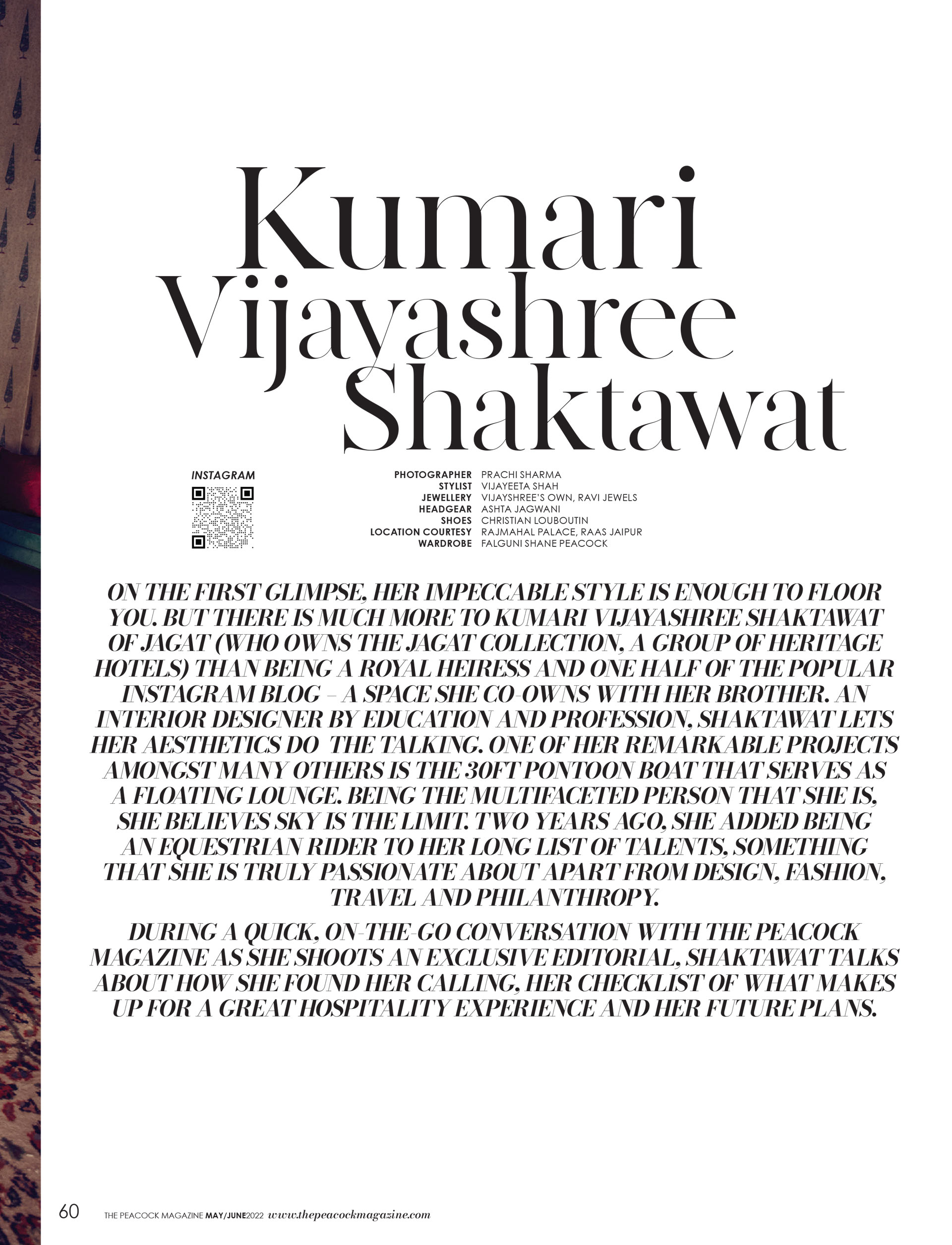 CREDITS-
PHOTOGRAPHER – PRACHI SHARMA
STYLIST – VIJAYEETA SHAH
JEWELLERY – VIJAYSHREE'S OWN, RAVI JEWELS
HEADGEAR – ASHTA JAGWANI
SHOES – CHRISTIAN LOUBOUTIN
LOCATION COURTESY – RAJMAHAL PALACE, RAAS JAIPUR
WARDROBE – FALGUNI SHANE PEACOCK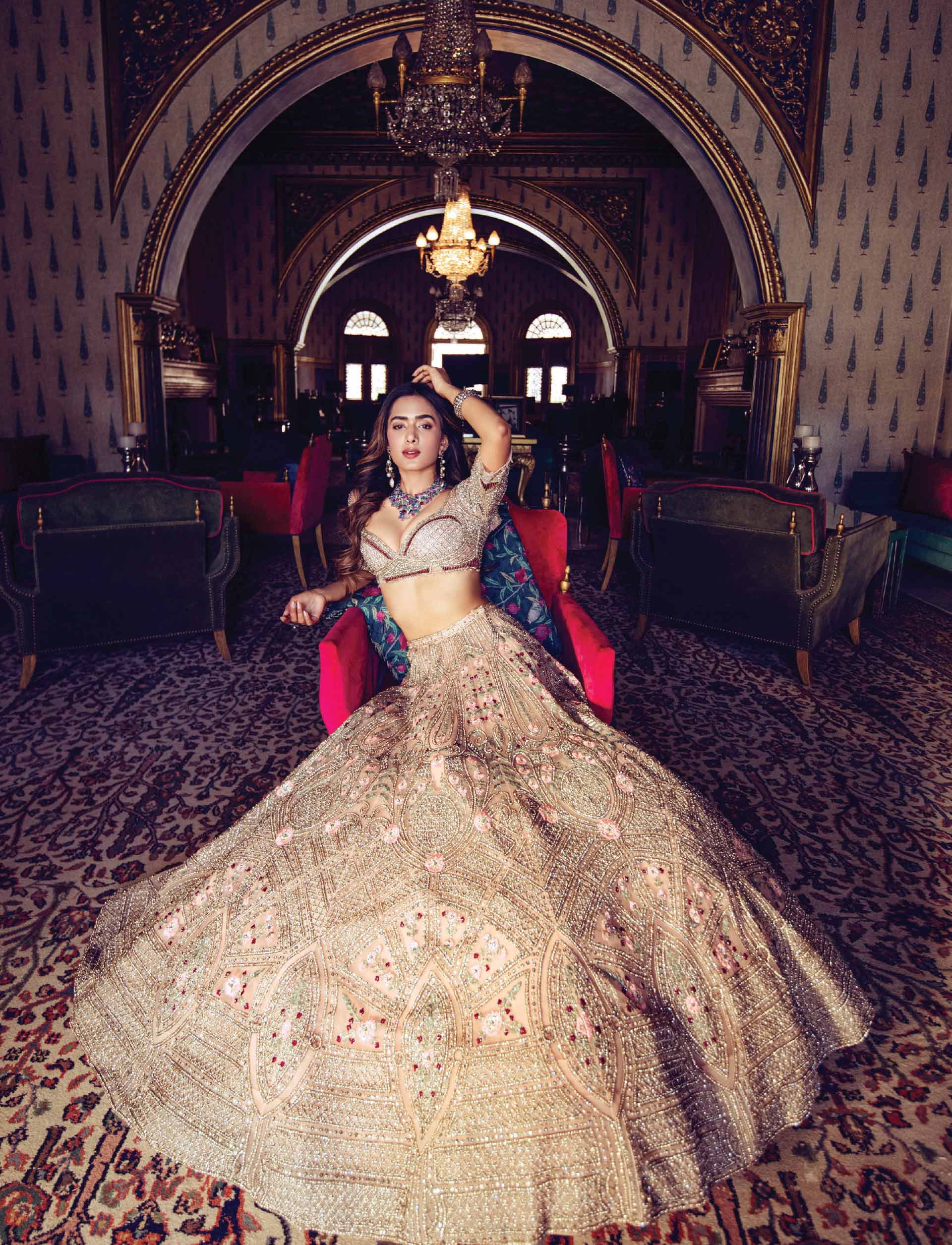 On the first glimpse, her impeccable style is enough to floor you. But there is much more to Kumari Vijayashree Shaktawat of Jagat (who owns The Jagat Collection, a group of heritage hotels) than being a royal heiress and one half of the popular Instagram blog — a space she co-owns with her brother. An interior designer by education and profession, Shaktawat lets her aesthetics do the talking. One of her remarkable projects amongst many others is the 30ft Pontoon boat that serves as a floating lounge. Being the multifaceted person that she is, she believes sky is the limit. Two years ago, she added being an equestrian rider to her long list of talents, something that she is truly passionate about apart from design, fashion, travel and philanthropy.

During a quick, on-the-go conversation with The Peacock Magazine as she shoots an exclusive editorial, Shaktawat talks about how she found her calling, her checklist of what makes up for a great hospitality experience and her future plans.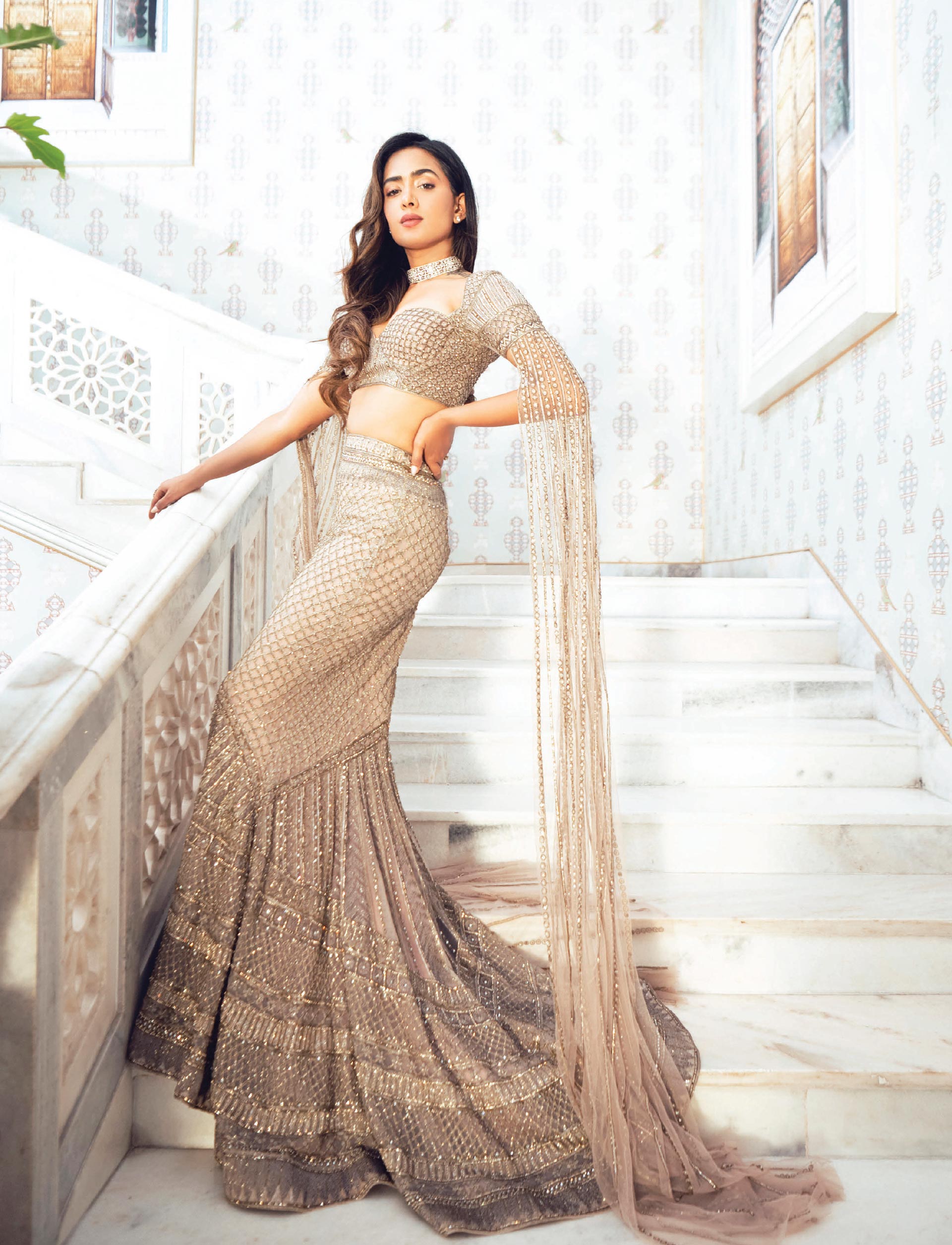 [Q] Was becoming a hotelier something that was on your mind while coming off age?
VS: Jagat Niwas was my first home; growing up, I spent my days there in the most dreamiest setting ever making friends with all those who visited! And since this is something I saw my parents do right from the beginning and the fact that I lived at the hotel for a few years, I always felt a sense of belonging there and I wanted nothing more than to grow up and be a part of the little haven our parents built!
[Q] You're an interior designer by profession. What motivated you to steer away from your family business into this scope of design?
VS: I actually don't see it as steering away from my family business as I am now responsible for the design and renovations of the hotels. For me my design pursuits have always led me to working in the hotel industry.
[Q] How did your journey as an interior designer begin?
VS: Well, after pursuing my education in Florence, Italy, I moved to London to work with the HBA London Studio and then moved back to India to get involved with the family business along with pursuing my design vocation.




[Q] How would you define your design aesthetic?
I believe what I am always trying to achieve in my design is to find a balance between my love for handcrafted details and artisanal workmanship with a modern sensibility. I also think that as a designer it is our job to ensure that we stay true to the character and history of the spaces that we design. The authenticity of a space must never be lost.

[Q] Where do you find your inspiration from?
VS: Udaipur and travel, in general, will always be my biggest sources of inspiration. I don't think I could ever pen it down to a few sources because that is the beauty of finding something inspirational and beautiful so much so that it moves you to create something out of an experience that you have had.
Creative inspiration blending into a design process is ultimately reflected in the project or product, and that is the most beautiful part of design for me.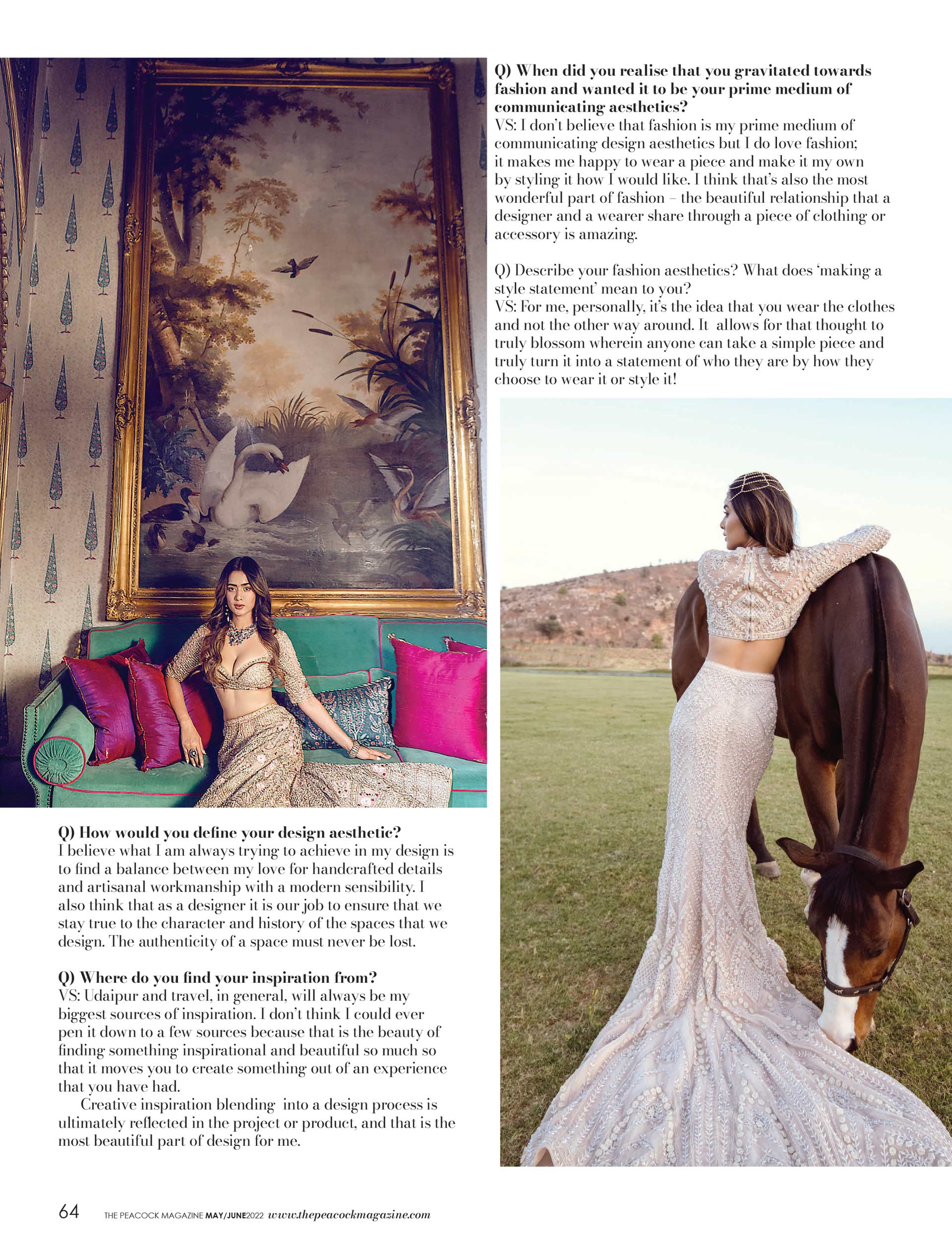 [Q] When did you realise that you gravitated towards fashion and wanted it to be your prime medium of communicating aesthetics?
VS: I don't believe that fashion is my prime medium of communicating design aesthetics but I do love fashion; it makes me happy to wear a piece and make it my own by styling it how I would like. I think that's also the most wonderful part of fashion — the beautiful relationship that a designer and a wearer share through a piece of clothing or accessory is amazing.
[Q] Describe your fashion aesthetics? What does 'making a style statement' mean to you?
VS: For me, personally, it's the idea that you wear the clothes and not the other way around. It allows for that thought to truly blossom wherein anyone can take a simple piece and truly turn it into a statement of who they are by how they choose to wear it or style it!
[Q] Do you have a creative block (as an interior designer/fashion blogger)? If yes, how do you deal with it?
VS: Travel and music will always be my answer! One must be able to open your heart out to truly connect and feel inspired again. And what better way to do that than to travel and allow oneself to be immersed in all the experiences that travelling brings.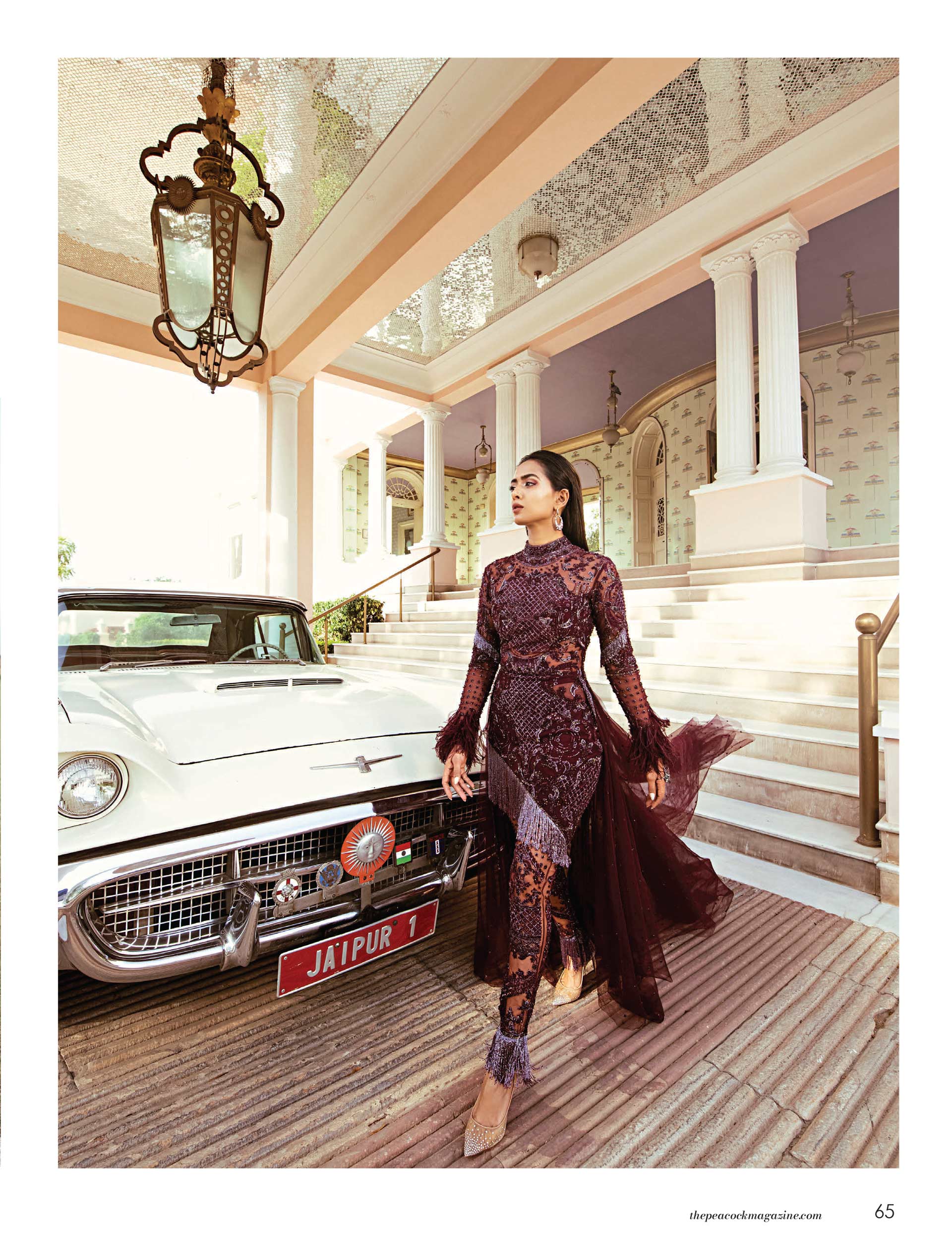 [Q] Who has been the biggest influence in your becoming who you are today?
My father, he will always be one of the biggest influences behind who I am today.
[Q] A day in your shoes is like?
Luckily for me no two days look the same! I don't think I can live a life that is repetitive in its day-to-day structure! It simply depends on which city I am in and what I am concentrating on doing at that point. I am a true wanderer at heart; routines are lovely but day after day living the same life is the exact opposite of what I would like for myself!
[Q] What do you believe in more — doing the right things or doing things right?
One may have the best intentions but doing the right thing may lose meaning or effectiveness if the manner in which it is approached is not correct.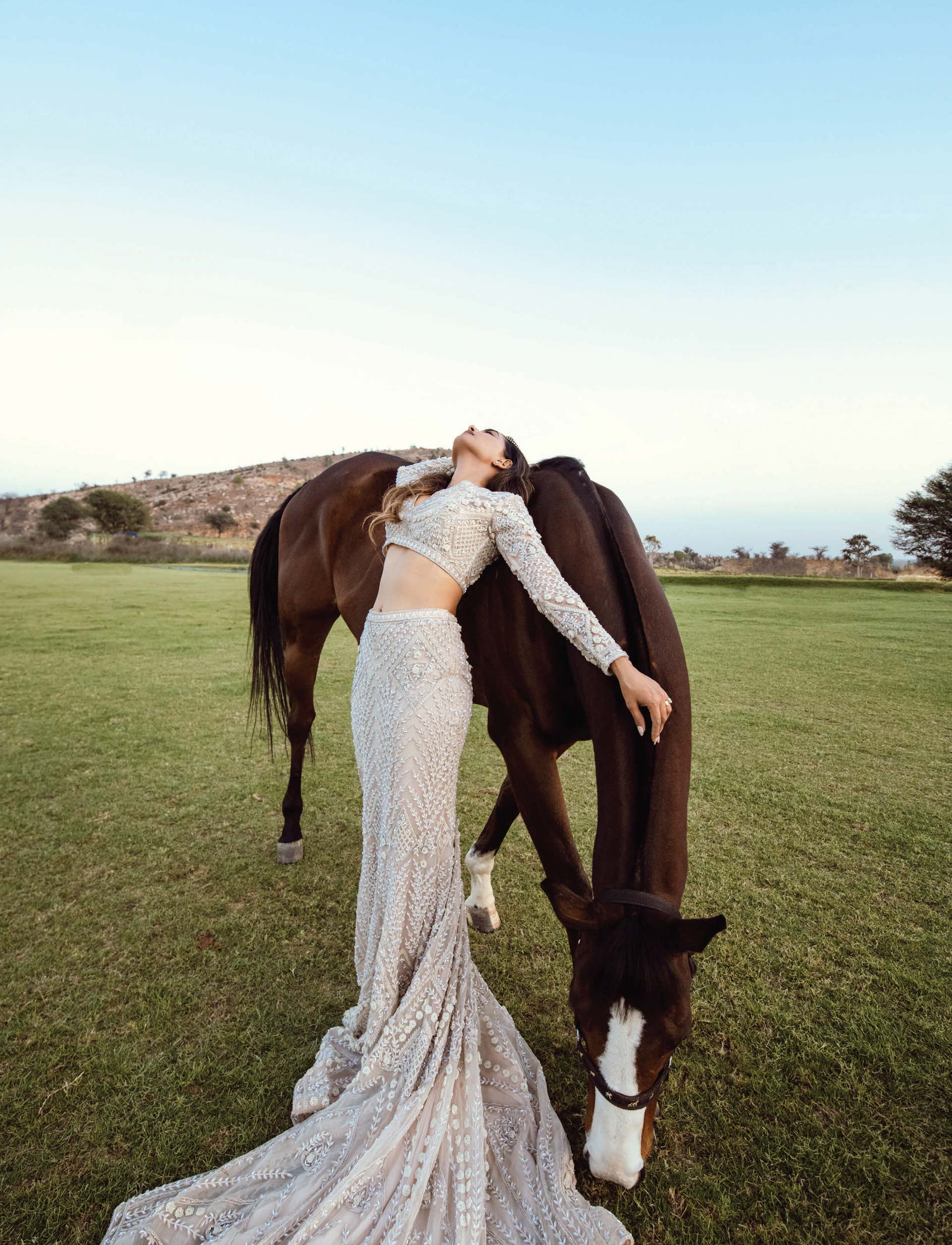 [Q] Apart from the obvious parameters, what according to you qualifies to be a great hotel experience?
The experience itself! The soul of the property must shine through; a hotel may have the finest amenities and modern-day luxuries but it is the people that make any hotel experience come alive for guests. Hotels that pay attention to creating an atmosphere that is genuine, local and authentic in their experiences and mood are the ones that I believe truly make an impact.
[Q] Not many know that you're a polo player. Could you tell us more about that?
Polo is now a passion that everything revolves around! It's a sport I began playing two years back and have never looked back. Unfortunately in India, there aren't too many platforms just yet for women's polo and with very limited opportunities for women it is not a sport that has gained too much attention still.
Though, there are many of us that would like to make that shift and bring about a change with increased visibility and opportunity for women in the Indian polo circuit.
[Q] What are your future plans? What are you working on next?
Currently, I am working on launching and designing my new label called 'Kumari,' and I can't talk much about it just yet. This is a project that is going to be very close to my heart and something that I am eagerly waiting to share with everyone!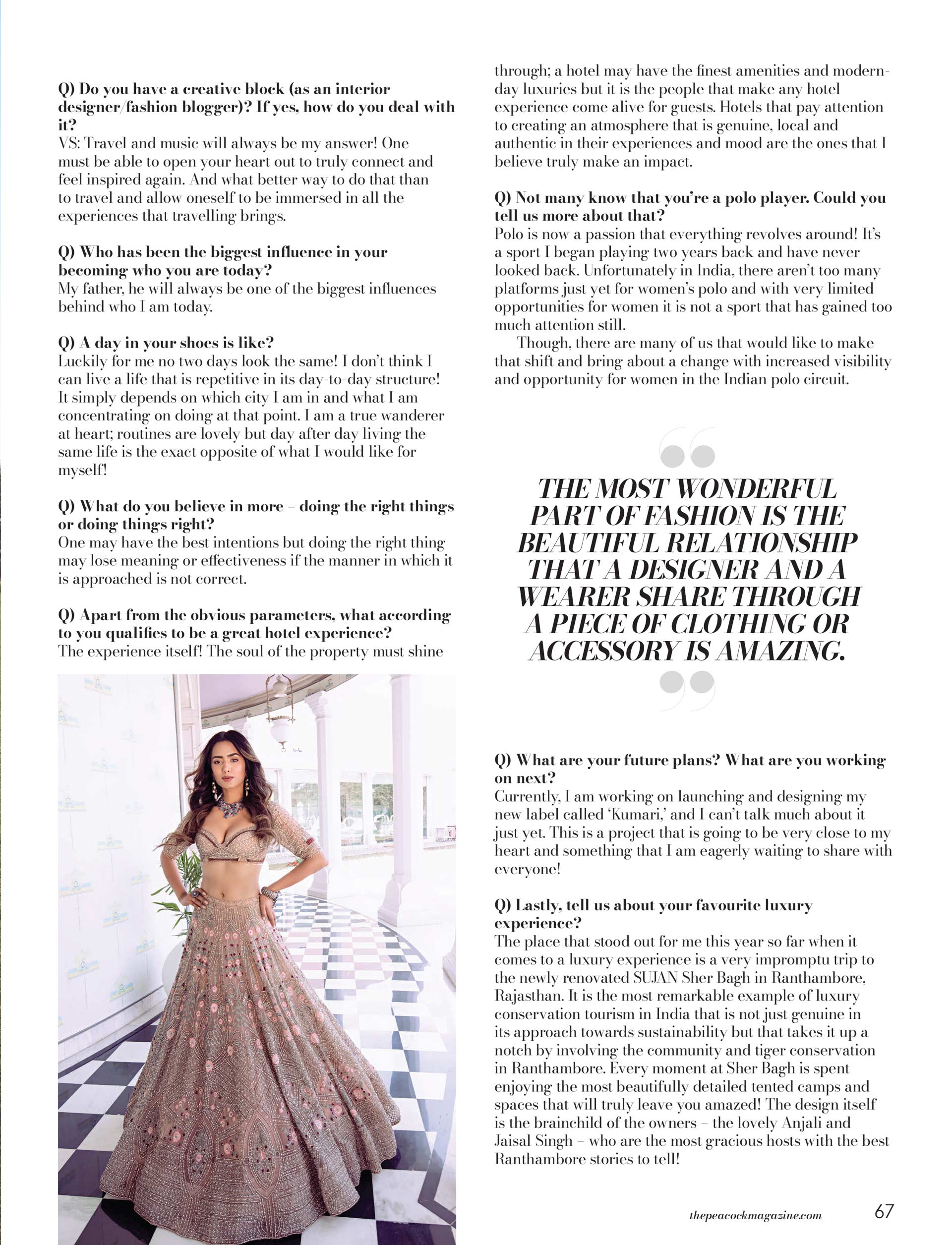 [Q] Lastly, tell us about your favourite luxury experience?
The place that stood out for me this year so far when it comes to a luxury experience is a very impromptu trip to the newly renovated SUJAN Sher Bagh in Ranthambore, Rajasthan. It is the most remarkable example of luxury conservation tourism in India that is not just genuine in its approach towards sustainability but that takes it up a notch by involving the community and tiger conservation in Ranthambore. Every moment at Sher Bagh is spent enjoying the most beautifully detailed tented camps and spaces that will truly leave you amazed! The design itself is the brainchild of the owners — the lovely Anjali and Jaisal Singh — who are the most gracious hosts with the best Ranthambore stories to tell!