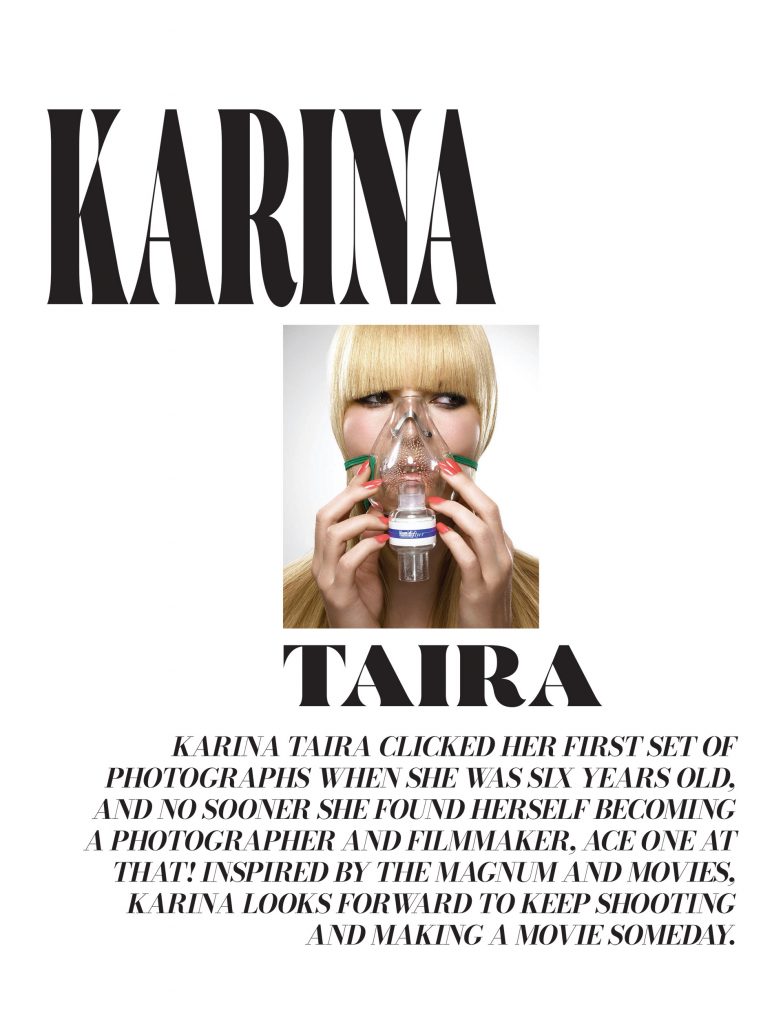 KARINA TAIRA CLICKED HER FIRST SET OF PHOTOGRAPHS WHEN SHE WAS SIX YEARS OLD, AND NO SOONER SHE FOUND HERSELF BECOMING A PHOTOGRAPHER AND FILMMAKER, ACE ONE AT THAT! INSPIRED BY THE MAGNUM (PHOTOS) AND MOVIES, KARINA LOOKS FORWARD TO KEEP SHOOTING AND MAKING A MOVIE SOMEDAY.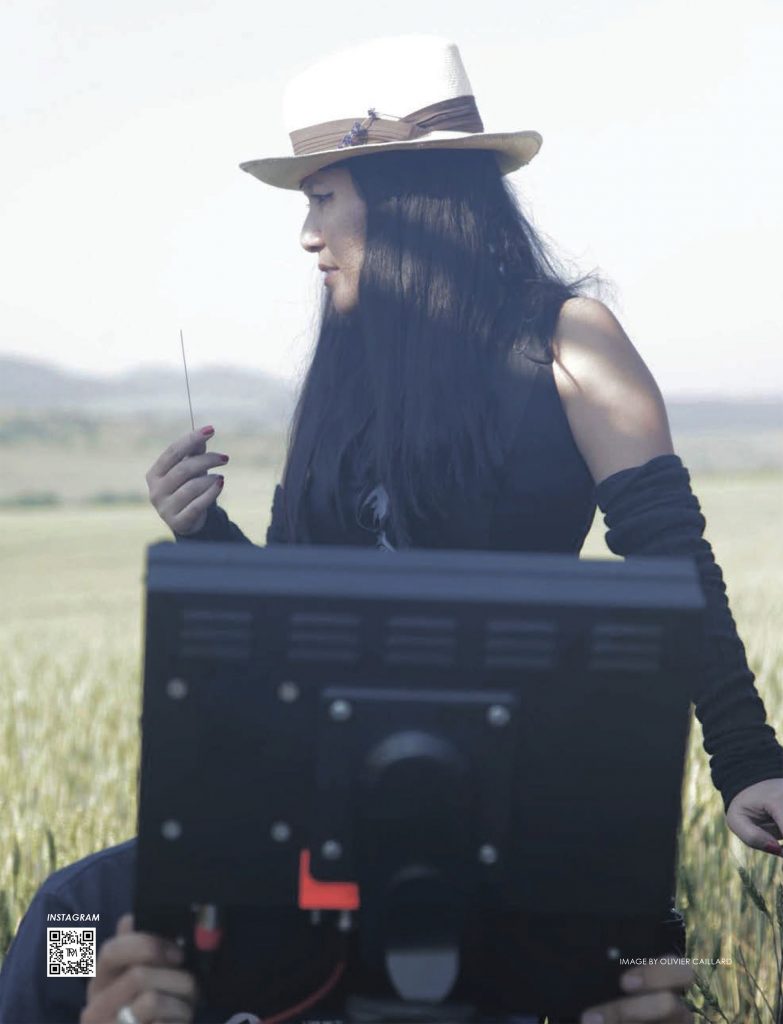 CREDITS-
Images sourced from the artist.

[Q] How were your growing up years like?
I grew up in Northern California and also spent all my summers in Japan. I went to a school in the US, but I also went to a Japanese school on weekends, so I did two schools simultaneously. After that, I went to the Art Center College of Design in Pasadena in California, where I completed my BA in photography.
[Q] When and how did you find yourself taking interest in photography?
I started taking images at a very young age. I was maybe six years old when I started staging fake fashion shoots and dressing my brother up as a girl. When we were 12-13 years old we would do fake photoshoots in our bedrooms with friends using a point and shoot camera. We would pretend to be models in a fashion magazine. We would get dressed up and do our makeup and pose. By the time I was 15, I started shooting on an SLR and not the usual point and shoot. I used to shoot documentary images and eventually went to France for a semester. That changed my life! I discovered all the amazing documentary photographers that inspired me like Robert Doisneau, with the image of a couple kissing in front of Hotel de Ville and all the incredible images taken by Henri Cartier-Bresson. Originally, my dream was to become a documentary photographer but then I discovered fashion photography in Paris. I saw a photographer shooting models and I was so impressed that I knew it was exactly what I wanted to do. I got my first copy of French Vogue and L'officiel at that moment. I was extremely busy taking photos by this time.
[Q] What sets your mood for photographing?
It depends on what kind of shoot it is. Usually, for a magazine, we already have a mood planned out. If we are out on location, we cannot play music. Music on the set is mostly to help the model.
I don't need anything to put me in the mood since I've already visualized everything in my mind, and after that it is the gut feeling you have to search for. It is not so intellectual but rather
something emotional and emanates from within one's self.
[Q] What has been your most coveted photography project so far?
There are too many, and each for different reasons. When I shot the campaign for Tag Heuer, it was an amazing experience. We spent a year photographing people who excelled in what they do.
From Formula One drivers to Tiger Woods to actress Zhang Ziyi.
Another one was an entire book that I got to shoot for Absolut Vodka portraying all the zodiac signs. I worked with designers to create pieces for each image that we did.
The final result was a luxury book with only a few thousand copies. My first perfume campaign for Diesel's first perfume was also special. It was a massive production. And then my first shoot for Dior, when I was only 25 years old. During my shoot, my idol and photographer Jean-Baptiste Mondino was also shooting at the same time next door, with the same creative director of the perfume campaign for Dior.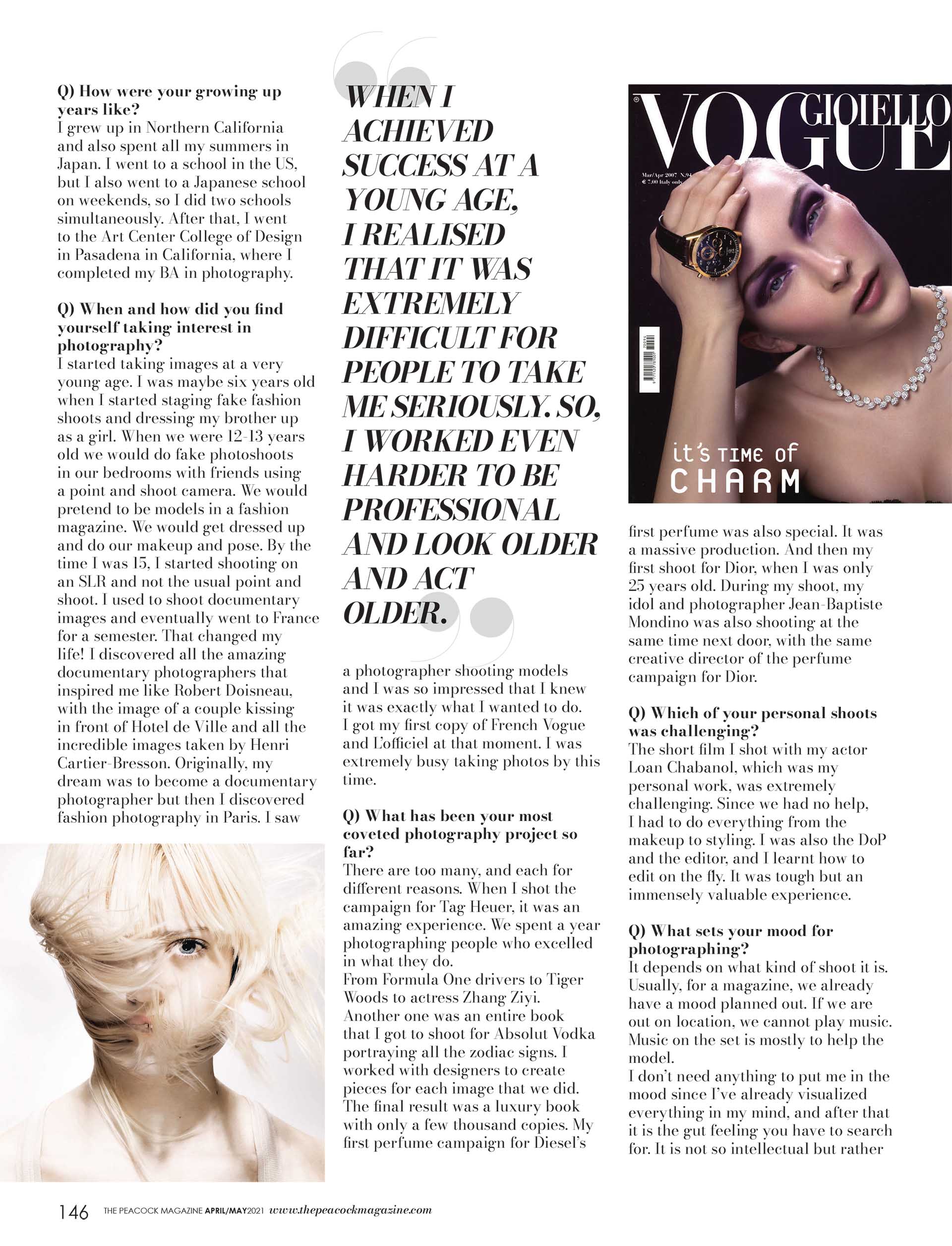 [Q] Which of your personal shoots was challenging?
The short film I shot with my actor Loan Chabanol, which was my personal work, was extremely challenging. Since we had no help, I had to do everything from the makeup to styling. I was also the DoP and the editor, and I learnt how to edit on the fly. It was tough but an immensely valuable experience.
[Q] When did you realize you wanted to become a filmmaker?
When I was 18 and surveying universities, I faced a huge dilemma of having to choose between a photography school or a cinema school. My love for fashion was huge and my dream to work for Vogue made me decide that I wanted to pursue photography. Films happened to me while I was at the art university. Most of my friends were in the film department and I worked as an art director for everyone's film project, and sometimes even worked as their crew. Some of my friends eventually got jobs for music videos, and I ended up working on their music videos and doing short films with them. Meanwhile, back at school, I asked them to make an exception to let me study in some of the film classes. My art projects, later on, were done on Super 8. So, on my shoots, I would click photos and then shoot a film. I shot on Super 8 and would slice and tape the footage together so I could show my film in class for our homework. By the time I was 25, I was working a lot in Paris and New York for many clients. They kept saying I would be a great director since I had such a clear sense of my world. They started proposing film direction to me but nothing really inspired me. It was at that moment when I decided to invest in myself. I self-produced and directed a spec commercial in LA with some friends. This finally led me to my first job was for Boucheron for the first perfume that they were launching.
[Q] How does the location of the shoot inspire the photographer/ filmmaker in you?
The location is very important. But the person in the film is also very important and so is the light. There are so many elements that make the final image what it is. The idea and to keep that as a guide, is also important.
[Q] You're a creative visualizer. Where does your love for multimedia stem from?
For me, it is all interlinked. I come from a photography background, so I had a strong sense of image and light. As photographers, we are much more hands-on about every single detail. But ultimately, because I naturally love movement, filmmaking was a genuine transition for me.
[Q] You shot campaigns for luxury brands like Dior, L'Oréal, and Diesel at a very young age. How do you feel about tasting success and managing it at such a young age? Did it set your and your client's expectations high from yourself?
When I achieved success at a young age, I realised that it was extremely difficult for people to take me seriously. So, I worked even harder to be professional and look older and act older. The hardest thing about managing success is knowing that is only for a moment and the most important thing would be to find longevity. I had a difficult time taking care of myself and my health. I knew this job is very trend-based and I had to run with it. While people wanted to work with me, I worked myself into the ground. There was a certain breaking point when I fell seriously ill since I was not taking care of myself and was constantly flying from one country to another, conducting shoots after shoots, without taking a day's break in between. This took a toll on my body but later taught me how to protect my health and my mind.
[Q] Do you stick to the concept you have in your mind, or do you improvise?
Both. Depends on the photo and the film and the context, as well. When working for a commercial, if the client and the agency have worked on an idea for a year or so, we need to respect the work that has gone into it for preparing it. I try to give them what they are looking for, as much as possible. That said, it is extremely important to be as super organized as possible so that we can let improvisation happen. I believe that's a part where the magic happens.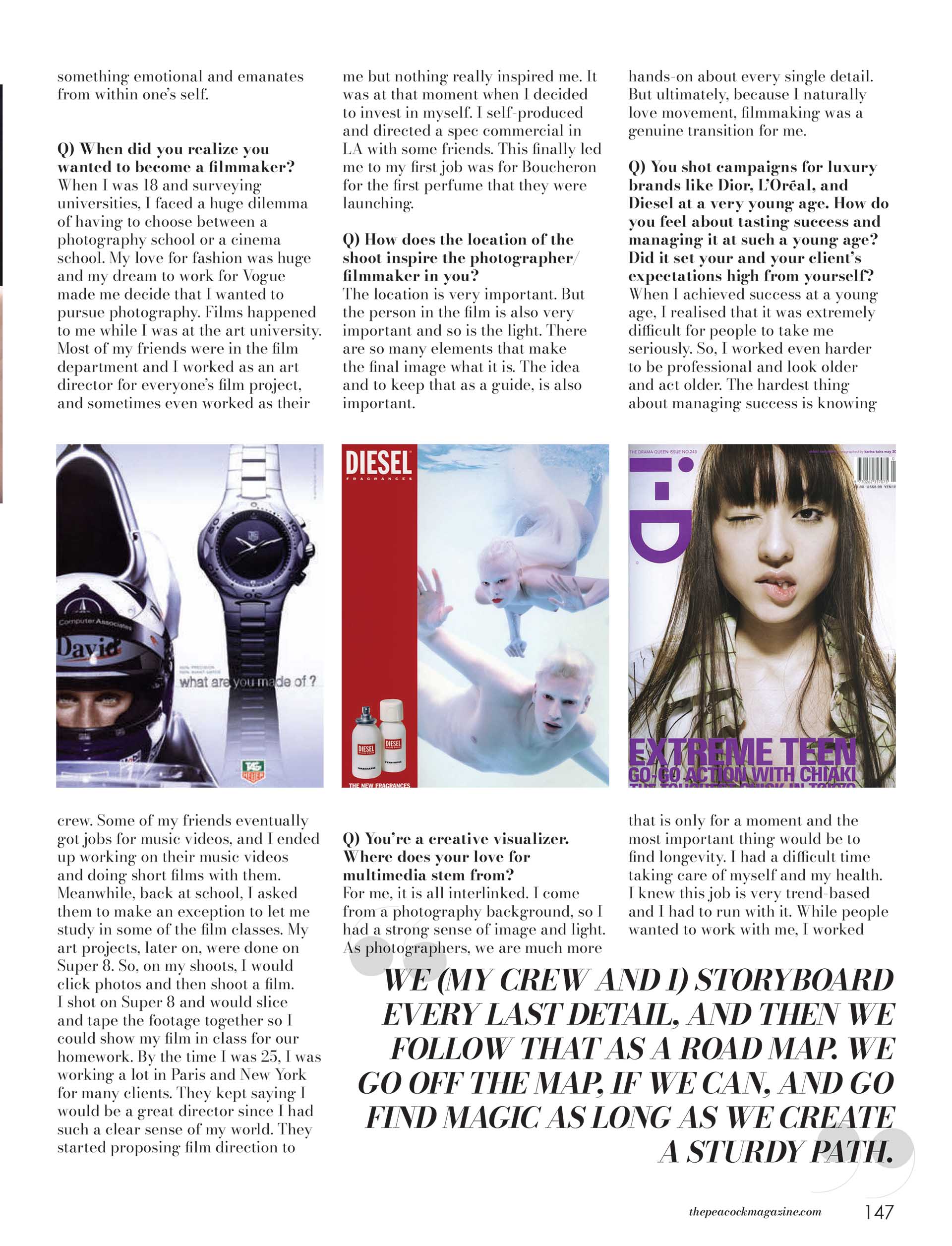 [Q] Where/ in whom do you find your inspiration?
I am actually inspired by the photographers at Magnum. It was my dream to become a photographer at this agency when I was a kid, and I still enjoy a lot of their work. Henri Cartier-Bresson, Robert Doisneau, (Gueorgui) Pinkhassov, and others. And then, of course, in our business, I deeply admire and have been inspired by Sarah Moon, Nick Knight, and Paolo Roversi. These are the people that made me want to become a photographer.
[Q] How do you prepare yourself before any shoot as a filmmaker?
As a filmmaker, the preparation is massive. There are so many moving parts, so there is less room for improvement than we have in photography. The crew is ten times bigger, so there are a lot of repercussions on any changes you make. Hence, everything is thought of. We storyboard every last detail, and then we follow that as a road map. We go off the map, if we can, and go find magic as long as we create a sturdy path.
[Q] Which of your shoots was challenging?
My most difficult shoot was in Africa when I had two people kidnapped from my shoot, and the local tribes came with axes and machetes to bring down our set. I will never forget that.
[Q] Which photograph of yours is your personal favourite?
I have a few favourites. (As seen here in the story.)
[Q] Which has been your most favourite shoot in your journey till now?
There are so many! Some, for the experience of the shoot, and some purely for the image. It is so complex and what we do is really hard to put it on one thing.
[Q] One person who is on the top of your bucket list to shoot?
Angelina Jolie.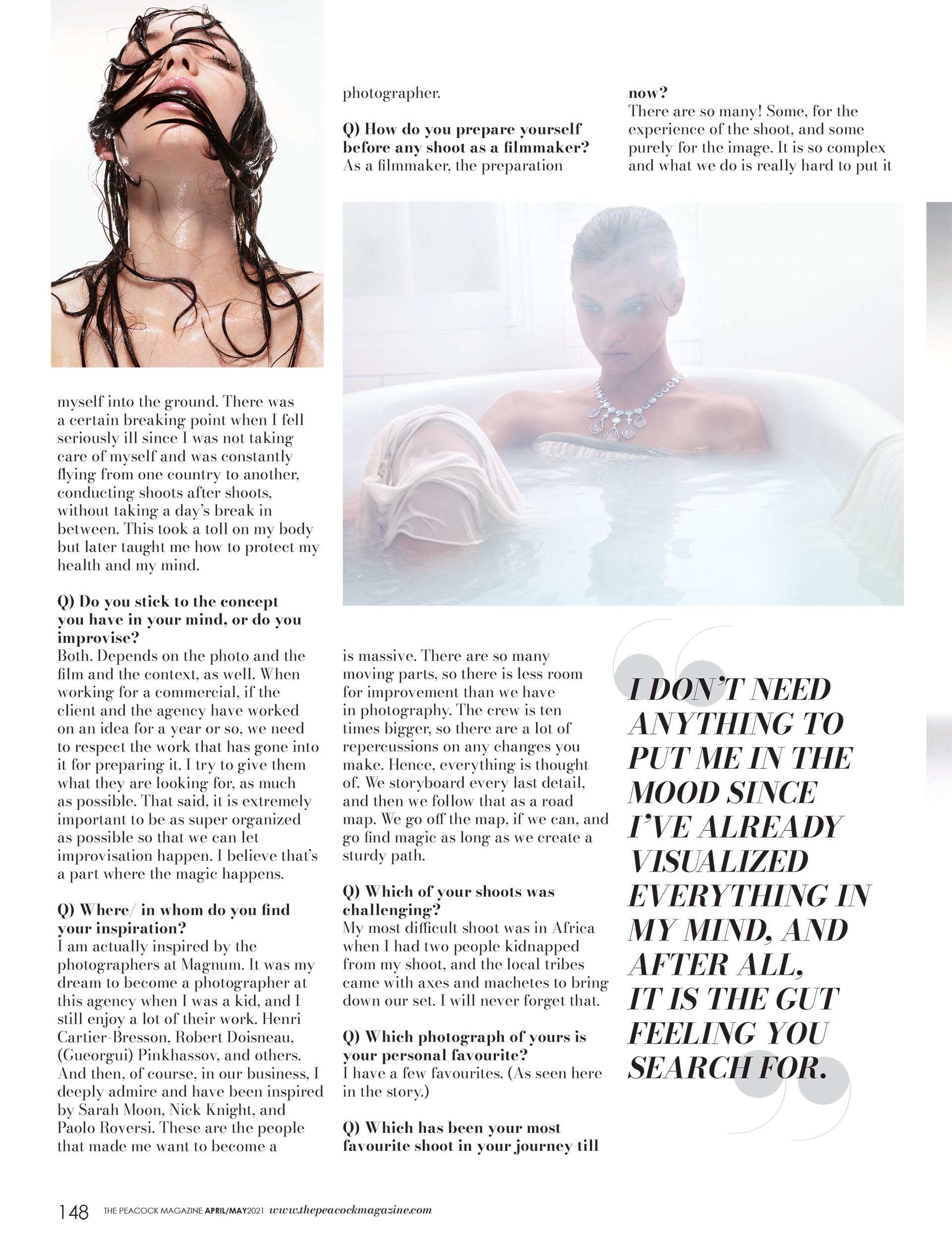 [Q] Who are your biggest influences/ mentors?
My biggest influences have been the movies I loved. For example, 'In the Mood for Love' by Wong Kar-Wai or David Lynch. The people who are true to their inner voice are the ones that inspire me.
[Q] We've noticed that your style keeps evolving every now-and-then. What inspires you to do so?
I think we keep evolving as artists, and it is extremely important to not be stuck in one time or trend.
[Q] What is the first thing you notice when you see other photographers' work?
I notice the light.
[Q] Who are your favourite photographers? Why?
Sarah Moon because her images were poetic and like paintings. It's a feeling of movement and a special poetic moment in time. I like Paolo Roversi for the same reason as Sarah Moon. He has an incredible depth that you can feel in the eyes of the person. Bill Henson because his images are like paintings. (Gueorgui) Pinkhassov because he has an incredible sense of lighting, moment, and poetry. It gives me chills. When I started out, it was Toni Meneguzzi. He doesn't shoot fashion anymore, but he used to shoot artistic fashion work with large-format cameras at that point in time. Todd Hido, for his amazing painterly poetic images that have such sensitivity.
[Q] What makes an image a photograph?
The light, the ambience, the moment, and the soul of the image.
[Q] What are some of the things you are obsessed with as a photographer?
Light. It is all about light for me.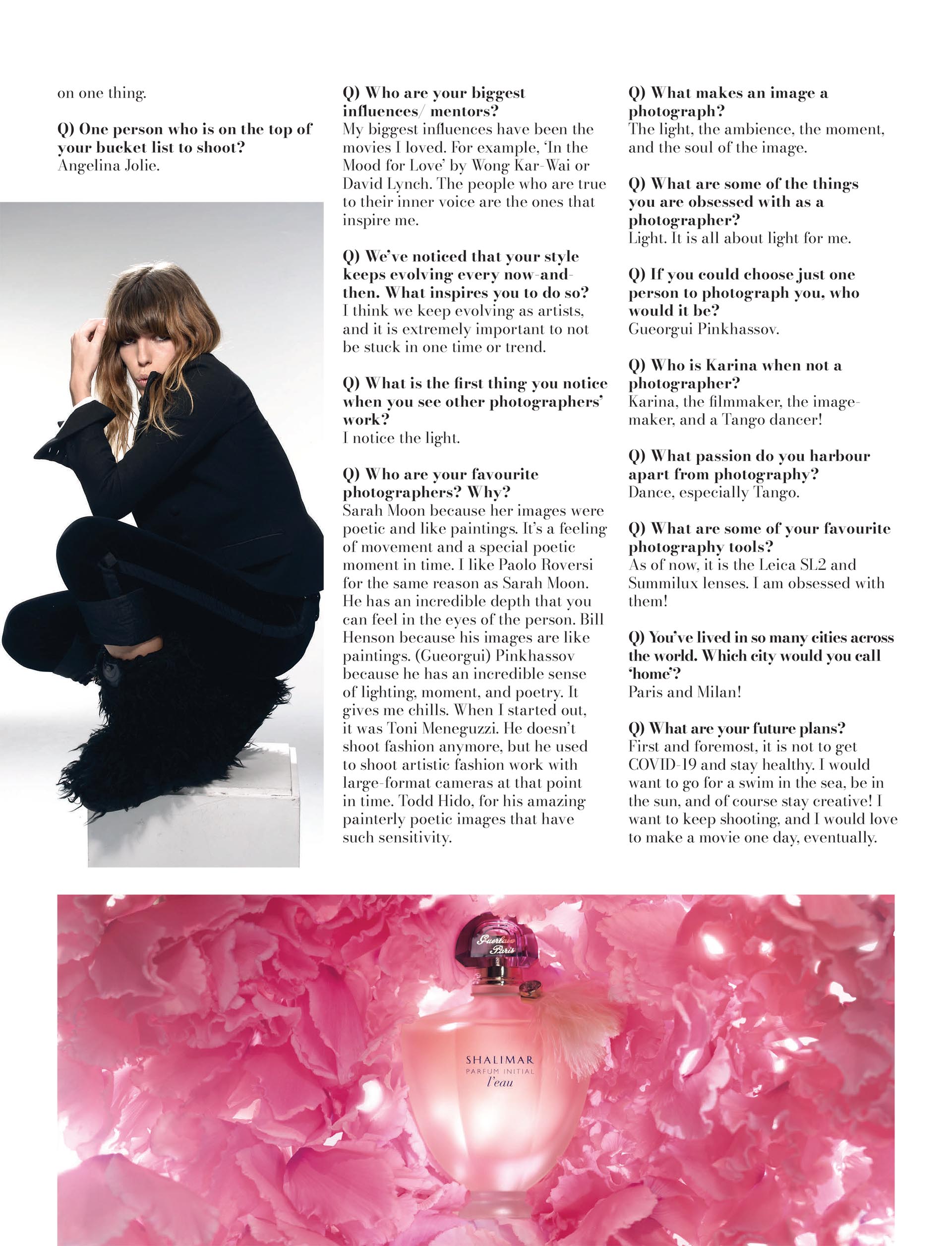 [Q] If you could choose just one person to photograph you, who would it be?
Gueorgui Pinkhassov.
[Q] Who is Karina when not a photographer?
Karina, the filmmaker, the image-maker, and a Tango dancer!
[Q] What passion do you harbour apart from photography?
Dance, especially Tango.
[Q] What are some of your favourite photography tools?
As of now, it is the Leica SL2 and Summilux lenses. I am obsessed with them!
[Q] You've lived in so many cities across the world. Which city would you call 'home'?
Paris and Milan!
[Q] What are your future plans?
First and foremost, it is not to get COVID-19 and stay healthy. I would want to go for a swim in the sea, be in the sun, and of course stay creative! I want to keep shooting, and I would love to make a movie one day, eventually.