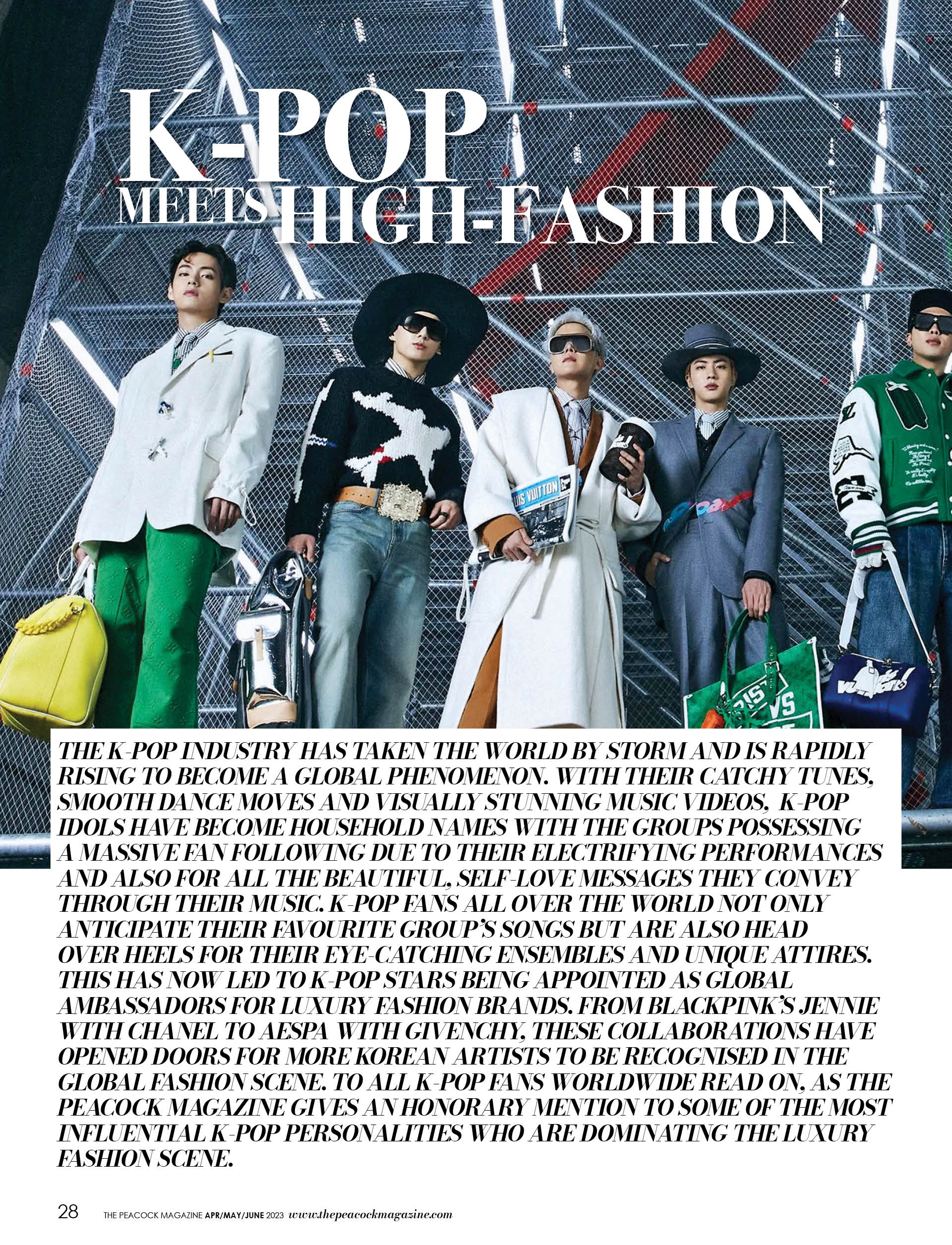 The K-pop industry has taken the world by storm and is rapidly rising to become a global phenomenon. With their catchy tunes, smooth dance moves and visually stunning music videos, K-pop idols have become household names with the groups possessing a massive fan following due to their electrifying performances and also for all the beautiful, self-love messages they convey through their music. K-pop fans all over the world not only anticipate their favourite group's songs but are also head over heels for their eye-catching ensembles and unique attires. This has now led to K-pop stars being appointed as global ambassadors for luxury fashion brands. From BLACKPINK's Jennie with Chanel to Aespa with Givenchy, these collaborations have opened doors for more Korean artists to be recognised in the global fashion scene. To all K-pop fans worldwide read on, as The Peacock Magazine gives an honorary mention to some of the most influential K-pop personalities who are dominating the luxury fashion scene.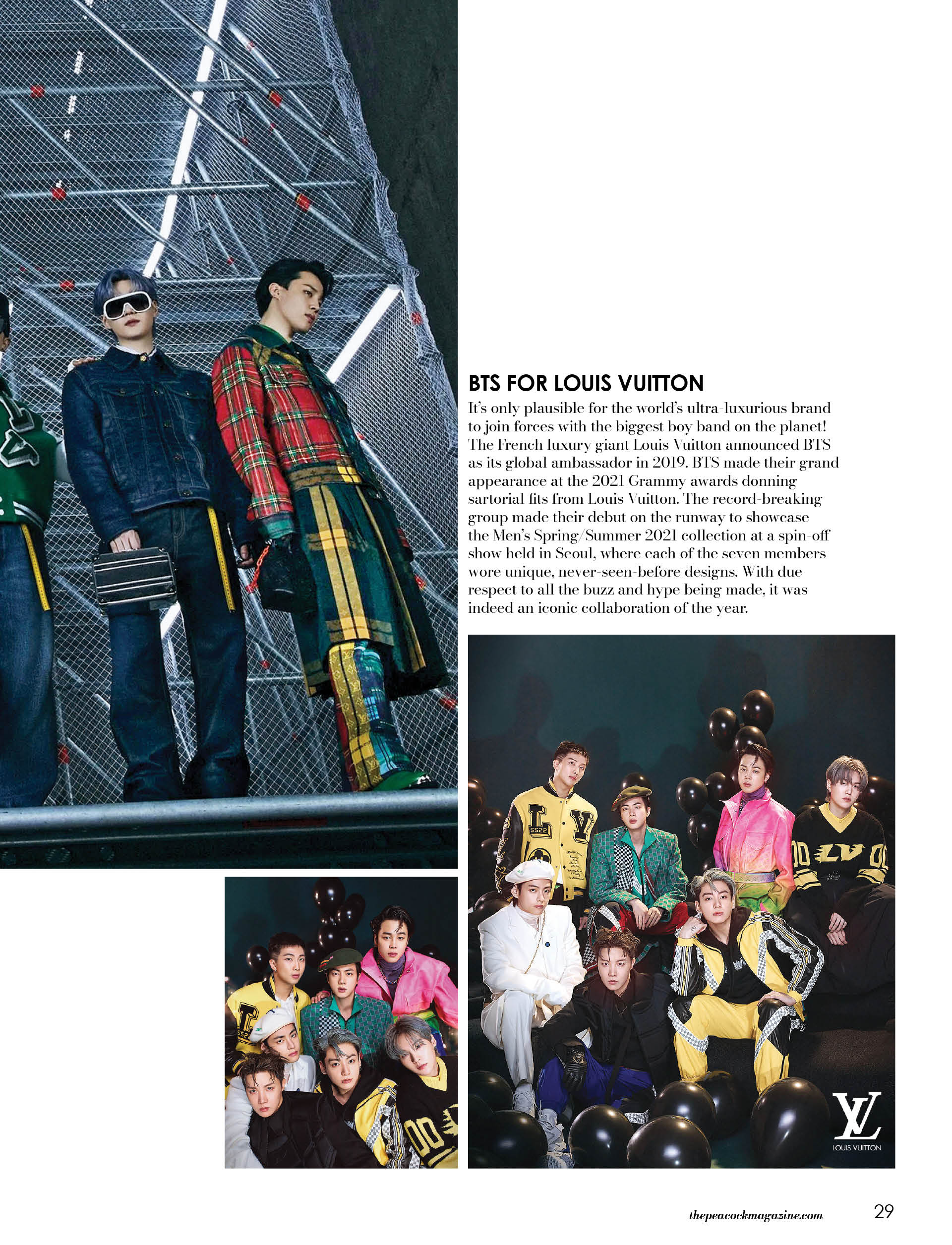 BTS FOR LOUIS VUITTON
It's only plausible for the world's ultra-luxurious brand to join forces with the biggest boy band on the planet! The French luxury giant Louis Vuitton announced BTS as its global ambassador in 2019. BTS made their grand appearance at the 2021 Grammy Awards donning sartorial fits from Louis Vuitton. The record-breaking group made their debut on the runway to showcase the Men's Spring/Summer 2021 collection at a spin-off show held in Seoul, where each of the seven members wore unique, never-seen-before designs. With due respect to all the buzz and hype being made, it was indeed an iconic collaboration of the year.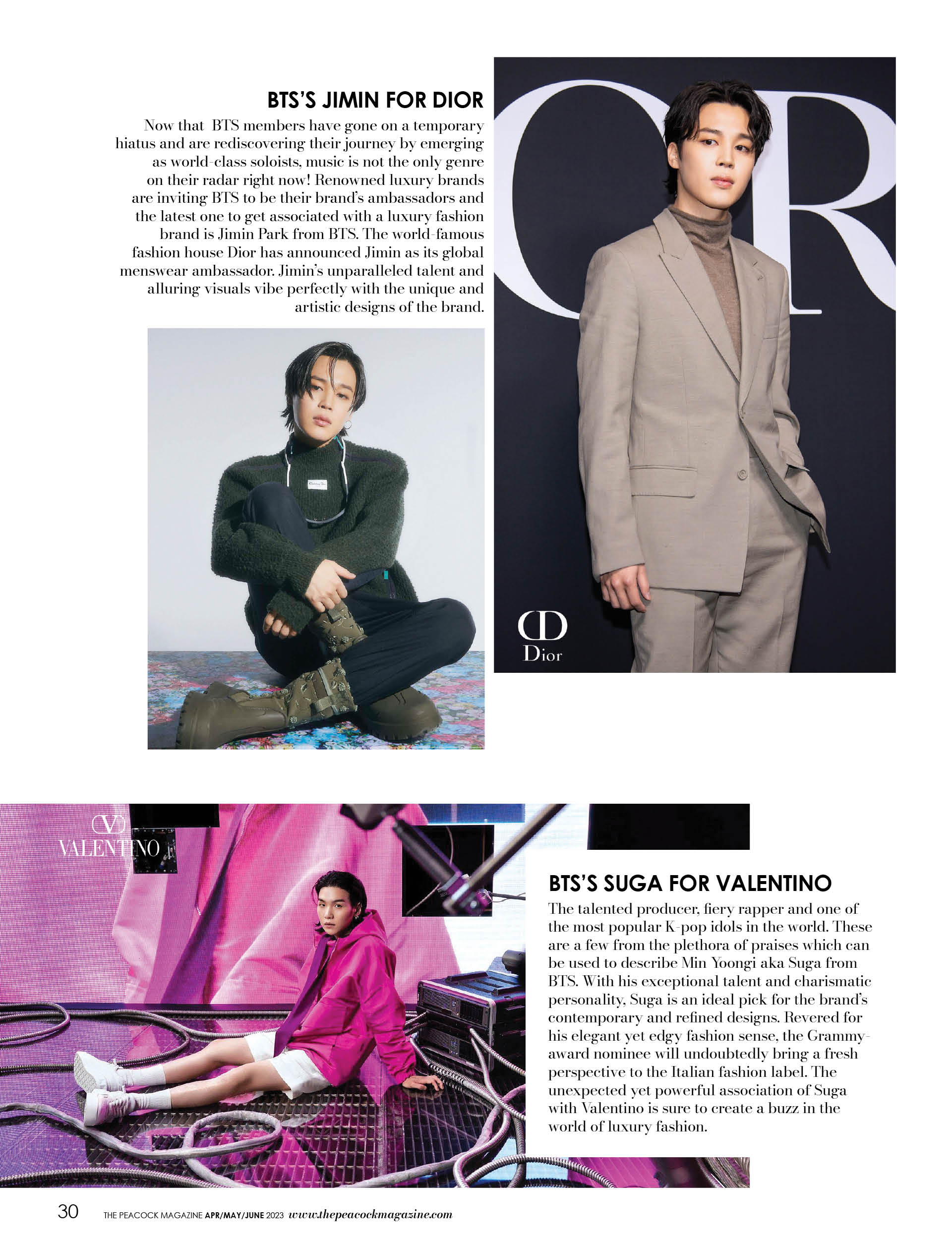 BTS'S JIMIN FOR DIOR
Now that BTS members have gone on a temporary hiatus and are rediscovering their journey by emerging as world-class soloists, music is not the only genre on their radar right now! Renowned luxury brands are inviting BTS to be their brand's ambassadors and the latest one to get associated with a luxury fashion brand is Jimin Park from BTS. The world-famous fashion house Dior has announced Jimin as its global menswear ambassador. Jimin's unparalleled talent and alluring visuals vibe perfectly with the unique and artistic designs of the brand.
BTS'S SUGA FOR VALENTINO
The talented producer, fiery rapper and one of the most popular K-pop idols in the world. These are a few from the plethora of praises which can be used to describe Min Yoongi aka Suga from BTS. With his exceptional talent and charismatic personality, Suga is an ideal pick for the brand's contemporary and refined designs. Revered for his elegant yet edgy fashion sense, the Grammy-award nominee will undoubtedly bring a fresh perspective to the Italian fashion label. The unexpected yet powerful association of Suga with Valentino is sure to create a buzz in the world of luxury fashion.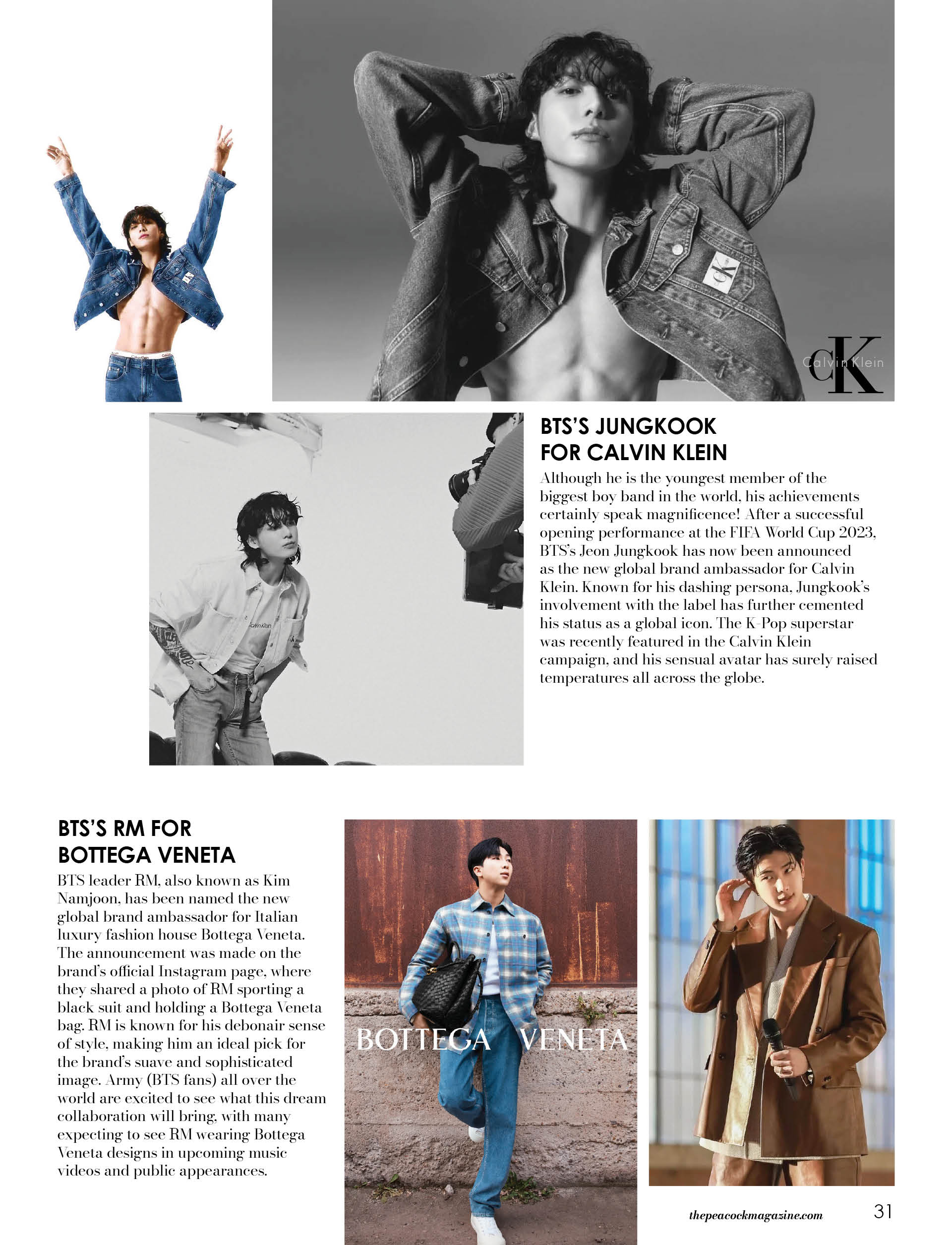 BTS'S JUNGKOOK FOR CALVIN KLEIN
Although he is the youngest member of the biggest boy band in the world, his achievements certainly speak magnificence! After a successful opening performance at the FIFA World Cup 2023, BTS's Jeon Jungkook has now been announced as the new global brand ambassador for Calvin Klein. Known for his dashing persona, Jungkook's involvement with the label has further cemented his status as a global icon. The K-Pop superstar was recently featured in the Calvin Klein campaign, and his sensual avatar has surely raised temperatures all across the globe.
BTS'S RM FOR BOTTEGA VENETA
BTS leader RM, also known as Kim Namjoon, has been named the new global brand ambassador for the Italian luxury fashion house Bottega Veneta. The announcement was made on the brand's official Instagram page, where they shared a photo of RM sporting a black suit and holding a Bottega Veneta bag. RM is known for his debonair sense of style, making him an ideal pick for the brand's suave and sophisticated image. Army (BTS fans) all over the world are excited to see what this dream collaboration will bring, with many expecting to see RM wearing Bottega Veneta designs in upcoming music videos and public appearances.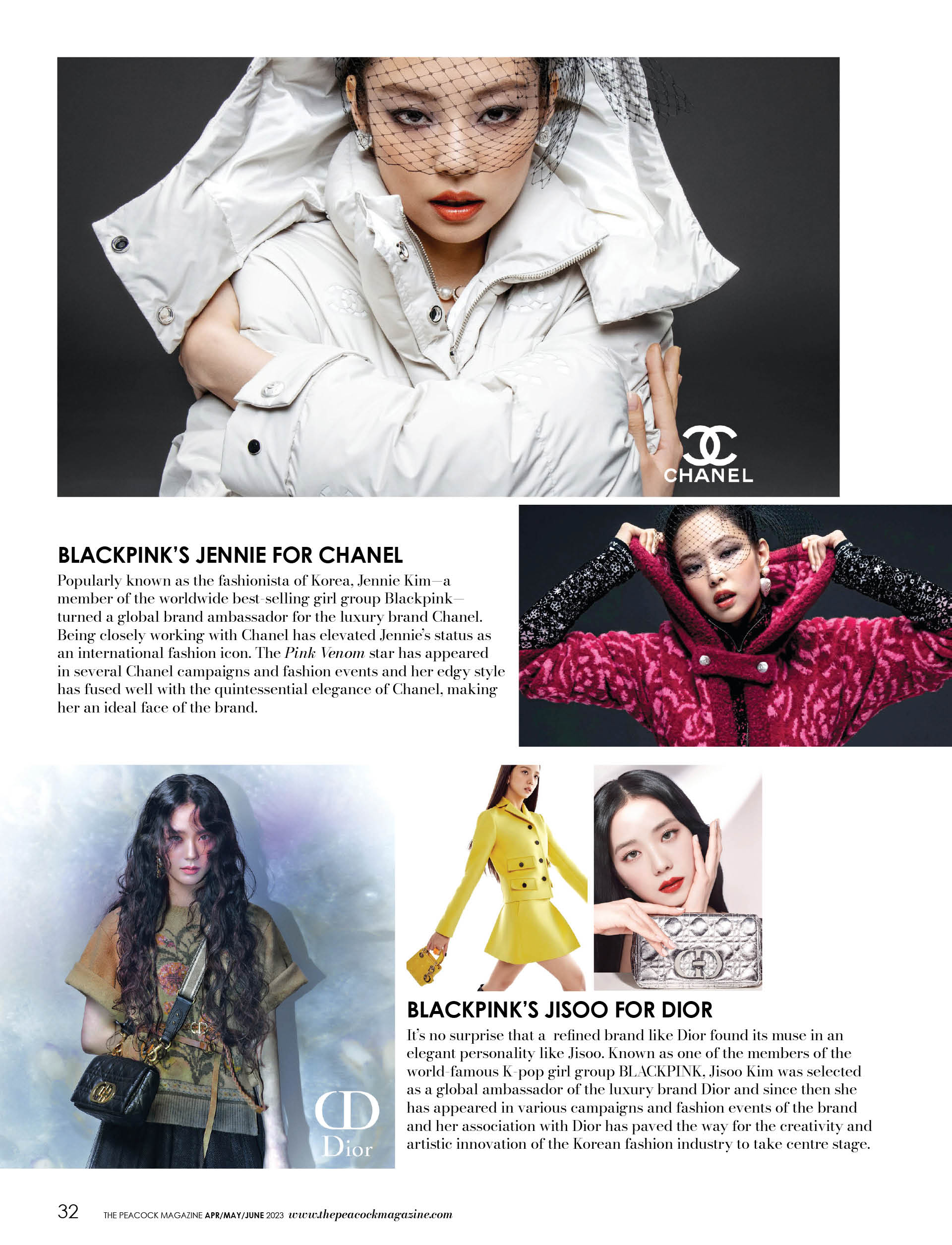 BLACKPINK'S JENNIE FOR CHANEL
Popularly known as the fashionista of Korea, Jennie Kim—a member of the worldwide best-selling girl group Blackpink—turned into a global brand ambassador for the luxury brand Chanel. Being closely working with Chanel has elevated Jennie's status as an international fashion icon. The Pink Venom star has appeared in several Chanel campaigns and fashion events and her edgy style has fused well with the quintessential elegance of Chanel, making her an ideal face of the brand.
BLACKPINK'S JISOO FOR DIOR
It's no surprise that a refined brand like Dior found its muse in an elegant personality like Jisoo. Known as one of the members of the world-famous K-pop girl group BLACKPINK, Jisoo Kim was selected as a global ambassador of the luxury brand Dior and since then she has appeared in various campaigns and fashion events of the brand and her association with Dior has paved the way for the creativity and artistic innovation of the Korean fashion industry to take centre stage.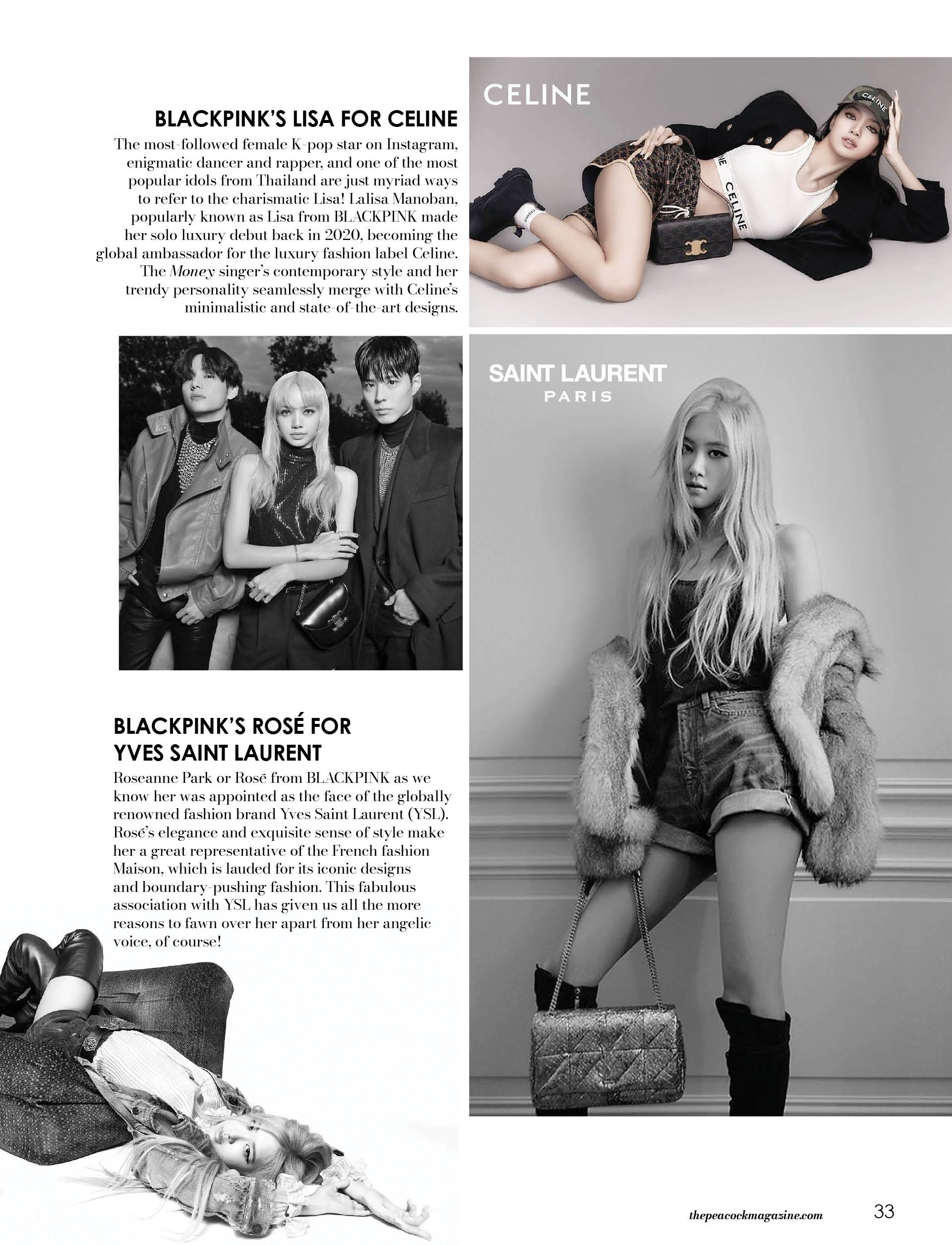 BLACKPINK'S LISA FOR CELINE
The most-followed female K-pop star on Instagram, enigmatic dancer and rapper, and one of the most popular idols from Thailand are just myriad ways to refer to the charismatic Lisa! Lalisa Manoban, popularly known as Lisa from BLACKPINK made her solo luxury debut back in 2020, becoming the global ambassador for the luxury fashion label Celine. The Money singer's contemporary style and her trendy personality seamlessly merge with Celine's minimalistic and state-of-the-art designs.
BLACKPINK'S ROSÉ FOR YVES SAINT LAURENT
Roseanne Park or Rosé from BLACKPINK as we know her was appointed as the face of the globally renowned fashion brand Yves Saint Laurent (YSL). Rosé's elegance and exquisite sense of style make her a great representative of the French fashion Maison, which is lauded for its iconic designs and boundary-pushing fashion. This fabulous association with YSL has given us all the more reasons to fawn over her apart from her angelic voice, of course!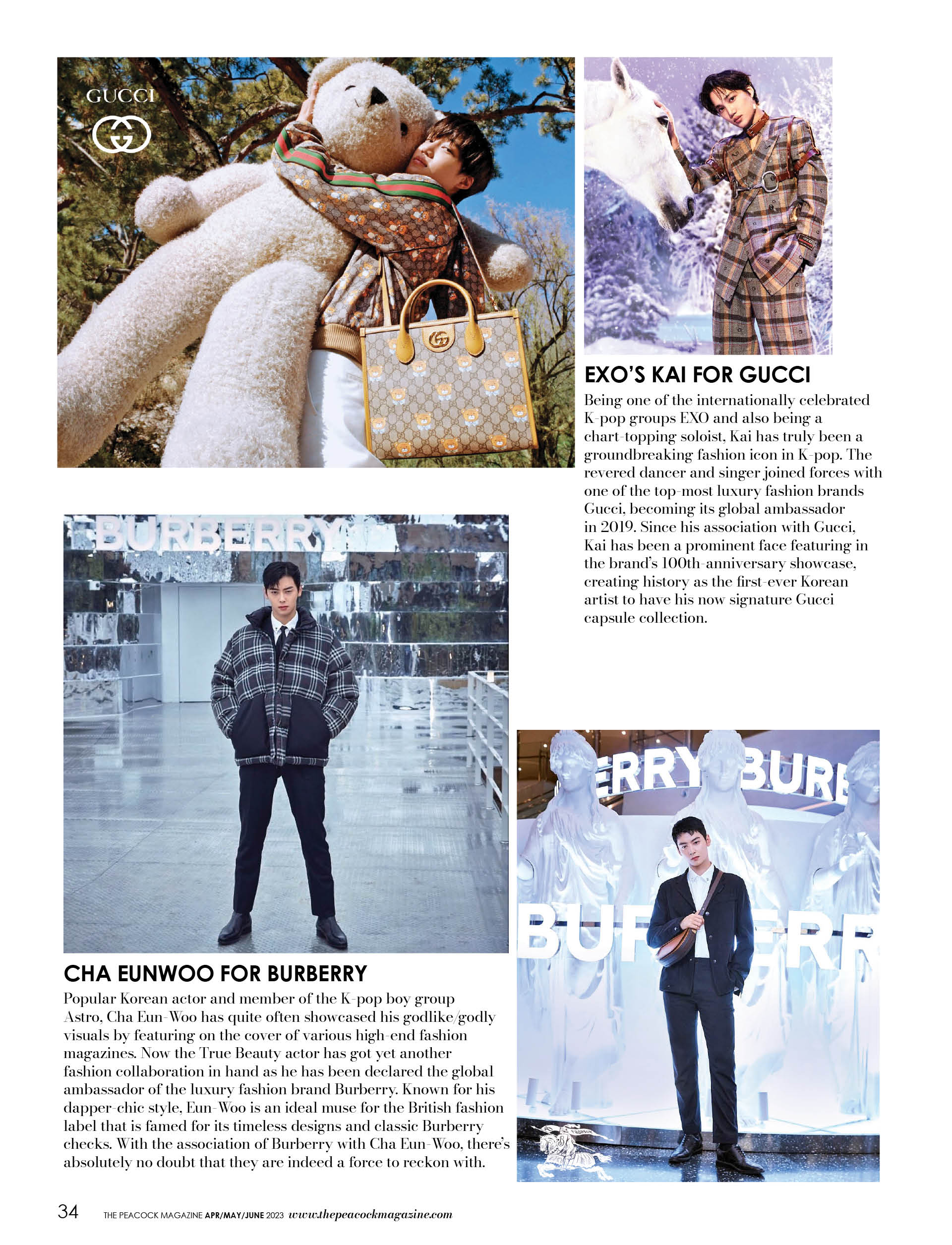 EXO'S KAI FOR GUCCI
Being one of the internationally celebrated K-pop groups EXO and also being a chart-topping soloist, Kai has truly been a groundbreaking fashion icon in K-pop. The revered dancer and singer joined forces with one of the top-most luxury fashion brands Gucci, becoming its global ambassador in 2019. Since his association with Gucci, Kai has been a prominent face featuring in the brand's 100th-anniversary showcase, creating history as the first-ever Korean artist to have his now signature Gucci capsule collection.
CHA EUN-WOO FOR BURBERRY
Popular Korean actor and member of the K-pop boy group Astro, Cha Eun-Woo has quite often showcased his godlike/godly visuals by featuring on the cover of various high-end fashion magazines. Now the True Beauty actor has got yet another fashion collaboration in hand as he has been declared the global ambassador of the luxury fashion brand Burberry. Known for his dapper-chic style, Eun-Woo is an ideal muse for the British fashion label that is famed for its timeless designs and classic Burberry checks. With the association of Burberry with Cha Eun-Woo, there's absolutely no doubt that they are indeed a force to reckon with.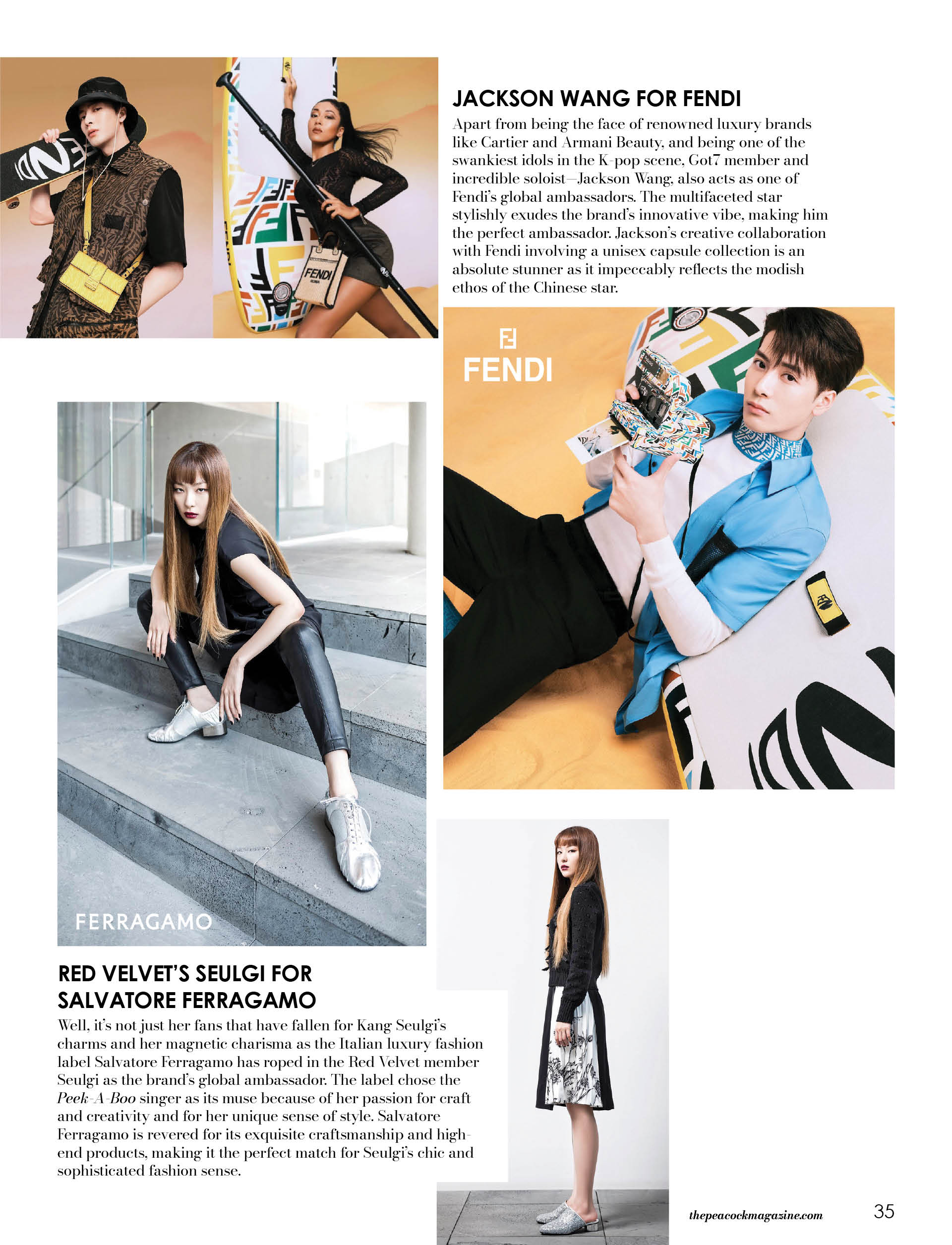 JACKSON WANG FOR FENDI
Apart from being the face of renowned luxury brands like Cartier and Armani Beauty, and being one of the swankiest idols in the K-pop scene, Got7 member and incredible soloist—Jackson Wang, also acts as one of Fendi's global ambassadors. The multifaceted star stylishly exudes the brand's innovative vibe, making him the perfect ambassador. Jackson's creative collaboration with Fendi involving a unisex capsule collection is an absolute stunner as it impeccably reflects the modish ethos of the Chinese star.
RED VELVET'S SEULGI FOR SALVATORE FERRAGAMO
Well, it's not just her fans that have fallen for Kang Seulgi's charms and her magnetic charisma as the Italian luxury fashion label Salvatore Ferragamo has roped in the Red Velvet member Seulgi as the brand's global ambassador. The label chose the Peek-A-Boo singer as its muse because of her passion for craft and creativity and for her unique sense of style. Salvatore Ferragamo is revered for its exquisite craftsmanship and high-end products, making it the perfect match for Seulgi's chic and sophisticated fashion sense.